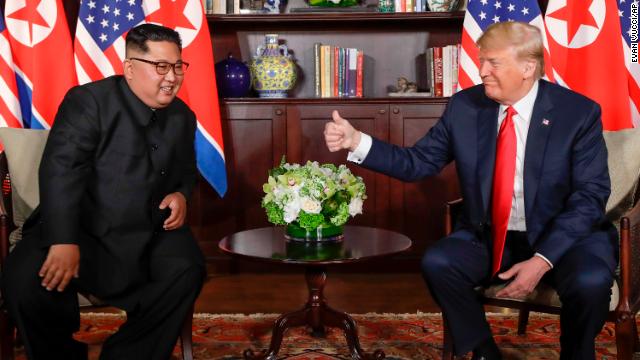 President Trump and North Korean leader Kim Jong Un held a historic summit in Singapore.
Here's what you need to know about how the summit went down:
The meetings: In the first meeting, Trump and Kim were joined only by translators, a break from standard practice of having at least one aide present for high-stakes huddles. Later in the day, advisers joined the talks for a larger bilateral session.
The agreement: Trump and Kim signed a statement that said the North Korean leader "reaffirmed his firm and unwavering commitment to complete denuclearization of the Korean Peninsula." In exchange, Trump agreed to "provide security guarantees" to North Korea.
The press conference: Following the summit, Trump held a lengthy press conference (his first in more than a year). He mentioned that Kim accepted his invitation to the White House, said he "really believes" Kim will keep his word and recounted how he told Kim North Korea could have "the best hotels in the world."
The interview: President Trump gave his first post-summit interview to ABC, and said Kim "trusts me, and I trust him."
The reactions: The British government, the European Union, Russia, South Korea, the head of the United Nations and other world figures have offered positive reflections on the summit, saying it's a positive step toward peace.
What happens next: There are few details on what new commitments have been secured from Kim. Whether nuclear disarmament is indeed the final outcome of Tuesday's summit won't be known for years, if not decades.