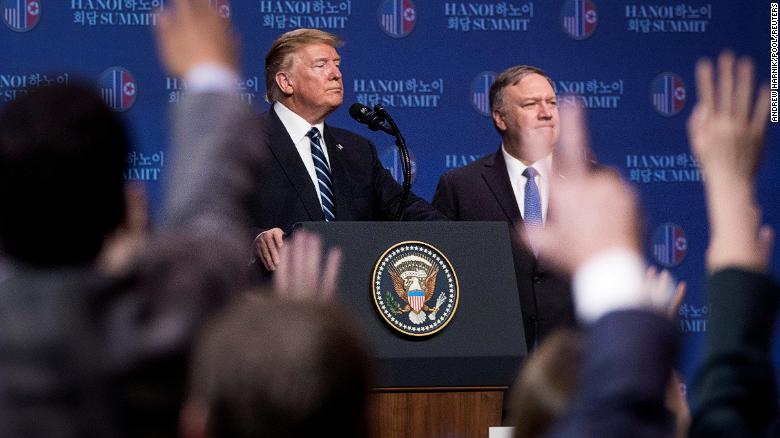 President Donald Trump spoke to reporters in Hanoi after talks with North Korean leader Kim Jong Un ended early with no agreement.
Here are the top lines from his news conference:
Sticking points were "about sanctions"
Responding to a question about whether it was North Korea's desire to see the back of sanctions which derailed talks, Trump said it was. 
"Basically they wanted the sanctions lifted in their entirety, and we couldn't do that," he said. 
"He wants to denuke, he just wants to do areas that are less important than what we want," Trump said of Kim. 
He added that ultimately the breakdown of the summit "was about sanctions."
Trump's relationship with Kim still "very warm"
Trump said his relationship with Kim was still "very warm" and insisted that the meeting didn't end contentiously but with "a very friendly walk."
"This wasn't a walk away like you get up and walk out," Trump added.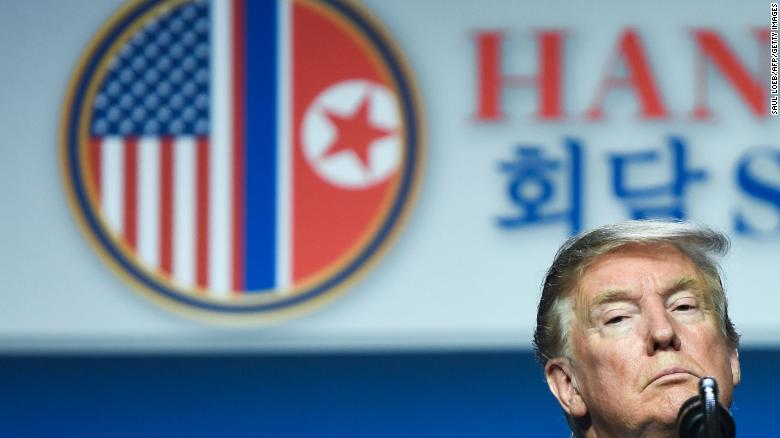 Trump said he took Kim's word on Otto Warmbier
Trump said he regretted what happened to US citizen Otto Warmbier, who was detained in North Korea for 17 months before being returned to the US in 2017, where he died days later.
Warmbier's parents have accused the North Korean government of torturing their son and causing his death.
Trump said he discussed the issue with Kim, and said "I don't believe he would allow that to happen."
"Those prisons are rough, rough places, and bad things happen," he added. "I don't believe he knew about it, he felt badly about it, he felt very badly."
He added that while Kim "knew the case very well," he knew about it "later." 
"Some really bad things happened to Otto," Trump said. 
"(Kim) tells me he didn't know about it and I will take him at his word."
He blasted Democrats for scheduling Cohen testimony during summit
"I think having a fake hearing like that and having it in the middle of this very important summit was really a terrible thing," Trump said. "Having it during this very important summit is sort of incredible."
Trump said while Cohen "lied a lot," he was "impressed" by one thing: "He said no collusion with the Russian hoax."
"I said, 'I wonder why he didn't lie about that too like he lied about everything else,'" Trump said.
Trump continued: "He said no collusion and I was you know a little impressed by that frankly. He could have gone all out. He only went about 95% instead of 100%."