Live: President Trump holds rally in Ohio
8:23 p.m. ET, August 4, 2018
That's a wrap.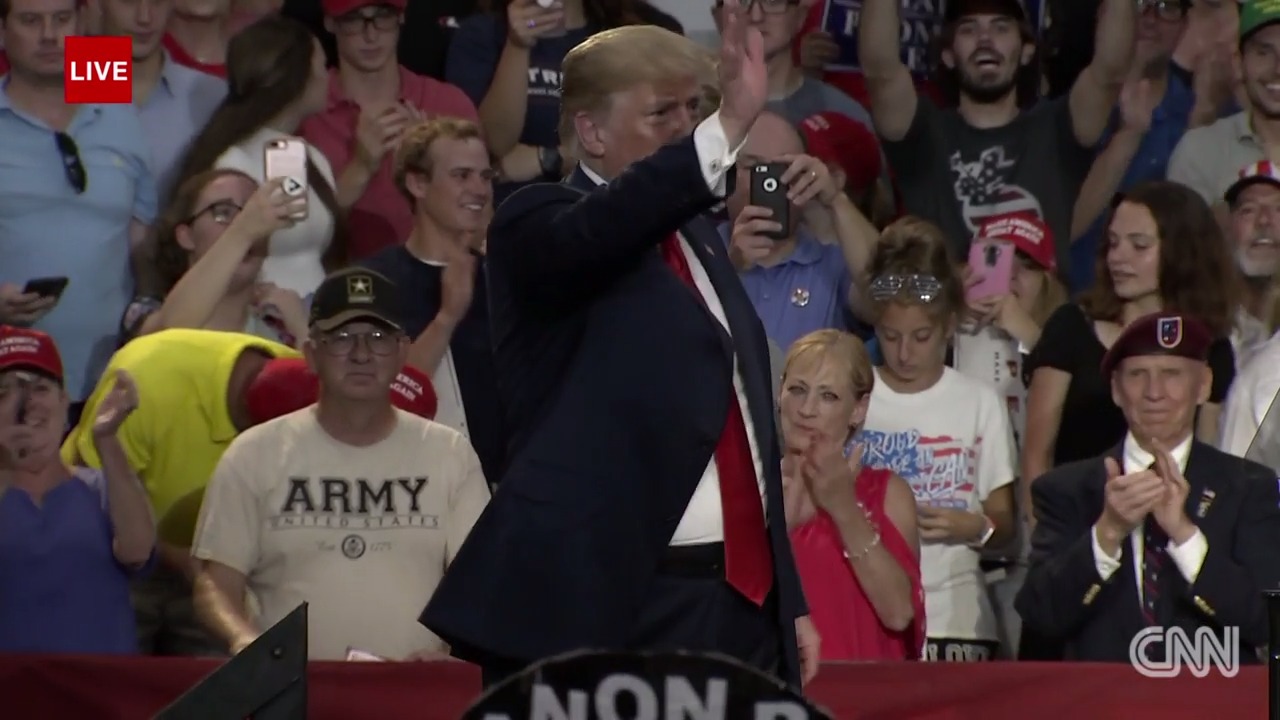 President Trump now heads back to Bedminster, New Jersey, where he'll continue his summer vacation. The question now, which will be answered Tuesday night, is to what effect his Ohio visit will have on the special election.
His visit to central Ohio on Saturday injected him into a high-stakes congressional special election, where the Republican candidate finds himself fending off a surging Democratic challenger.
Republican Troy Balderson will face off against Democrat Danny O'Connor in Ohio's 12th Congressional District on Tuesday, in the final special election before November.
A loss for Balderson in this district, which has historically favored Republicans, would further signal that Democrats have the momentum heading into November.
A Monmouth University poll released this week shows a tight race, with Balderson receiving 44% support to O'Connor's 43%, with 11% of respondents saying they are undecided.
8:18 p.m. ET, August 4, 2018
Trump says Russia is meddling, but China and North Korea are too
President Trump admitted Saturday night that Russia continues to meddle in American affairs.
Speaking of spies in the US (he mocked Democratic Sen. Dianne Feinstein over a report that a staffer in her office was recruited by Chinese intelligence), Trump said:
"It's a lot of people. We have to stop it. We have to stop meddling and stop everybody from attacking us. But there are a lot. Russia is there, China is there. We are doing well with North Korea, but they're probably there."
Trump has defended his meeting with Russian President Vladimir Putin while criticizing the "Russian hoax," and spoke at a rally last week just hours removed from his top national security officials who decried Russian attempts to influence US elections.
7:53 p.m. ET, August 4, 2018
Trump notes McCain, who is battling brain cancer, is "not around to vote"
President Trump briefly mentioned Sen. John McCain, but didn't name him, who is back home battling brain cancer.
We have "one vote" in the Senate who is "not around to vote," Trump said.
"I don't know. He's out. He's not voting."
He was speaking about the Republican Senate majority, noting it's hard to get anything done with just 51 votes.
7:34 p.m. ET, August 4, 2018
Trump again calls Maxine Waters "low IQ"
President Trump again called Democratic Rep. Maxine Waters "a seriously low IQ person" when questioning whether a blue wave is truly coming for the midterm elections.
"They're talking about this blue wave — I don't think so. I don't think so," Trump said. "Maxine Waters is leading the charge. Maxine, she's a real beauty, Maxine. A seriously low IQ person, seriously. Maxine Waters, she is leading the charge."
Trump's done this before.
And in response, Waters told MSNBC's Joy Reid, "This is what this con man does. He diverts attention from himself by attacking others."
7:25 p.m. ET, August 4, 2018
Trump slams elites, calls his supporters the real elites
President Trump opened his Ohio rally by slamming the "elites" who didn't think he'd win the 2016 election, instead telling his supporters, "You are the elites."
"You're great people. You work hard, you pay your taxes, you do all of these things and you are forgotten. You are the smartest people. You are the smartest people."
"They talk about the elites," Trump said. "Did you ever see the elites? You are the elite. You are the elites. You are smarter than they are, you make bigger incomes. You have everything going. Let them keep calling it. You go to the best schools. You do a tremendous job. You own companies. You work for tremendous salaries. You are talented with your hands and your mind," he said.
7:12 p.m. ET, August 4, 2018
Pastor at Trump rally prays to protect him from "jungle journalism"
The pastor giving the invocation at his Ohio rally prayed to protect President Trump from the lying liberal media.
Here's what he said:
"Tonight I pray that you will protect our president and his family with a shield of faith. Lord that shield of faith, against the fiery darts of the wicked ones. Lord, against that jungle journalism extorts the truth and distorts honesty and integrity every single day. Gets in his face with lies and mistruths and innuendos. Lord, protect him," he said.
7:10 p.m. ET, August 4, 2018
Now: Trump takes stage at Ohio rally
President Trump has taken the stage. You can watch live in the video player above.