Fallout after Trump-Putin meeting
7:12 p.m. ET, July 16, 2018
President Trump will meet with members of Congress tomorrow
President Trump will have a closed meeting with members of Congress tomorrow, a day after his controversial summit with Russian President Vladimir Putin.
The topic of the meeting is not yet disclosed.
7:09 p.m. ET, July 16, 2018
Joe Biden: Today's presser was "beneath the dignity of the office of the President"
Former Vice President Joe Biden said President Trump's remarks at a joint news conference with Russian President Vladimir Putin "do not reflect what Americans think and who we are."
In a statement, he said today's news conference between Trump and Putin was "beneath the dignity of the office of the President."
"Today our President had the chance to confront an adversary who has attacked — and continues to attack — our democracy and our allies. He could have stood up for American interests and values. He chose not to. Instead, he embraced our number one adversary, blamed America rather than Russian aggression for the deterioration in our bilateral relations, trashed his own justice department, and put Putin's word above that of our own intelligence community whose leaders he appointed.
Former Secretary of State John Kerry also issued a statement about Trump's meeting, saying the President "surrendered lock, stock and barrel to President Putin's deceptions about the attacks on America's democracy."
"I have never seen an American president do or say anything remotely like what President Trump did today," Kerry said. "No one else has, either, and everyone knows it. It is more than unfortunate; it is indefensible."
6:43 p.m. ET, July 16, 2018
Putin: We don't have anything on Trump or his family
Russian President Vladimir Putin again denied Russian interference in the US election, and declined to read a copy of last week's indictments from Robert Mueller when presented them in an interview.
"Russia as a state has never interfered with the internal affairs of the United States," Putin said in an interview with Fox News. "Do you really believe that someone acting from the Russian territory could have influenced the United States?"
Interviewer Chris Wallace handed a copy of the indictments to Putin, who gestured for them to be placed on a nearby coffee table. He went on to insist that Russia is prepared to help the US investigate the 12 individuals named in the indictments. But he said no formal request had been made from special counsel Robert Mueller.
"Why wouldn't special counsel Mueller send us a request within the framework of this agreement," he said, referring to a US-Russia agreement on law enforcement matter. "Nobody sent us a single letter."
Putin insisted he wasn't interested in the meddling issue, saying it was a domestic issue.
"I'm not interested in this issue a single bit. It's the internal political games of the United States," he said through a translator. "Don't make the relationship between US and Russia — don't hold it hostage."
"It's nothing to be proud of for American democracy to use such dirty political methods," he said.
He downplayed Trump's conciliatory remarks at the press conference. "Was it worth going all the way to Helsinki to just insult one another? It's not exactly the diplomatic standard," Putin said. "We met to try to find a way for improving our relationship and not aggravating it."
Putin denied Russia had any compromising information on Trump or his family.
"We don't have anything on them and there can't be anything on them," he said. "It's clear that we did nothing of that kind against President Trump."
6:28 p.m. ET, July 16, 2018
Rand Paul: Critics of Trump-Putin meeting have "Trump derangement syndrome"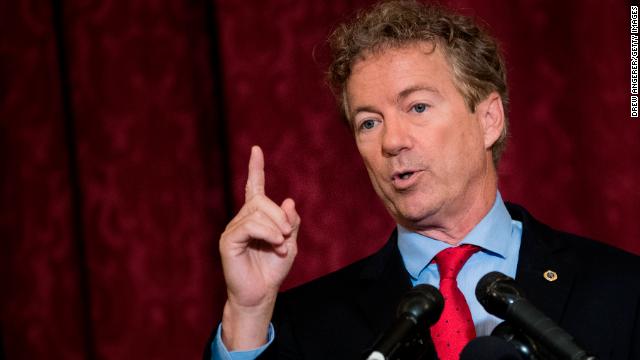 Republican Sen. Rand Paul told CNN's Wolf Blitzer he supports President Trump's decision to meet with Russian President Vladimir Putin, and he doesn't think Trump threw his intelligence community under the bus.
"I don't see it that way at all, but many Democrats have come forward and they basically want a confrontation," Paul said.
He continued: "That's a kind of sort of I think simplistic thinking that leads to war. We should have conversation even with the adversaries, probably most particularly with the adversaries."
Both Democrats and Republicans have come out and criticized Trump's remarks today, saying he should have stood with the US intelligence community's assessment that Russia interfered in the 2016 presidential election. Instead, Trump declined to endorse the US government's assessment, saying he doesn't "see any reason why" Russia would be responsible.
During the CNN interview, Paul also said he believes the US intelligence community has "way too much power," but he's not discounting that "allegations that the Russians hacked into Hillary Clinton's e-mails."
The Kentucky lawmaker said people hate Trump so much that they are forgetting Russia's important role in the world. Paul said Russia tried to help stop the Boston marathon bombing and added that they were a nuclear power.
"And I think that what is lost in this is that I think there's a bit of Trump derangement syndrome," Paul said. "And I think they are people that hate the President so much that this could have been President Obama early in the first administration setting the reset button and trying to have better relations with Russia."
6:04 p.m. ET, July 16, 2018
Clinton: "Now we know" which team Trump plays for
Hillary Clinton tweeted ahead of the Trump-Putin meeting, "Question for President Trump as he meets Putin: Do you know which team you play for?"
It appears she got her answer.
5:52 p.m. ET, July 16, 2018
Newt Gingrich: Trump's remarks were the "most serious mistake of his presidency"
Newt Gingrich, normally a backer of President Trump, called on him to clarify his remarks at the news conference in Helsinki, which he said were "the most serious mistake of his presidency."
5:33 p.m. ET, July 16, 2018
James Comey on Trump-Putin presser: "Patriots need to stand up"
Former FBI Director James Comey took to Twitter to blast President Trump for his performance during a meeting with Russian President Vladimir Putin in Helsinki, Finland.
In a tweet, Comey said Trump "refused to back his own country":
Trump is no fan of Comey, whom he fired last May. Trump has gone back and forth on his reasons for firing Comey, who had been leading the bureau's investigation into alleged Russian meddling in the 2016 election.
Trump told NBC News last year that he was thinking of "this Russia thing" when he decided to fire Comey.
Then in April, the President said Comey was not fired because of the Russia investigation.
5:03 p.m. ET, July 16, 2018
Everybody around Trump is afraid to disagree with him, source says
Asked about President Trump's performance today, a source close to White House said, "Everyone around him is afraid to tell him he shouldn't do these things."
The source said Trump is surrounded by people who can't find better jobs outside the White House. They are fearful of losing their powerful positions, which explains the reluctance to disagree with him.
5:04 p.m. ET, July 16, 2018
Finnish president: Putin is looking to be on "even footing" with Trump
Finnish President Sauli Niinistö told CNN's Christiane Amanpour the Helsinki summit allowed Russia's President Vladimir Putin to stand on an "even footing" with President Trump.
Niinistö, who held separate meetings with both men in the Finnish capital, warned that Putin would leave Helsinki carrying "a kind of burden" with questions still looming over Russia's actions in Ukraine, Crimea and the ongoing sanctions imposed on Moscow by the US and European Union.
"I think for him it was important to be on an even footing with the American President," Niinistö said.
"But actually, he also left with a kind of burden. Those big issues, if they continue, they should also be solved somehow and Russia has many questions."