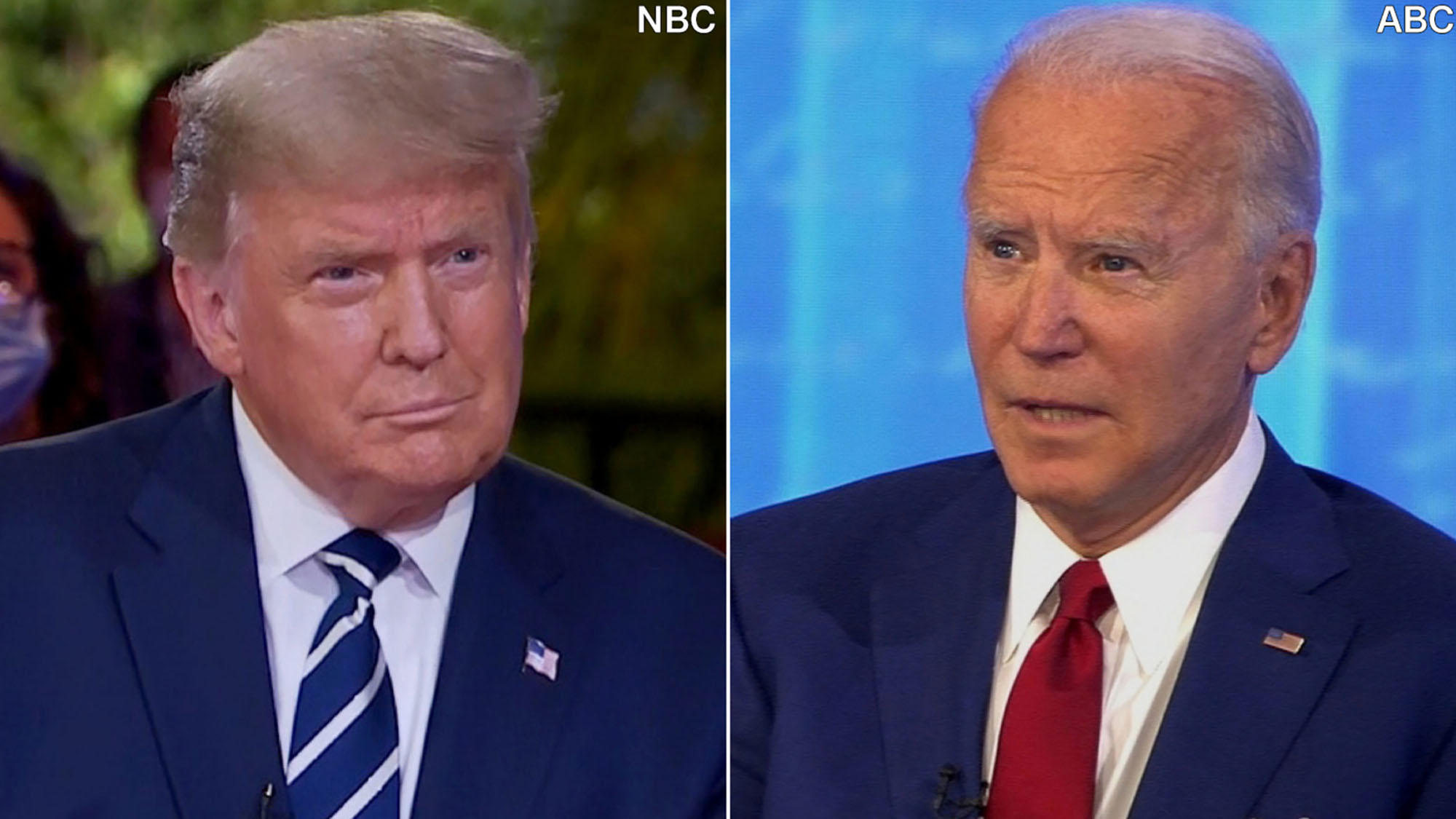 President Trump and former Vice President Joe Biden participated in competing presidential town halls tonight where they discussed a range of topics, including the coronavirus pandemic, nomination of a Supreme Court justice, the economy and Roe v. Wade.
If you missed both town halls, here are some key moments from each below:
Biden's town hall:
Education initiatives: Biden highlighted his plans to increase funding for low-income schools, help first-time homebuyers make their downpayment and increase small business funding when asked why Black people should support him.
Coronavirus vaccine: Biden made it clear that he would not hesitate to receive a coronavirus vaccine once the scientific community signs on to its safety and effectiveness. "If the body of scientists say (it's ready) and it's been tested, it's gone through the three phases – yes, I would take and I would encourage people to take it," he told a questioner who brought up a comment by his running mate, California Sen. Kamala Harris, who expressed concern that Trump would push forward a vaccine for political purposes.
The Supreme Court: Biden said he is "not a fan" of court-packing, but whether he ultimately seeks to push for more seats on the Supreme Court depends on how Senate Republicans handle the confirmation process of Trump's nominee Amy Coney Barrett. Biden faulted her for not directly answering many questions and not laying out "much of a judicial philosophy" during her confirmation hearings held in the Senate this week. "My reading online what the judge said was she didn't answer very many questions at all," Biden said. "And I don't even think she's laid out much of a judicial philosophy in terms of the basis in which she thinks."
Tax cuts: Biden said that his pledge to eliminate the tax cuts that Trump enacted in his first term were aimed only at tax cuts for the wealthy, not the middle class. Republicans have tried to hammer Biden as someone who wants to raise taxes on the middle class because of his pledge to end the tax cuts signed into law by Trump.
Fracking: Biden doubled down on his opposition to a ban on the practice. He conceded that the emission of methane was a concern, along with small earthquakes caused by drilling, but argued that could be dealt with by being "managed very, very well."
Transgender policies: Biden said he will reverse the Trump administration executive orders that a questioner described as "dangerous and discriminatory."
Trump's town hall:
Coronavirus test: Trump said he feels "good" after testing positive for Covid-19 only weeks ago and couldn't recall whether he was tested on the day of the first presidential debate. "I don't know, I don't even remember. I test all the time. I can tell you this. After the debate, like, I guess, a day or so, I think it was Thursday evening, maybe even late Thursday evening, uh, I tested positive. That's when I first found out," the President said.
Face masks and the pandemic: Trump didn't appear to indicate that his recent bout of coronavirus changed his opinion on masks in a contentious exchange in which he repeatedly invoked misinformation and claimed there were "many different stories" from public health officials. Infectious disease experts have provided substantial evidence that wearing a mask is one of the most important mitigation strategies.
Taxes and the IRS: Trump said he is under audit and has been "treated very badly by the IRS." Trump's comments were made in response to questions about his taxes and why he has yet to release his tax records to the public while running for office. "I'm treated very badly by the IRS. They treat me very, very badly. You have people in there from previous administrations. They treat me very badly. But we're under audit. It's very routine in many ways. But we're under audit," the President said.
Roe v. Wade: Trump said he doesn't expect Barrett to rule a certain way on several hot-button issues, including any potential case over the results of the 2020 general election or a case revisiting of Roe v. Wade. The landmark case affirms the legality of a woman's right to have an abortion under the Fourteenth Amendment to the Constitution.
Denouncing White supremacists: Trump said he denounced White supremacy tonight after he didn't do so during the first presidential debate. "I denounced White supremacy. I denounced White supremacy for years but you always start off with the question, you didn't ask Joe Biden whether or not he denounces Antifa," Trump said. "I denounced White supremacy. I denounce Antifa and I denounce these people on the left that are burning down our cities, that are run by Democrats."
Transfer of power: After hesitating to make the commitment for weeks, Trump said he would accept a peaceful transfer of power if he loses the election, but he continued to sow doubt on the election results and made baseless claims about Obama administration officials spying on his 2016 campaign.