Whistleblower alleges White House coverup
8:23 p.m. ET, September 26, 2019
House chairmen warn Trump to stop attacking the whistleblower
House Democrats have warned President Trump to stop his "reprehensible witness intimidation" aimed at the whistleblower whose complaint document has triggered the escalating Ukraine scandal.
In a statement released this evening, Foreign Affairs Committee Chairman Eliot Engel, House Intelligence Committee Chairman Adam Schiff and, Oversight Committee Chairman Elijah Cummings addressed reports that Trump had referred to the people who gave the whistleblower information as "close to a spy" and said in the old days spies were dealt with differently.
"The President's comments today constitute reprehensible witness intimidation and an attempt to obstruct Congress' impeachment inquiry. We condemn the President's attacks, and we invite our Republican counterparts to do the same because Congress must do all it can to protect this whistleblower, and all whistleblowers," they said. "Threats of violence from the leader of our country have a chilling effect on the entire whistleblower process, with grave consequences for our democracy and national security."
The statement said Trump "is fully aware that our committees are seeking testimony from this whistleblower and others referenced in the whistleblower's complaint released today as part of the House's impeachment inquiry, and our nation's laws prohibit efforts to discourage, intimidate, or otherwise pressure a witness not to provide testimony to Congress."
"No officials with knowledge relevant to the committees' investigation, including knowledge of the subject of the whistleblower complaint, may be subject to any intimidation, reprisal, or threat of reprisal, and all witnesses must be made available for congressional testimony," they added.
8:23 p.m. ET, September 26, 2019
Beto O'Rourke urges lawmakers to hold Trump accountable
Former congressman and Democratic presidential hopeful Beto O'Rourke urged the House of Representatives to move forward with the impeachment inquiry into President Trump.
O'Rourke told CNN's Erin Burnett tonight that impeaching Trump would be "the only way that we get all the facts, the truth and justice at the end of the day."
"This is about the future of this country and saving our democracy at the moment that it's on the line. If we set this precedent that some people are above the law because of the position of power or public trust that they hold, then any hope of being able to keep this republic, this democracy is lost forever. So this is the moment — if there ever was one — for members of Congress, both Republican and Democrat, to put the future of this country ahead of their party," he said.
8:11 p.m. ET, September 26, 2019
Pelosi: "It's not about politics, it's not about partisanship, it's about patriotism"
The House's formal impeachment inquiry into President Trump is "about protecting our Constitution," House Speaker Nancy Pelosi said at an event tonight.
The California Democrat went on to say that lawmakers "had no choice" but to launch the inquiry, saying it was not a political move.
"This is a very sad time for our country. I say this to you with great sorrow and prayerfully, that we are in a place that I hoped we would never be," Pelosi said, speaking in Washington, DC,
She continued:
"I never thought we would see a President take the actions that he has. In fact, I don't think our founders ever thought a president would do such a thing. And they built guard rails into our Constitution to ensure that anyone who might be tempted to do so saw the boundaries. But that has not held this President back and I know this is not a political occasion and I don't think the action of an inquiry is a political move. It's not about politics, it's not about partisanship, it's about patriotism."
7:52 p.m. ET, September 26, 2019
Kellyanne Conway on impeachment investigation: "It doesn't affect" Trump
Kellyanne Conway defended President Trump's conversation with the Ukrainian president and downplayed the impact of the investigation on the White House.
"It doesn't affect him. It doesn't affect his presidency. It affects the faith that people have in our democratic institutions the fact that just based on a whistleblower complaint and a leader call that we all have access to," said Conway, Trump's senior counselor.
Conway also seemed to deny that the White House has a dedicated team working on the impeachment proceedings. "All this nonsense about war rooms, and special people running things… that's just not true at the moment. There's no current need to do that," she said.
Conway insisted that the President cutting off funding for military aide to Ukraine had nothing to do with his request for "favors" from Ukrainian President Volodymyr Zelensky.
7:39 p.m. ET, September 26, 2019
House Intel chair: Giuliani may have broken the law in Ukraine controversy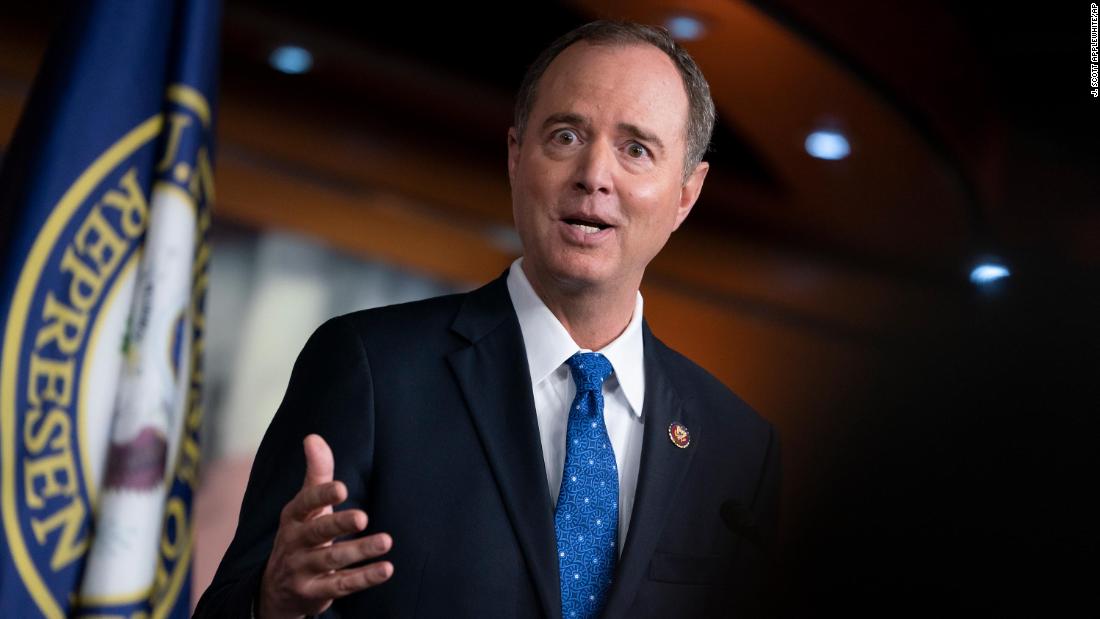 President Trump's lawyer Rudy Giuliani may have broken the law due to his involvement in the escalating Ukraine controversy, according to House Intelligence Committee Chairman Adam Schiff.
Asked by CNN's Wolf Blitzer tonight if he believed Giuliani was potentially criminally liable, Schiff said, "If Mr. Giuliani was involved in a scheme to coerce a foreign government into giving dirt, manufacturing dirt, on President Trump's political opponent, then yes, that certainly can violate the law — violate the criminal laws."
Schiff also believes the Justice Department will not investigate Giuliani.
The Justice Department, Schiff said, "made it clear they're not going to investigate this and they don't want anyone else to. The fact that they would so cavalierly dismiss this credible evidence and say it is not even worthy of us looking into is yet another affirmation that Attorney General Bill Barr believes that he exists to serve the will and interest of the President, not the presidency, and that's exactly what he's doing."
Some background: The whistleblower complaint, which was released this morning, labels Giuliani as "central figure" in the controversy.
US officials were concerned, the whistleblower said, with Giuliani and his contacts with Ukrainian officials. The whistleblower alleges that US officials believed Giuliani was a conduit for messages between the President and officials in Kyiv and that he was at the helm of a problematic "circumvention of national security decision making processes."
Speaking to CNN today, Giuliani said he has "no knowledge of any of that crap" in the complaint. Earlier this month, Giuliani denied asking Ukraine to investigate Joe Biden moments before admitting that he had done just that.
There is no evidence of wrongdoing by either Joe or Hunter Biden.
7:00 p.m. ET, September 26, 2019
Senate Intel chair vows his committee will get answers in whistleblower probe
Senate Intelligence Committee Chairman Richard Burr said today his members "will carry out its jurisdictional responsibilities" to investigate allegations from an intelligence community whistleblower against President Trump. 
Burr said acting Director of National Intelligence Joseph Maguire and Intelligence Community Inspector General Michael Atkinson were "extremely forthcoming" when they met with his committee behind closed-doors for several hours. 
"This will generate more questions than we asked today. The next two weeks we'll probably be trying to get answers to those," Burr said, referencing the two-week Senate recess that began today. "Don't expect us to move at light speed — that will probably happen in the House. But the committee is committed to make sure we get to the bottom of questions (that) need answers."
Virginia Sen. Mark Warner, the top Democrat on the committee, said it's been a "rollicking week," but that the intelligence panel "could take an extraordinarily serious issue in a bipartisan way."
Sen. Susan Collins, a Republican of Maine, said the hearing was a "worthwhile discussion" and "there are obviously a lot of questions" coming out of it.  
She also defended the whistleblower who Trump suggested was a spy against the US.
"That is a gross mischaracterization of whistleblowers. Whistleblowers have been essential in bringing to the public's attention to wrongdoing, fraud, waste, abuse, lawbreaking and I very much disagree with the President's characterization," she said.
Sen. Roy Blunt, a Republican of Missouri and another member of the committee, said he has not drawn any conclusions about the whistleblower's charges. 
"We're committed to gather the information before we reach conclusions. Other people who don't have this responsibility can reach conclusions right away," Blunt said. "In my case I'm not ready to make any conclusions yet and still ready to gather more information."
6:11 p.m. ET, September 26, 2019
Diplomats are alarmed over Trump's treatment of former Ukraine ambassador
Diplomats are rallying their support of former US ambassador to Ukraine Marie Yovanovitch after the release of a whistleblower complaint shed further light on the circumstances of her unexpected removal.
The allegations raised in the complaint, in combination with President Trump's comments about the diplomat revealed in the White House transcript of a call between Trump and his Ukrainian counterpart, lend further credence to the claim that Yovanovitch's removal from her post last May was politically motivated.
Two major groups representing the diplomatic community issued statements today. Here's what they said:
American Academy of Diplomacy: The group noted Trump's comments — particularly his remark that "she's going to go through some things" — "with great concern." AAD Chairman Thomas Pickering and AAD President Ronald Neumann, both of whom are retired ambassadors, said: "The threatening tone of this statement is deeply troubling."
American Foreign Service Association: The group, in a statement, called "on all Americans to honor and respect the non-partisan, non-political work of the dedicated public servants of the US Foreign Service." The statement said: Our members pledge their lives to service to their country and its interests. Any attack on their integrity and commitment to non-partisan service does a great disservice to them, to their families and to our country."
6:00 p.m. ET, September 26, 2019
Joe Biden accuses Trump of trying to "hijack an election"
In his strongest comment yet on the Ukraine controversy, former Vice President Joe Biden, a Democratic presidential candidate, claimed President Trump was trying to "hijack an election" by asking Ukraine for help.
At a fundraising reception in San Marino, California, Biden told donors, "He'd like to get foreign help to win elections."
What we know: A rough transcript of the conversation released by the White House shows Trump repeatedly pushed Ukrainian President Volodymyr Zelensky to investigate Biden and his son, Hunter, during a phone call on July 25.
5:48 p.m. ET, September 26, 2019
A timeline of Trump, Ukraine and the whistleblower complaint
President Trump's acknowledgment that he discussed former Vice President Joe Biden in a July call with Ukraine's president has intensified scrutiny on his interactions and decisions on Ukraine.
The growing controversy stems from a whistleblower complaint that deals, at least in part, with a phone call Trump had with Ukrainian President Volodymyr Zelensky on July 25.
A transcript of the conversation released by the White House shows Trump repeatedly pushed Zelensky to investigate former Vice President Joe Biden and his son, Hunter.
There is no evidence of wrongdoing by either Joe or Hunter Biden
Here's a timeline of the major developments surrounding the Ukraine controversy:
July 25: Trump and the Ukrainian leader talk by phone.
Aug. 12: A whistleblower files a complaint with the intelligence inspector general.
Aug. 30: Trump considers blocking $250 million in military aid to Ukraine, effectively pausing disbursement of the funds during a formal review process.
Sept. 2: Deadline for Director of National Intelligence (DNI) to send whistleblower complaint to Congress — he does not send it.
Sept. 9: The intelligence community inspector general notifies House Intelligence Chairman Adam Schiff of an "urgent concern" that DNI has overruled. Three House committees launch investigation of efforts by Trump, his personal attorney Rudy Giuliani and others to pressure the Ukrainian government to assist the President's reelection efforts. The committees request information about Trump's July phone call with Zelensky.
Sept. 12: The administration hold on Ukraine aid is lifted.
Sept. 18: The intelligence community inspector general and the acting DNI say they will brief the House Intelligence Committee.
Sept. 22: Trump acknowledges that he discussed Joe Biden in a July call with Zelensky. House Speaker Nancy Pelosi writes to the acting DNI stating that if the administration refusals continue, it would constitute a "serious possible breach of constitutional duties by" Trump and would take Congress "into a whole new stage of investigation."
Sept. 23: Trump tells reporters at the United Nations that his conversations with Ukraine's leaders were without fault and said he wanted the world to see what he said.
Sept. 24: Pelosi announces formal impeachment inquiry into Trump. The President tweets the White House will release a transcript of his call with Zelensky.
Sept. 25: The White House releases their transcript of Trump's call with Zelensky. The Whistleblower's complaint is delivered to Capitol Hill and the whistleblower tentatively agrees to meet with congressional lawmakers.
Sept. 26: The acting DNI briefs the House Intelligence Committee.