The latest on the Trump impeachment inquiry
5:22 p.m. ET, September 30, 2019
House Intelligence Committee subpoenas Giuliani for Ukraine documents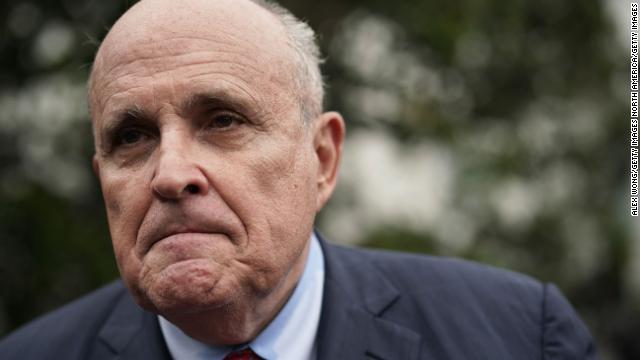 The House Intelligence Committee has subpoenaed President Trump's personal attorney Rudy Giuliani for documents related to the Ukraine controversy to be turned over by Oct. 15.
Foreign Affairs Committee Chairman Eliot Engel, House Intelligence Committee Chairman Adam Schiff and Oversight Committee Chairman Elijah Cummings requested the documents in a letter they sent to Giuliani, according to their joint statement.
"A growing public record indicates that the President, his agent Rudy Giuliani, and others appear to have pressed the Ukrainian government to pursue two politically-motivated investigations," the chairmen said in the statement. "The committees have reason to believe that you have information and documents relevant to these matters."
What we know about Giuliani: The former New York City mayor has become a central figure in the unfolding scandal surrounding Trump's communications with Ukrainian President Volodymyr Zelensky that have led to a House impeachment inquiry into the President's conduct. 
According to a White House-released transcript of a July call between the two leaders, Trump asked Zelensky to work with Giuliani and Attorney General William Barr to investigate former Vice President Joe Biden and his son, Hunter, though there is no evidence of wrongdoing by either Joe or Hunter Biden.
4:34 p.m. ET, September 30, 2019
Whistleblower's attorney says his client is "entitled to anonymity"
Andrew P. Bakaj, one of the lawyers representing the whistleblower, tweeted today that his client is "entitled to anonymity" and that retaliating against the individual is "a violation of federal law."
More on this: President Trump said today that he is trying to find out the identity of the whistleblower and wants to speak to this person.
2:52 p.m. ET, September 30, 2019
Trump: "We're trying to find out about a whistleblower"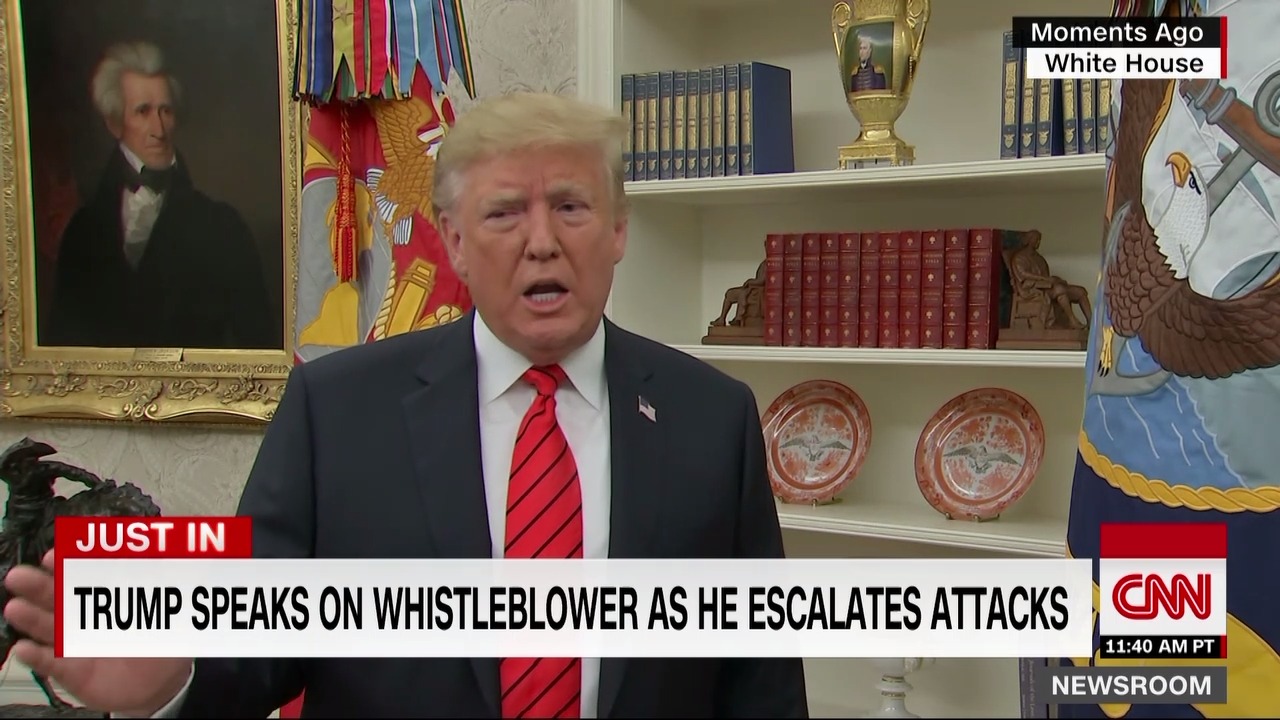 President Trump said he's "trying to find out" about the whistleblower who filed an anonymous complaint against him.
"We're trying to find out about a whistleblower. We have a whistleblower that reports things that were incorrect," the President said at the White House moments ago.
An important note: Many details in the whistleblower's complaint about Trump's July 25 call with the Ukrainian president match up with the White House's rough transcript of the call. Both the complaint and the transcript were released last week.
Trump over the weekend demanded to meet the whistleblower, whom he referred to as his "accuser."
Today, Trump again defended his phone call with the Ukrainian leader.
"The statement I made to the president of Ukraine — a good man, a nice man, new — was perfect. It was perfect. But the whistleblower reported a totally different statement like the statement was not even made," Trump said.
2:37 p.m. ET, September 30, 2019
How the impeachment inquiry could affect the 2020 race
With impeachment taking center stage, the Democratic presidential primary race will shift to the backburner. Most of the oxygen will be sucked up by what's unfolding on Capitol Hill. But this shift is surely temporary — the Iowa caucuses are happening in February no matter what.
The Ukraine affair is about Trump's alleged misconduct. But Trump's underlying actions were all about prodding Ukraine to investigate 2020 Democrat Joe Biden, dirtying up the Democratic frontrunner. It's early, but Trump is trailing Biden by large margins in general election polls in pivotal swing states.
Remember: There's no evidence of wrongdoing on Biden's part.
What this means for the GOP: Republicans could turn the tables and try to turn the impeachment trial into a platform to highlight Biden's supposed wrongdoing. Trump and his allies have been spreading debunked conspiracy theories about Biden and his son Hunter Biden regarding their actions in Ukraine.
What this means for Democrats: Biden's Democratic opponents are in a tough spot. They are outraged that Trump tried to get Ukraine to investigate Biden — but they don't want the public anger to be so strong that it helps Biden secure the nomination. They will continue hitting Biden on the trail on policy issues, but they'll need to steer clear of giving credence to the false attacks Trump spreads about Biden.
4:35 p.m. ET, September 30, 2019
Democratic senator: "Any rational person would be concerned about the whistleblower's safety"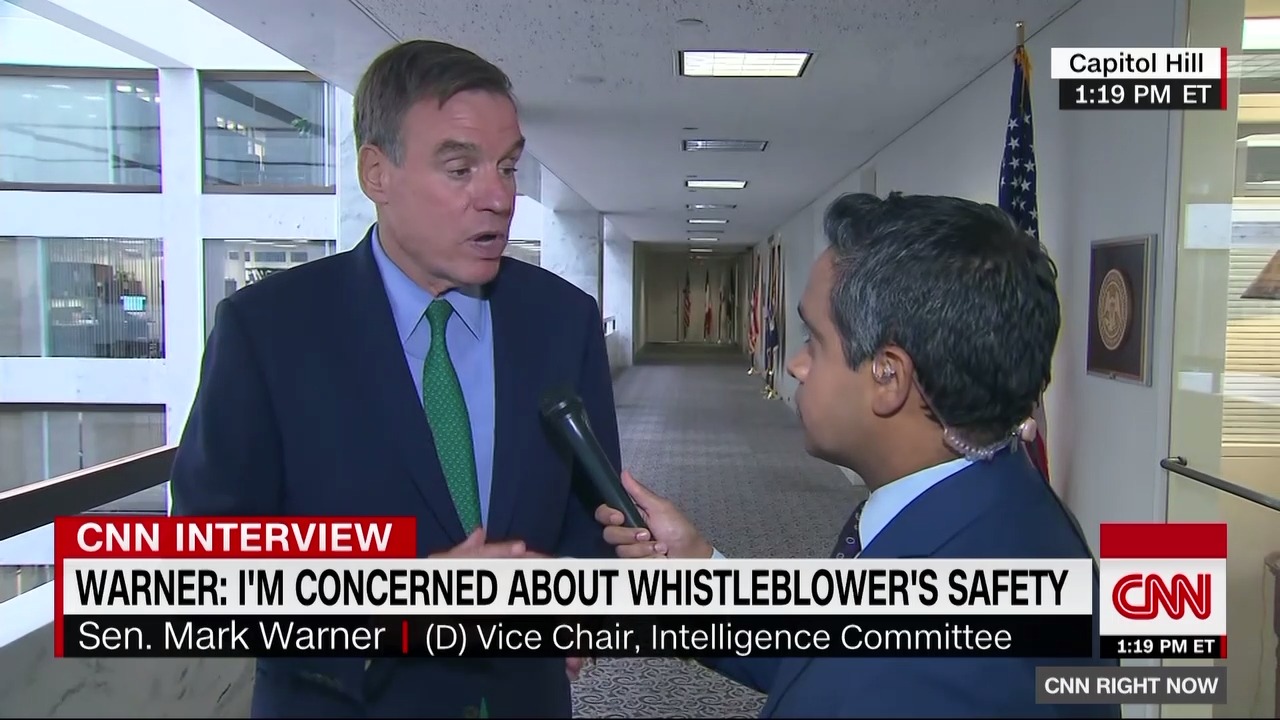 Democratic Sen. Mark Warner, the vice chair of the Senate Intelligence Committee, said "any rational person" should be worried about the whistleblower's safety as President Trump continues to threaten him or her.
"Any rational person would be concerned about the whistleblower's safety after the President's comments," Warner told CNN.
This weekend, Trump demanded to meet the whistleblower — who he called his "accuser." He's also questioned the whistleblower's credibility and referred to the person who gave the whistleblower the information as "close to a spy."
Warner said both Democrats and Republicans should be alarmed by the comments.
"Even my Republican colleagues — who may not want to weigh in on the substance of the complaint — need to stand up and push back on this President's outrageous behavior about protecting the whistleblower program," he said. "For 40 years this program has allowed folks to come forward in a protected way when they've seen abuse."
12:23 p.m. ET, September 30, 2019
Ukrainian president says his office won't share its own transcript of July call with Trump
Ukrainian President Volodymyr Zelensky said it was unlikely his office would share its own transcript of his call with President Trump.
"It seems to me that we are at a high level when we do not need to do such a thing," Zelensky said. "There are some things and nuances that I think should not go public. However, as you can see, there are no secrets. 
"They made it public, so it is public. That's their own deal," he said.
The Ukrainian leader, speaking to reporters at military drills organized by the country's interior ministry, said his country is not opposed to opening an investigation into the claims against former Vice President Joe Biden and his son, Hunter, but rejects acting solely on the orders of another country.
There is no evidence of wrongdoing by either Joe or Hunter Biden.
"We are not doing anything by commands. I can say it again — we are an independent country. We are not following any commands. We have only one command: to serve Ukraine," Zelensky said, adding that Ukraine's "independent law enforcement agencies are ready to investigate any sorts of proceedings if the law was broken." 
4:36 p.m. ET, September 30, 2019
Mitch McConnell: Senate would have to hold trial if House impeaches Trump
Senate Majority Leader Mitch McConnell made clear that the Senate would have to begin a trial if the House impeaches Trump.
"Under the Senate rules, we are required to take it up," McConnell told CNBC. "And we will follow the Senate rules.... It's a Senate rule related to impeachment that would take 67 votes to change ... I would have no choice but to take it up."
He added: "How long I'm on it is another matter." The Senate can move to dismiss the matter once a trial begins.
Why this matters: After the House votes to impeach a President, the Constitution calls for a trial in the US Senate. However, there had been some question as to whether Republicans in the Senate would even bother since they likely have the votes to easily dismiss the charges.
McConnell simply decided to not hold a vote on Merrick Garland's nomination by President Barack Obama to sit on the Supreme Court. And there had been plenty of speculation about whether McConnell would simply decide not to hold an impeachment trial.
11:31 a.m. ET, September 30, 2019
Former GOP senator to Republicans: "Save your souls," don't support Trump
Former GOP Sen. Jeff Flake on Monday urged Republicans in Congress not to support President Trump's 2020 reelection bid, saying they have a moral obligation to put their principles first — even if it means risking their careers.
Flake, a longtime Trump critic who has before argued that the Republican Party should not support the President in 2020, made his case in an op-ed published in The Washington Post titled "Fellow Republicans, there's still time to save your souls," writing that Senate Republicans should refuse to support a second term for the President, despite their feelings on the Democrat-controlled House's impeachment inquiry.
"My fellow Republicans, it is time to risk your careers in favor of your principles. Whether you believe the president deserves impeachment, you know he does not deserve reelection," wrote Flake, who represented Arizona before he left Congress earlier this year. "Our country will have more presidents. But principles, well, we get just one crack at those. For those who want to put America first, it is critically important at this moment in the life of our country that we all, here and now, do just that."
Flake added: "Trust me when I say that you can go elsewhere for a job. But you cannot go elsewhere for a soul."
10:58 a.m. ET, September 30, 2019
The whistleblower could testify "very soon," House Intel chair says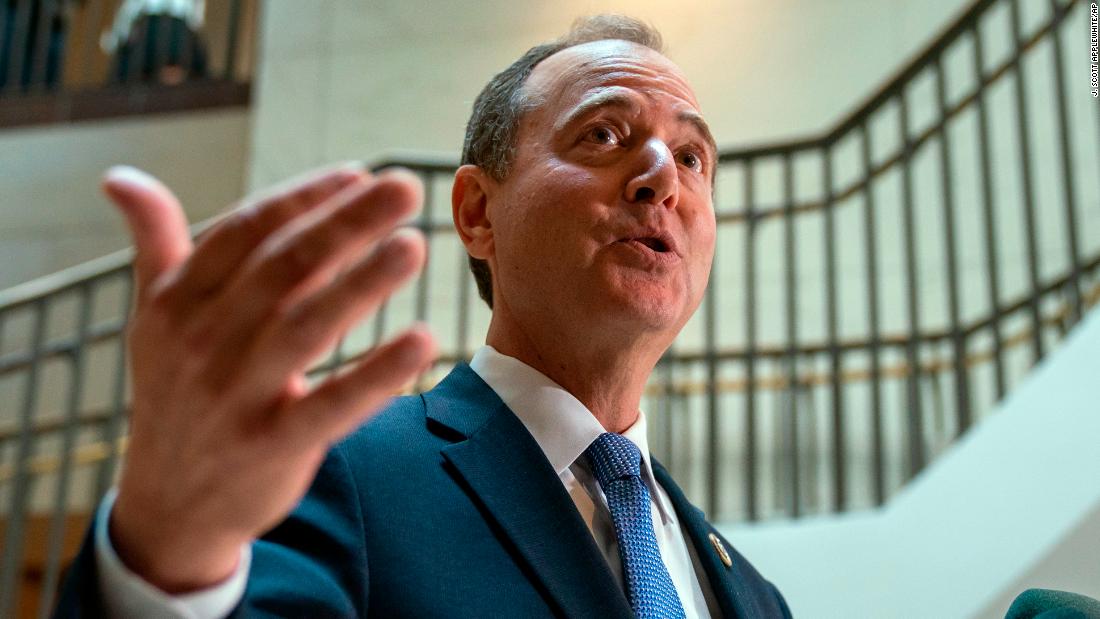 House Intelligence chair Adam Schiff said yesterday that he expects the whistleblower to testify "very soon" following negotiations focusing partly on how to preserve his or her anonymity and security.
"We will get the unfiltered testimony of that whistleblower," he said on ABC News.
CNN reported on Wednesday the potential testimony is dependent on the whistleblower's attorneys getting security clearances.
About the whistleblower's complaint: In the complaint — judged credible by a Trump-appointed intelligence community inspector general — the whistleblower alleged the President tried to get Ukraine to interfere in the 2020 election and the White House tried to cover it up.
Trump has repeatedly denied that he did anything wrong, saying his call with the Ukrainian leader was "perfect."