Follow the White House press briefing
3:09 p.m. ET, November 27, 2018
Our coverage of today's White House press briefing has concluded.
2:31 p.m. ET, November 27, 2018
Sarah Sanders responds to Trump's tweet on cutting GM subsidies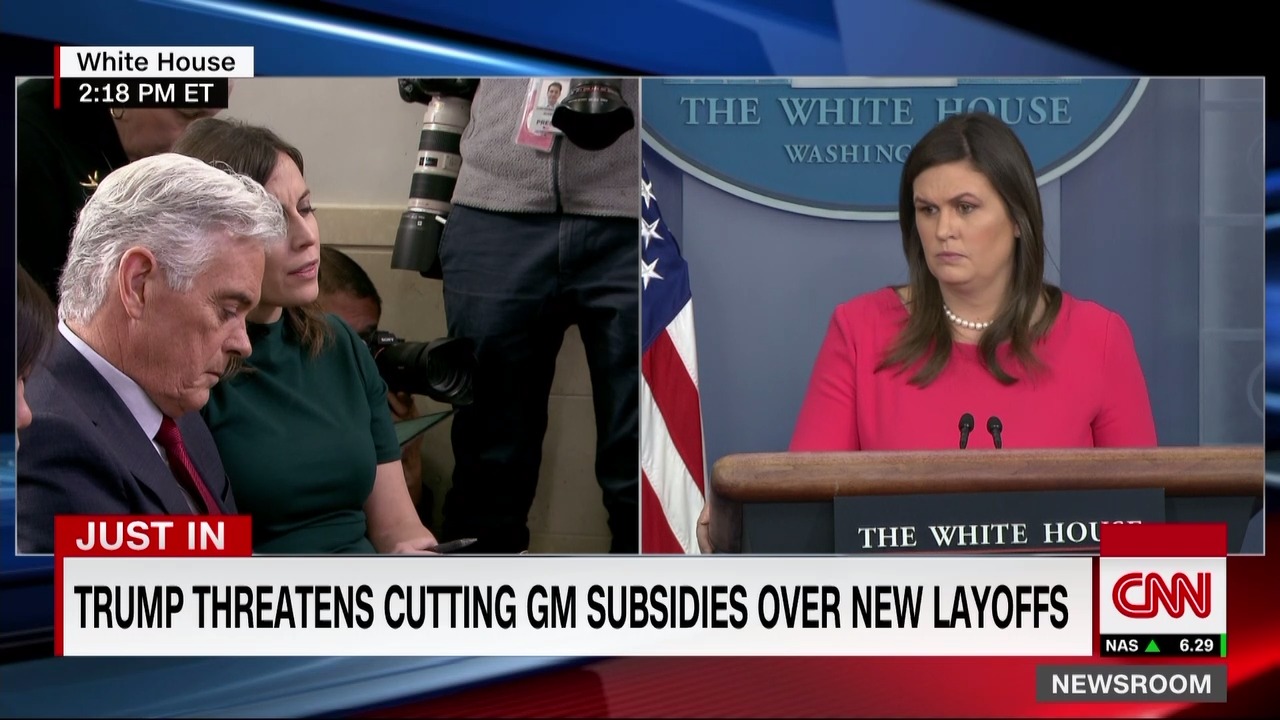 President Trump took to Twitter during the White House press briefing to announce that his administration is looking at cutting all subsidies to General Motors.
(The company announced Monday that it will shut production at five facilities in North America and slash its staff. GM will reduce its salaried workforce by 15%, including a quarter of the company's executives.)
White House press secretary Sarah Sanders was then asked during the briefing about the President's tweets.
Here's what she said:
"I don't know that there's a specific timeline. He's looking into what those options might look like. The President wants to see American companies build cars here in America, not build them overseas. And he is hopeful that GM will continue to do that here."
Earlier, Sanders said, "This is not about the President. It's about the fact that they're making a car, frankly, that people don't want to buy."
Watch it here:
2:24 p.m. ET, November 27, 2018
Sarah Sanders says she's unaware of any conversations about a Trump pardon for Manafort
From CNN's Kevin Liptak
The White House says there are no conversations about a presidential pardon for Paul Manafort after prosecutors claimed he lied to the FBI.
Sarah Sanders said President Trump continues to insist there was no collusion between his campaign and Russia.
And she said the fact Trump hasn't ordered Robert Mueller's firing is an indication he has no plans to short circuit the Russia investigation.
"He could have taken action at any point and he hasn't. So we'll let that speak for itself. He has no intent to do anything," she said.
Sanders told CNN's Jim Acosta the White House remains cooperative with the investigation, as it has been for more than a year.
"We can only speak to what our role is in in that process. Not only has the President but the entire administration has been fully cooperative with the special counsel's office, providing hours and hours of sit downs as well as over 4 million pages in documents," she said.
"We continue to be cooperative, but we also know that there was no collusion and we're ready for this to wrap up."
She added later the President's tweets on Tuesday about the final Mueller report were not indicative of increasing concern. "I don't think the President has any concern about the report," she said. "The President has voiced his unhappiness from the beginning."
Watch more:
2:14 p.m. ET, November 27, 2018
Trump and Putin to discuss security issues and the Middle East at G20
From CNN's Kevin Liptak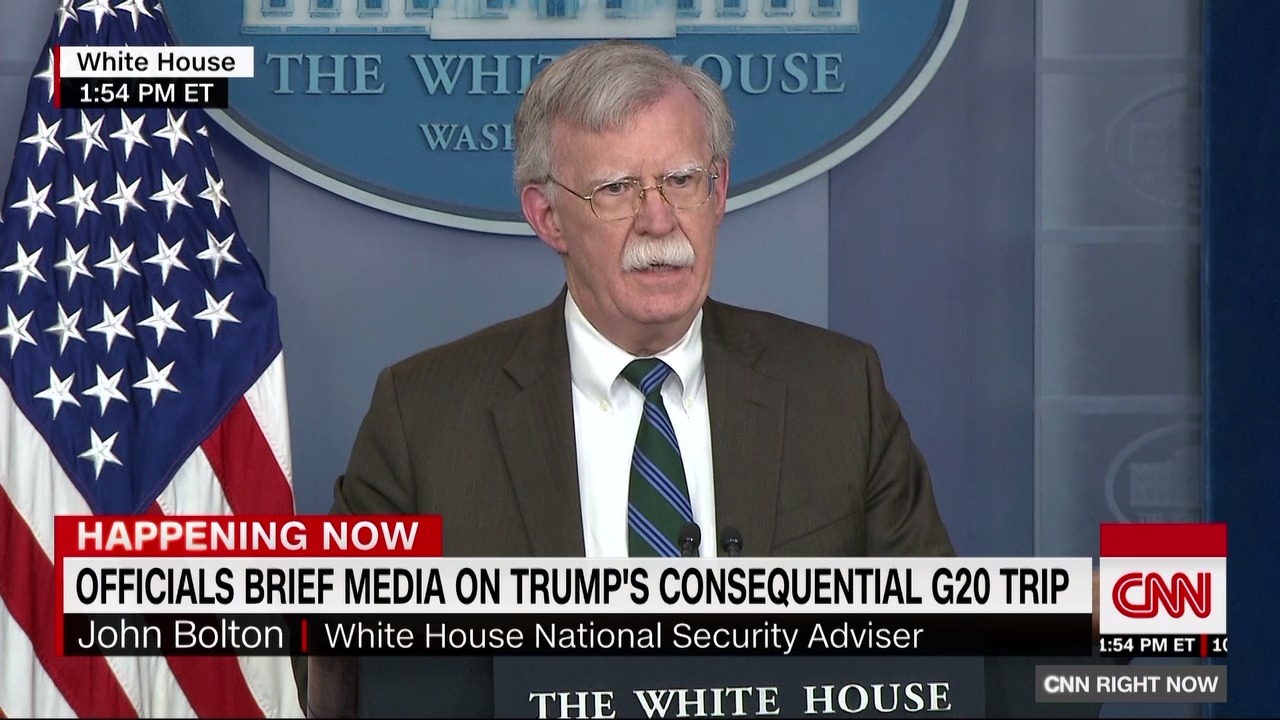 President Trump will discuss security and regional issues with Russian President Vladimir Putin when they meet this week in Argentina, national security adviser John Bolton said Tuesday during the White House briefing.
"I think all of the issues that we have on security issues, on arms control issues, on regional issues, including the Middle East" will be under discussion, Bolton said.
"I think it will be a full agenda. I think it will be a continuation of their discussion in Helsinki," Bolton said.
Asked whether the escalating situation with Ukraine would come up during their talks, Bolton said only the White House stands by statements made this week by Nikki Haley at the UN Security Council.
Some background: The Ukrainian military said Sunday that Russian boats opened fire on and seized three of its ships near Crimea, escalating a standoff over the Kerch Strait, a key waterway that holds strategic importance for both countries.
The incident marks a major escalation in tensions between the two former Soviet Republics.
When asked how he felt about the clash, Trump said, "not good. Not happy about it at all." He seemed reluctant to blame Russia, adding, "we do not like what's happening either way. And hopefully it will get straightened out."
2:12 p.m. ET, November 27, 2018
Trump has no plans to meet with Saudi crown prince at G20, Bolton says. Sanders won't rule it out.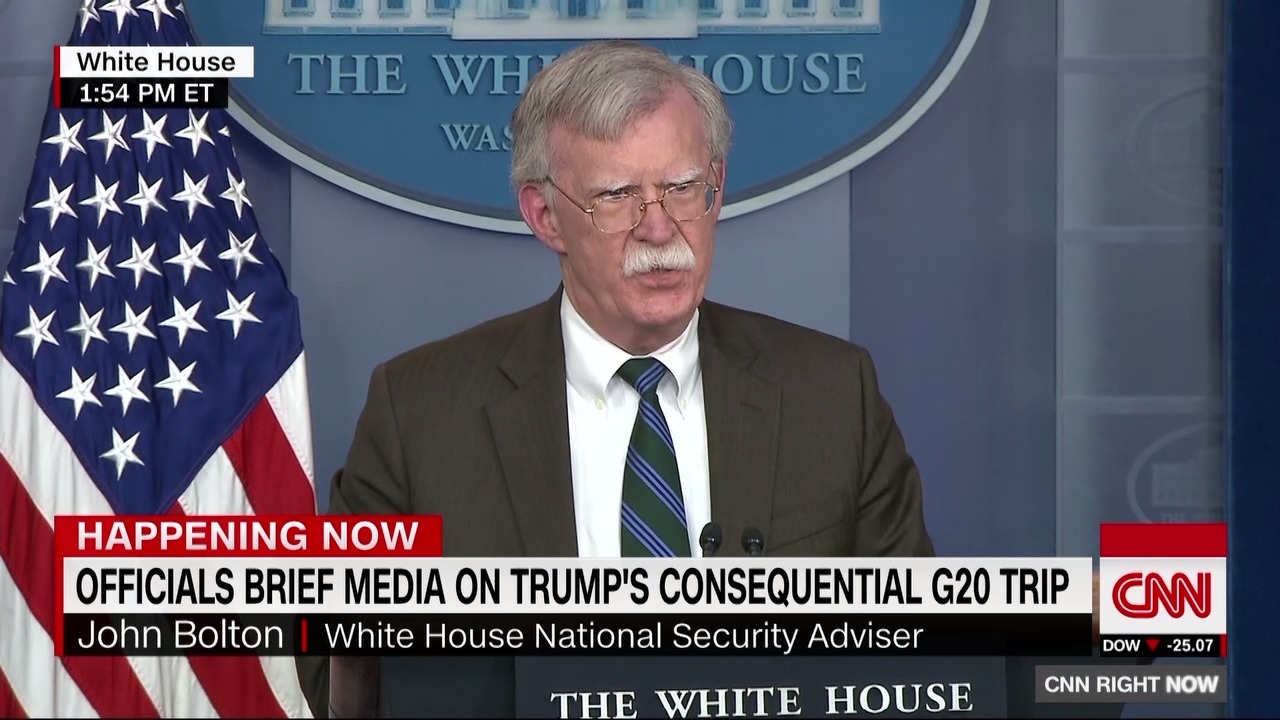 Asked if President Trump has any plans in the works to meet with the Saudi crown prince while he's at G20, White House National Security Adviser John Bolton said no -- his schedule is too full.
Moments later, Sarah Sanders was asked if Trump may have some informal interaction with Mohammed bin Salman. Sanders did not rule out the possibility.
"Whether or not there's some interaction I'm not going to rule that out," Sanders said.
Why a meeting with the prince matters: Top Republicans slammed President Donald Trump earlier this month for his statement backing Saudi Arabia in the wake of Khashoggi's death and dismemberment at a Saudi consulate in Istanbul.
Khashoggi, a Washington Post columnist, was an outspoken critic of the Saudi Arabian government.
The official statement by the White House reads, "Our intelligence agencies continue to assess all information, but it could very well be that the Crown Prince had knowledge of this tragic event -- maybe he did and maybe he didn't!"
A senior US official and a source familiar with the matter told CNN that the CIA concluded last week that the crown prince personally ordered Khashoggi's killing. According to The Washington Post, which first reported on the CIA's assessment, US officials have high confidence in the report. The Saudi government has steadfastly denied the ruler was involved.
In the statement, the President wrote, "we may never know all of the facts surrounding the murder of Mr. Jamal Khashoggi," in adding, "In any case, our relationship is with the Kingdom of Saudi Arabia. They have been a great ally in our very important fight against Iran."
Watch more from Bolton:
Reporting by Dana Bash and Kate Sullivan
1:53 p.m. ET, November 27, 2018
Trade deal between US, Mexico and Canada will be signed in Argentina, Kudlow says
From CNN's Kevin Liptak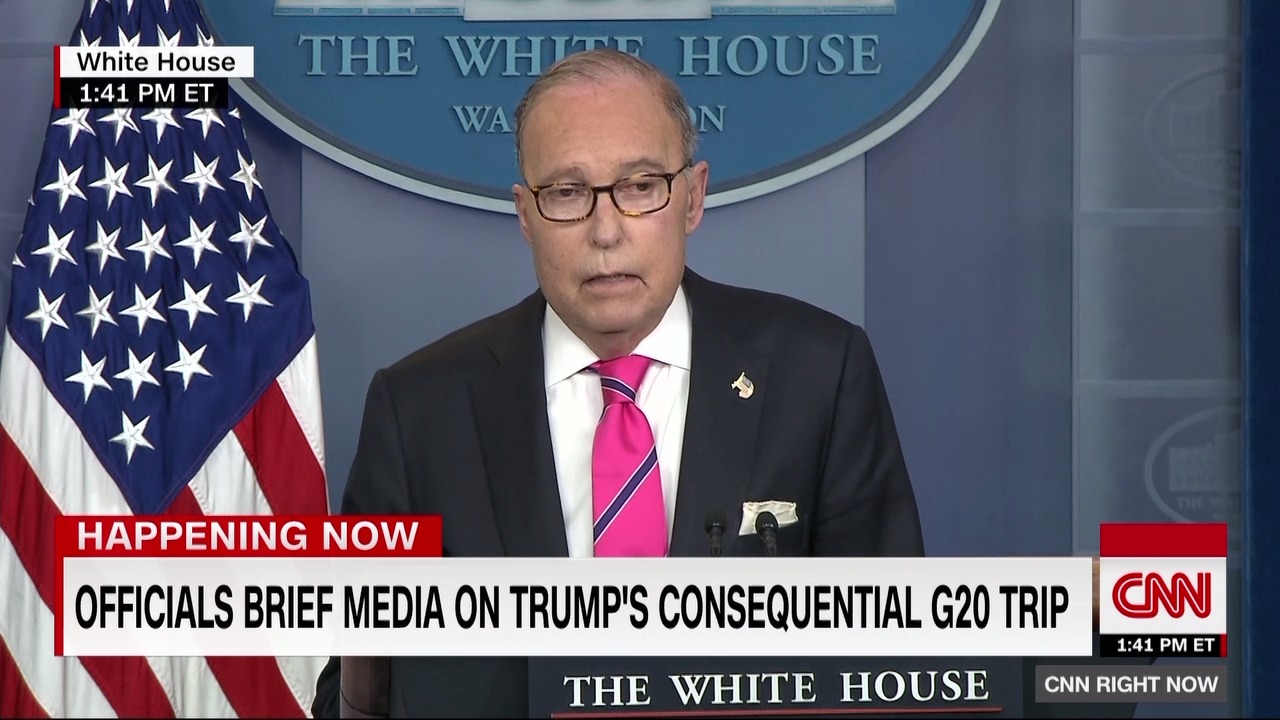 The newly struck trade deal between the US, Canada and Mexico will be signed during this week's G20 summit in Argentina, the top White House economic adviser said.
Larry Kudlow, speaking at today's White House press briefing, said the USMCA would be formalized during the talks, which will bring American, Canadian and Mexican representatives to Buenos Aires.
Trump announced the completion of the deal in October after months of negotiation.
But remember: The agreement still requires Congress's sign-off.
1:50 p.m. ET, November 27, 2018
Larry Kudlow: A deal is possible with China, but if not expect more tariffs
From CNN's Kevin Liptak
A planned dinner meeting between Presidents Trump and Xi Jinping of China has the potential to produce an agreement on trade, according to Trump's top economic adviser.
"There is a good possibility that a deal can be made and that he is open to that," Larry Kudlow said, citing a conversation he had today with Trump.
Kudlow said that "certain conditions have to be met on fairness and reciprocity" in any US-China accord. That includes issues of intellectual property, technology, ownership issues, and tariffs.
Kudlow said if a deal isn't possible, Trump would not hesitate to enact new tariffs on China.
1:47 p.m. ET, November 27, 2018
Trump will meet with these world leaders at the G20 summit
From CNN's Kevin Liptak
President Trump will meet with several world leaders during his upcoming visit to Buenos Aires for the G20 summit. They are...
Argentina's President Mauricio Macri
Russia's President Vladimir Putin
Japan's Prime Minister Shinzo Abe
German Chancellor Angela Merkel
China's President Xi Jinping
His talks will come on the sidelines of the summit, which is hosted by President Macri of Argentina.
1:41 p.m. ET, November 27, 2018
Sarah Sanders starts press briefing by welcoming Larry Kudlow and John Bolton to talk G20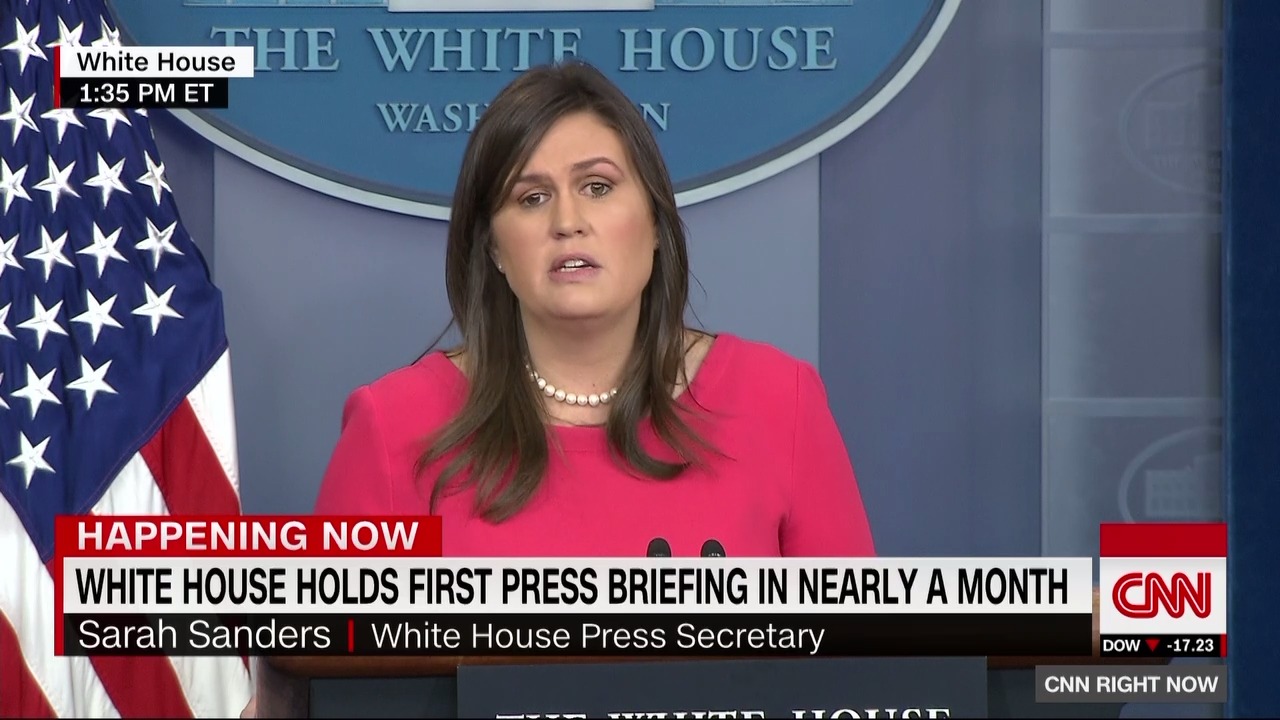 White House press secretary Sarah Sanders took the briefing podium nearly 40 minutes late and introduced Larry Kudlow, director of the National Economic Council, and National Security Advisor John Bolton, who will be speaking to reporters about what President Trump hopes to accomplish at the upcoming G20 summit.