At first glance, Chencha, Ethiopia – an isolated hamlet of bamboo houses situated 300 miles south of the capital of Addis Ababa – doesn't look like it's the center of anything. It certainly doesn't look like a major player on the world's fashion stage. But then, looks can be deceiving.
The town is home to the Dorze people – an ancient community of weaving specialists whose designs have reached catwalks as far afield as New York and Tokyo.
When Tsehynesh Tara, a weaver who originally hails from Chencha, sees pictures of her fabrics on the backs of supermodels, she gets giddy.
"When I first saw the photos I was so excited. I said: 'Did I really make that? Did I make that fabric!?'" she recalls.
Tara is one of several weavers employed by Addis-based fashion designer Mahlet Afework. The 27-year-old designer employs female weavers from Ethiopia's rural areas. In return, weavers teach her about the history of her country and the meaning behind its fabrics.
"Every season I try to tell these stories with my collections – I try to learn more about Ethiopia and its beautiful culture," says Afework.
"It's where we come from, it's in our blood."
Mahlet Afework started her career as a model and rap artist before shifting to fashion. Self-taught via Google and YouTube videos, she's gone on to collaborate with cult UK designer Markus Lupfer and has exhibited at London college of fashion.
In a TED talk last year she told a global audience that Ethiopian fashion is not just about paying homage to its ancestors – it can actually lift women out of poverty.
"In Ethiopia we have more than 500 underemployed female weavers in each village. We have a responsibility to give them a job – and then show their work to the world."
Tara says she, for one, appreciates the opportunity.
"I'm very happy to make a sustainable income to support my family and also to work for a well-known fashion brand in Ethiopia," she says.
Female empowerment
Female weavers from Chencha are drawn to Addis Ababa to earn a living at the country's largest clothing market, Shiromeda. But women tend to struggle in the male-dominated industry there.
"They come to Addis but they still live in poverty," says Afework. "The women usually get a really low income because markets tend to be on weekends, when Ethiopian women would traditionally look after their families."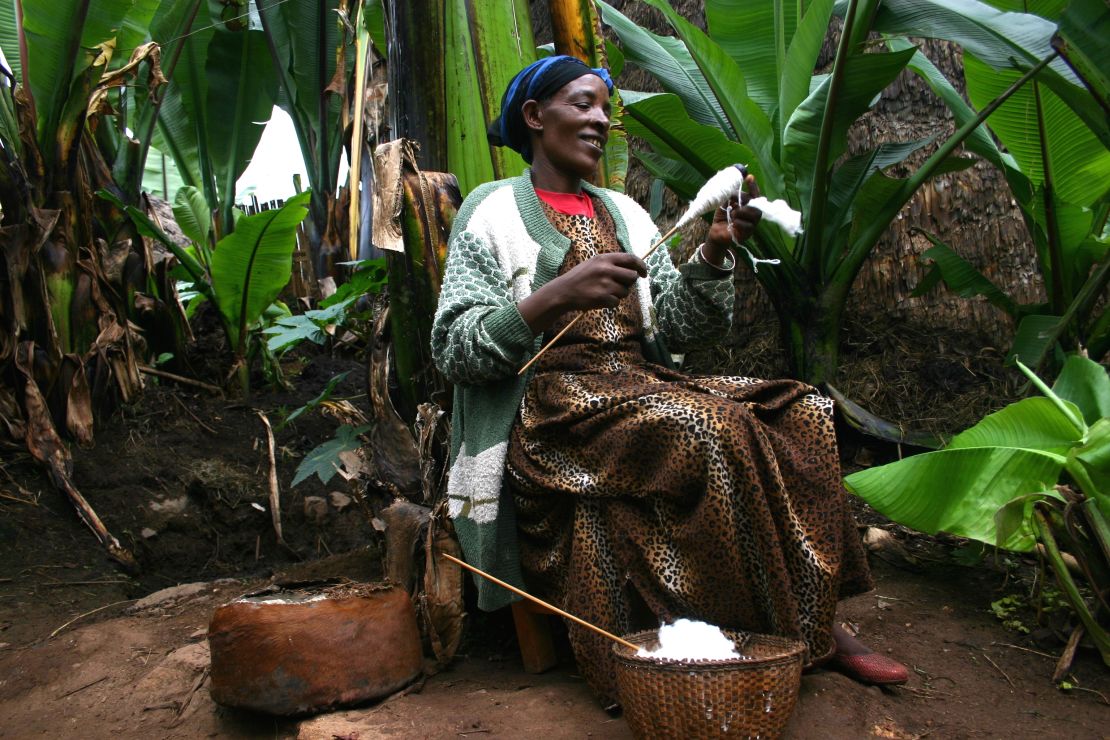 "This is why we now employ female weavers directly," she adds.
Afework was first introduced to Chencha's weavers through UN events to encourage female participation in the economy. Today, designers can meet weavers directly through organizations like the Center for African Women Economic Empowerment.
U.N. secretary-general Ban Ki-moon visited the organization this July to show his support to the Ethiopian fashion industry and its work in empowering rural weavers.
Don't forget where you come from
This week, Addis Ababa will be host to Hub of Africa fashion week – a fashion show that aims to gain international exposure for leading fashion designers from Ethiopia and across the rest of Africa.
Managing director Mahlet Teklemariam started the event in 2010. This year, Vogue Italia editor-in-chief, Francos Sozani, will host a roundtable discussion about marketing African fashion abroad.
"We're showing that Ethiopian fashion is not just local – it can be so much more," says Teklemariam. "It's about getting that exposure and networking with other designers."
The Addis-based event will showcase other leading lights of Ethiopian fashion, including Genet Kebeda, Ayni Ayele, Hiwote Gashaw, Fikirte Addisu and Yordanos Abera.
As the event's organizer, Teklemariam sees a common thread between these young designers.
"Our designers have already traveled to events in Japan, Norway, (America) and South Africa. And even as they become international, there's always a touch of Ethiopia in their designs."
She adds with a smile: "They never forget where they come from."