When his major survey exhibition opens at London's Royal Academy of Arts, Ai Weiwei will be in the building.
In the four years Ai has spent without a passport, prevented from leaving China by security forces, the artist has orchestrated his exhibitions from his Beijing studio and glimpsed the finished result on the computer screen, in news reports and social media posts:
"You see some situations through a mirror," says Ai, who has staged 100 solo exhibitions since he last set foot out the country. "You don't see the real thing but you see maybe just a reflection."
"And that's a way of seeing… Our mind is quick enough or smart enough to adjust ourselves to that kind of limited situation."
"But still you need reality. Reality keeps you healthy: your sensitivities – the sense of smell, the sense of texture, of lighting – all those are important, and nothing can replace those things."
In the taxi
As our taxi from the Royal Academy pulls up, the driver's turnspace is blocked by eight enormous, craggy trees, still surrounded by a pair of forklift trucks, some scaffolding, and construction debris that accompanied their recent arrival.
"Who's put all this junk here?" the driver complains.
The TV producer in-tow explains the Trees — in fact seven metre-tall sculptures bolted together from the limbs and trunks of dead trees discovered across the mountains of southern China — are an installation by conceptual artist Ai Weiwei, whose career survey exhibition is set to open on the site the following week, on 19 September.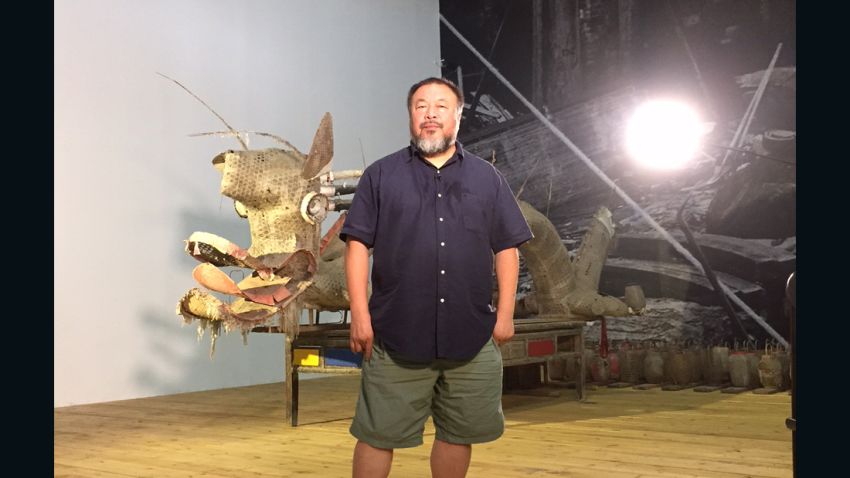 Ai Weiwei travel ban lifted
"Hmmm" the driver exhales, reversing, perhaps unaware the 58-year-old creator is now fixing his seatbelt in the passenger seat.
On the drive, Ai is talkative, enthusing about London, the city he last visited in 2010, just before he was arrested by security agents as he attempted to board a plane from Beijing to Hong Kong, and held in a secret facility for nearly three months.
This is Ai's first ever visit to the Royal Academy (RA) and marks the launch of an exhibition Ai never expected to see in person.
In four years following his arrest – at which time his passport was taken – Ai has spent spells under the close watch of the Chinese government as he fought tax evasion charges (Supporters maintain this was part of a crackdown on political activists.) The reinstatement of his passport on 22 July came as unexpectedly as its confiscation, and without explanation.
Ai says his inability to leave China has not limited the shows he has been able to put on abroad. RA head curator Tim Marlow says Ai's experience as an architect (including working with Herzog & de Meuron on Beijing's Bird's Nest Olympic stadium) has been key, and the artist agrees it's simply as matter of attention to the fine details:
"We are very conscious about all the measurements, the height of the room, and what kind of lighting, and how people want to go through from one room to another," Ai says. "So we work not just as artists but also as curators."
Since his passport was confiscated, he has become an expert in this unlikely skill: masterminding large-scale, crowd-pleasing exhibitions that playfully manipulate their host spaces, from a remote location divorced from the world – his "space station" in the artist's' enclave of Caochangdi, Beijing.
This show was planned from Ai's base using materials couriered by Tim Marlow and RA co-curator Adrian Locke over four trips in a busy 11-month stretch, including architectural plans, measurements, and photographs. At an exhibition last autumn, at Oxfordshire's stately Blenheim Palace, curators laser-scanned and 3D modelled the palace's exhibition spaces to create a "virtual world" for Ai to explore. Here, Ai made do with a video tour of the museum's exhibition spaces, recorded by Locke during artist Anselm Kiefer's hailed retrospective last summer.
As with his last London project – 2010's Sunflower Seeds, which filled the cavernous Turbine Hall of London's Tate Modern with 100 million hand-painted porcelain seeds – Ai's post-incarceration shows have employed monumental, historically loaded, or unconventional locations to give new meaning to his works. Blenheim allowed Ai to hide porcelain watermelons and Coca-Cola-branded vases among the Palace's 300-year-old antique collection – to ridicule the grandeur of his surroundings. An exhibition in the ancient jail on Alcatraz Island, California, the same year, gave voice to individual prisoners of conscience from across the globe, with recordings of music, poetry, and speeches wringing out from cramped cells.
"If you're an artist like me," he said in a recent interview with the Tate Gallery and TheGuardian.com, "you need a lot of space for freedom of speech."
The current show is different: in contrast to the Seeds craft-obsessive spectacle, Blenheim's punkish humour, and Alcatraz's human rights advocacy, Ai has created the show to give a rounded view of him as an artist.
"It takes a certain kind of genius to work in our spaces," was the challenge Marlow laid last October. But Ai is characteristically unfazed – excited in fact to be showing in London, where audiences are "much more familiar with contemporary art." Is this, then, a chance for him to show more complex work? "I think so. That encourages you to do works that are not only more complex, but also can go deeper, can go further."
Completing 100 shows in four years shows Ai's rabid desire to have his work seen, but I press if there have really not been occasions he has missed out on. Like the possibility to create site-specific installations on the same scale as Sunflower Seeds, an exhibition still pulling crowds when he was imprisoned.
"Ah, that is not possible," he replies. "Because Turbine Hall is very, very not normal space. It's very unusual space. So that requires artist to be there, and to really walk through many many times to try to imagine what the work would look like." You still need reality.
In the studio
Ai laughs: "What?"
He looks to his assistant who has joined us, out the taxi, back at CNN's newsroom. "I never heard about that – a performance artist?"
I'm surprised. It's been a label that critics have stuck Ai with for a few years now. "A case of the ol' living-as-performance art schtick," the New York Observer called it.
Likely it's an attempt to make sense of Ai's surreal output that has included gigabytes of selfies (he's taking pictures as we talk, of himself, of the CNN studio, of the floor, of me in front of a TV screen showing Chinese Premier Li Keqiang), a heavy metal single, a "Gangnam Style" parody video. Ai even called his court battle against a $2.4 million tax bill claimed by the Chinese government a "social performance."
Ai Weiwei debuts music video
"An artist can be in any way: a cooking artist, a performing artists, a… " he waits, "…an interview artist? I don't know."
"Those categories don't work for me… First time I heard that I'm a performance artist. They call me activist, but -" He shrugs.
Since his arrest thrust him into the global eyeline, Ai's public persona has cast a shadow over his prolific artistic production. Like the taxi driver, maybe, "many people recognize the name but struggle to identify a work of his," as Locke said in an interview with the L.A. Review of Books. Ai's vocal criticism of the Chinese government has made headlines globally. Ai tells me he now feels a responsibility to "give out the right information," now many westerners look to him to learn about the challenges Chinese creatives face, as well as anyone who dissents in the one-party state.
Artist: Chinese society 'very fragile'
The noise has reached the point where well-meaning supporters – notably German gallerist Alexander Ochs, who Der Speigel reports appealed to the German public "to see him in the future as an outstanding artist and not as a political activist" – have tried to draw media questioning away from his activities outside the gallery. Many, as in Ochs' case, have been motivated by a feared that Ai's criticism could again lead China to restrict his travel.
But Ai has resisted such a divide:
"I think of my art as one," he explains, "which is a human activity, which comes with all my effort in social media, the movies, documentary films, in art exhibitions, and interviews, and my daily selfies with street people. So I never can separate this."
I ask him about Locke's claim that many don't recognize his work, and he's not fussed. He says you could make the same claim about most politicians or public figures, whose reputations precede their policies.
"That's why we need solid art shows," he says.
"So we set up shows in Alcatraz, in department stores. We're just trying to reach more people, and people not only in the art circles, but ordinary people – the citizens – a