Story highlights
Stunning 90-sec dance through Hong Kong's evolving art scene
Works featured both inspire and capture movement
This March, the world's largest and most prestigious art fair, Art Basel, descends on Hong Kong for its fourth year – and its influence can be felt throughout the city.
An onslaught of gallery openings, exhibition debuts, late-night parties, and satellite events like Art Central are all timed to the occasion. A heavy dose of both art world heavyweights and Hollywood celebrities in town, further adds to the week's glitz and glamor. Even Leonardo DiCaprio flew in for the occasion.
Selfie-obsessed visitors
At the event itself, thousands of works hang on make-shift walls, built into grid-like formations at the cavernous Hong Kong Convention and Exhibition Centre.
Large-scale installations are hung, oddly propped up against concrete columns, or planted onto the floor.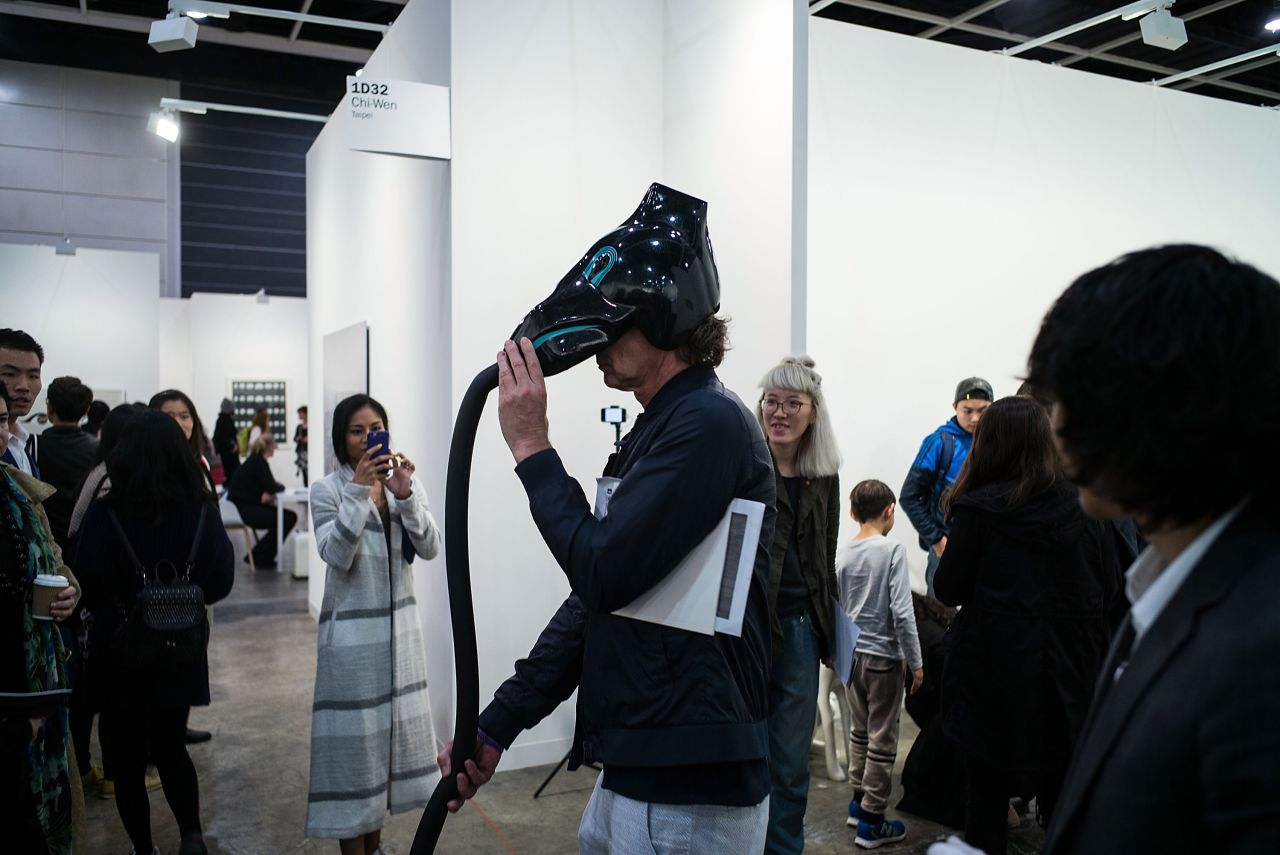 The competing sensations of color, textures, materials and the selfie-obsessed visitors that crowd around the more 'photogenic' finds, can at times feel overwhelming.
Doryun Chong, chief curator for M+, Hong Kong's museum for visual culture, recommends visitors to the fair zero in on what stands out to them: "It's the most clichéd recommendation that is the most truthful."
"Don't put importance on mastering the whole space — you will quickly tire out. Focus on what catches your eye. Think about why it's catching your eye and try to learn more about that artist."
Discoveries
Taken in smaller doses, there's room for discovery, as dancer Cheng-Fang Wu demonstrates.
From Argentinean artist Julio Le Parc's playful "Cloison a lames reflechissantes" – a set of stainless steel slats that distort objects caught between metal and its bright red, diamond-shaped woodwork – to South Korean artist Xooang Choi's deeply unsettling faceless sculptures, each of the pieces featured in the video both capture and inspire movement.
READ: CNN Style's interactive guide to Hong Kong's Art Basel and Art Week
The city itself is weaved into Wu's hypnotic dance, with deliberate nods to Hong Kong's evolving art scene. PMQ, the former police married quarters-turned creative design hub for example, is the setting for a mural by D*Face, as too are the auspicious goldfish steps, painted by multi-media artist Lee Tae Ho.
Also featured – a brick backdrop that is part of Cattle Depot, a pre-war slaughterhouse in Kowloon that has now become an artist village.
Capping off the dance sees Wu set against a row of throbbing neon works by Portuguese artist Vhils, who is one of the many international artists that have adopted Hong Kong as a muse. His reason? "It's a city that stimulates you a lot as an artist. Both visually and conceptually."
Read CNN Style's interactive guide to Hong Kong's Art Basel and Art Week here.
Video by Stephy Chung and DJ Furth, dance by Cheng-Fang Wu and music by Howie Lee.