One bite and the lines dance. Another causes them to spike and form a series of excitable peaks. The device attached to my temples is projecting my brain's activity on a wall with colored lasers. It seems eating ice cream elicits strong feelings in us all.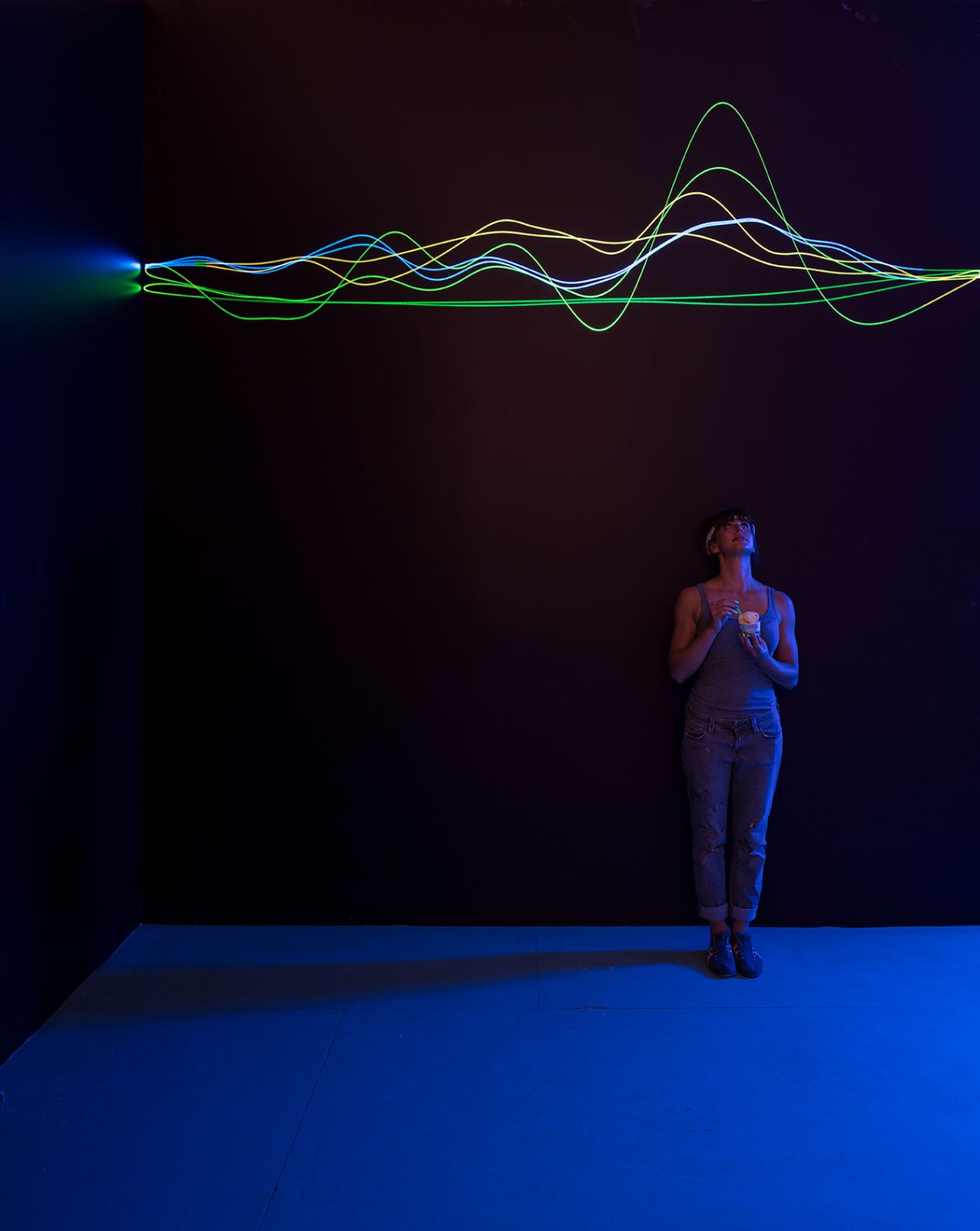 The beloved dessert is a dynamic subject for "Scoop: A Wonderful Ice Cream World," the inaugural show at the new British Museum of Food in London, curated by food architects Bompas & Parr. The exhibition celebrates 400 years of ice cream's history and anticipates its future.
The exhibition combines treasures from the world's largest collection of ice cream artifacts, on public display for the first time, with experimental installations that imagine a new era for the frozen treat.
The ice is right
"Scoop" opens with rare pieces from the vaults of Robin and Caroline Weir, co-authors of "Ice Creams, Sorbets, and Gelati: The Definitive Guide," who volunteered their collection spanning 400 years of ice cream history.
Bompas & Parr: London's sensory magicians
Pride of place is given to a selection of sumptuous molds and vessels dating back to the early 19th century, including Robin Weir's personal favorite: an ornate, three-part mold cast in the shape of a pineapple – a symbol of hospitality. Ice cream back then was an ultra-exclusive preserve of high society, selling for the equivalent of $66 a pint, according to the collectors.
It earned fortunes for prestigious confectioners like James Gunter of London, who would serve his elite customers in their carriages.  
"You had to really love your dinner guests to buy them ice cream," said Robin Weir.
Access at the time was limited by the difficulty of sourcing and storing, as well a culture of secrecy that developed around recipes.
"Confectioners would lock themselves away so no one could see how they did it," Robin Weir explained. "If you knew how to make ice cream you had a meal ticket for life. They used to bribe each other not to write books about it."
That changed with the development of ice shipping networks and electricity, which made ice cream available to less privileged consumers. The historical sections of the exhibition include 200 tiny glass vessels used by street vendors to sell "penny licks" – some of which inadvertently became petri dishes for deadly diseases.
The Weirs' collection also includes ice cream-inspired artworks, from Andy Warhol prints to a vast collection of bawdy British seaside postcards full of innuendos about "cooling down" and "going soft."
A multisensory experience
Bompas & Parr are known for their immersive, multisensory experimentations with food such as breathable cocktails, chocolate climbing walls and synesthetic whiskey.
"Scoop" continues this tradition, with the curators' own inventions and innovations set alongside the Weirs' historic artifacts.
A "smell-scape" charts the invention of new flavors over four centuries. Visitors are guided along a wall-mounted timeline that releases scents to mark the arrival of jasmine in 1695, pomegranate in 1750, and cucumber in 1885. Few of the early favorites have retained their popularity.
"The ice creams of yesteryear were as wild as any of the artisanal flavors you have today," said Sam Bompas. "We have recipes for marmalade ice cream from 1691 that is so bitter it's like an aperitif."
We are then led through an interactive feature that recreates the kitchen of legendary ice cream entrepreneur Agnes B. Marshall, who won fame as a writer of recipe books, inventor of machines, and educator of the well-to-do. There, we were given a crash course in her basic method of making ice cream – vigorously shaking a combination of ice, salt, sugar and drops of flavoring.
The next generation
"Scoop" takes on a tinge of sci-fi as it delves into the physiology of ice cream and predicts its future.
Bompas & Parr collaborated with ice cream magnates Ben & Jerry's to create an installation that might as well be called "this is your brain on ice cream," featuring a device that visualizes our neurological response to eating ice cream with colored lasers.
It's a bit of fun, but also reveals the extreme level of stimulation that occurs during consumption, and hints at the possibility of engineering the product to manage that effect…a lower stimulating ice cream that won't keep the kids awake.
We are also treated to technological innovations such as a vaporized vanilla ice cream cloud that can be consumed by inhalation, fizzy ice cream, and what Bompas & Parr claim is the world's first glow-in-the-dark ice cream, which we're invited to sample in a luminescent cave-like chamber.
These ideas are presented as possible responses to changing consumption behaviors. The vanilla cloud might appeal to consumers with experiential tastes, while the glow-in-the-dark ice cream is a response to research showing that many of us enjoy our frozen desserts in bed.
If such innovations take hold at scale, then the future of ice cream could be as ambitious as its decadent past.
"SCOOP: A Wonderful Ice Cream World" is on at the the British Museum of Food in London until Sept. 30, 2018.