Editor's Note: Colin Gleadell is a London-based arts expert and author of the article below.
Even if you're not interested in fashion, it is worth a visit to Burberry's London Fashion Week exhibition at Makers House just to see the Henry Moore's on display.
Whether you see the connection between the art and the fashion or not – and I'm not sure I did entirely – this is a formidable display of sculptures, drawings, found objects, and tools, all on loan from the Henry Moore Foundation (HMF) in Hertfordshire, where the artist lived.
The layout is straightforward. At the entrance is a giant green sheep – a reference both to Burberry's long-line wool coats, capes and jumpers, and to Moore's fondness for sheep. (He drew them grazing in the fields around his sculptures.)
In the lobby, like a cinema foyer, HMF posters line the wall. At one end, a shiny bronze abstracted torso reminds us how Moore and Christopher Bailey (Burberry's chief executive and creative officer,) both Yorkshiremen, are concerned with the human figure.
Burberry sculpts new designs from art history
In a kind of grotto before you enter the main theater of action is one of Moore's most appealing and tender works, "Family Group," a sculpture of a seated mother and father with two children on their knees. A much smaller version of this has sold for over £3 million ($3.7 million).
It was made just after the Second World War and is an icon of family love. It could also be a reference to the traditional values Burberry incorporates, laced with a sense of adventure and modernity. Turning the corner, six other large bronzes line what was a runway for the models on opening night.
Sculptures were placed like sentries in the crowd, massive, powerful, ageless figures rooted with a sense of permanence amongst the frenzied, here-this-year-gone-the-next-ness of the fashion world.
Many of them are draped figures, following one of Moore's central interests. So, no prizes for spotting the relevance to Burberry here, though Moore's drapery itself is so minimal it finds no direct relationship in Burberry's bolder designs.
Moore on the runway
Now that Makers House is open to the public, the models have been replaced by rows of mannequins.
This allows a closer inspection of the clothes to see the interaction points with the art – the way the shoulders on Moore's figures slope and the way an asymmetrical sweater's sculptural sleeves slope off the shoulders; the blue-and-white striped sweatshirts that echo Moore's frequently worn butcher's apron; the ribbing effect on wool jumpers, like the white ribs in Moore's painting of a reclining figure.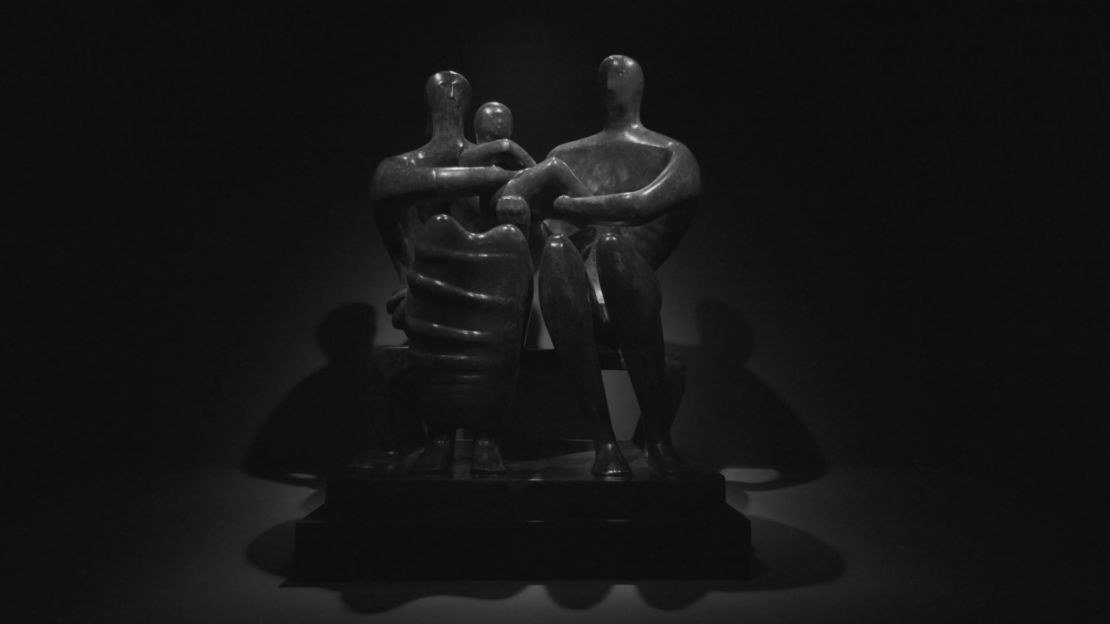 A knitted boot with sculpted heel might connect with Moore's trademark figure sculptures with holes in them. A number of shirts carry reproductions of Moore textile designs, the closest the artist ever came to fashion. (He only designed these when he needed the money.) And somehow the display has become so busy that the sculptures feel crowded out.
They miss the wide open spaces they were created for – a field, garden or city plaza. Moore was and still is one of the greatest open-air sculptors, and this display makes them feel a little claustrophobic.
The virtual reality section upstairs gives you a feeling for the placement of his monumental bronzes in the generous acres of Hertfordshire.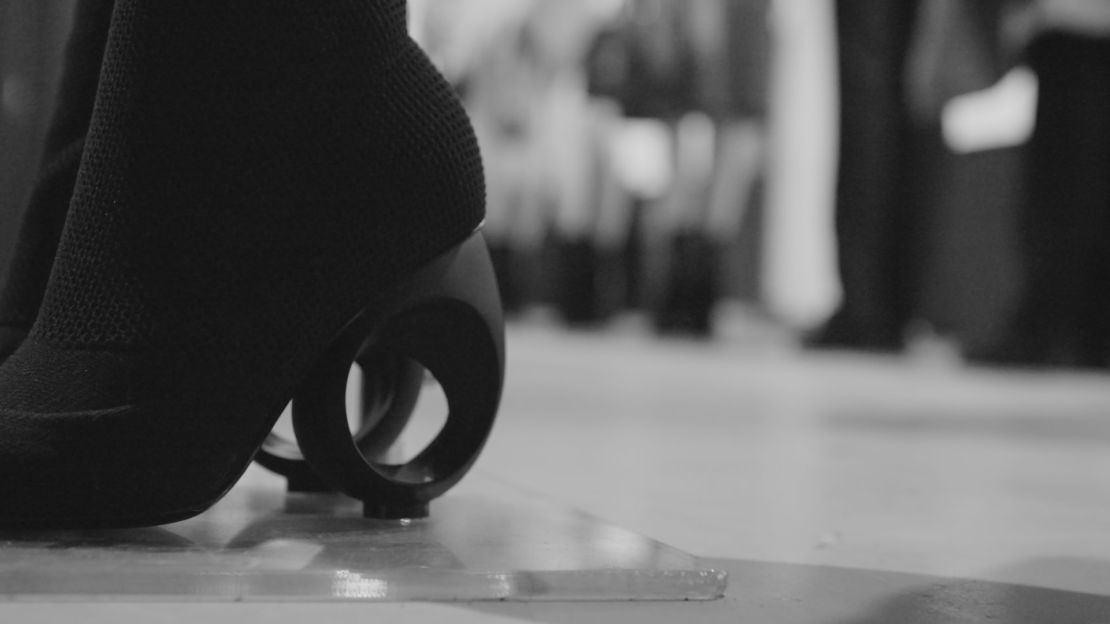 Blurring boundaries
When talking about Moore as an inspiration, Bailey also emphasized the artist's working process and materiality of his sculptures. To get this across he has used the upper floor that overlooks the ground floor gangway to show unfinished work.
In a single stroke of genius, he has recreated the feel of Moore's studio by lining the walls with off-white painted shiplap. In a clever hang that mixes photographs of his studio, sheep drawings, and his old blue-and-white butcher's apron with Burberry's cape designs and fabric strips, the casual viewer could easily believe this was all the work of one hand.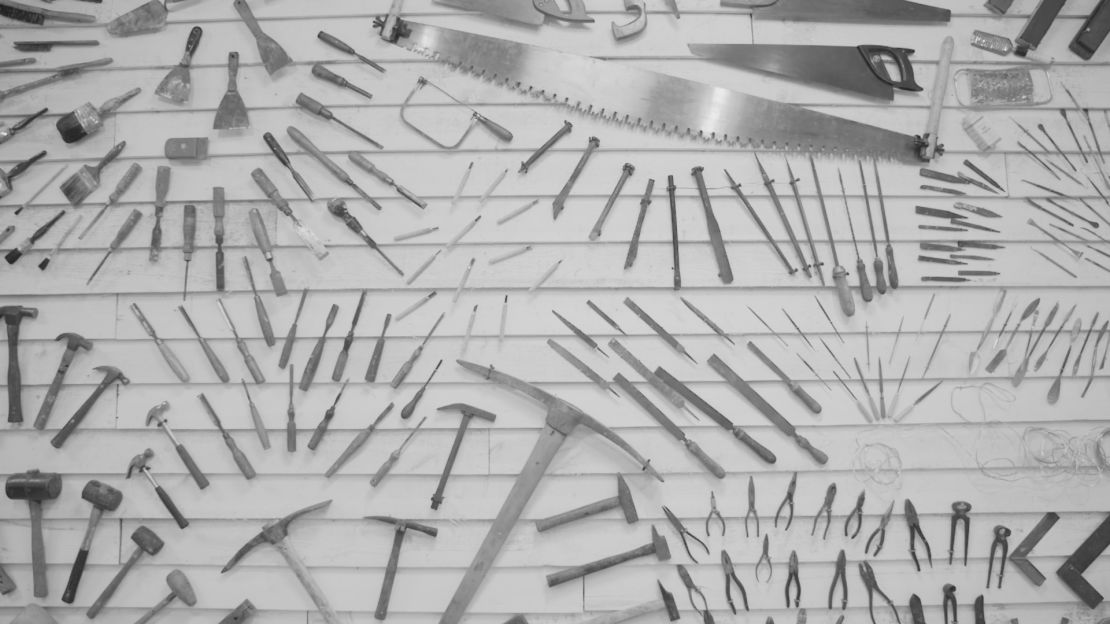 On an adjacent wall, Moore's craftsmanship is emphasized with a carefully arranged display of working tools – spirit levels, pliers, plaster scrapers, scissors, hammers, brushes – all pinned flat against the wall in radiating patterns.
When Moore was alive, there was a sharp distinction between artist, designer and craftsman, but with this show we are being asked to disregard the boundaries.
Christopher Bailey has drawn influences from modern British art before, which is appropriate for a modern British designer. Think of the references to the artists Christopher Wood, Ben Nicholson and Duncan Grant in recent shows. In doing so, he is not treading new ground.
It's a moot point, though, who benefits most from this latest fashion convergence. With a record price of almost £25 million ($31 million) at auction, Moore certainly brings class to Burberry's table.
On the other hand, he could be considered a bit old hat, and in need of some regeneration. By bringing him headlong into the world of fashion, Bailey is making Moore more relevant to today's market by introducing him to a new audience.
Dealers in Moore's work must be toasting Bailey's health.
Video by Oliver Bloor.