For two decades, Yue Minjun's grinning self-portraits have been celebrated as one of the most recognizable icons of Chinese contemporary art.
His pink-skinned caricatures, frozen in hysterical laughter in various settings and posing as people from all walks of life, including military personnel, have smashed auction records and been shown at galleries and exhibitions around the world.
In recent days, however, the Beijing-based artist has come under fire online in China, where nationalist influencers have denounced him as a "cultural traitor" and demanded his investigation and punishment.
Yue's alleged transgression: "uglifying" and "insulting" China's military, the People's Liberation Army (PLA).
The military-themed paintings (one of which is pictured top) are the latest target of a sweeping attack on artistic and cultural freedoms unleashed by the kind of belligerent, hardline nationalism critics say has been promoted under Xi Jinping, China's most authoritarian leader in decades.
The attacks, which have focused predominately on creators perceived as not aligned with official ideology and values, have drawn comparisons to the Cultural Revolution, a decade of political and social turmoil started in 1966 that saw arts and culture become a tool of the Communist Party.
And in the chest-thumping nationalism that has dominated the country's tightly controlled official and public discourses, the Chinese military occupies a sacred, central place – and any perceived slight can lead to serious consequences.
A costly lesson
The attack on Yue came just days after an even fiercer backlash against Li Haoshi, a Chinese stand-up comedian who goes by the stage name House.
The 31-year-old has been placed under police investigation over a quip at a Beijing live show, where he used a slogan Xi had coined for the PLA to describe two stray dogs chasing a squirrel.
The eight character propaganda – "Fine style of work, capable of winning battles" – is likely one of the world's most expensive punchlines, costing Li's employer more than $2 million in fines.
It also cost Li's job and future career – and potentially his freedom. Under Xi, China passed a law in 2018 to ban the slander of national "heroes and martyrs," a crime punishable by up to three years in prison.
The harsh punishment against Li shocked some stand-up comedy fans, who did not find Li's words particularly offensive or harmful. Li's joke drew a round of laughter at the show, according to an audio clip of the performance.
Stand-up comedy has gained huge popularity in China in recent years, thanks partly to online shows like "Rock and Roast," which many watched from their homes under the country's zero-Covid lockdown.
Like other forms of entertainment, to survive in China, the stand-up comedy industry practices rigorous self-censorship and steers clear of political satire. Instead, it wins its audience – mostly young, professional urbanites – with biting jokes on everyday issues, from gender inequality to excessive work culture.
"The government may tolerate jokes and complaints on some social issues and private life, but if one touches on state institutions, leaders or the military, authorities would have to take action – especially in the face of a fierce online outcry," said a US-based scholar who studies Chinese popular culture, who requested anonymity due to the sensitivity of the issue.
Historic symbolism
The official censure of Li arrived swiftly and forcefully on the heels of an online nationalist backlash. Even the PLA chimed in, with its Western Theater Command lashing out in a social media post that Li's apology was far from enough to quell its anger.
To outsiders, it may appear puzzling that China's military, the largest and one of the most powerful in the world, would be so easily offended by a seemingly tame joke.
But veteran observers of Chinese politics say the fierce official reaction is tied to the PLA's crucial place in Communist Party history – and in Xi's muscular nationalism.
Founded as the Red Army in 1927, the PLA played a central role in shaping the trajectory of the party's rise and the founding of Communist China, said Professor Rana Mitter, an expert on the emergence of nationalism in modern China at the University of Oxford.
"The history of the Chinese Communist revolution is inseparable from the history of what we now think of as the PLA," he said.
And first and foremost, the PLA is the Communist Party's army, Mitter said.
"Therefore there's an extent to which insulting the army is actually an insult to the party," he said. "The political atmosphere in the last five years – perhaps even longer – has moved heavily towards (the direction) that anything perceived as insulting is essentially regarded as political unacceptable."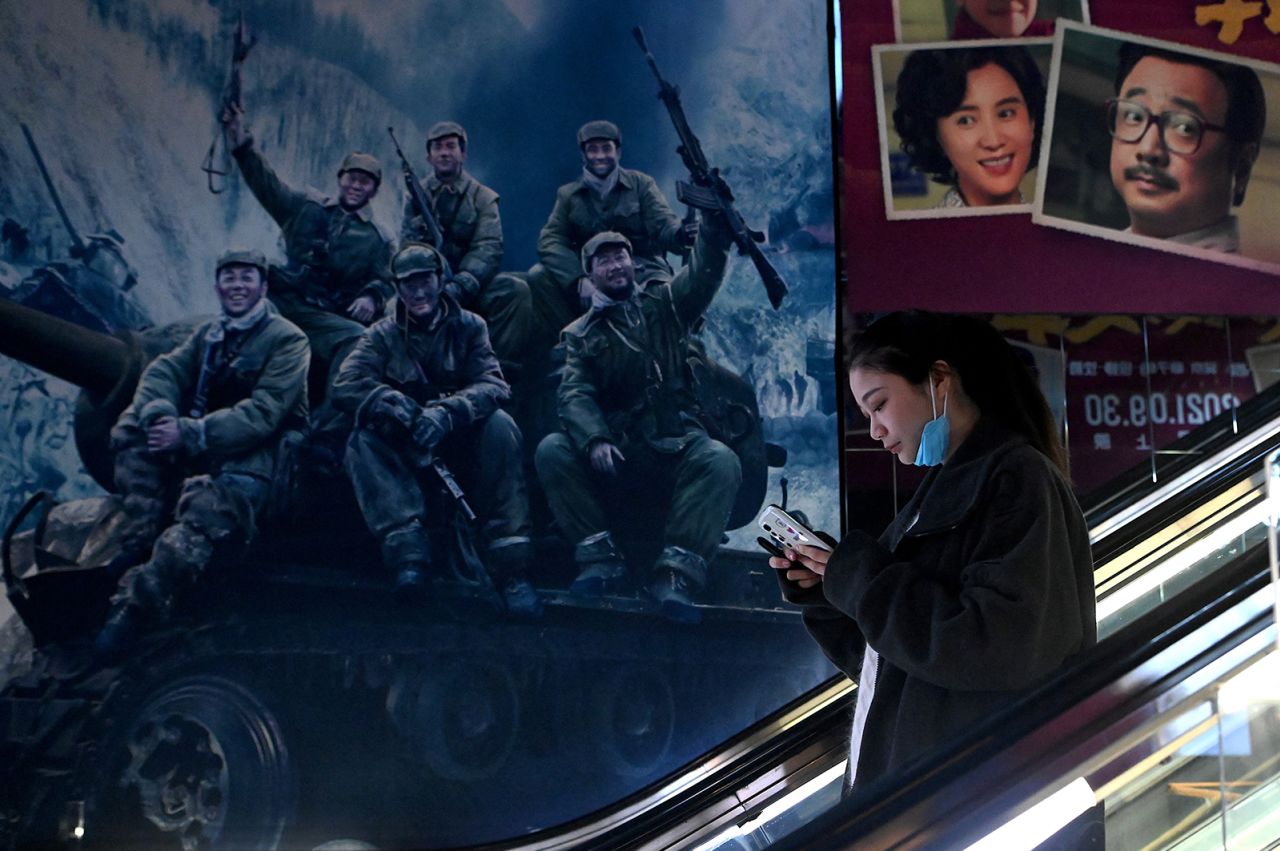 High status
Beyond the PLA's highly symbolic status, Mitter also pointed to a greater militarization in public life under Xi, with street posters, state media and social media stressing the role of the armed forces in everyday life.
"Some of that has to do with the tensions with Taiwan, but more broadly than that, I think it's a way of increasing the sense that China remains, in some sense, under siege from the wider world – especially the United States and its US allies – and that the party's army then becomes a defense against that," Mitter said.
That acute feeling of besiegement gives the PLA a higher status in China than militaries in most other major economies around the world, and makes any perceived slights particularly sensitive, he said.
Last year, a former investigative journalist was sentenced to seven months in prison after he questioned China's role in the Korean War as depicted in the blockbuster movie "The Battle at Lake Changjin" – one of the many patriotic war films to hit China's box office in recent years.
In 2021, social media posts doubting the death toll of Chinese soldiers in a border clash with Indian troops landed a popular blogger eight months in jail.
And experts say the sensitivity will only heighten in Xi's third term, which he obtained last year by breaking the party's decades-long power transition norms and scrapping presidential term limits from the constitution.
"Xi has made it very clear that national security is his No.1 priority in his third term, which means the PLA is extremely important," said Alfred Wu, an associate professor at the Lee Kuan Yew School of Public Policy at the National University of Singapore.
"The focus on security creates a nationalistic narrative that only Xi can save China in a war-like state, so he deserves not only a third term, but possibly beyond," he said.
Xi has staked his legitimacy on returning China to its former greatness, and a strong and powerful military plays a key role in driving that nationalist agenda. Since coming to power, he has jailed corrupt political foes in the military, overhauled the armed forces and expanded its advanced weaponry. He has also ramped up China's military posturing, sending fighter jets and warships to the Taiwan Strait and around the disputed islands with Japan.
"The PLA is crucial in realizing his security ambitions, and anything possibly targeting the military could get a very strong response from the government."
Shrinking space
So far, Chinese authorities have not publicly reacted to the nationalist anger against Yue, the leading contemporary artist, though some of Yue's paintings have been blocked from Weibo, China's heavily censored version of Twitter. CNN has reached out to Yue for comment.
Previously, Yue described his work as illustrative of his "deep feelings" about an uncertain future.
"One might be very happy now but always unsure of what's going to happen next," he said during an interview with CNN in 2007.
Many social media users have since come to the artist's defense, saying the political witch-hunt has gone too far.
"You're too sensitive," said the top reply to a viral Weibo post that accused Yue's paintings of "insulting" the military.
By Friday, the original Weibo post, which had attracted thousands of comments and more than 100,000 up-votes, had been deleted.
Hu Jiamin, a Chinese artist who now lives in France, said there will never be a shortage of targets for attack by China's nationalist influencers and ordinary users, who are competing for clicks online.
"They might not necessarily have very strong values, and it's often a performative act. Now, the mainstream view is that as long as you show patriotism, you can get attention," said the artist, who left for France in 2016, frustrated by the social and political direction taken by China.
Compared with established figures like Yue, who have already made their names in the arts and cultural scenes, young creators are likely to be more affected by the attacks by nationalist trolls, Hu said.
"Once these concerns become the premise of their creative process, their artistic expression will naturally be impacted," he said.
As for the future of stand-up comedy in China, some have not entirely lost hope.
The US-based scholar who studies Chinese popular culture is "cautiously optimistic" about the industry, because its existence has important values for the government, they said.
On the one hand, it provides a channel for the authoritarian regime to keep a finger on the pulse of society and better understand public sentiments. Meanwhile, comedy shows also offer a way for the public to let off steam.
"It acts as a safety valve for the public to air discontent about various social issues," they said.
Top image caption: A man looks at a painting by Chinese painter Yue Minjun entitled " Hats Series, Armed Forces" during a Sotheby's auction preview in Hong Kong, Thursday, April. 2, 2009.