Standing in the middle of a deserted street in the middle of a deserted town is a "very strange feeling," says Guillaume Bression, a journalist and cameraman based in Tokyo.
It's a feeling Bression and his creative partner, Carlos Ayesta, have experienced several times in the as-yet uninhabited areas surrounding Fukushima.
In the silence and emptiness, surrounded by the slowly decaying familiarities of modern Japanese life, there is an unshakable feeling of loss, abandonment and melancholy.
The two photojournalists and documentarians have made multiple trips to the area since the towns and cities surrounding Tokyo Electric Power Company's (TEPCO) Dai-ichi and Dai-ni reactors were evacuated after the 2011 meltdown.
During a trip in October, they focused their lenses on the sense of loss suffered by these towns' former inhabitants.
It's been five years since the meltdown and massive radiation leak – caused when the facilities were overwhelmed with seawater following March 2011's massive earthquake and subsequent tsunami – led to the government's decision to evacuate.
Now, the same authorities are beginning to let people move back home.
If they want.
Social toll
As the towns – at least those furthest from the epicenter – are ready to be repopulated, that sense of loss remains.
Bression and Ayesta's most recent project, due to be showcased with another series by the pair at sponsor Chanel's glitzy flagship in downtown Tokyo, focuses not on the disaster itself but on the social issues that the massive relocation has engendered.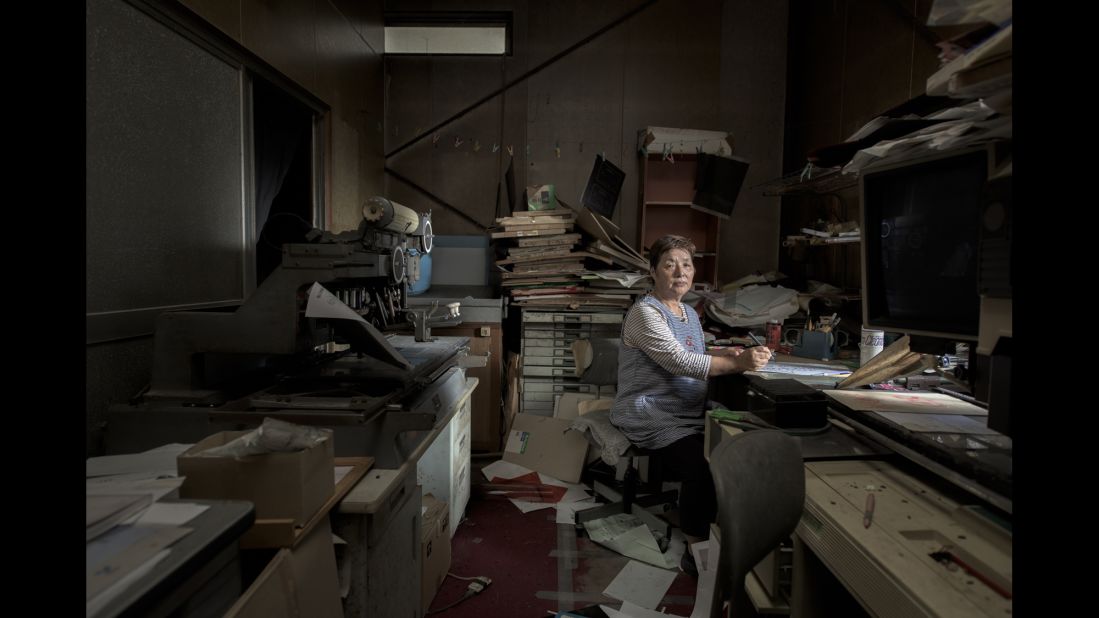 You can't go home again: Rebuilding lives after Fukushima
It's part photo essay, part art project. Former residents are seen in their familiar surroundings, posed and lit by the duo, giving an unsettling simulacrum of normalcy amidst the ruin.
By inviting people to return to the dilapidated spaces of their former lives and posing them in some sense of normalcy amongst the ruin and decay of the disaster zone, the pair underscore the human cost of the tragedy.
Using the previous inhabitants' personal spaces – a home, their former hairdressing salon or the everyday surroundings of a supermarket or a high school gym – the sense of loss is acutely felt, the effect jarring.
"There (was) a car in a railway station … there was an owner, who probably died …The car changes and stays here. Each time we go back, each time the car was there, like a testimony of the dead, of the accident," says Ayesta via email of a poignant symbol of what the area has lost and what remains.
The subjects sit or stand amongst the ruins of their former lives, frozen and gazing at the camera, surrounded by a decaying version of normal life: a sign in the supermarket advertising fresh produce, a long table in a restaurant still set up for a banquet.
Join the conversation
Follow @CNNPhotos on Twitter to keep up with our latest work and share your comments.
"When you bring people, it's also a strange feeling. Most of the time they don't understand the project because they are farmers, very rural people – you have to first convince them to go so they first have to trust you and then you take a picture of them," Bression tells CNN by phone from Tokyo.
"It's like a studio picture. We use artificial lights. We bring a lot of stuff inside their own place. The reactions are interesting. Sometimes they cry, then they open up a lot and in Japan, it's difficult to get really the feeling of the people because they are shy and introverted."
'I do not know how this place was devastated'
Living in limbo near Fukushima
For the participants, it is equally heartbreaking and shocking to be face-to-face with the decaying remains of something so familiar.
"If it was not for this project, I would never have seen this forbidden zone with my own eyes," says Kanoko Sato, a resident of nearby Koriyama, as she was photographed in a gym in the neighborhood of Ukedo in Namie, just north of the stricken reactor.
"(Koriyama) is close, but I did not know how this place was devastated until now."
Bression says the project could have been focused on any crisis where people have to leave the security of their own homes and the familiarity of their everyday surroundings.
"What we really wanted is to focus the discussion on what the inhabitants express right now and have to face in the future. The main problem right now is 80,000 people are still evacuated, they live in crappy houses or apartments that are not convenient for them. Some want to go back. Some don't. We want to talk about the social issues that the crisis has caused, not the crisis itself."
A mix of desire and fear
Life in Fukushima after nuclear disaster
The displaced waver between a desire to return and a fear of what remains, both in terms of the invisible energy that still emits clicks on officials' Geiger counters – although radiation is finally returning to normal background levels – and the physical degradation of their homes and livelihoods.
"From year to year, their point of view changes. I would say after the first year, they really believed in the decontamination and they believed it would reopen sooner," Bression says.
"Those who are old aren't afraid of the radiation any longer, but the problem now is that the city has stayed empty for five years and they start rebuilding (their lives) somewhere else. They know their grandchildren won't come to visit them if they move back."
For many, years after their lives were so abruptly interrupted, all that remains in the aftermath of Japan's worst nuclear disaster are the memories of a life left behind.
Carlos Ayesta is a photographer based in Paris. Guillaume Bression is a photographer based in Tokyo.