Animal rights activists interrupted Coach's runway show at New York Fashion Week on Thursday to campaign against the use of leather.
Two protesters joined models on the runway as they modeled the company's Spring 2024 ready-to-wear collection, with an activist sporting only body paint designed to look like a skinned body depicting muscles, flesh and tendons, applied over underwear.
One woman held a "Coach leather kills" sign, while the other had the same slogan painted on her front.
A third activist recorded the moment. CNN saw security try to intercept the protesters early on in the show but they made it about halfway around the room before they were physically removed from the runway.
"It's time to STOP selling someone else's skin and drop leather, @Coach," animal rights organization People for the Ethical Treatment of Animals (PETA) posted later on X, the platform formerly known as Twitter, alongside a video of the incident.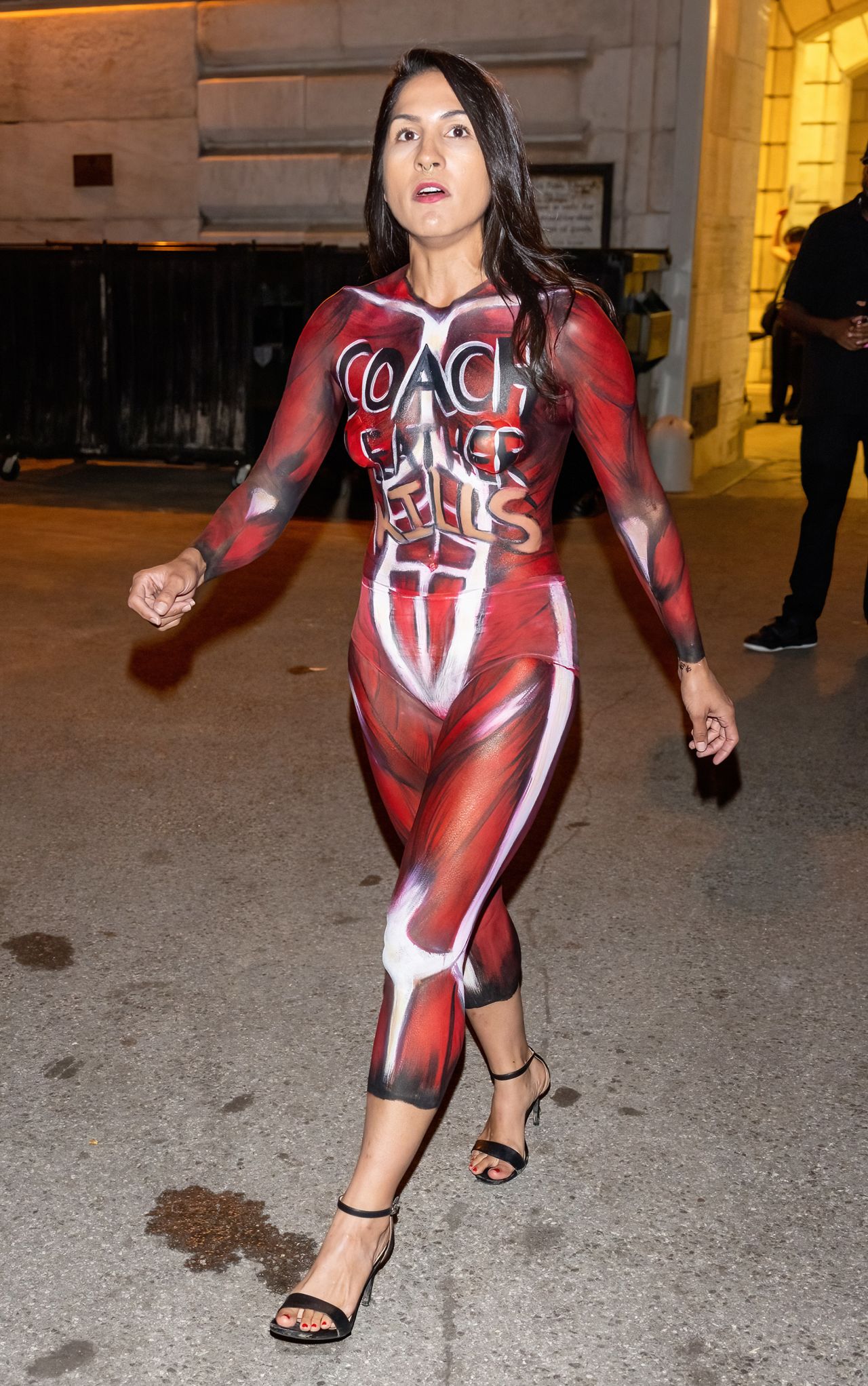 "Today's conscientious consumers know that the future of fashion lies in innovative vegan materials, not in cows' sliced-off skin," Tracy Reiman, PETA executive vice president, said in a press release. "PETA is shaking up Coach's catwalk to drive home the message that leather belongs in the annals of history, not in designers' current collections."
The animal rights organization said that "cows killed for leather may be skinned and dismembered while they're still conscious – after they endure castration, tail-docking, and dehorning, without any painkillers, on farms."
CNN has reached out to Tapestry Inc., which owns Coach, for comment on the show and the allegations made by PETA around leather production.
Jennifer Lopez and Lil Nas X were among the famous faces sitting front row during the show, which was held at the New York Public Library. It was creative director Stuart Vevers' 10th anniversary collection.
Founded in 1941, Coach is known for its leather handbags and accessories.
PETA's protest tactics, such as throwing red paint, as well as media campaigns, have historically aimed to steer the fashion industry away from its use of fur. Now it's focus is to make other animal-derived materials like wool, leather and down as unacceptable as fur, pointing to practices like live plucking and calling out the conditions in which sheep and cattle are farmed, transported and slaughtered.
For many consumers, wool and leather are everyday materials with less complicated moral baggage than fur or exotic skins because, unlike mink or crocodiles, cows and sheep aren't raised purely for their pelts and skins.
But the animal rights group argues that the industry is just as cruel, and insists that often the responsible farming standards used by brands to claim the materials they use were raised ethically don't actually count for much.
New York Fashion week kicked off on Thursday, and will run until September 13.
Sarah Kent contributed reporting.