Many a child spent their youth scrambling up trees and building secret dens in the branches.
In an instant, plain-planked interiors propped in the trees transformed into faraway lands, forts and hideaways.
Brothers Andy and Simon Payne were no different. Growing up in Kenya, the two spent a great deal of time constructing zip wires, jungle swings and rudimentary tree-top homes.
But the Paynes never gave up on their childhood dreams of building elaborate houses in the trees, and have continued to design and build impressive, eco-friendly tree houses for the young at heart.
"A big part of the emotional reason why people decide to build a tree house is because they remember fondly the fun they had as kids," Simon Payne tells CNN.
They now head the world's leading tree house company, Blue Forest, named after the blueish hue of the distant pine forests in a mountainous region of Japan and born from a desire to bring people closer to nature.
Reflecting the environment
Blue Forest has built hundreds of tree houses which reflect the environment in which they rise through the use of sustainable construction materials such as timber.
"I think people love tree houses because of the warmth of timber, when you walk into the tree house you get this lovely woody smell."
The company works alongside the world's largest forest certification system, PEFC, to ensure that its wood comes from sustainably managed land.
"You can find out exactly where the tree was grown, when it was cut down and how many trees were planted to replace it," says Payne.
Blue Forest also encourages clients to build with high levels of insulation and use renewable energy.
However, it's not easy for tree houses to be completely off the grid, and, according to Payne, the elements that make the tree houses the most sustainable are often the simplest.
"Although everyone in truth wants to hear about renewable energy solutions and all of that, actually insulating your building really well, using the natural resources of the sun and the wind for cooling and heating, using simple things like low-energy lighting, they probably make the biggest difference."
Going off the grid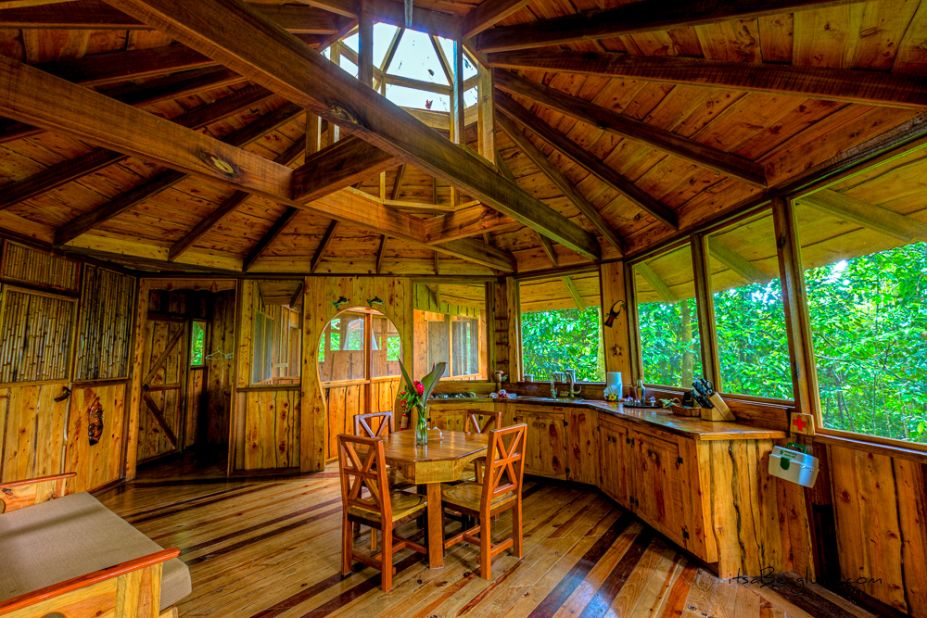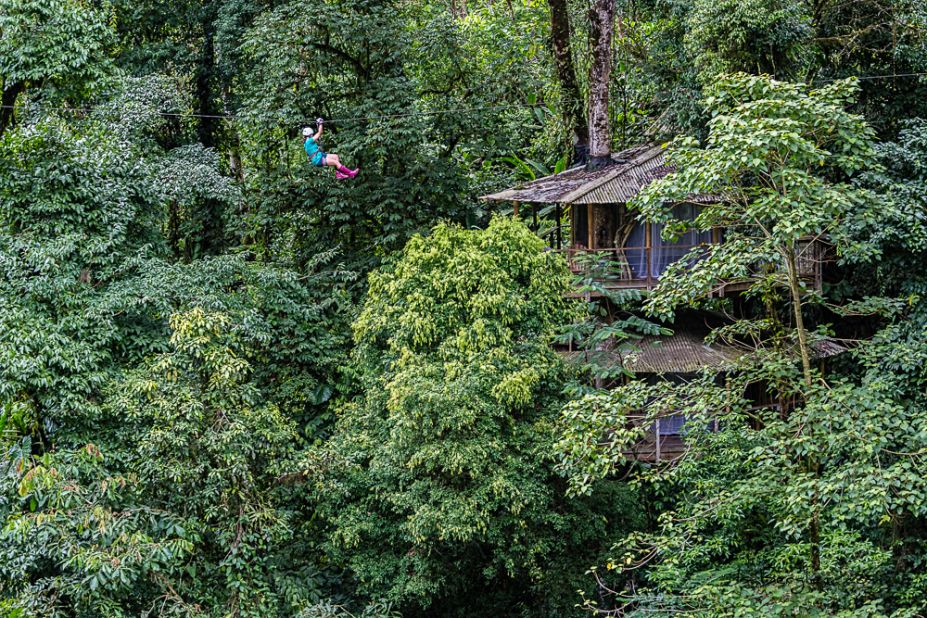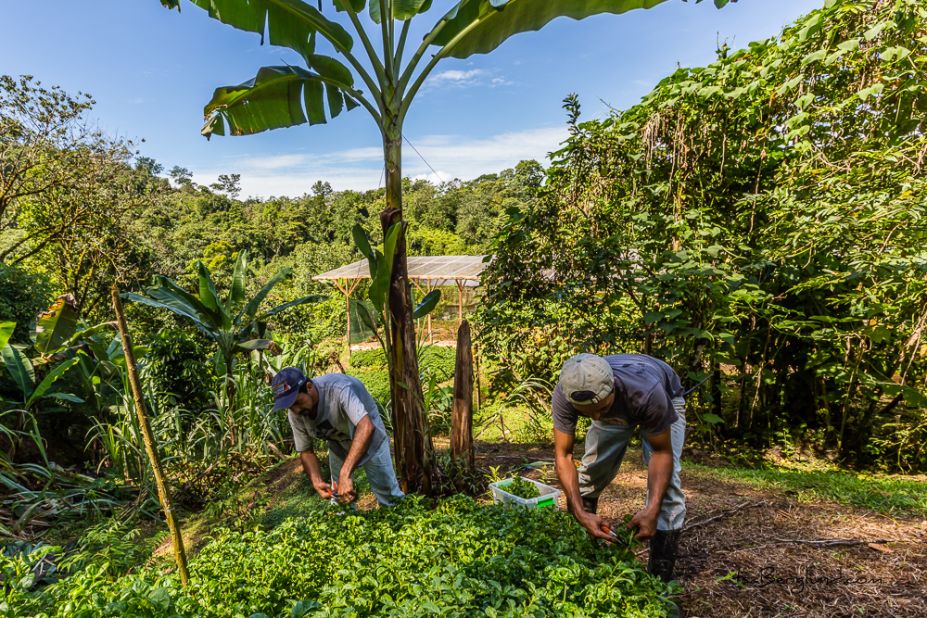 Finca Bellavista: The community living in the trees
On the other end of the spectrum, deep in the Costa Rican rainforest, lies Finca Bellavista – a community suspended in the trees.
The 600-acre plot is home to approximately 40 treetop homes, where everything is solar-powered and "waste" is non-existent.
When Matt Hogan and Erica Elise Andrews first stumbled upon this little slice of paradise in the south Pacific coastal region ten years ago, it was on the brink of being carved into a timber harvest site.
Compelled to save this chunk of rainforest, the duo slowly began to regenerate the rainforest and build a life for themselves in the trees.
"Effectively, we try to design around the natural environment, we don't allow people to cut down trees to build their homes," Hogan tells CNN.
Similarly, community members are encouraged to source locally grown teak or other tropical hardwoods to build their tree houses.
Homes are stilt-built around the trees or make use of hybrid designs so that the bulk of the house is supported by posts and the trees used as anchors.
There are also fully arboreal houses built in long-living, deep-rooted trees deemed suitable by an on-site botanist.
One such tree is El Castillo Mastate – a tree house suspended 90 feet off the ground. "It's kind of the Taj Mahal of tree houses that we've built," says Hogan.
Finca Bellavista is a pedestrian community, which means tree houses are accessible via zip lines, suspension bridges and 11 kilometers of hiking trails.
All water comes from gravity-fed hand-dug springs on the property. Every house is also required to have a biodigester to break down all the black water human waste.
In addition to this, there is a grey water management for the showers and sinks and a redworm compost system.
"All of it is very connected and we produce very little trash," explains Hogan. "We recycle and utilize everything the best we can."
Living the high life
Most homeowners retire to Finca Bellavista for a few weeks or months a year. The rest of the time their homes are rented out.
"It's a very attractive thing for a lot of people, whether it's for a vacation or a life change and I'd say that most of the people that ended up buying properties have done so because of the connection they have with nature," says Hogan.
"You're completely immersed in nature, you go to bed listening to the bugs and the frogs and you wake up with bird song," he explains. "It's kind of like living in one of those spa CDs of rainforest sounds."
Blue Forest also find their clients are looking to reconnect with nature. It is this love of nature that makes sustainability a top priority – if not something of a luxury – in the tree house business.
According to Payne, high-end clients who prefer hardwood are often happy to pay a bit more for a sustainable alternative called Kebony.
Kebony uses a bio-based liquid to permanently enhance sustainable softwood, giving it premium hardwood characteristics and a dark brown finish.
"This Norwegian company has developed a really unique method for modifying what is just pine, a fast-growing sustainable species, and giving it the same characteristics as teak," he explains.
Not-so sustainable?
It's not always easy to meet a client's needs in the most sustainable way possible.
"The hardest thing is when people want stone finishes," says Payne. "We use higher-end suppliers, we don't buy the kind of cheapest materials which end up coming from China and places like that and are probably not very sustainable."
Similarly, Hogan explains how homeowners are starting to build with steel as it lasts longer than wood.
"There are some people that don't necessarily trust the long-term viability of certain types of wood in our very challenging environment," he says.
Payne adds: "We kind of do the bit we can on every job, and then certain jobs are just more sustainable than others, that's the truth."