By historical standards, New York is still a relatively new city – a youngster compared with the likes of London, Cairo or Beijing. But in its short life, New York has captured the world's collective attention like no other.
Whether it's entertainment, restaurants or finance, everyone everywhere seems to know everything about New York. Its architecture is no exception.
Viewed on TV and in movies or seen in person, New York's buildings are famous world over.
From soaring skyscrapers to hallowed entertainment venues, take a tour with CNN Style and discover fascinating facts and historical tidbits of 20 celebrated buildings:
Apollo Theater
Opened: 1914 | Use: Entertainment auditorium
Oh, the shows this storied Harlem institution has seen – from Billie Holiday and Count Bassie to Lauryn Hill and Prince. Not to mention its countless, beloved amateur nights.
As a building, the neo-Classical Apollo Theater helps anchor Harlem. As an entertainment venue, it's an anchor of African American music and culture.
It started life as Hurtig and Seamon's New Burlesque Theater. After a city campaign against burlesque, it become the Apollo and began offering shows of interest to Harlem's growing African American population.
It's had ups and downs over the decades, including a longtime closure starting in 1978.
In 1985, a renovation and reopening was celebrated with a TV special, "Motown Salutes the Apollo." More recently, it saw the addition of more than 1,500 house seats and restoration of its 125th street facade.
Did you know? The theater has national historic landmark status, and in 2006, James Brown's body lay in state on the Apollo's stage.
Chrysler Building
Opened: 1930 | Use: Offices
The Chrysler Building was the tallest building in the world for 11 fleeting months, but its everlasting glory is that marvelous Art Deco crown.
Those seven radiating arches, with an exterior of shiny stainless steel that brilliantly reflects sunlight, have made the Chrysler a permanent grande dame of the Manhattan skyscraper set even though other buildings now eclipse it in height.
In case you're wondering, the Chrysler is 1,046 feet (319 meters) from base to tip.
Other architectural touches that give the building memorable flair: distinctive eagle gargoyles and triangular windows in the cap.
Did you know? The lobby is to-die-for gorgeous with red Moroccan marble walls and a ceiling mural depicting scenes from the Chrysler assembly line and other symbols of industrial progress.
The Cloisters
Opened: 1938 | Use: Museum of medieval art
If Midtown's Chrysler Building was New York's bold thrust to seize the 20th century for America, then the Cloisters in the upper tip of Manhattan was the city's quiet nod to times long ago and places far away.
It's a branch of the Metropolitan Museum of Art (see below), and it's focused on the medieval art and architecture.
You'll find four cloisters: Bonnefont, Saint-Guilhem, Trie and Cuxa, whose tower dominates the site. They are reconstructed from parts of actual Romanesque and Gothic structures from France that were incorporated into modern buildings.
Did you know? While it's renowned for its Unicorn Tapestries, the Cloisters also boasts impressive stained-glass windows, including those from the castle chapel at Ebreichsdorf, Austria.
The Dakota
Opened: 1884 | Use: Apartment building
From its distinctive look to its roster of celebrity residents (including Lauren Bacall, Leonard Bernstein and Roberta Flack), this Upper West Side gem ushered in the New York luxury apartment scene and remains the standard for classic Manhattan living.
Architect Henry Janeway Hardenbergh designed the Dakota in the German Renaissance style, says Tom Miller, author of "Seeking New York" (Universe Publishing 2015) and the Daytonian in Manhattan blog.
Some historians also call it "Chateauesque," Miller says. "The confusion in terms is a result of Hardenbergh's mixing of history styles; what was at the time sometimes referred to as a 'happy mix.' "
With beige brick, cast iron and brownstone, the building has intriguing shapes and angles and features spires and gargoyles.
Miller says don't miss the "brooding German Renaissance faces and dragons that form the supports of the iron railing around the light moat at sidewalk level."
Did you know? The 1968 cult horror classic "Rosemary's Baby" used the Dakota's exterior as a location shoot (the building was called The Bramford in the film). And former Beatle and then-resident John Lennon was killed outside the main door in 1980.
Empire State Building
Opened: 1931 | Use: Office building, tourist observation decks
Almost 90 years later, the Empire State Building's stats still impress. Architectural height: 1,250 feet (381 meters). If you count the antenna on top: 1,454 feet (443 meters). Number of steps: 1,872 from street level to the 103rd floor. Number of elevators: 73.
And while the Empire State Building lost its status as world's tallest building in the early 1970s, the Art Deco giant never lost its grip on the public's imagination.
Easily visible from many vantage points in Midtown Manhattan and favorite film and TV spot (from "King Kong" to "Gossip Girl"), it's sure to remain one of NYC's most quintessential structures.
Did you know? The Empire State Building took less than 14 months to build. There were plans for it to become a docking station for dirigibles (a function it served one time).
Flatiron Building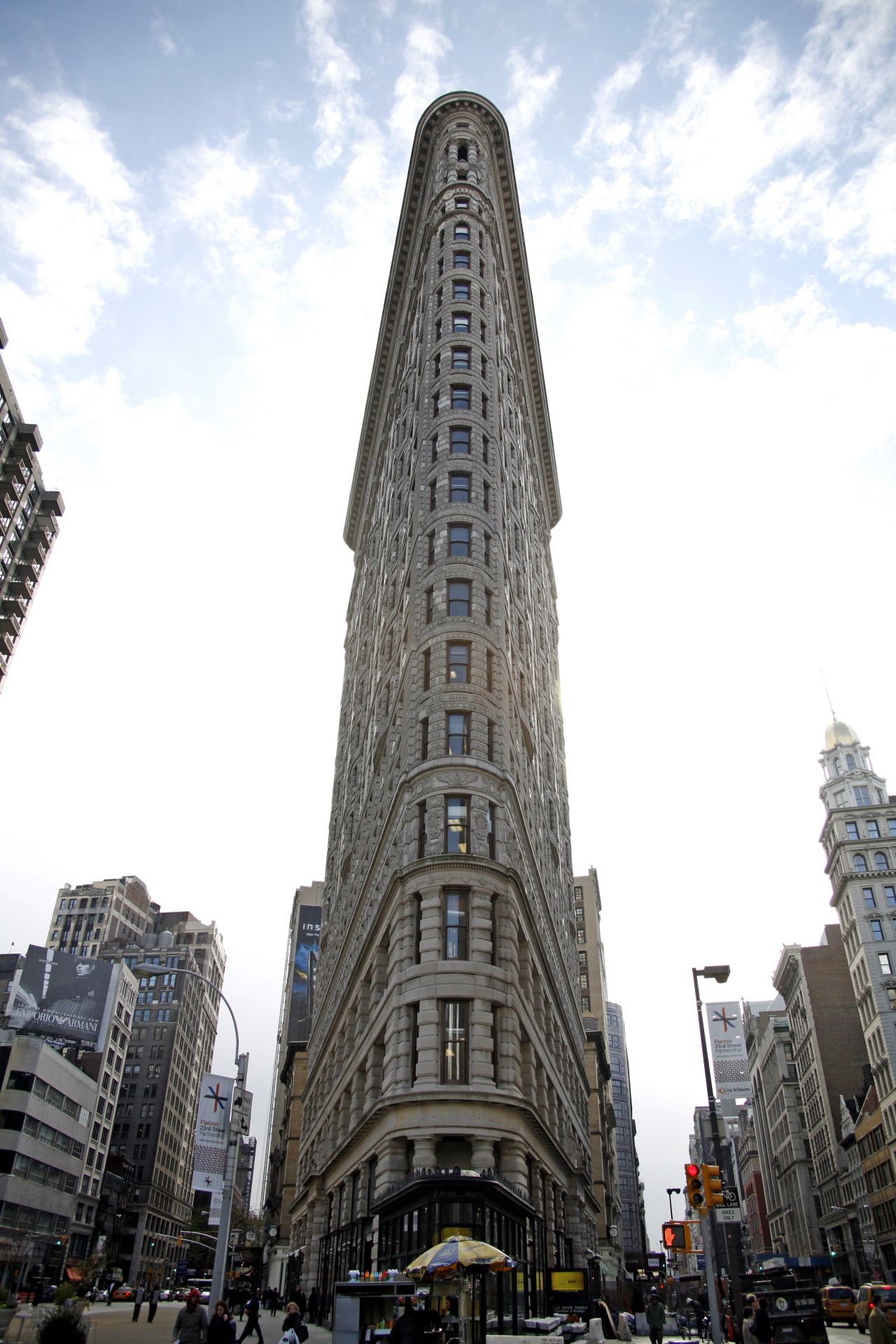 Opened: 1902 | Use: Offices
The odd and the practical often coalesce in New York. The Flatiron Building is a delightful example.
At 285 feet (87 meters) tall, 22 stories and only 6.5 feet wide at its narrowest point at the top, the Flatiron is dwarfed by many a Manhattan building.