The Fashion Institute of Technology has apologized and placed two academic officials on leave, after its graduate fashion show used accessories that many – including a model scheduled to walk in the show – called racist.
The incident occurred earlier this month during the school's MFA Fashion show, which featured works designed by 10 alumni of the school's inaugural class to receive a Master of Fine Arts in Fashion Design. The school highlighted a collection by alumnus Junkai Huang. The school's production included models wearing prosthetic ears and lips and bushy eyebrows.
But one model, Amy LeFevre, refused to wear the items, calling them racist. She walked down the runway without them. CNN reached out via phone and email to LeFevre's agency but did not immediately receive a response.
The incident was immediately criticized on social media and elsewhere. Diet Prada, a fashion industry watchdog, said on Instagram: "It shouldn't be down to the models to have to refuse wearing blatantly racist accessories on the runway, especially not in a show thrown by an institution like @fitnyc."
Huang denied that his collection was racist, telling CNN that he was "sad and shocked" by the allegation. "The saddest part is I am not a racist, and as an Asian person I had bad experiences here too," he said.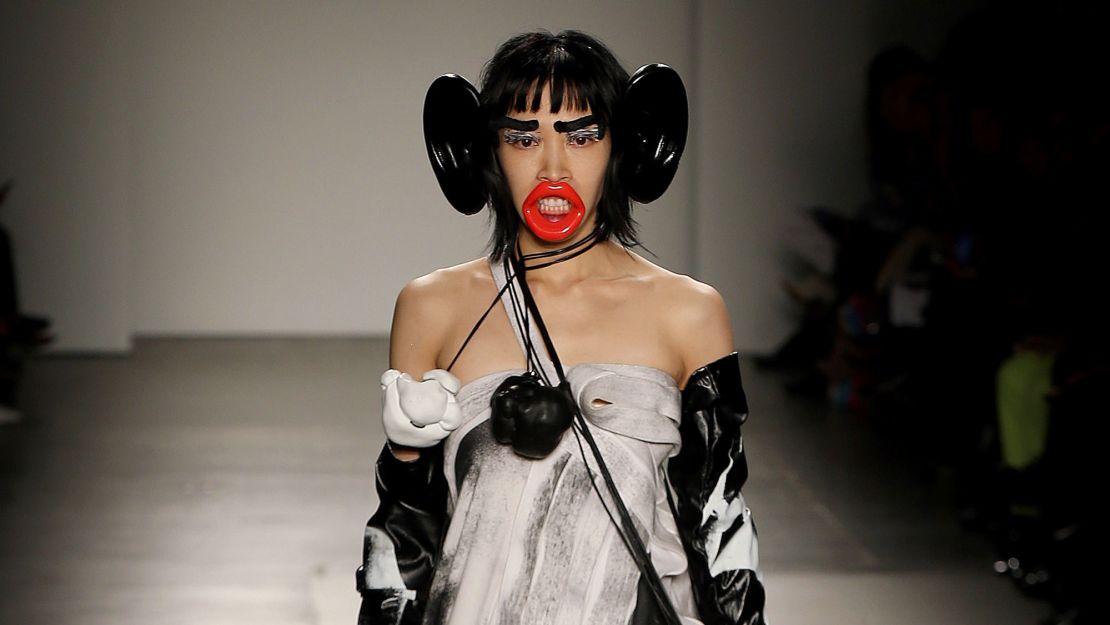 "The accessories used during the show were intended to be reflections of my own body features and perceptions of their enlarge proportions, which should be celebrated and embraced," Huang added. "They are not 'ugly features' as noted in previous media coverages."
Joyce F. Brown, president of FIT, released an initial statement Tuesday, writing that while the original intent of the collection was not race-related, "it is now glaringly obvious that has been the outcome."
"For that, we apologize – to those who participated in the show, to students, and to anybody who has been offended by what they saw," she wrote. "Let me be clear: no person should be made to feel uncomfortable – particularly about race – in service of their work, job, livelihood, or course of study."
On Friday, Brown released an updated statement. In it, she writes that the school has commissioned an independent investigation of itself and reiterated that Huang, the student, is not to blame for the misunderstanding.
"The styling and accessorizing used in the show were provided to him rather than chosen at his discretion," she explained. "To us, this indicates that those in charge of and responsible for overseeing the show failed to recognize or anticipate the racist references and cultural insensitivities that were obvious to almost everybody else. That's inexcusable and irresponsible — but also why we are commissioning an independent investigation."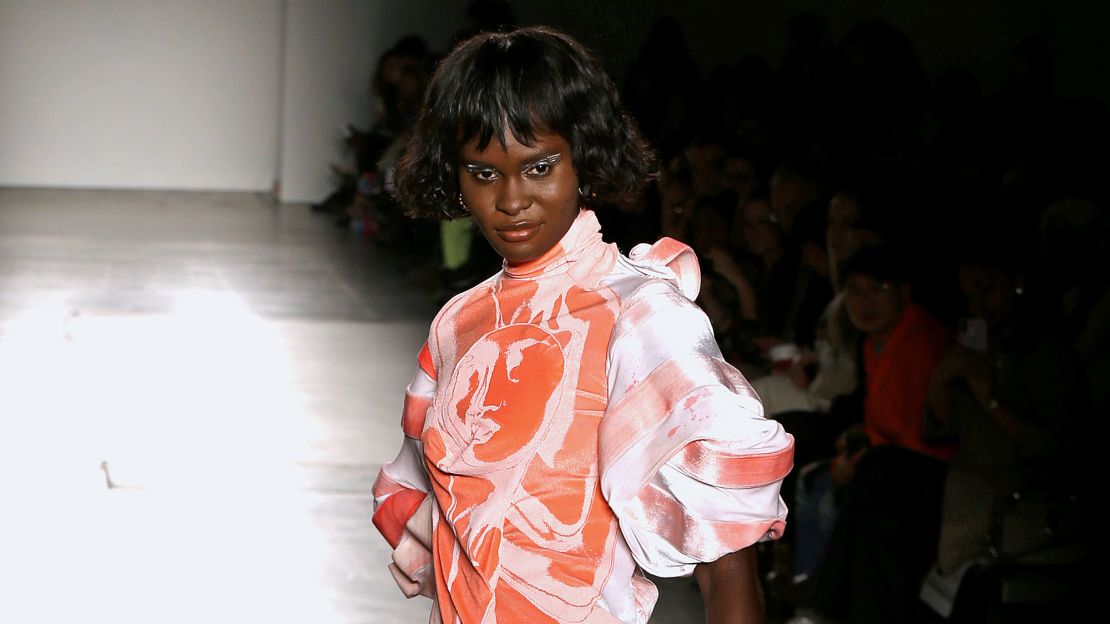 Huang told CNN that his original plan was to make body accessories out of fabric from the collection. But due to limited time, Huang said his professor and the show's producer/director asked him to buy them from Amazon instead, and even provided links to items to purchase.
Huang said he doesn't know who came up with the idea, but the accessories' product descriptions did not mention race, so he said the thought never crossed his mind.
"I can ensure that my professor and the show producer/director wanted to help my collection get a stronger visual impact on the show stage," Huang said.
Both Mary Davis, dean of the School of Graduate Studies, and Jonathan Kyle Farmer, chair of the MFA Fashion Design Department, have been placed on administrative leave, Brown wrote, pending the conclusion of the investigation.
Farmer apologized in a statement posted to the department's Instagram page, writing that he fully understands what has happened.
Naomi Campbell on diversity in fashion
"I take full responsibility and am committed to learning from this situation and taking steps to do better," the statement reads.
On Monday, Davis responded with a statement of her own to CNN. She denied she had "responsibility over the content of the fashion show in question, including any use of accessories."
Davis also clarified she was not responsible for "providing direct oversight or approval of students' creative work."
She went on to say she didn't "even know of the existence of the accessories until I saw them presented at the show, nor would have there been any reason for me to know."


Davis said that four days after the show, two students emailed her saying they had concerns about the accessories. She said she followed up with the students and also talked to Farmer. She then informed her supervisor about the meetings in a memo, she said.

"Racism in any form is antithetical to the mission of FIT and to my personal values," Davis said. "Providing an inclusive, supportive environment in which all students can learn, be creative and thrive is essential to all education. I have always taken full responsibility for those matters that are my responsibility, however, I should not be held accountable or blamed for not stopping activity that I did not know existed."
Davis' lawyer, Marjorie Berman added:
"FITs actions in putting Dr. Davis on administrative leave before an investigation has been conducted is premature and unnecessarily damaging to the stellar reputation Dr. Davis enjoys in the academic and fashion communities. We look forward to the facts surrounding the fashion show being fully revealed so that Dr. Davis can clear her good name."
This isn't the first time the fashion industry has been criticized as being racially insensitive.
Who can forget Gucci's infamous sweater mimicking blackface, for example? Or when Kim Kardashian called her lingerie line "Kimono," putting her at the center of a debate on cultural appropriation?
Those examples both happened in 2019, but there's already been incidents in 2020, too, like with Comme des Garçons' use of lace front cornrow wigs.

Clarification: This story was updated to clarify that the accessories used in the show were not provided by the designer, according to a statement by FIT. The article also was updated to include statements from designer Junkai Huang and Mary Davis, dean of the School of Graduate Studies.
CNN's Melissa Alonso contributed to this report.