Harry Styles had a night to remember. Not only did he take home two Grammy Awards on Sunday evening, but he also served up some of the ceremony's most talked-about outfits.
The former One Direction star began the night in a plunging technicolor jumpsuit that revealed a collection of butterfly and bird tattoos on his otherwise bare chest. The colorful harlequin pattern was brought to life by Swarovski crystals, while the legs of the sparkling garment flared out over a pair of white boots.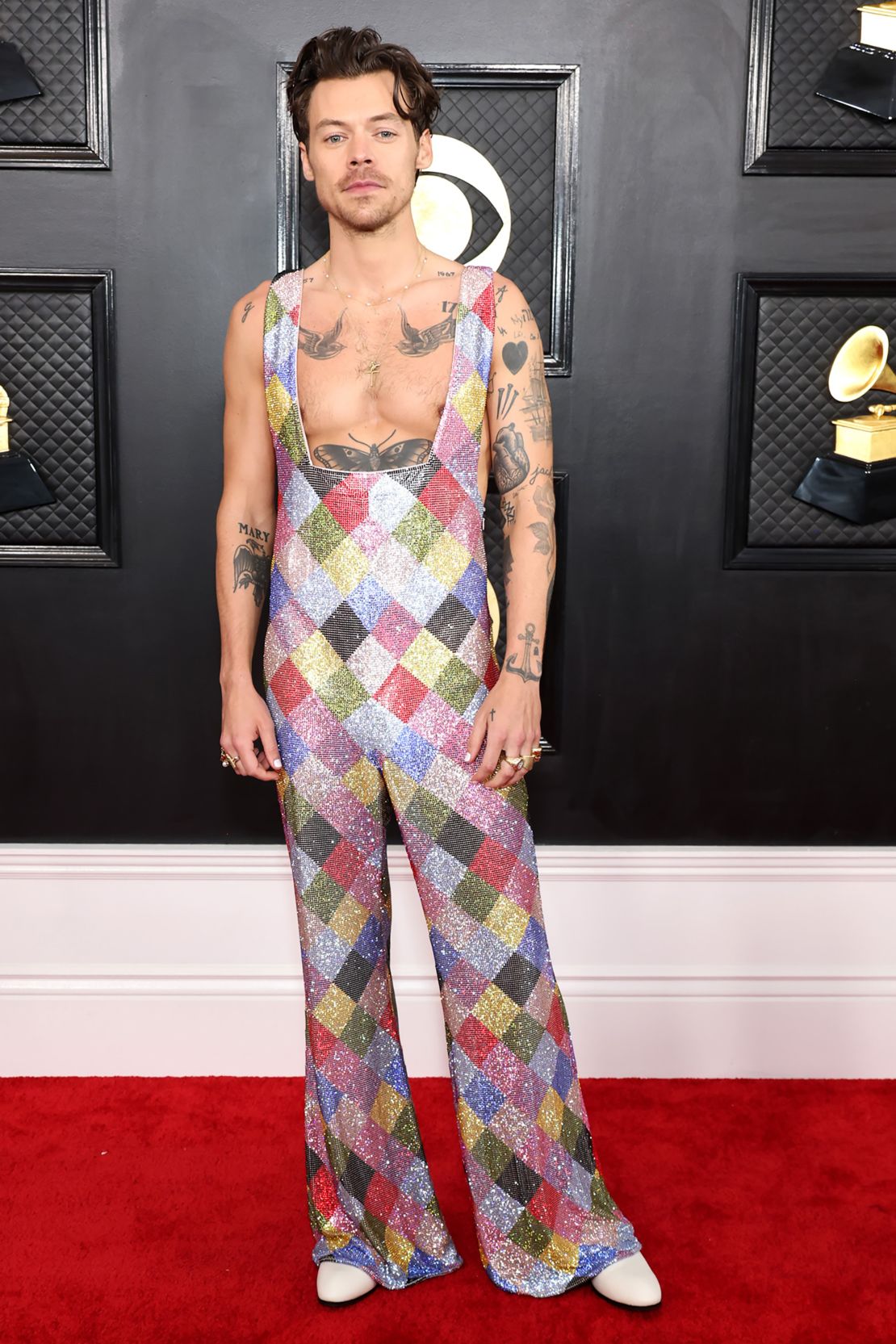 Though Styles often opts for red-carpet looks — and indeed jumpsuits — by Italian label Gucci, this one was designed by Egonlab, an emerging French brand known for its genderless creations.
The outfit divided social media, with comments ranging from "he can literally wear anything" to "looks like he forgot the jacket." Others dubbed the look an example of "clowncore," while the singer also drew comparisons — both favorable and disparaging — to two of Britain's most flamboyant pop icons: Elton John and David Bowie.
Jumpsuits have become something of a signature look for Styles, who regularly wore them on stage during his Love On Tour. It was no surprise, therefore, that he had a second one ready for his much-anticipated Grammys performance.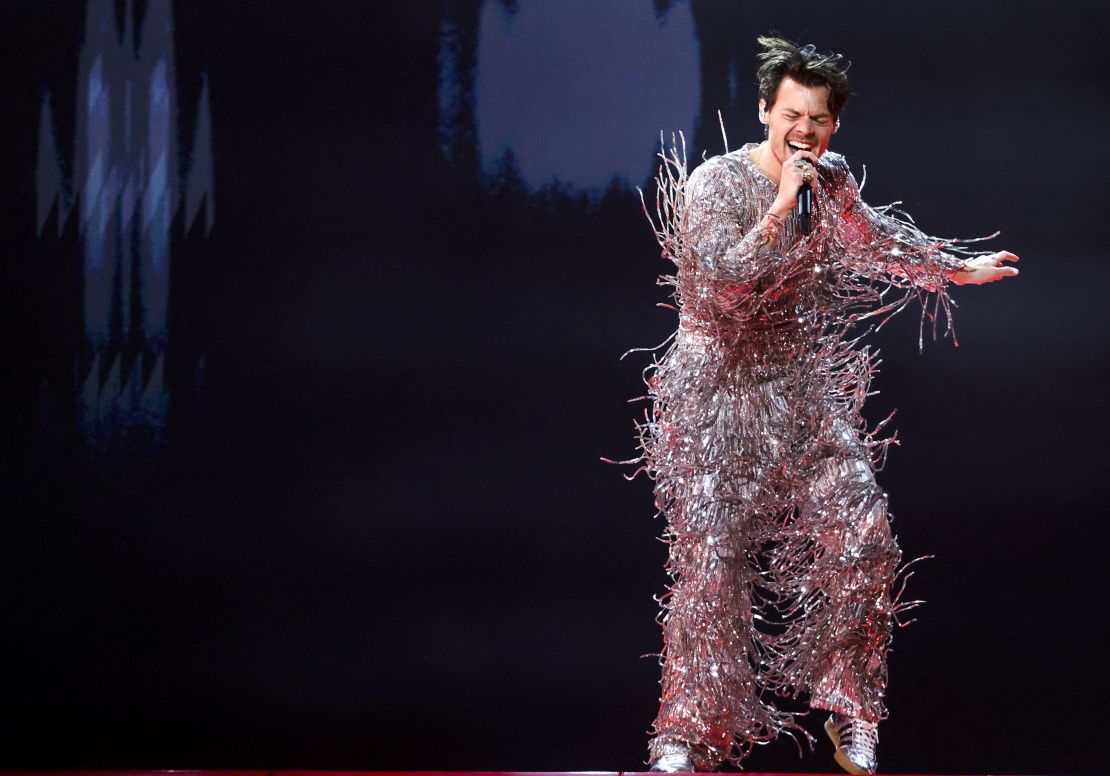 Taking the stage for a rendition of hit song "As It Was" (which you may remember featured a video of the singer wearing a — you guessed it — sequined red jumpsuit), the star opted for a less revealing, though no less exuberant, number.
The performance drew a standing ovation from Taylor Swift, and his silver fringed design won plaudits online, too, though Twitter users also compared it to a decorated Christmas tree and a pair of metallic fringe curtains.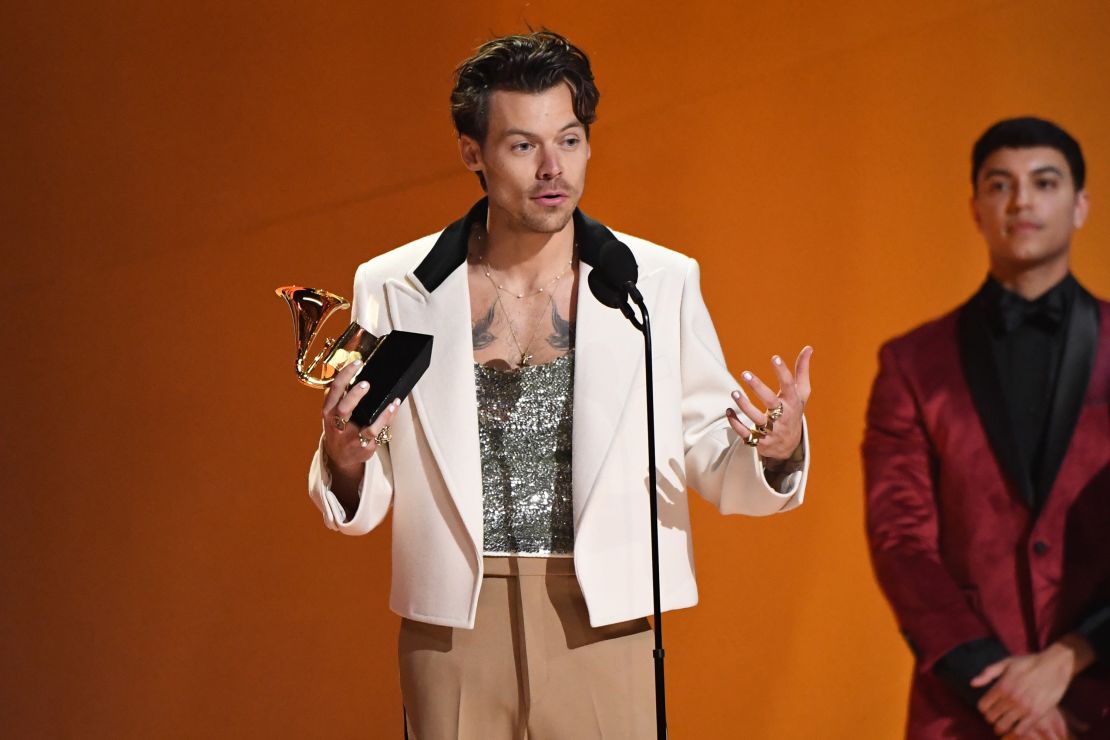 Styles, who is known for daring and gender-fluid fashion, opted for something more formal to collect his awards. Taking the stage to scoop up the coveted Album of the Year and Best Pop Vocal Album for "Harry's House," he looked dapper in a cropped white suit jacket and wide-legged tan-colored pants.
Even then, he couldn't help but bring some sparkle to the outfit in a shimmering low-cut top.