Editor's Note: CNN Style is one of the official media partners of Paris Fashion Week and Haute Couture Week. See all coverage here.
While temperatures in Paris hit below or near freezing, editors, celebrities and influencers wrapped themselves up in balaclavas, blanket scarves and big coats ready for one of the most opulent affairs on the fashion calendar: Haute Couture Week.
There was controversy at Schiaparelli, an ode to celebrated American-born French performer Josephine Baker at Dior and the return of Casey Cadwallader for Mugler after a three-year absence from the runway. Although Cadwallader's collection was ready-to-wear, the high-octane show was reminiscent of Thierry Mugler's performance-driven runways in the 1980s and 90s.
"It was a ballsy move to show during couture week," Cadwallader told CNN after the catwalk presentation, adding: "Mugler is not to be quiet. Mugler is to be bold and exciting, to have drama and do something iconic again."
Scroll down to read the most talked about moments from the couture runways.
Schiaparelli's big cat controversy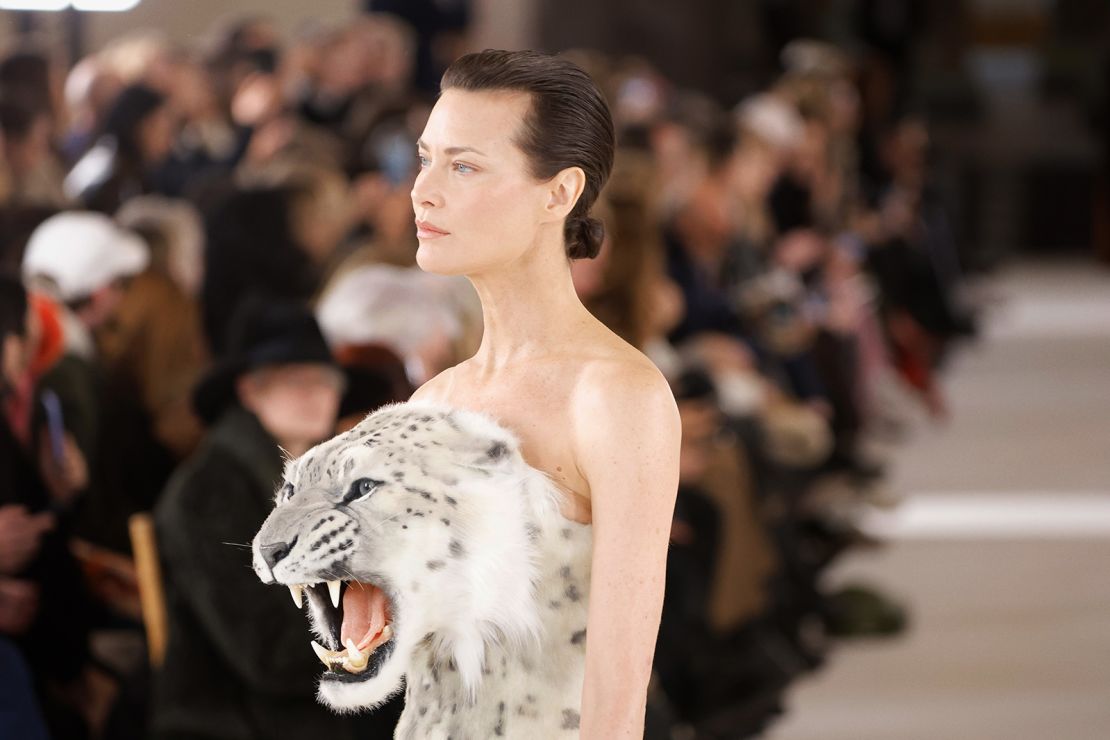 It was a roaring start to Haute Couture Week when Kylie Jenner's lion-head gown went viral. Handmade from foam and resin, the hyper-realistic beheaded lion was part of Daniel Roseberry's latest collection for Schiaparelli (Irina Shayk wore a version of Jenner's dress just moments after guests took their seats). The label also debuted two more predator-inspired pieces on the runway, from the 14th-century poem Dante's "Inferno:" a lion, leopard and she-wolf. Shalom Harlow modeled a column dress featuring the snow leopard, while Naomi Campbell wore a glossy black coat complete with the protruding wolf's head.
But the looks were so convincingly constructed, many took to social media to express their distress. It was all part of the plan however, according to Roseberry, who wrote in the show notes that the confusion was intentional: "Mimicry (is that a real lion?) becomes its own form of Surrealism in this collection, such that you're never quite sure who made the piece you're looking at—was it nature?"
Dior's kiss curls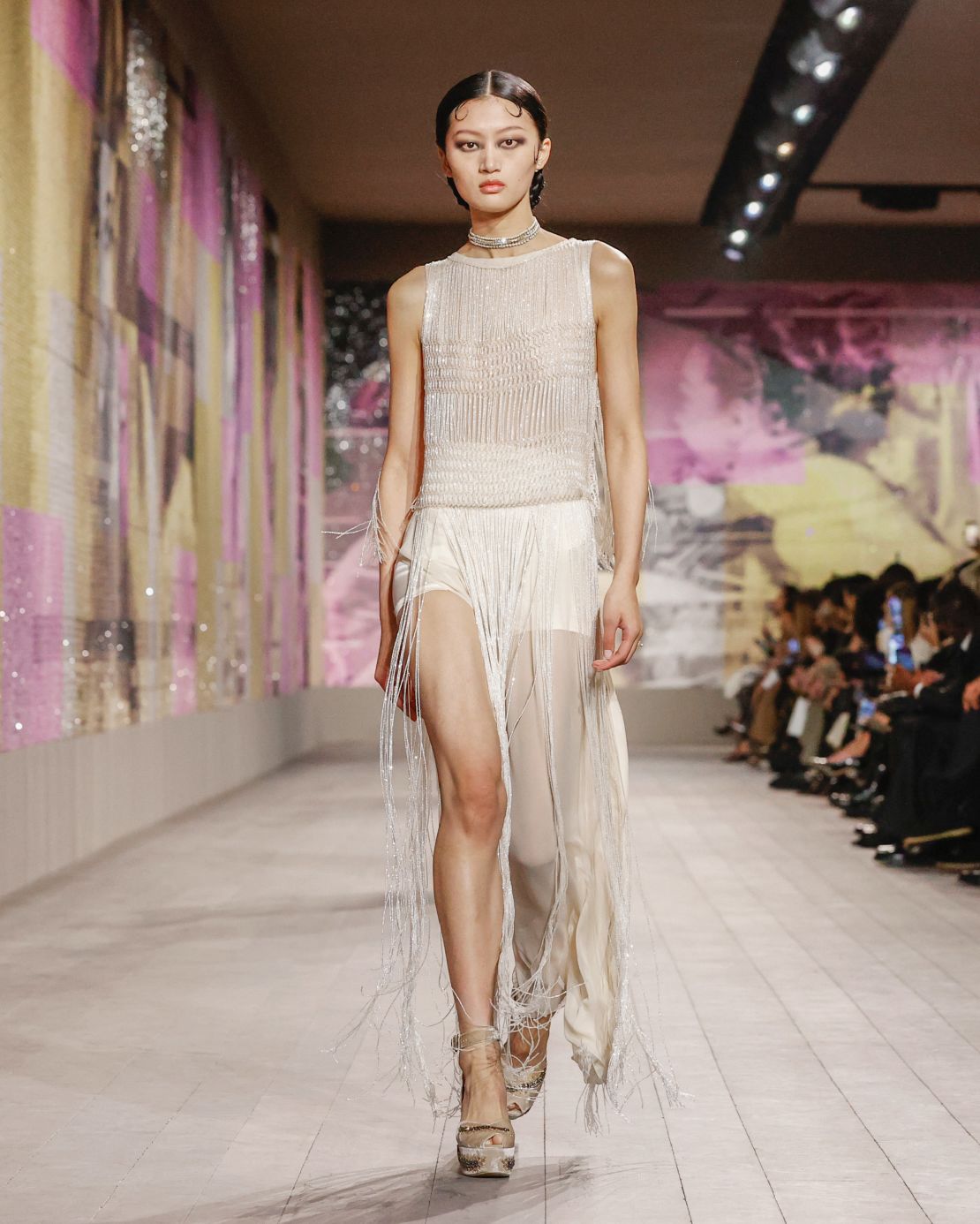 As the label's first female creative director, women's empowerment is a long-held theme in Maria Chiuri Grazia's designs. This season, she was shown light on singer and dancer Josephine Baker in a collection that had a distinctly 1920s sensibility. With the show's hair theme designed by Guido Palau, the era's "kiss curls" delicately framed faces in a nod to Baker's style and were the perfect accompaniment to the collection's bias-cut gowns and layered fringe detailing.
The Chanel bride emerged from an elephant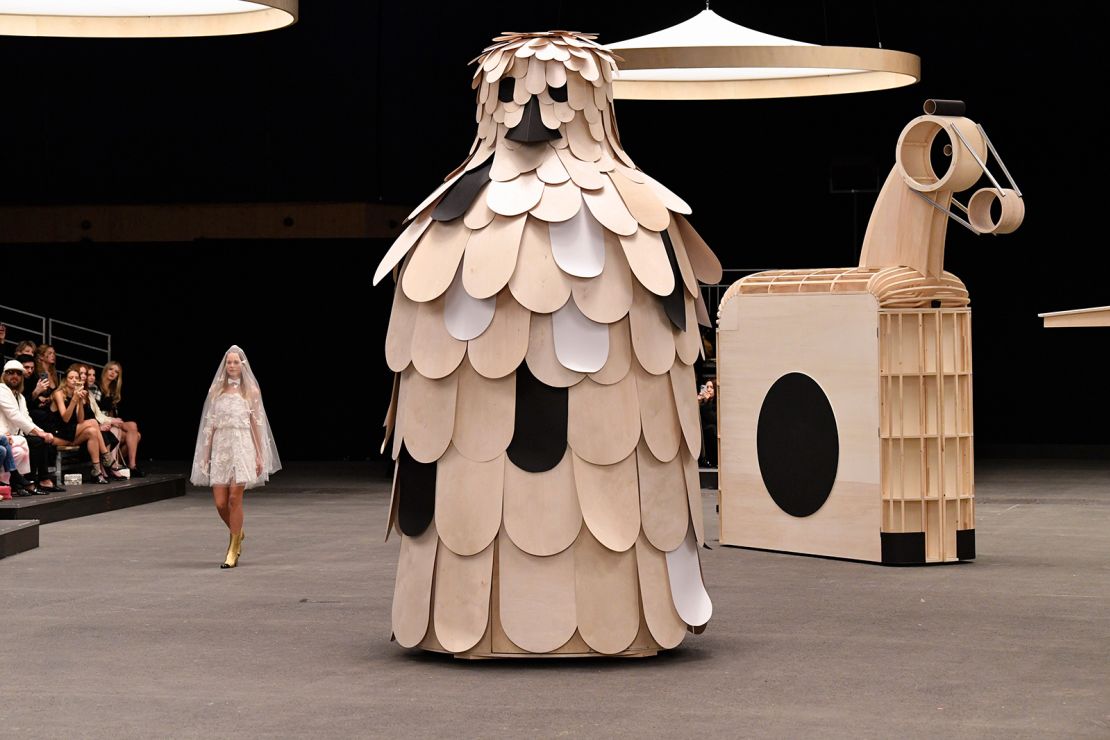 Animals were a theme at Chanel too, where they came in the form of abstract cardboard creations that peppered the runway. Virginie Viard drew from Coco Chanel's apartment, whose treasure trove of bestiary motifs informed the collection. Viard tapped artist Xavier Veilhan for a third time to create the mobile set that included horses, lions and an elephant from which Anna Ewers emerged as the label's storied bride wearing a short, delicate chiffon dress cinched at the waist and a swallow-stitched veil.
Iris Law closed the Alexandre Vaulthier show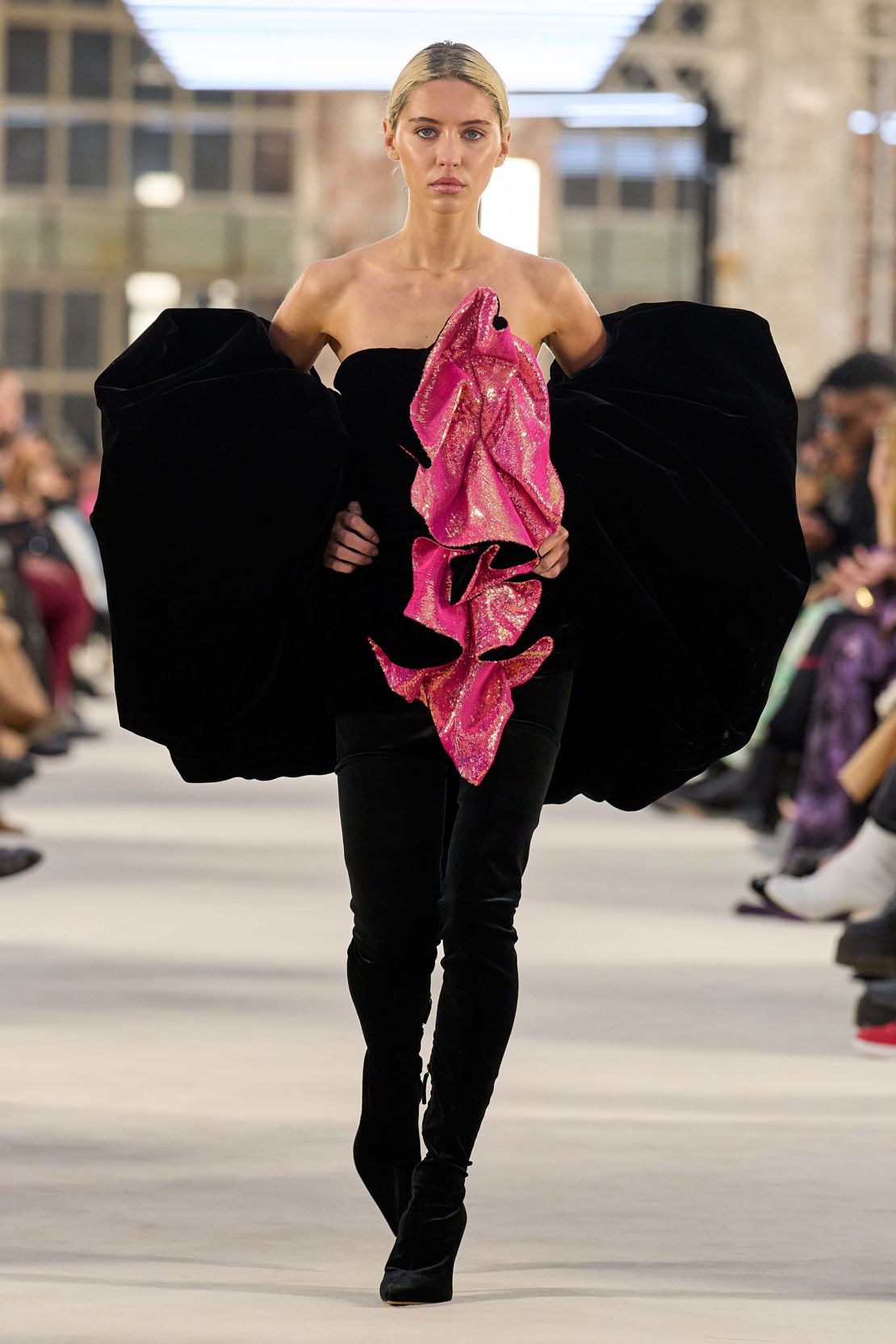 Daughter of British actors Jude Law and Sadie Frost, Iris Law further added to her fashion credentials when she closed the Alexandre Vaulthier show wearing a black figure-hugging dress with pink trompe l'oeil sequin detailing and supersized puff sleeves. Her cropped blonde hair — now her signature look — gave the elevated little black dress an edge. "Emily in Paris" star' Philippine Leroy-Beaulieu applauded enthusiastically from the front row during the finale where Law was the last model to leave the runway.
Clown chic at Giorgio Armani Privé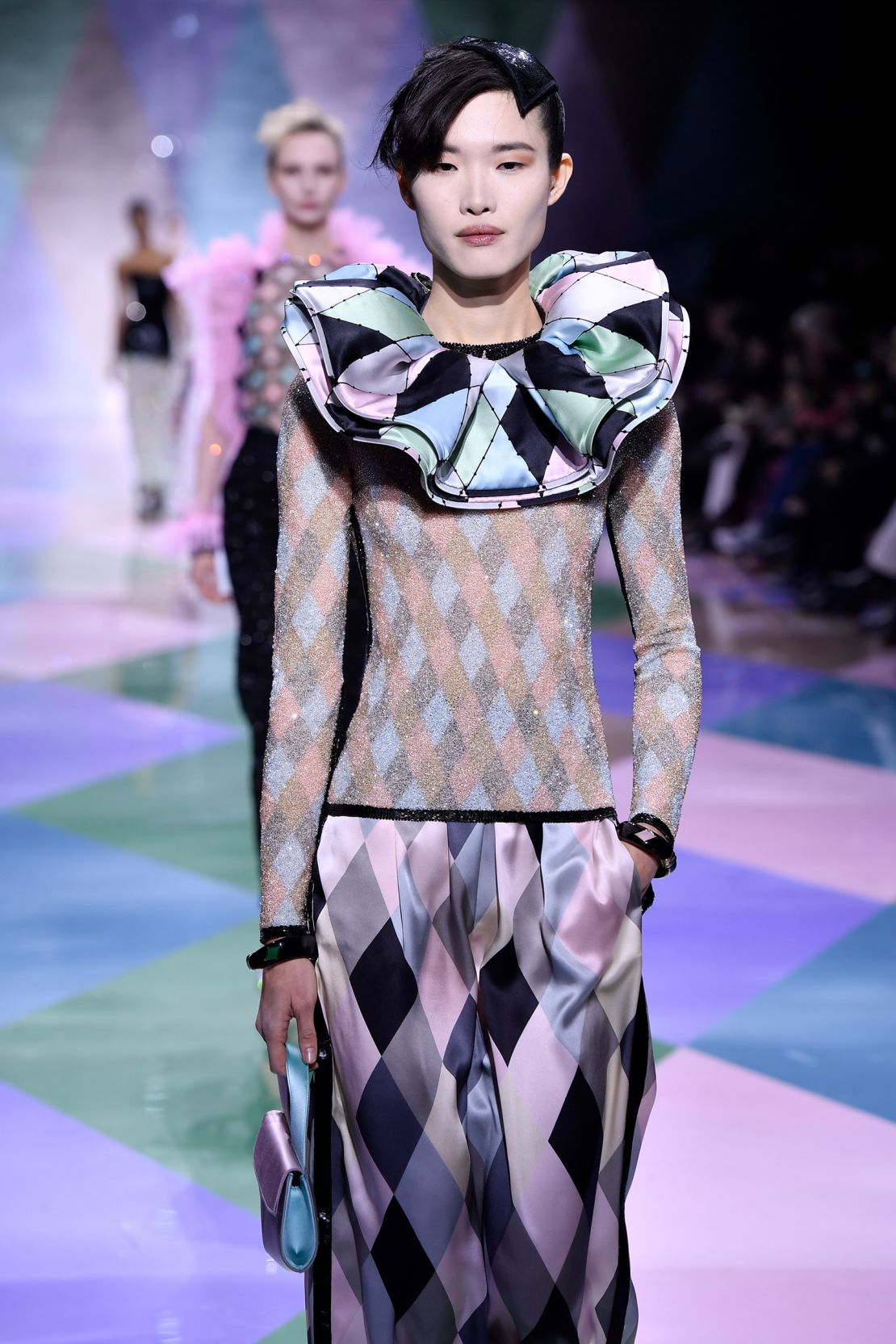 More regularly associated with clowns than haute couture, Harlequin diamonds were given a glow up at the Giorgio Armani Privé show. The maestro took the humble rhombus and elevated it by quilting them into velvet jackets and silk dresses, embellishing them with crystals that adorned eveningwear and as lace detailing on skirt hems. While the harlequin motif is often seen in harsh monochrome, Armani used a softer palette of lilac, purple, slate and sage.
Subverting dress codes at Viktor and Rolf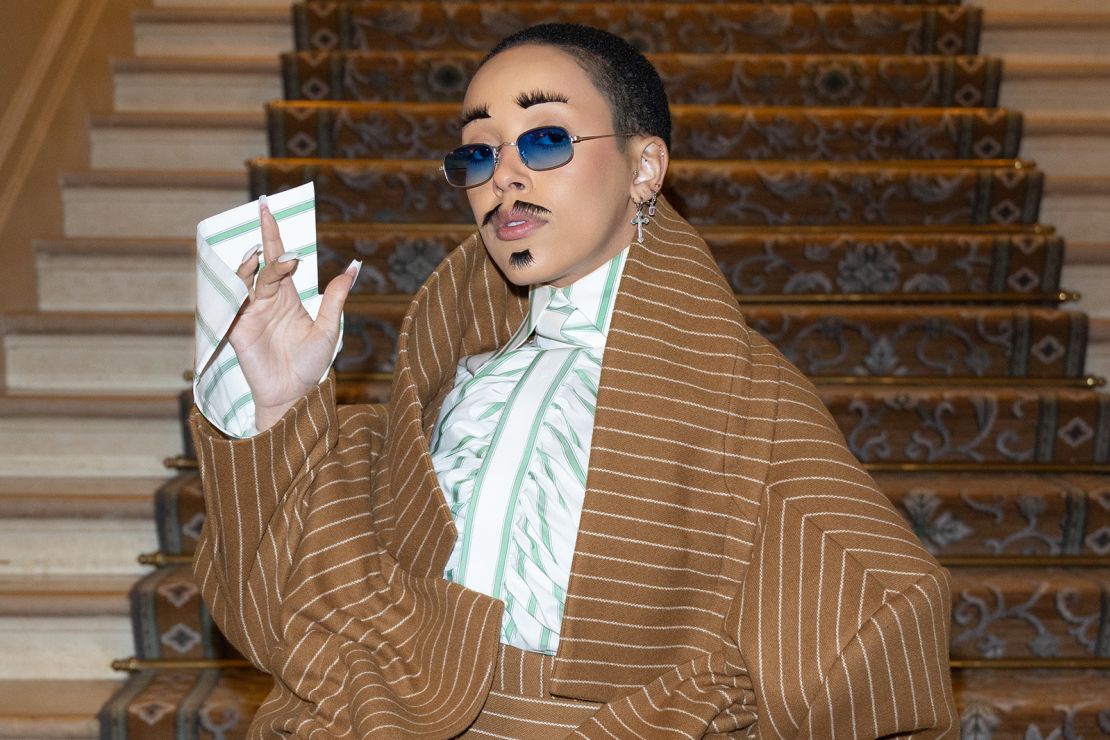 There may have been upside-down dresses at Viktor and Rolf, but it was Doja Cat's gender-bending mustached look that caused the biggest stir. After being criticized online for not wearing lashes with her viral head-to-toe crystal look at Schiaparelli, Doja Cat clapped back by turning up at the show with glued falsies over her eyebrows, above her lip and on her chin. On her Instagram account, she playfully posted "If lashes are what you all want, then lashes are what you'll get."
Haider Ackermann's couture debut for Jean Paul Gaultier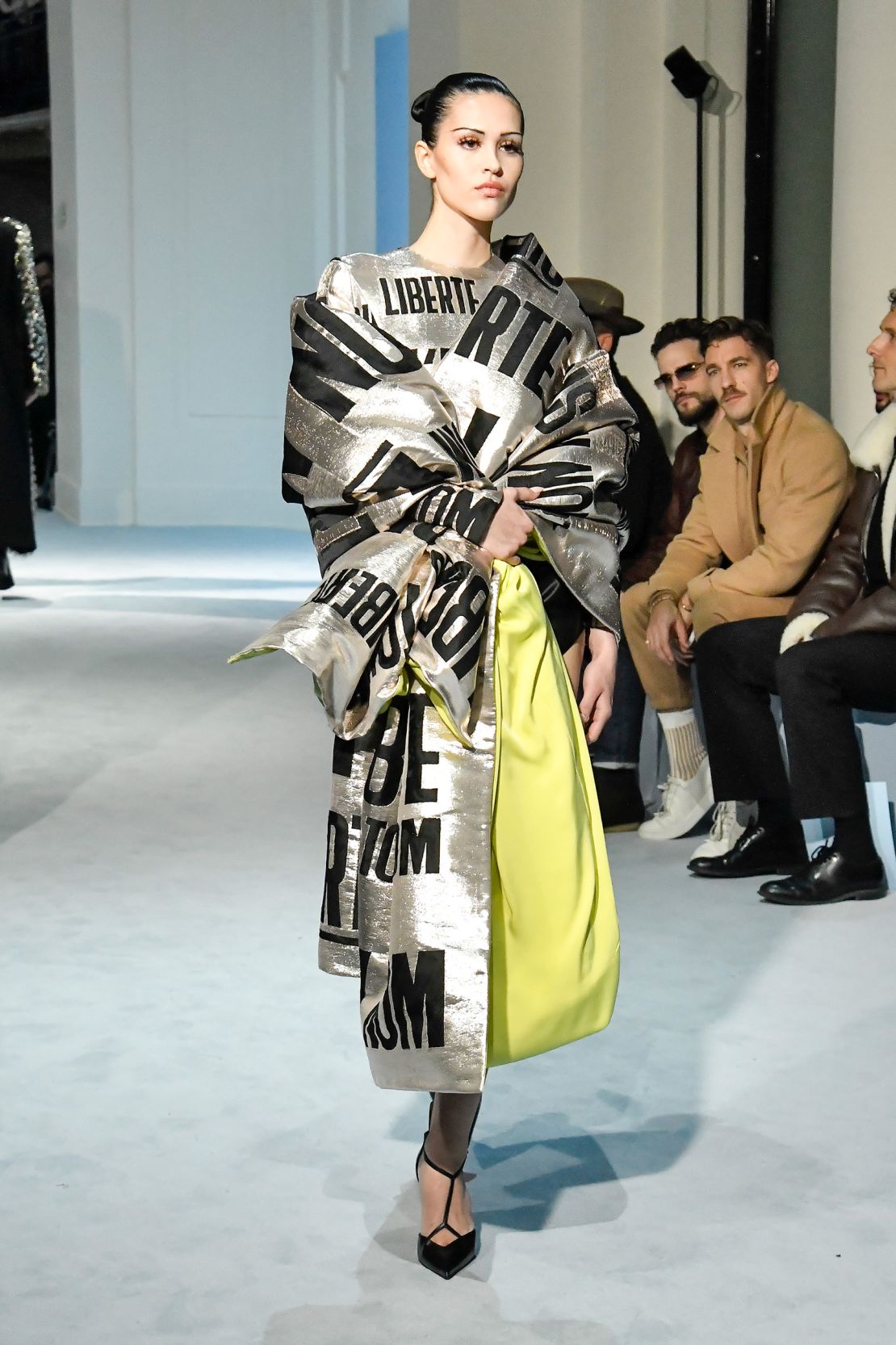 Haider Ackermann was the forth designer invited to present a collection for Jean Paul Gaultier since 2020, and the result was a love letter to the elder couturier with political undertones. Giving a nod to Gaultier's fight for human rights, Ackermann used the couture runway to highlight the fight for women's rights in Iran. While models walked the runway, their names were whispered by a spoken word soundtrack punctuated by Iranian artist Shervin Hajipour's song "Baraye." Hajipour's song was a reaction to the brutal killing of Mahsa Amin last year and the subsequent fight for women's rights in the country.
Heels off at Valentino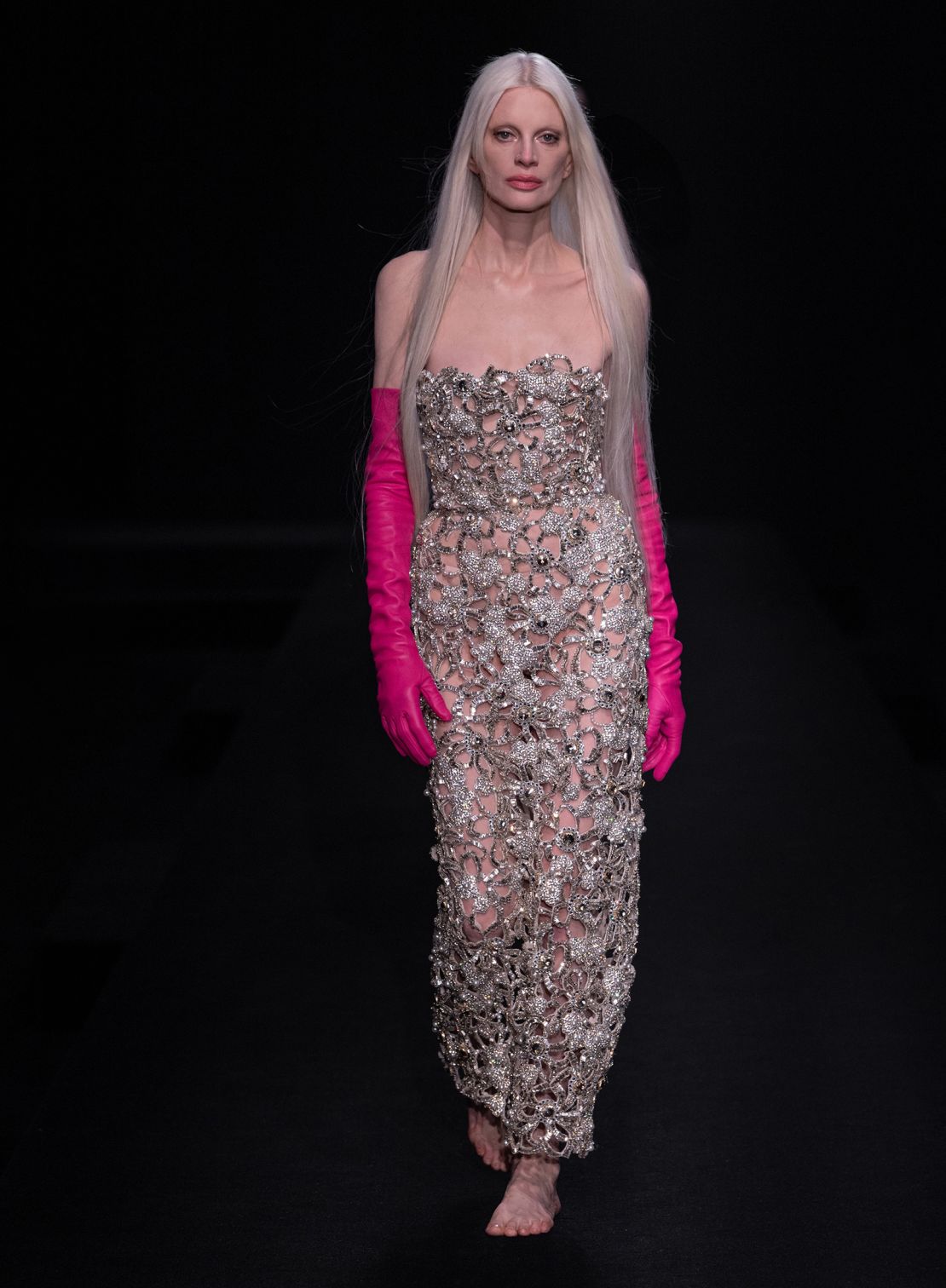 Even the most seasoned models can take a tumble. Kristen McMenamy, who was modeling a densely-embellished strapless column dress with pink opera gloves, had been struggling to walk in her vertiginous black stilettos when she fell to her knees on the runway. Front row guests ran to help the veteran model but like a true professional she took the shoes off, got up and triumphantly finished walking the runway barefoot. Videos of her fall have since gone viral, amassing over two millions views on TikTok and shows McMenamy throwing the offending footwear off the side of the runway.
Lowkey fur at Fendi