Story highlights
Green village to open in 2 billion euro 'passive house' community
'Five finger principle' connects environmental, social, and economic sustainability
The Bahnstadt campus in Heidelberg, south-west Germany, is one of the largest and most ambitious urban developments in Germany. Two billion euros have been invested in converting a freight train terminal into a cutting-edge eco community.
The 116-hectare campus is entirely powered by renewable energy, which is regulated by smart metering. Every one of the 2,000 homes is a "passive house" that efficiently retains energy and does not need a heating system.
The Bahnstadt experiment is now going a step further with the arrival of Heidelberg Village from Frey Architects, a 162-apartment block covered with green facades and rooftop gardens, which opens in early 2017.
The development is expected to offer significant environmental benefits, but the architects have a more ambitious vision of sustainability.
Living and breathing
The vertical gardens of the "living village" serve practical purposes as well as aesthetic pleasure. The gardens provide natural insulation to retain heat in winter, and a cooling effect in summer, which eliminates the need for heating or ventilation systems.
Benefits go beyond the village: the facades serve as natural air purifiers by absorbing carbon dioxide and impurities, and releasing oxygen.
"We reduce (polluting) dust in cities through our green facades," says Wolfgang Frey, head of Frey Architects. "They create oxygen in the atmosphere and clean the air."
The facades are also covered with solar modules that generate surplus energy to sustain the buildings. These serve a dual purpose by also providing shade to keep the apartments cool during hot summers.
Five fingers
Frey Architects has been among the pioneers of sustainable architecture since its foundation in 1959. Wolfgang Frey has developed a "five-finger principle" which stipulates that to be truly sustainable, buildings must be ecological, affordable, innovative, integrative and profitable.
Frey puts particular emphasis on the principle of integration, defined as "living places in which social integration can occur," in the Heidelberg Village. The population will be a carefully curated mix of demographics to ensure a diverse and dynamic community.
"We try to re-establish the idea of a rural village in a modern city," he says. "When people lived in small villages everyone knew the other people. The children knew the elderly, the disabled people, the single mothers. Today they are surrounded only with similar people."
Frey has tested his ideas of multi-generational living in previous developments such as the Pro Scholare building in Freiburg. The project incentivized integration, offering reduced for rent for youths if they spent time caring for disabled people or the children of single mothers.
The architect believes this approach encourages residents to feel invested in the community, which he feels is critical to its long term health.
He also allows residents to make decisions on key features of the complex, from the style of balconies to the color of walls, to foster a sense of ownership and responsibility.
"If people say 'it's mine' they will take care of their environment, their neighborhood, their society and the people living next door," says Frey.
Breaking the mold
Frey is frustrated by the conventions of sustainable architecture that produce "boring boxes" and of drab housing for vulnerable people.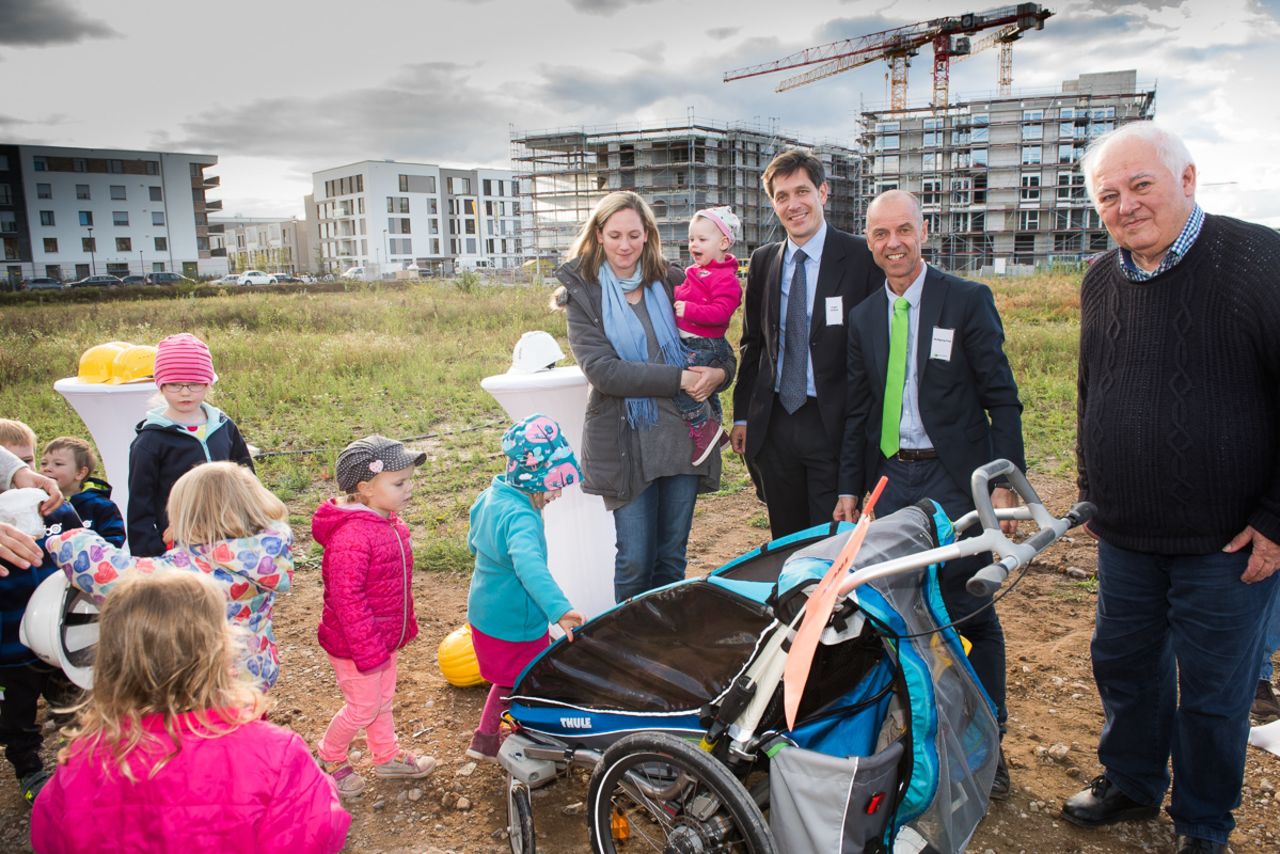 "We avoid making our buildings look like apartments for the needy – they look like stylish, modern, sexy spaces," he says. "We try to cultivate this sense of modern luxury so people want to be there, and act the right way."
The principle of affordability is also a high priority, but this is achieved through efficient design rather than reduced space or sparse aesthetics. Frey notes that ecology and economy derive from the same Greek word "oikos," which referred to the responsible use of resources.
Frey also decries a lack of functionality in sustainable architecture, from glass towers in the 50-degree heat of Dubai, to passive houses with sealed windows. His firm practices the principle of hyper-localization to ensure that buildings are tailored to suit their specific environment.
Tower of power
Germany is a leading light of the clean energy revolution, having pledged to shut down its nuclear power plants by 2022 and reach 100% renewable use by 2050.
Frey Architects is set to play an increasing role in driving the transition. The firm's Smart Green Tower design is under construction in Freiburg, a 51-meter residential block covered in photovoltaic panels that will capture and store surplus energy in a lithium-ion battery.
The surplus power will be used to serve a whole district, and allow local power plants to reduce their output. Frey plans to initially build towers in five cities, and then many more around the world.
As with all Frey designs, the tower will include elements of social integration. Excess heat from the battery will be used to power a fish farm and vegetable patch, which will be tended by disabled residents of the tower, and provide another revenue stream.
This is a vision of multi-faceted sustainability in action, with economic and social benefits making environmental progress possible.
"I want to show that acting in a sustainable way brings higher profits and gives us a chance to create a better society," he says.