It has been heralded as a vision of the future. A $10.75 billion infrastructure investment connecting Hong Kong with China's high-speed rail network.
The West Kowloon Station, which is set to open today, will serve as an underground terminus for an expected 80,100 passengers daily, with the rail link promising to cut the two-hour journey time between Hong Kong and the Chinese city of Guangzhou to a mere 47 minutes.
But the glittering, wave-shaped development has proven to be controversial. A future some in Hong Kong neither wanted nor asked for.
Critics have lambasted the approximately 400,000 square-meter station and the Hong Kong section of the Express Rail Link, questioning the cost of the project which is 30% over the estimated budget, and pointing out that the city already has regular rail links with mainland China.
But a bigger and more contentious flashpoint has been its joint-immigration checkpoints.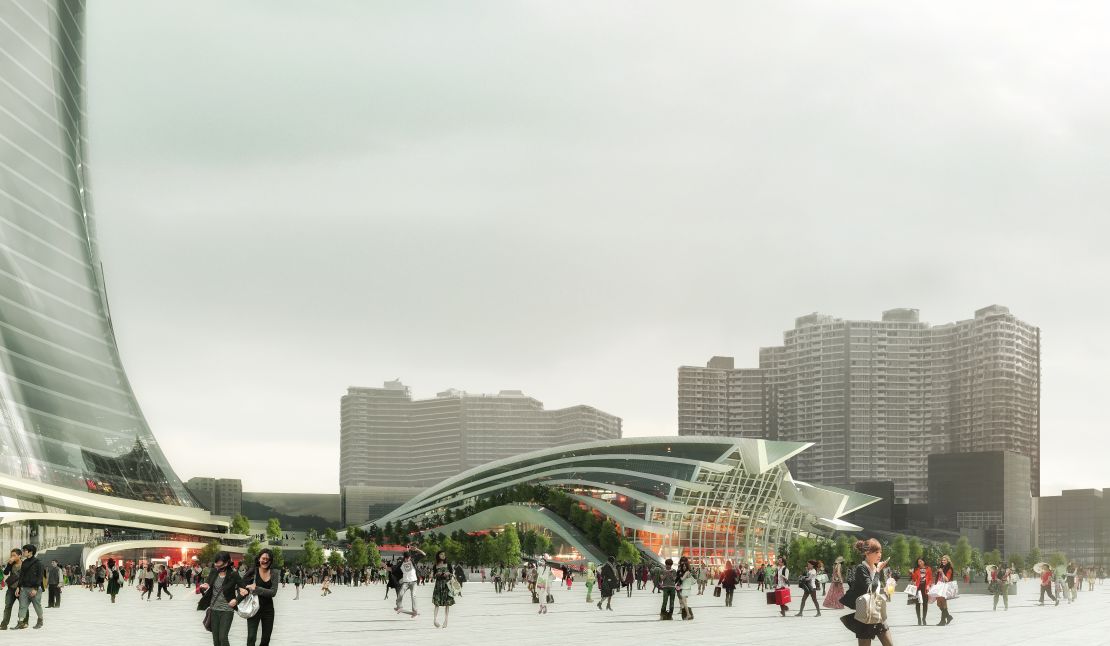 Although it is part of China, Hong Kong is separated by a fixed border and governed under a separate legal framework that grants it political and legal freedoms not available on the mainland.
This "Trojan train," as one political commentator put it, will cut straight into the heart of the city, where mainland immigration officers stationed at the terminus will be able to enforce Chinese law on Hong Kong soil for the first time.
Concerns surrounding the Chinese government's ability to operate with impunity within the city have increased in recent years, following the alleged "involuntary removal" of a Hong Kong bookseller to mainland China in 2015.
As of Sunday, a part of the new station, as well as compartments of the trains traveling to and from mainland China, will come under the jurisdiction of Beijing.
"I think it's unprecedented and violates the 'one country, two systems' principle," said Hong Kong politician Lam Cheuk-Ting, referring to the city's unique political arrangement with Beijing.
"It will threaten the autonomy of Hong Kong," added Lam.
Divisive architecture
In the past, the development of major infrastructure projects in Hong Kong had coincided with periods of unrest in mainland China, providing a veneer of comparative stability.
The Kowloon-Canton Railway, completed in 1912, and the first cross-harbor tunnel finished in the early 1970s, are two such examples, according to Cole Roskam, an associate professor of architectural theory and history at the University of Hong Kong.
The former was constructed as the Qing Dynasty in China was being overthrown, while the latter was completed during the Cultural Revolution.
Whereas earlier colonial-era projects "helped to reassure the public regarding Hong Kong's future, these recent projects seem to have stoked more anxiety," said Roskam in an e-mail, referring to both the station and another new project, the world's longest sea-crossing bridge connecting Hong Kong, Macau and mainland China.
"I think it has to do with fear, resentment, and anxiety over China and perceptions of Hong Kong's diminished standing vis-a-vis China," said Roskam.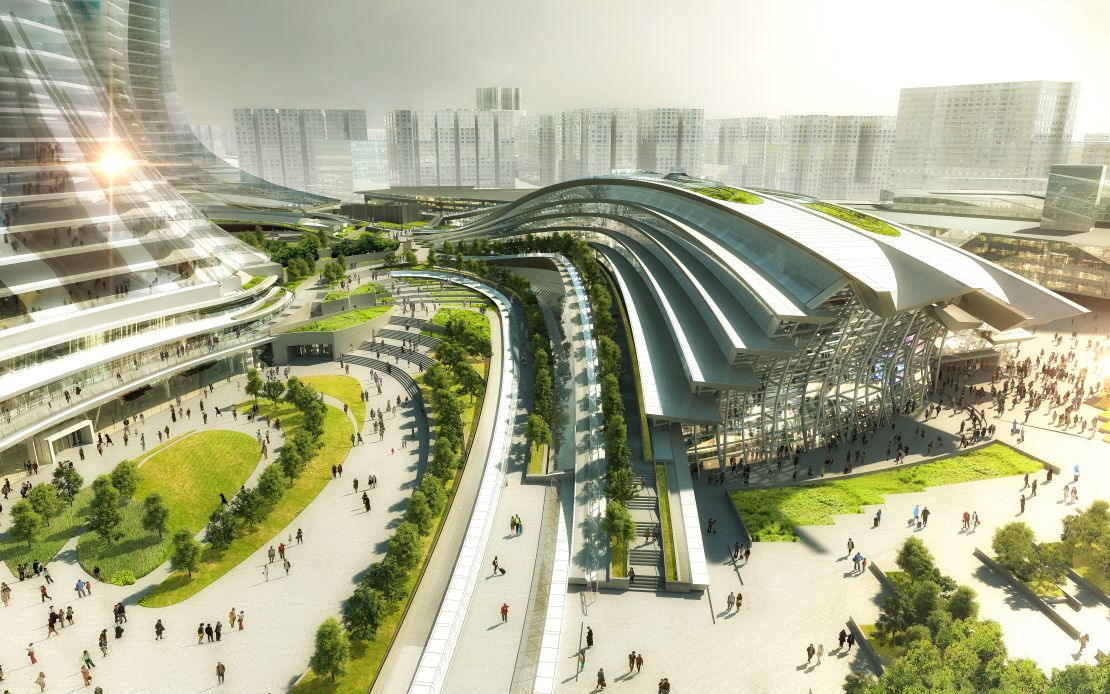 The Hong Kong government, however, views the station as a more "convenient means of cross-boundary transport" and, more importantly, as a tool to boost the city's economic opportunities.
Frank Chan, the secretary for transport and housing, called the project, "a historic moment," during a press conference in August.
"It will foster commercial and cultural exchanges between Hong Kong and mainland cities and enhance Hong Kong's status as a transport hub," said Chan.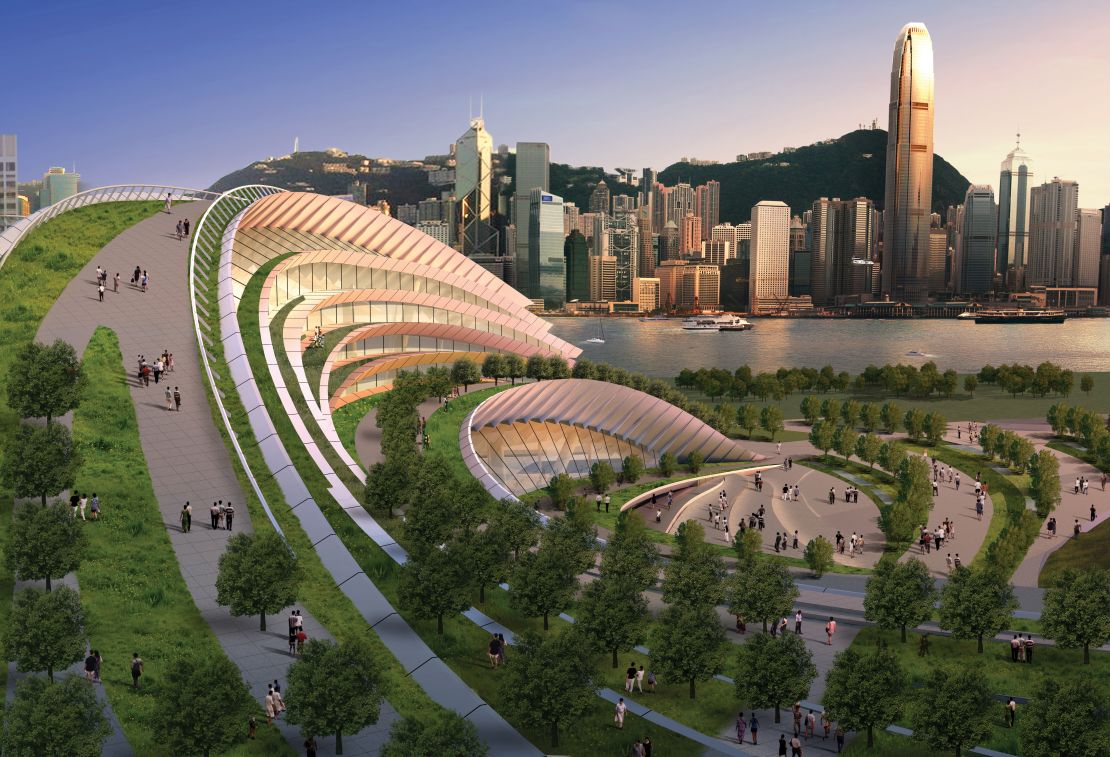 The high-speed rail link will connect Hong Kong to 44 mainland destinations, including the capital Beijing.
Charlie Xue, an author of several books on Chinese architecture, feels the completion of the West Kowloon Station and link represents progress; enabling Hong Kong to finally, "catch up" to the fast-pace development and GDP of mainland Chinese cities.
"Every major (Chinese) city is linked up by the high-speed rail," he said in a phone interview, touting the foreseeable business benefits of the terminus connecting to the mainland.
"If we don't, we will look backwards."
What stations have come to symbolize
The 15-track station, with its expressive, sleek white curvature, was designed by Andrew Bromberg at Aedas.
Spaces like departure and arrival lounges, short- and long-haul platforms, customs and immigration facilities, have been assembled to create a larger void allowing for a more open plan with views of the city's skyline.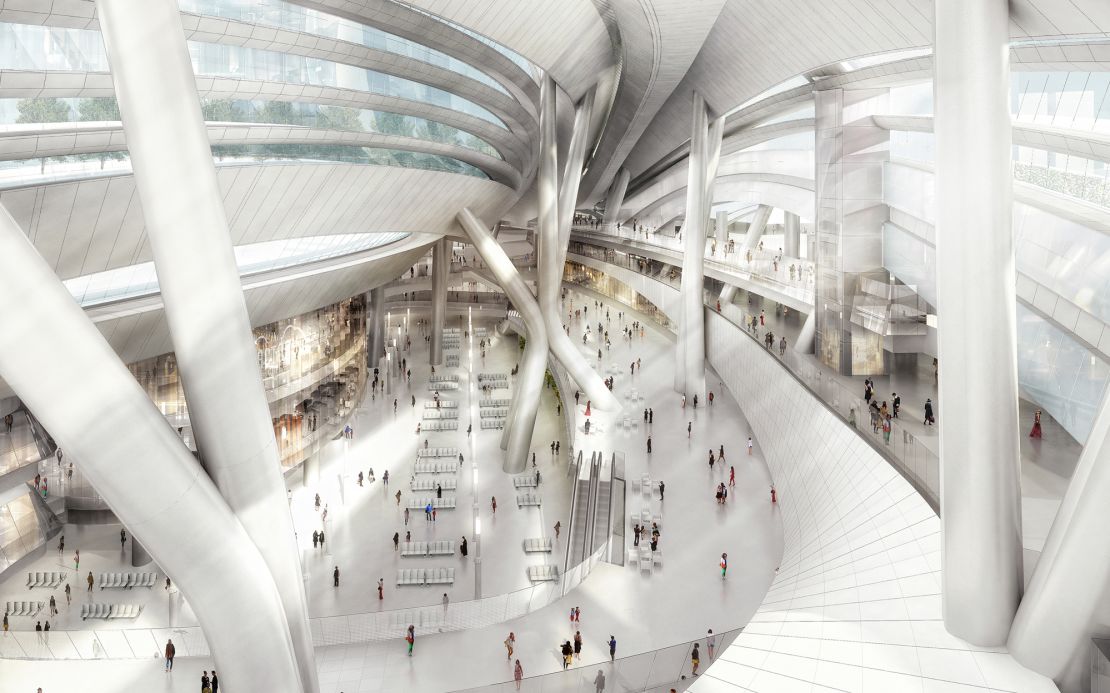 Outside, softer touches, like a grass-covered roof structure that gestures towards the nearby Victoria Harbor, are meant to be public-friendly.
"I think its quite striking, formally. It's clearly an effort to capture the dynamism of the high-speed train. There's a tautness to the overall form that captures its proximity to the water, and the way it will abruptly deposit travelers on the harbor's edge," said Roskam.
While the Hong Kong government funded the terminus, its design carries noticeable similarities with modern train stations across the border – fitting neatly into China's greater building narrative of what the high-speed rail network has come to represent.
In China, the stations are seen as signature markers of the country's progress, though as architecture expert Aric Chen points out, some are more impressive than others.
"The ones that aim to impress almost invariably have, in their design, a soaring space and dynamic movement," said Chen, who until recently was the lead curator of architecture and design at Hong Kong museum M+.
The mammoth Guangzhou South Railway Station, for instance, is three times the size of London's King Cross Station. One of the most prominent features is an arched central spine that floods the station with natural light.
The Beijing South Railway Station, which opened in 2008 to coincide with the country's transformative Summer Olympics, boasts a clean, ultra-modern elliptical geometry that caters to the passenger flow.
'Excitement of technology'
China began constructing its high-speed rail in earnest, back in 2008. In just a decade since, 15,500 miles of track have been laid, making it the world's most extensive high-speed rail network.
An estimated 4 million passengers commute on some 4,000 bullet trains daily, according to China Railway.
Hundreds of newly built or refurbished stations have been opened to accommodate the high-speed lines. Station designs often try to "express the excitement of technology, or the speed of travel," according to Chen.

"And in that sense, (what the stations are) embodying is not just technological, but the sort of economic aspirations of the country too. These stations are the entry points for a network that is literally tying the country together in a way it hasn't been tied before."
Modern day high-speed rail stations are a unique building type, often-colossal spaces that have to account for advanced tech and subsequent electricity needs, and designed to accommodate for buses, underground metros and street vehicles.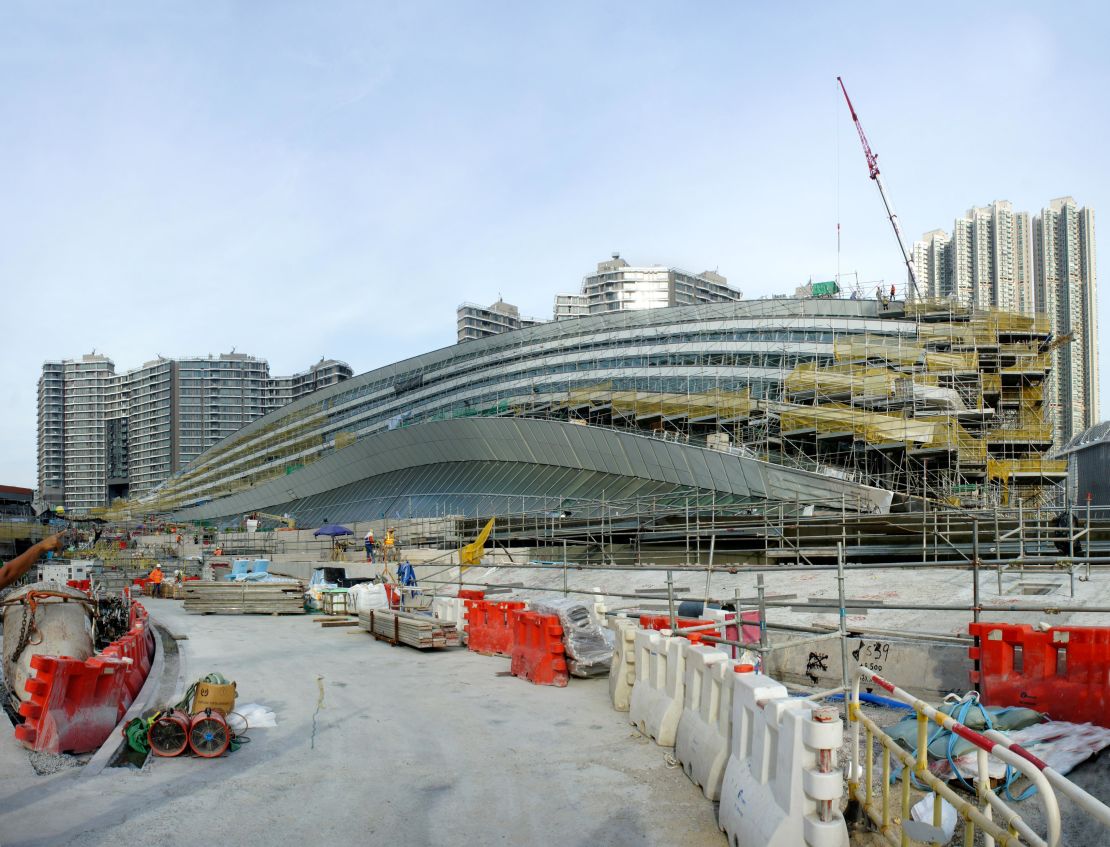 "In terms of stations, they become what train stations used to be. They become these symbolic gateways to these rapidly developing cities, linking them together," said Chen.
Author Charlie Xue likens their functionality to that of airport terminals.
"In many cities like Guangzhou and Shanghai, the stations have more than 20 lines, and are all elevated. The design relates to the complicated technology of these trains, the trains (moving) in and out, and the circulation of people.
"Trains have always been an important in China. People physically and psychologically rely on them," Xue added.
"During the Chinese New Year, you see hundreds of millions of people gathering at stations, moving by trains. In China, a station can decide a city's destiny."