Story highlights
Studio Symbiosis is a young architecture firm that is shaping the future of Indian design
The firm, which was established in 2010, has signed 38 projects in India
The firm is currently working on several hotels, offices, housing and city-planning projects in India
"India is the place to be," said Amit Gupta, architect and co-founder of Indian design firm Studio Symbiosis.
And for the rising Indian architectural star, this certainly seems to be true. Though the design firm – founded by Gupta and his wife, Britta Knobel Gupta – is only seven years old, it is already looking to shape cities and skylines throughout the South Asian nation.
Of the 40 projects Studio Symbiosis has signed to date, 38 are based in India. This not only includes lone-standing structures, such as hotels and offices, but several large-scale housing and city-planning projects. For a practice like this one, they said, the scope is unique.
India: A booming architectural hub
The co-founders launched their vision in London, first studying together at the Architectural Association, then working with world-renowned architect Zaha Hadid. They also have ties to Germany, where their firm's international headquarters is located. But it is in India where these designers feel their projects really make an impact.
"The architecture industry here is transforming," Amit Gupta told CNN by phone from India, "and the economic spike in recent years has really increased the demand for new buildings."
Though established international firms have a strong presence in the Indian architecture industry, Gupta insists it's time for young, fresh, creative new design houses like Symbiosis to make their mark.
"Yes, there are many international firms working out of India, but more and more Indian architects (are) coming back to the country and setting up base here," he said. "There is increased building demand, the budgets are good, there is plenty of land. It's great because there's room for younger, smaller practices to move in with their bold new designs."
A competitive edge
But designing innovative new projects in India is only the tip of the iceberg, Gupta said.
"The question quickly shifts from: OK, you can design it, but can you construct it?" he said. "And that's where you have to be careful."
Construction in India, he believes, is different from elsewhere in the world.
"There is a combination of high and low technology processes and tools for construction here, and so you're working with materials that (are) uncommon or rarely used in other countries," he said. "It's very rare in India, for example, to see buildings constructed with steel, but it's very common to see buildings made from concrete."
Setting up shop in India, he said, has given him an edge over his overseas competitors to tackle these issues.
"Although we are newer and younger than other firms, we've been able to solve construction problems because we're spending time in the country and seeing what's happening on the ground," he said. "We are able to see the state of Indian architecture up close."
Tradition meets 'cool' new design
And Indian architecture – particularly traditional construction techniques – has served as inspiration for several of Studio Symbiosis' bold, futuristic designs.
"We've spent a long time studying India's architectural history," Knobel Gupta said, "mogul architecture, Wada architecture and of course the famed ancient stepwells. But we then take these historic designs and re-imagine them, and so you may not even recognize it at first because it's done in a completely new form."
Up the Down Staircase and into India's ancient wells
The perspective has aided the firm's mission to create sustainable and environmentally sensitive designs. For example, the architects revamped traditional cooling techniques to tackle India's scorching temperatures.
In 2016, India recorded its hottest days ever, with temperatures hitting 50 degrees Celsius (122 degrees Fahrenheit). To deal with the Indian heat, the firm often incorporates water bodies – inspired by Mogul architecture – in its designs, as well as courtyards, which the partners say improve ventilation.
Knobel Gupta also points to a traditional South Asian technique known as jali, which involves creating perforated holes on walls or window screens to cool the space by compressing air.
"It's a technique we find extremely interesting because it lets in light but does not let in heat," she said.
Zero-energy design
Similar cooling techniques are seen in one of the firm's newest projects: the Net Zero Affordable Housing Jhansi.
"Electricity is a big problem here," Gupta said. "It often cuts (off) several times a day, so these buildings are structured in a way that prevents overheating. The curvatures allow for an even distribution of wind for an enhanced cooling effect."
The term "net zero" refers to buildings that use as much renewable energy as they can produce, aiming for a completely self-sufficient structure with almost no wasted energy. To achieve this balance, rooftops at the Net Zero Affordable Housing Jhansi are fitted with photovoltaic cells that produce solar-powered energy.
The next step: Shaping future Indian design
Studio Symbiosis has also been commissioned to work on several large-scale projects, with three major city-planning designs – Transganga Masterplan Kanpur, Allahabad Masterplan and Chola Masterplan – now in the works.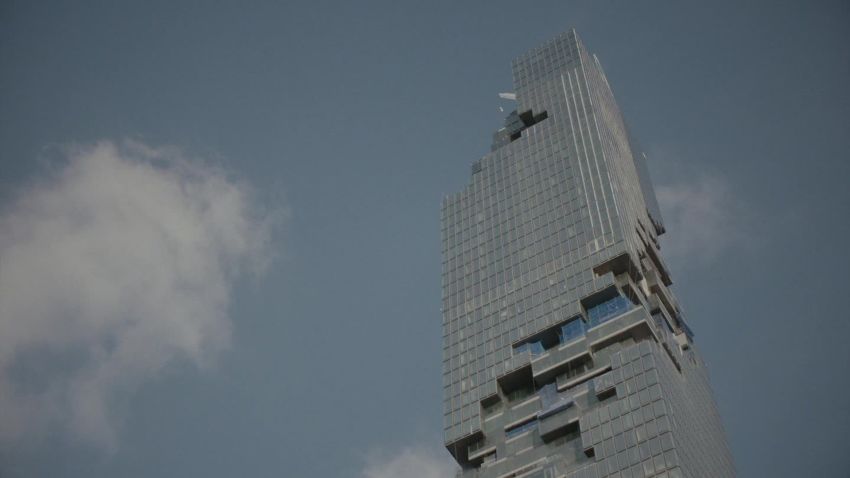 Is this the world's craziest new skyscraper?
"City-planning projects are crucial to India," Gupta said. "Aside from a few exceptions – such as Lucknow and Chandigarh – a lot of cities in India were not planned, and today we can see the repercussions of it."
"Major cities in India seem to be horizontal rather than vertical, without a skyline and only a few major urban hubs," Knobel Gupta added. "Of course, we can't just do this overnight, but it's something that we hope to work towards over time."