A license plate has sold for an eye-watering 55 million dirhams ($15 million) at a charity auction in Dubai, fetching what organizers Emirates Auction say is a world record price.
Simply reading "P7," the vanity plate smashed the previous record which belonged to Saeed Abdul Ghaffar Khouri who bought a license plate for 52.2 million dirhams ($14.2 million) in February 2008 at an auction organized by the same company.
CNN has reached out to Guinness World Records for confirmation of the new record but did not immediately receive a response.
Proceeds from the sale will be given to "One Billion Meals" – a campaign run by Sheikh Mohammed bin Rashid Al Maktoum, ruler of Dubai and Prime Minister of the UAE, to help vulnerable communities around the world during the holy month of Ramadan – the auction house added. The sale took place earlier this month.
License plates also sold for 2,950,000 dirhams ($800,000) and 140,000 dirhams ($38,000) at the auction held at the Four Seasons Hotel Jumeirah.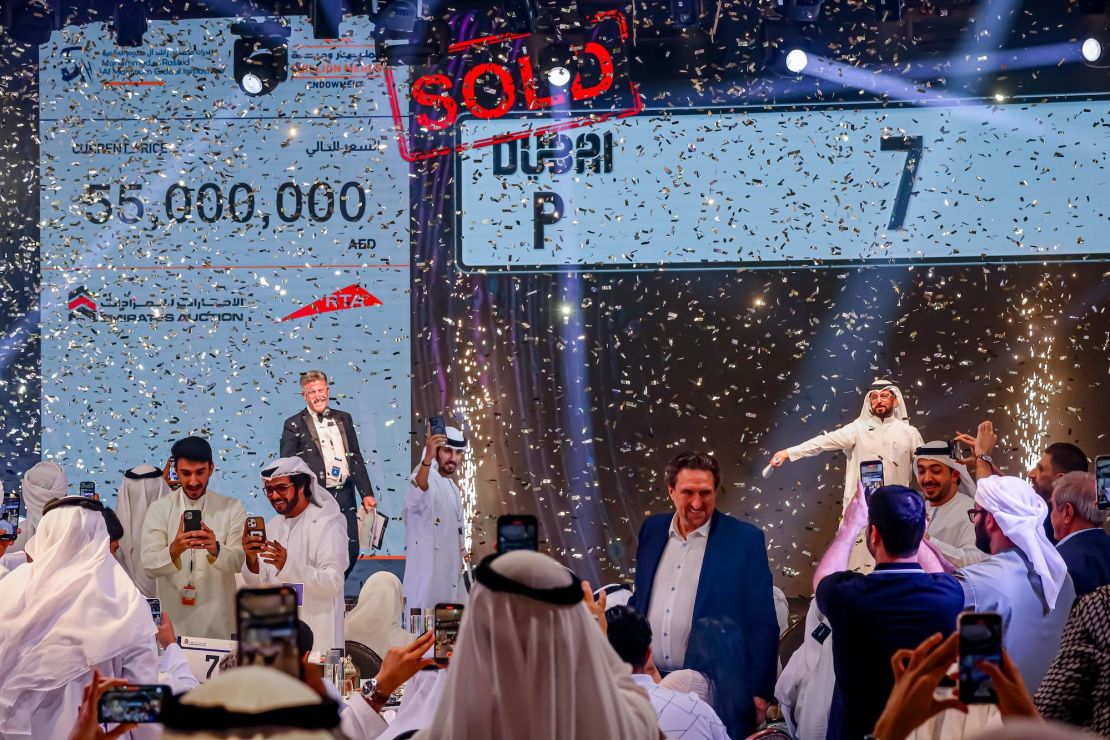 Overall, the auction raised more than 71 million dirhams ($19.3 million) for the campaign, the UAE state run newspaper WAM reported.
Prices for a vanity license plate normally run considerably cheaper in the United States, although they vary from state to state.
In Virginia, a personalized plate costs $10 a year in addition to the vehicle registration and special plate fees, whereas in New York it costs $31.25 annually, as well as a $60 initial fee.
But there are still similarly expensive plates available, such as a Delaware license plate which fetched more than $400,000 at auction in 2018. Meanwhile, a "New York" license plate and the Volvo it's attached to has been up for sale with a $20 million price tag for more than two years.
CNN's Dalya Al Masri contributed reporting.