Story highlights
The 555-meter-tall Lotte World Tower opens setting world records.
The Lotte World Tower double-decker elevator travels at 10 meters per second, making it the fastest of its kind in the world.
The Shanghai Tower's elevator is currently the world's fastest elevator, traveling at 20.5 meters per second.
Experts say the fastest elevator humanly possible would travel at 24 meters per second.
After six years of construction, the 555-meter-tall (1,820 ft) Lotte World Tower opened in April, setting three world records and redefining the Seoul skyline.
Not only is it the tallest tower in South Korea and fifth highest in the world – dwarfing the Korean capital's next highest building, Three IFC Office Tower, by nearly 300 meters – it's also home to the highest glass-bottom observatory at 478 meters (1,568 ft).
But its most impressive feat?
The Lotte World Tower features the world's tallest and fastest double-decker elevator, the Sky Shuttle, which whisks passengers from the basement to the 121st-floor observation deck in one minute, or at 10 meters per second.
From the top of the half kilometer-tall tower, visitors can survey the edges of Seoul's vast urban sprawl and the mountainous terrain beyond – only a handful of other skyscrapers in sight.
Elevated design
Lotte hired American elevator manufacturer the Otis Elevator Company to bring its double-deck Sky Shuttle to life.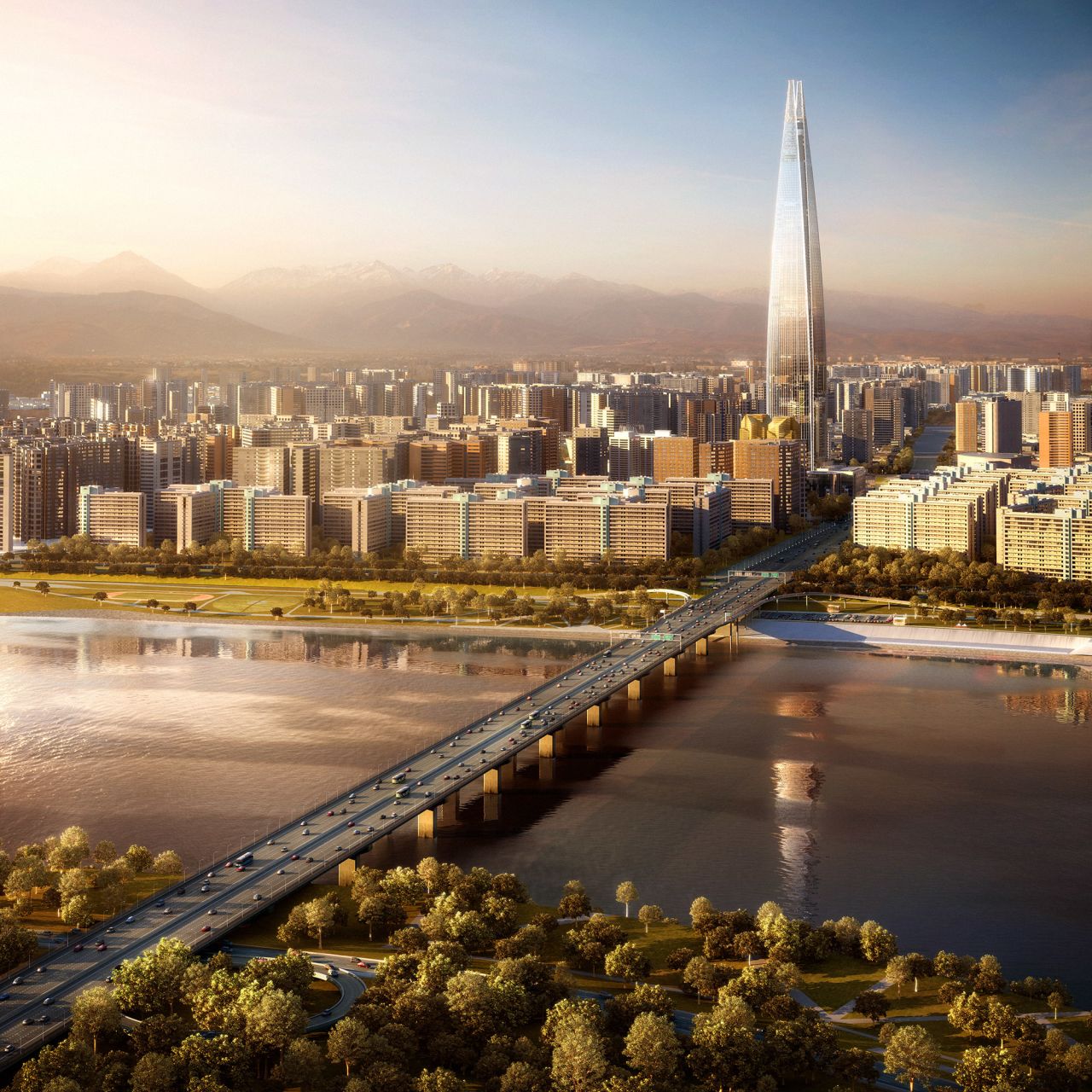 Consisting of two attached cabins stacked on top of each other, it simultaneously carries passengers to separate floors. Other famous structures featuring this type of technology include the Canton Tower, in Guangzhou; the Petronas Towers, in Kuala Lumpur; the Eiffel Tower, in Paris; and the Burj Khalifa, in Dubai.
Boasting twice the capacity of a conventional elevator – each cabin holds 52 passengers – the tower's lift directly connects the basement and the observation deck, skipping the floors in between which are full of shopping complexes, offices, and even a "seven star" hotel.
"A double-deck elevator was used because the observatory would be crowded at certain times of day," Wonixuk Choi, manager of Lotte Corporation, tells CNN.
Inside the lift cabins, it feels like a video game – 15 OLED displays offer a virtual tour of Seoul during the 60-second ride.
Elevating Asia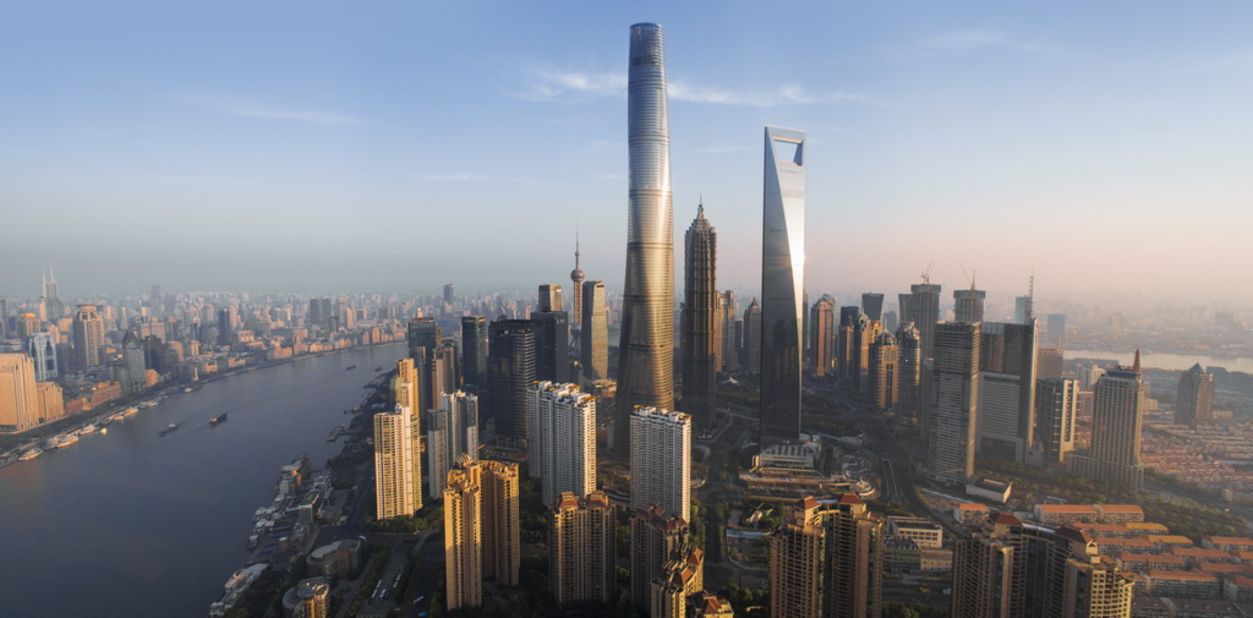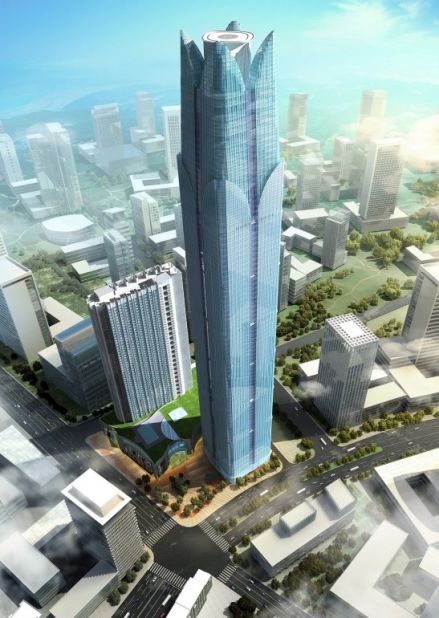 The world's tallest buildings
Asia has made a name for itself in ground-breaking elevator technology in recent years.
In 2016, the Shanghai Tower opened, unveiling the fastest elevator in the world.
The Mitsubishi-designed lift runs at an incredible 20.5 meters per second (67 ft/s).
Standing at 2,074 feet (632 meters) tall, a fast lift was always going to be necessary for the world's second tallest tower.
Also in China, Hitachi last summer unveiled the world's second fastest elevator in Guangzhou's tower CTF, which stands at 1,739 feet tall.
Its lift zooms from floors zero to 95 in an incredible 45 seconds – or 20 meters per second (65 ft/s).
Inside the elevator cabin, an indicator shows passengers how fast they are going, perhaps to prove that they aren't being cheated.
A high-tech air pressure adjustment system that protects ears from popping and blocks any uncomfortable G-force backlash means this lift is so smooth it's hard to believe it's the world's second fastest.
"The elevatoring strategy required us to bring in high volumes of people … and the client made a huge investment to try to make sure that happened quickly, "Forth Bagley, principal architect at KPF, which designed the CTF tower, tells CNN.
Lift me up
Getting people around ever-taller towers with increasing efficiency is a common concern.
Reaching 1km into the sky, the Jeddah Tower in Saudi Arabia will be the world's tallest building when completed in 2019.
A building so tall, naturally, requires an exceptionally fast elevator.
Finnish maker Kone has risen to the challenge, developing the "ultrarope" elevator, which uses a carbon-fibre cable strong enough to power a lift more than 1km in length – previously, about 500km was the maximum length possible for a lift cable.
One third of the weight of traditional lift ropes, it also makes super speeds a reality.
The ultrarope lift will travel at "over 33 feet per second", and "reach the highest liveable floor in the world in 52 seconds," according to Kone.
When finally unveiled, it could easily be faster than Lotte World Tower's creation. However Albert So, an expert in elevator engineering, believes lift technology can't get much faster.
"I predict the maximum speed of a vertical lift cabin cannot be more than 79 feet per second," he says. "This is not because we can't make lifts that go faster than this, but because of the air pressure."
If a lift traveled faster than this, he says, it wouldn't give passengers enough time to acclimatize to the air pressure on the top floor.
Engineers would need to pressurize the entire building, like an airplane cabin.
Lifts that move sideways?
Perhaps the most exciting innovation in lift technology is coming from German transport firm Thyssenkrupp.
By using magnetic levitation, or "maglev" technology – which uses magnetic fields rather than elevator cables to propel cabins – the company is proposing elevators that move both vertically and horizontally.