Not only is Maria Prymachenko among the 20th century's great self-taught artists, she is an icon of Ukrainian national identity. Her fantastical paintings, praised during her lifetime by the likes of Pablo Picasso, are now found in some of the country's most important museums. Her work has also been featured on postage stamps and her likeness is immortalized on commemorative coins.
But 25 years after her death, the Russian invasion is threatening Prymachenko's legacy. Last week, Ukraine's Foreign Ministry said that several of the artist's paintings were among those destroyed at a museum in her native region of Ivankiv, about 50 miles northwest of the capital Kyiv, following an attack by Russian forces.
A video widely circulated online appears to show flames engulfing the one-story institution, which had previously described Prymachenko's work as the "pride of the museum." Her brightly-colored, almost childlike depictions of flora and fauna – as well as of farmers tending crops and plowing fields – were among the items initially thought to have been lost.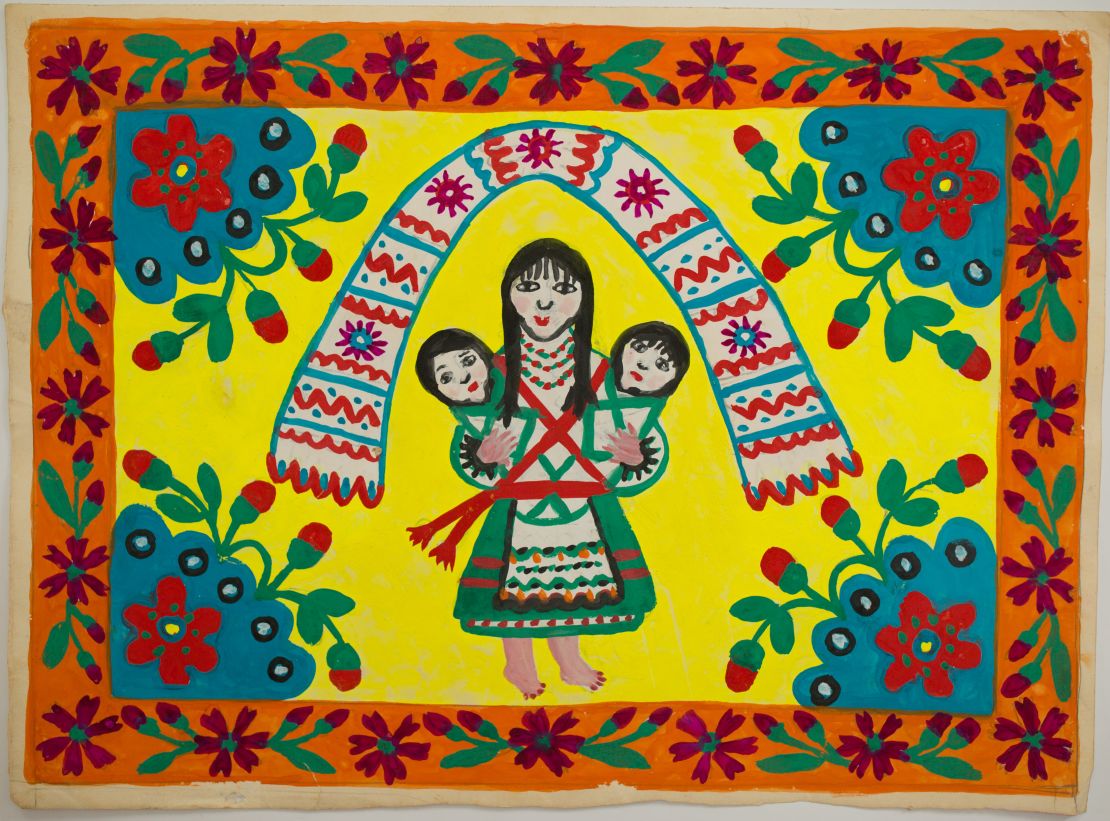 But reports have since emerged suggesting that an act of bravery may have saved more than a dozen of her works from the blaze. In fact, the Maria Prymachenko Family Foundation, which manages the artist's catalog and is run by her great-granddaughter Anastasiia, believes that all the museum's Prymachenko paintings were rescued from the building by a local resident.
"One heroic man managed to take the paintings away from the fire," said lawyer Natalia Gnatiuk, one of the foundation's partners, via phone from western Ukraine, where she has sought refuge. "There are 14 of them, but they are still not safe." (Two ceramic works are believed to have been destroyed, however.)
CNN has been unable to independently corroborate this account. And while Gnatiuk said that her foundation had been in regular contact with the man, they have since lost touch as fighting continues in the suburbs north of Kyiv. She declined to name him or comment on the art's possible whereabouts, fearing for the safety of both.
"After this war finishes, this is the first heroic story we will tell," she added.
'They hate our culture'
Prymachenko's paintings are considered a prominent example of European "naïve art," a term used to describe work by artists without formal training. Born into poverty in 1908, the painter rose from humble beginnings to earn the prestigious title of People's Artist of Ukraine in 1970, when the country was under Soviet control.
Although best known inside her home country, Prymachenko's work was shown in cities around Europe during her nearly six-decade career. In 1936, after visiting an exhibition of her paintings in Paris, Pablo Picasso is widely reported to have said: "I bow down before the artistic miracle of this brilliant Ukrainian."