Story highlights
Marina Abramović is a performance artist and founder of the Marina Abramović Institute (MAI)
MAI and NEON, a not-for-profit organization, collaborated on an exhibition in Athens called 'As One'
Virginia, dressed in a scarlet red jumpsuit, paces back and forth in front of a simple wooden desk. She's counting in Greek, "1, 2, 3, 4, 5, 6", like clockwork. She's attempting to mimic an analogue machine and she, the human clock, will continue to keep time, without pause, for eight hours a day over the course of seven weeks.
Nancy, with her hair in braids, sits on a white wooden plinth staring into a small golf-ball sized hole.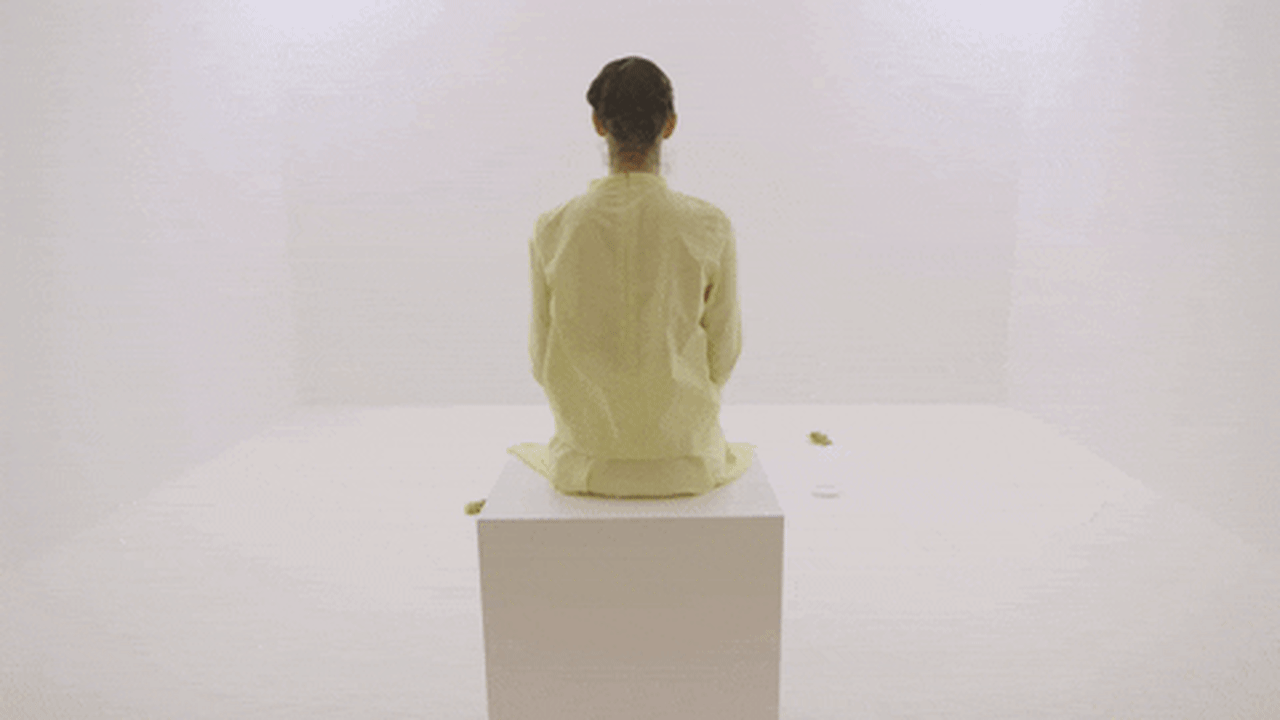 A tortoise slowly circles the ground beneath her plinth, casually snacking on scraps of lettuce, blissfully unaware of his role in her "long-durational art" performance, also set to run for seven weeks.
Yiannis is slumped on the floor, his back against the wall of a glass-fronted box he'll be calling home for the next four days. The narrow space is sectioned by four plasterboard panels.
He's currently sitting in in the second. An hour earlier he was standing upright, slowly, painfully, robotically breaking down the first plaster wall with a small key.
He's not wearing a protective mask and his clothes are covered in white plaster powder. His performance, entitled "A Key", will last four days.
Virginia Mastrogiannaki, Nancy Stamatopoulou and Yiannis Pappas are three of the 29 Greek performance artists participating in an exhibition in Athens' contemporary Benaki museum.
As One
As One, a showcase of "long-durational performance art", is the product of a partnership between artist Marina Abramović's eponymous institute and NEON, a privately funded, not-for-profit Greek organization founded by Dimitris Daskalopoulos, which aims to support emerging local artists.
Marina Abramovic introduces 'As One', her latest project in Athens
Over a year in the making, this is Abramović's latest project.
Throughout March and April visitors to the Benaki museum will be invited to participate in her now well-known 'Abramovic Method'. After completing the Method – a series of exercises involving breathing, stretching, donning a pair of sound-canceling headphones and being tucked into an army barrack-style bed by a complete stranger, among other things – visitors can make their way up to the main exhibition rooms where a group of hand selected local artists will be performing, under the guidance Abramović, a series of long-durational works of "immaterial art".
Abramović's developing legacy
Abramović is arguably the most recognized figure in the performative arts space and after more than 40 years of work and with her 70th birthday pending, she wants to give back: "I really believe that the function of the artist is to be servant to society. I also believe that it's not enough to make your own work, you have to have more commitments and one of the commitments for me was always with teaching."
"I'm not doing my work here, I'm not showing my work, I'm not performing. I'm completely concentrated on the education program."
In her words
CNN Style met with Abramović in Greece at the launch of the exhibition to discuss education, fame, dying and her next project.
When young students come to me and say "I want to be famous and rich", I say do something else. So many artists – great, great artists – never became famous in their lifetime. Look at El Greco; it was only 120 years after his death that people recognized his value.
Being famous shouldn't be the aim. But for it to happen you must first have enormous talent, then you have to sacrifice your life to what you want to do, then you have to have a little bit of luck and also an understanding of what society needs at the time. But you don't do this to be rich or famous, you do your work because you want to give a message and that message is all that matters.
Read: Marina Abramovic: 'We can learn telepathy'
Being famous helps. It took me 45 years to get to this position. It took me a long time to show that performance art is art, and when it happened society and the media took me to the place I am now. They've given me even more responsibility but at the same time they've given me a platform to talk about performance and help other artists who are just beginning and it's very important that I use these opportunities.
When you perform you have to consider your physical strengths and of course your state of mind. Most performance artists don't care about their body and they actually drive on willpower. For certain shorter periods of time you can overpass any obstacle with a strong will but in long-durational performance it's a whole different story. You have to have physical strength. This is why I developed a method called "cleaning the house" with young artists. I take them to places that are too hot, or too cold, where they are never comfortable in nature and we spend between five and ten days drinking herbal tea and water, not talking and doing extremely difficult physical exercises.
This year I'll celebrate my 70th birthday, which is a big deal. My grandmother lived to 103 and she said 'when you get to 70 you're really going to enjoy life'.
I'm very interested in dying. I'm thinking about dying every single day. I think dying is a part of living. We always think we are immortal but we could be hit by an asteroid during this interview. The moment you know you can die at any moment the only thing that is certain is the present and the present is all about performance.
My next project is called Seven Deaths. It's a project I've had in my mind for 26 years and I'm now about to realize it. It's about dying for love. It happened to me in my own private life that I almost died for love, but I didn't. So my dream is to play seven deaths in seven operas always being killed for love. The operas will be video installations directed by seven different directors and the man that will kill me will be the actor William Dafoe. We're also going to make a documentary called Living Seven Deaths.