Editor's Note: This article was originally published in October 2016.
Story highlights
Photographer Michael Wolf documents urban planning in big cities
Wolf's "Tokyo Compression" series was shot on the subway during the city's notorious rush hour
"It's horrific" says photographer Michael Wolf, describing scenes from his "Tokyo Compression" photo series. The images – nameless faces pressed up against windows, their expressions frozen in visible discomfort, the glass around them wet with condensation – are snapshots of everyday commuter life for many of Tokyo's residents.
Wolf, who lives in Hong Kong, often uses photography to critique the harsh living conditions of large cosmopolitan cities.
Chicago, Paris and Hong Kong have all fallen under his lens, which often dips below dazzling urban skylines to explore the real city beneath.
His most recent project, "Informal Solutions," looks at how discarded materials are creatively repurposed in the the back alleys of Hong Kong, and pays tribute to simple ingenuity that exists here.
Here, Wolf discusses his portrayal of life in some of the world's biggest metropolises.
CNN: Tell us about your most recent project, "Informal Solutions".
Michael Wolf: It looks at the vernacular culture that exists in Hong Kong's back alleyways, and the thriftiness of the workers that use these spaces.
You see this incredible example of urban anthropology – dozens of seating arrangements from repurposed broken chairs, rolls of string that have been collected so they can be reused another day.
It shows the ingenuity of the normal people of Hong Kong.
CNN: This isn't your first Hong Kong project. How does "Informal Solutions" differ from "Architectural Density"?
MW: The overarching theme of my work is to show what life is really like inside mega cities. "Informal Solutions" does so from a micro position, while "Architecture Density" looks at Hong Kong from a macro position.
Hong Kong is one of the most densely populated places in the world, and the biggest discussion here is the expenses with living space. It's not uncommon to see 300 square foot apartments with multiple people living in them.
The way these Hong Kong buildings are compiled together … you don't see it like this anywhere else in the world.
CNN: "Tokyo Compression" also deals with space…
MW: The common thread here is that in both instances – Tokyo's trains and Hong Kong's homes – you see several people in cramped and tiny spaces.
(Both situations are) equally abysmal.
During rush hour, these trains are absolutely jam-packed, and every few minutes, even more people are pushed in. What I photographed was the effect it has on the people already in the train, those on the opposite side.
These people are squeezed against the back walls as more and more people are shoveled in.
You're living life as a sardine – it's horrific. This is not a dignified way of living. It's like looking into a ride in hell.
CNN: Did you stage any of the moments captured in the series?
MW: Oh it would be impossible to stage something like this.
It was kind of like roulette – the train comes in, you see through a window, and what you had to capture was that one section in front of you.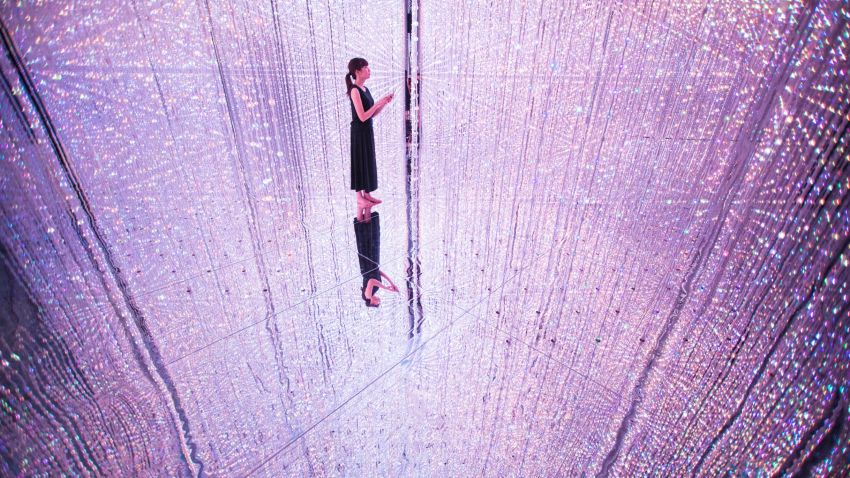 This crystal universe actually exists
Every Monday to Friday – for 90 working days in total – I would head out during rush hour and watch the trains roll in. The entire process took four years because the first images I took had no condensation on the windows.
The next time I was there, there was more condensation because of the change in season, so the pictures became more dismal and I was able to better express what it was that I wanted.
CNN: How is Tokyo different to other similarly cosmopolitan cities?
MW: This rush hour commute is far more intense in Tokyo than other cities.
There are cities around the world that are planned more sensibly. There is rent control, there is city planning, there are height limits to buildings.
The issue is that in some cosmopolitan cities, there is more interest in progress than in the people who live there. It seems to me like everyone is too greedy, regardless of how this greed affects normal people, and essentially in the end they're harming themselves.
Progress can be positive, but it has to be done properly.
CNN: What emotion were you hoping to capture when you photographed these commuters?
MW: I want people to wonder: is it worth it to live like this?
The interview has been edited for clarity and brevity.