The design world's largest annual fair enjoyed a return to full pre-pandemic form with its 2023 showcase, transforming the city of Milan with hundreds of exhibitions, site-specific installations, pop-ups and public projects.
'Fuorisalone,' the network of city-wide events that runs alongside the main trade show offered a series of compelling new ideas from the creative realm, from home furnishings to socially-driven projects. Shows took place in traditional gallery and showroom settings, grand palazzi not usually open to the public and also in private apartments and even an abandoned abattoir. Almost everywhere, the focus was on sustainable design, circular economy, material innovation and artistry combining craft with innovation.
Contemporary craft
Countering the rise of artificial intelligence in the art and design world, a number of creatives turned their attention to artisanship and traditional craft – albeit often integrating new technologies and 3D printing in their works.
At "Tools & Crafts" a show held at non-profit space Fondazione Riccardo Catella, UK-based textile studio Woven Memories presented hand-woven cushions that incorporated digital coding into the design to fuse text with pattern and create "pieces of memory;" while Lebanese-Armenian designer Nareg Krikorian displayed handmade leather stools featuring exaggerated stitching and details to honor Armenian craftsmanship.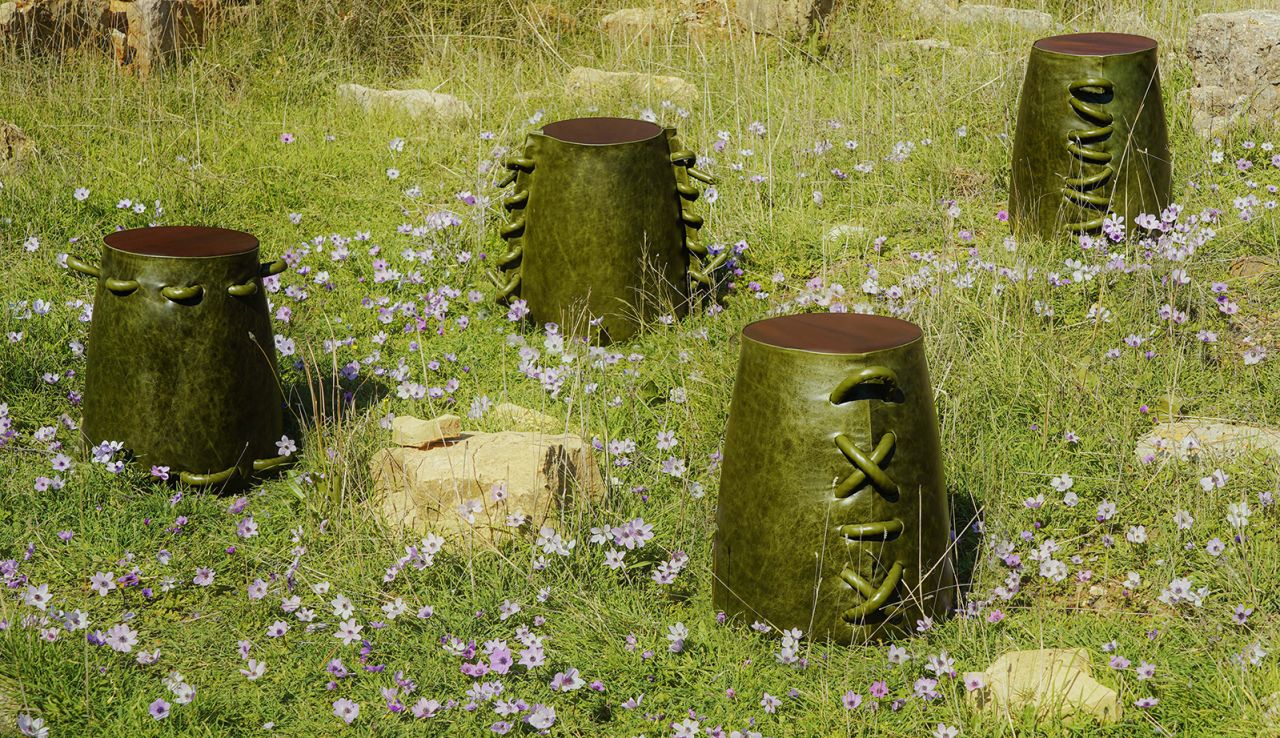 A vast former slaughterhouse provided the venue for this year's Alcova (an itinerant and independent exhibition that changes venue every year) where Italian wallpaper company Fabscarte and artist Martyn Thompson wrapped an entire room in a moon-inspired, three-dimensional wallcovering handcrafted using copper and bronze powder. Nearby,Within the same space, Natalia Triantafylli and Andrew Scott of London-based designers N/A collaborated on a collection of objects incorporating 3D printed plastic, ceramic and sheet steel, with every single element, from bolts to hinges, made by hand – an effort to spotlight the uniqueness of handmade products and the importance of the maker's touch in contemporary design.
Also at Alcova, Korean designer Sangmin Oh debuted "The Knitted Light," a series of sculptural lamps made with traditional fishing lines and elastic yarns that respond to light in different ways, exploring the possibilities of 3D knitting – just like the works of Dutch collective Basketclub, which showcased a series of experimental, woven 3D objects aimed at bridging the physical act of braiding with unconventional materials.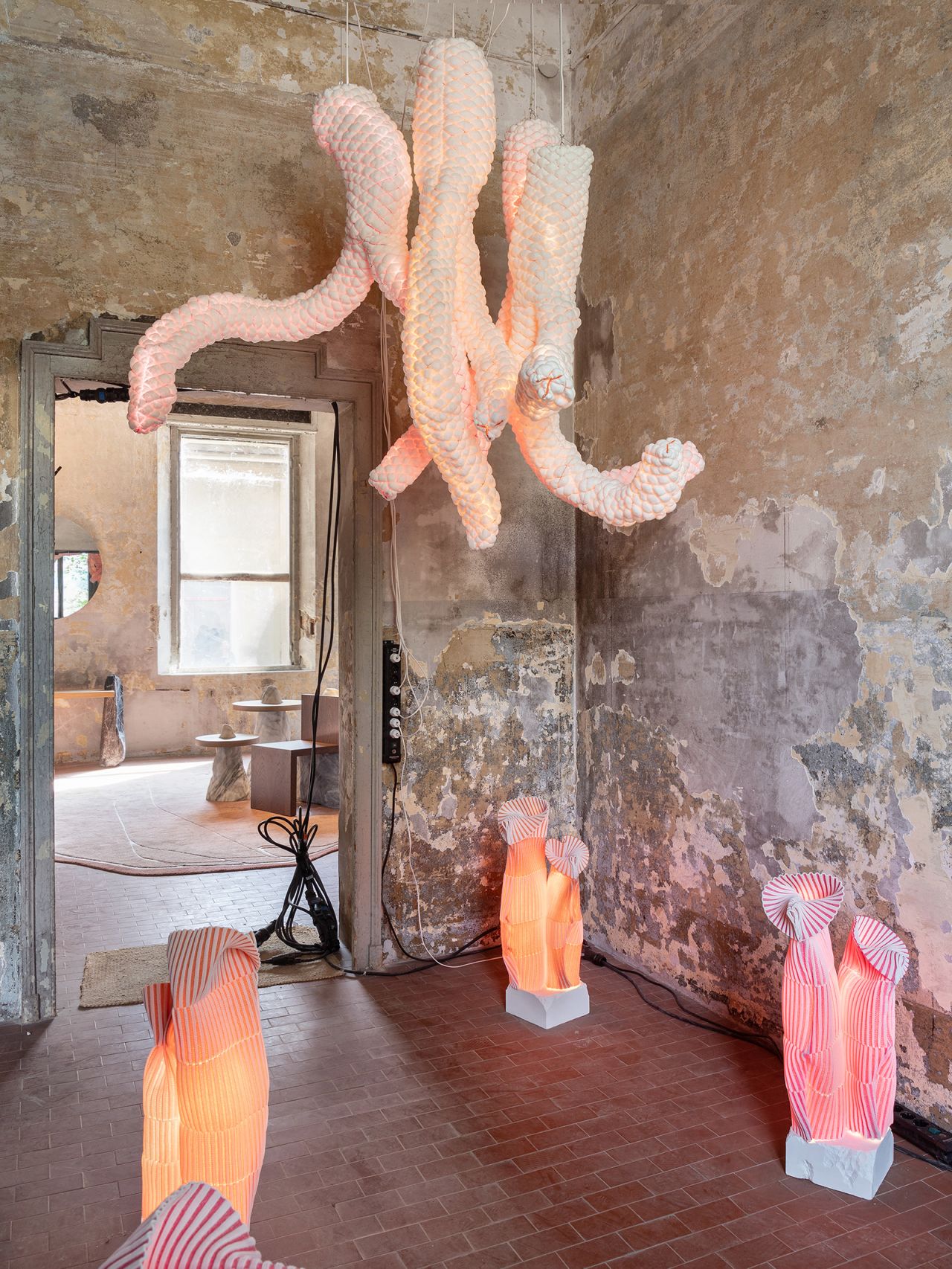 Craftsmanship also shone at events organized by big fashion brands — many of who are now regular fixtures alongside the event's more established architecture and design names.
Tod's invited British fashion photographer Tim Walker to showcase the artistry behind some of the label's most iconic items – from the Di Bag to the Gommino loafer – with an exhibition at the stately Museo Nazionale della Scienza e della Tecnologia Leonardo da Vinci. Loewe displayed a collection of chairs constructed by the house's skilled craftspeople at Palazzo Isimbardi; Hermes presented an edit of mid-century-inspired furniture pieces that included mouth-blown table lamps designed by Finnish designer Harri Koskinen, hand-embroidered carpets and upholstered wooden chairs.
At Bottega Veneta, Italian design legend Gaetano Pesce was tasked with designing two hand-crafted handbags, which were displayed as part of an installation called "Vieni a Vedere" (Come and See) inside the brand's flagship store. Individually painted with an airbrush technique, each tote featured the house's signature Intrecciato weave showing two mountains with a sunrise or a sunset behind – a nod to the mountains of Este, where Pesce spent his childhood, and the prairies of America, where he lives today.
Playful objects and physical experiences
Engaging colors and textures were as predominant as artisanship during the week perhaps another nod to the fact that, despite increasingly digital lifestyles, we are still very much yearning for real-life experiences.
At Alcova, Greek designer Kiki Goti reimagined the dressing room as a space for personal transformation with the maximalist series "Neo-Vanity," which featured a pendant light, a side table, a modular mirror, and a standing vanity in vivid colors, Balkan-inspired patterns and unexpected materials like foam.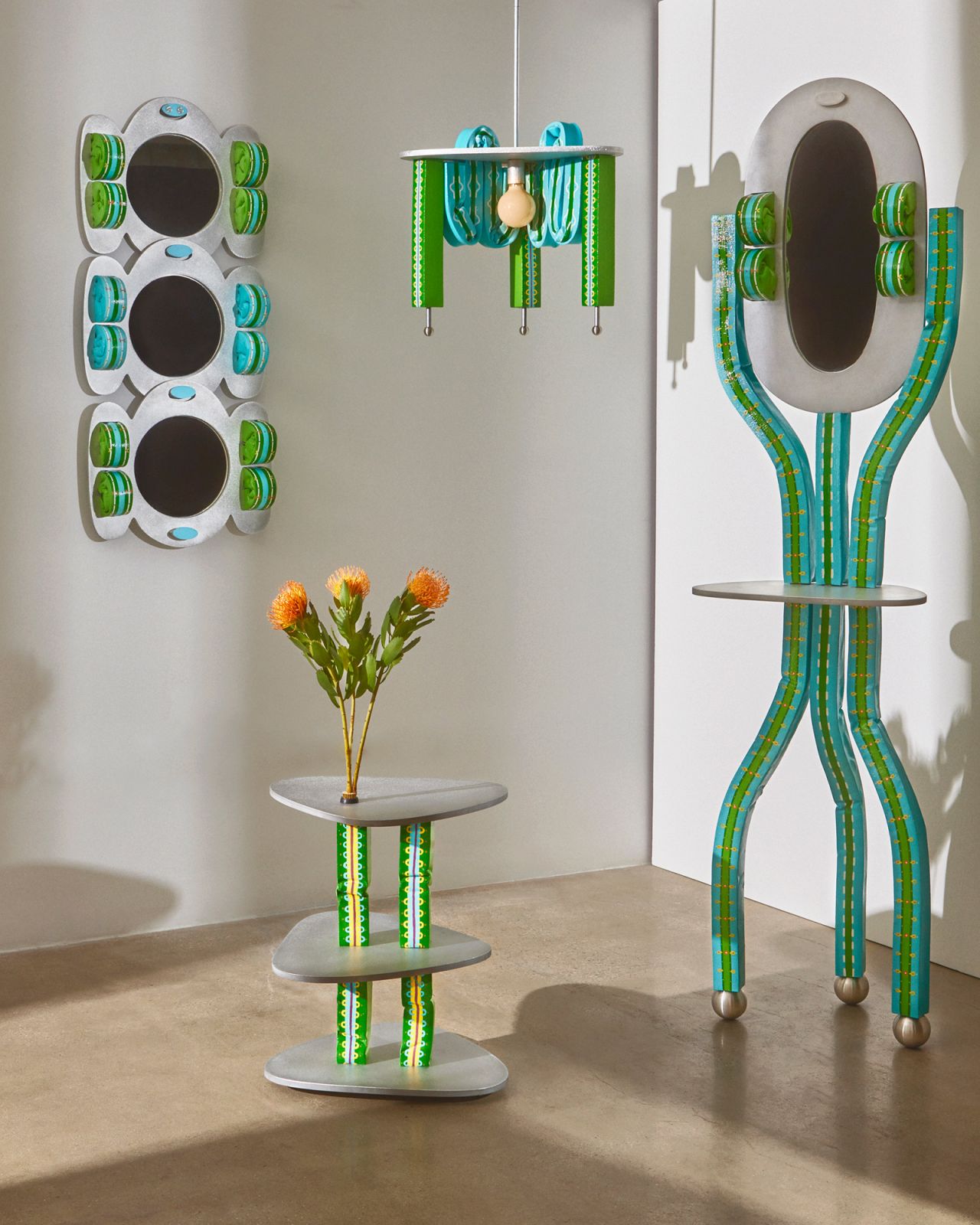 Design brand Chef Deco turned kettlebells, yoga carpets and meditation cushions into vibrant, multifunctional home objects, while at new exhibiting space Convey, Italian designer Marco Ripa and Swedish studio Stamuli leaned on ultraviolet fluorescent lighting rays and color-blocking respectively for their collections, displaying furnishings that felt pop, bold, and fun.
Within the stunning location of Bagni Misteriosi, a 1930s lido and cultural center in the city's Porta Romana neighborhood, Danish furniture company Gubi explored the possibilities of play with "TEN: Beyond the Beetle," a show to celebrate the 10th anniversary of its iconic Beetle Chair. The brand asked 10 international artists and designers to reinterpret the classic seat through their own preferred medium, with a sound installation, an artwork, a ceramic vase and a deconstructed version of the Beetle made with recycled fabrics among the results.
Elsewhere, French brand Roche Bobois presented the sculpture-like sofa "Bombom" by Portuguese artist Joana Vasconcelos, which featured pastel layered hues and backrests that rotate to allow people to sit in different directions; the young Croatian designer Ana Koruga debuted "Objects for Movement" – a series of eight home items with purposely unstable bases aimed to engage users in active, more physically-aware living.
From discarded materials to bioplastics
Sustainability was a common theme at this year's fair, and it showed across the work of younger designers and household names. Some of the most interesting ideas were those that looked at waste – literally – to rethink what design can do when it uses what is already there.
At "Tools & Crafts," Dutch designer Kick Veldman invited people to look at their reflections in the trash they have produced by creating mirrors made from waste aluminum, while at exhibition space Dropcity, Japanese designer Daisuke Yamamoto presented a furniture collection made entirely of lightweight gauge steel, a commonly used and disposed of building material.
More discarded materials shone at Alcova, where Taiwanese creative Erco Lai displayed ceramic 3D printed pieces next to homewares made with material waste collected from factories in The Hague, where he's based.
Similarly, Californian PROWL Studio and M4 Factory, which specializes in regenerative plastic goods, tackled the issue of fast furniture with the PEEL Chair, a reimagining of the ubiquitous plastic stacking chair made from hemp bast fiber – a byproduct of hemp and cannabis industrial processing that typically goes to waste. Shown in various stages of decomposition, the chair challenged viewers to approach products with the end of their lifecycle in mind.
Top image: One of two bags design legend Gaetano Pesce created for Bottega Veneta's Milan Design Week installation.