Editor's Note: Amrou Al-Kadhi is a writer, performer and filmmaker. He is creator and lead performer of musical comedy drag troupe Denim.
The fight for LGBTQ equality continues in earnest internationally, but in the UK, significant strides have already been made. The hurdle of same-sex marriage has been cleared in most of the country, British parliament holds the record for the most LGBTQ MPs, and the number of out pop culture figures seems to increase year on year. It's jarring to think that it was only 50 years ago that male homosexuality was decriminalized in the UK.
Prior to 1967, hiding one's sexuality was not just a choice for gay men, but a necessity. Known gay men like Oscar Wilde (who was later imprisoned because of his sexuality) married women for social pretense, and psychiatrists offered dangerous conversion therapies to those desperate to alter their orientation.
As recently as 1954, journalist Peter Wildeblood received an 18-month prison sentence for "conspiracy to incite certain male persons to commit serious offenses with male persons."
Many men developed sophisticated codes to coexist as queer in a world that criminalized their identities. Polari, a secret British slang used by gay men, for instance, allowed them to speak freely without the fear of arrest.
This month, the hotly anticipated "Queer British Art (1861-1967)" exhibition at London's Tate Britain investigates another code: the coded aesthetic language artists developed before decriminalization.
Gay artists (as well as artists believed to be gay) often explored homosexuality in academic guises, such as through Greek mythology. Frederick Leighton's "Daedalus and Icarus" (c.1869) for example, hinted at the sexual relations between older mentors and young men in Ancient Greece, with the sexual subtext of an interracial gay couple.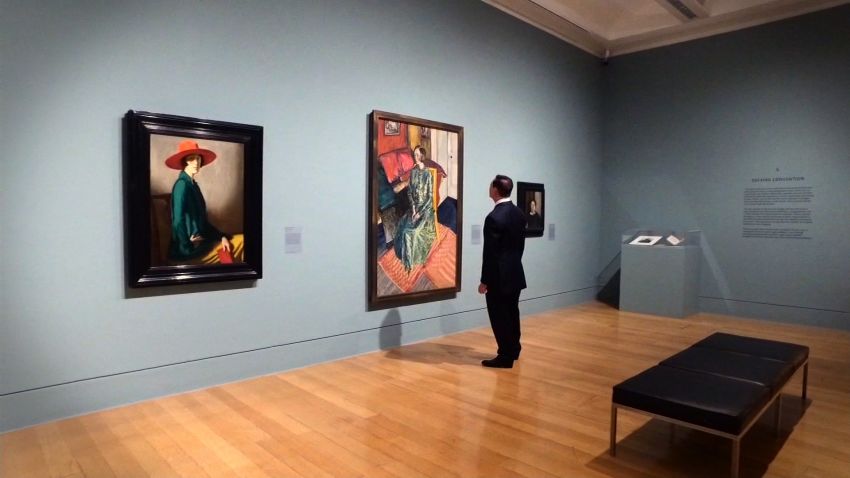 Gay rights: Greatly expanded, 'impossibly fragile'
These expressions of queer desire became more overt in the later 19th and early 20th centuries. A delightful example in the exhibition is Edmund Dulac's "Charles Ricketts and Charles Shannon as Medieval Saints" (1920). The satirical piece shows two men in monastic habits, with one of them holding a peacock feather.
It's a coy reference to the Victorian Aesthetic Movement, whose members often used fashionable symbols to express their sexuality in everyday life. Props like peacock feathers and dyed green carnations were worn on jacket lapels, aesthetic signifiers that allowed gay men to identify themselves – and each other – without being caught.
In Jacques-Emile Blanche's 1895 portrait of Aubrey Vincent Beardsley, for example, Beardsley flaunts an ostentatious pink flower on his jacket. Beardsley's sexual orientation remains unconfirmed, but his costume in the portrait was a show of support for his friend and fellow aesthete Oscar Wilde, who was imprisoned for "committing acts of gross indecency with other male persons" the year it was painted.
In later years, the aesthetic became a public weapon. This was the very essence of Andy Warhol's work in the 1960s. The artist gave mainstream imagery a queer twist, transforming photos of Elizabeth Taylor and Marilyn Monroe into Pop drag queens. As a gay man himself, Warhol was offering a space for queer audiences within the homophobic language of mainstream America.
This tradition continues today through the work of contemporary artists like Alexander Glass, a London-based sculptor. His work manipulates spaces traditionally associated with heterosexuality, like locker rooms, with a queer aesthetic, continuing Warhol's tradition of transforming the everyday into artistic sites of gay male desire.
"For me, they are places where masculinity can be examined, and I attempt to do this through my aesthetic and material choices," Glass says. "The aesthetic of what I present is a surface under which a bigger conversation is taking place."
Missing voices
The exhibition's focus on white male artists is impossible to ignore, with women, trans people and people of color glaringly underrepresented.
The exhibition's curator, Clare Barlow, confesses that, "we have been constantly frustrated by the comparative scarcity of material relating to intersectional identities: working-class queer lives, queer people of color, trans and genderqueer identities, even queer women artists."
In the exhibition catalog, art historian Caroline Gonda explains that many of the works by and about women "abound with a sense of the hidden, the possible and the just-out-of-sight, whether in the realm of the visible/hidden body or the more distant realm of unseen desires, identities and relationships."
Take William Strang's "Lady with a Red Hat" (1918): It appears to be a simple portrait, but the red hat, coupled with the red book, suggests hidden desires. (The sitter is writer Vita Sackville-West, who had a decade-long affair with Virginia Woolf, and inspired the protagonist in "Orlando.")
Thankfully, contemporary artists are paving the way for queer women and people of color to ensure that future exhibitions like this have plenty of material to choose from.
Victoria Sin, a London ar