Editor's Note: CNN Style is the international digital news partner for the RIBA International Prize. Over the coming weeks we will be profiling the four finalists for the 2018 award.
Last month, the Central European University's revamped Budapest campus was named among four finalists in the Royal Institute of British Architects (RIBA) International Prize, an award honoring the world's best new buildings.
Nestled between grand edifices in a UNESCO World Heritage Site, the €21-million ($24-million) project is certainly a triumph of contextual architecture – a mixture of new and refurbished structures that delicately nod to the city's past.
The institution's entrance block is particularly striking, notable for its soaring, contemporary exterior. Composed of slanted limestone planes (and windows that look like they've been carved directly into them), the facade has been slotted surgically into a row of ornate 19th-century neighbors without ever looking out of place.
Inside lies an ultramodern library, an auditorium and an abundance of wood surfaces and natural light. Just behind, one of the university's historic buildings has undergone a comprehensive refurbishment, creating connections – both literal and figurative – between structures old and new.
But as the RIBA jury deliberates the campus' merits, the university finds itself at the center of a far larger debate – one that calls into question its very raison d'être.
A university under siege
Over the last two years, the Central European University (CEU) has been subjected to verbal and thinly-veiled legislative attacks by Hungary's prime minister, Viktor Orbán. The populist leader has been openly critical of both the institute's founder (the Hungarian American billionaire, George Soros) and its academic agenda, which appears antithetical to his government's illiberal, nationalist worldview.
University officials have spoken publicly about the possibility of leaving Budapest, and CEU's board has since approved the opening of a satellite campus in Vienna that could be ready as soon as 2019. The school continues to face uncertainty around its legal status in Hungary and, in August, it suspended programs for refugees and asylum seekers after a newly introduced "immigration surtax" threatened a 25% levy on any activities seen to assist immigration. 
RIBA International Prize 2018: World's best new buildings revealed
Should the university choose to relocate, it would be forced to abandon not only the country it has operated in since opening in 1991, but also its recently opened premises.
This creates an unusual set of circumstances for architects Sheila O'Donnell and John Tuomey, founders of the firm behind the project, O'Donnell + Tuomey – not least because the next stage of their vision is now on hold indefinitely. (The project's second phase, which would create a pathway from the entrance building to the street behind, was supposed to be underway already.)
Allowing politics to distract from the Dublin duo's achievement may do them something of a disservice. But while the physical campus does not stand at the heart of this debate, it is certainly reflective of the values under siege.
"I don't think you can hold architecture to account in matters of social change – architecture doesn't directly influence society in that way," Tuomey said in a phone interview. "But the building seems to provide a forum. At least, it represents the ethos of the university in a spatial form, and allows them carry on their practice in a building that embodies their ideas."
Indeed, the university's ideological mission is subtly articulated throughout the 15,000-square-meter (161,000-square-foot) project.
A combination of local and international forms reflects the school's global outlook; the visibility between floors – set around a soaring light-filled atrium – promotes transparency; and the interconnected glass-roofed courtyards are designed to encourage cross-disciplinary collaboration and debate.
In this sense, the design offers refuge from the increasingly hostile forces beyond the university's gates. But the architects also hoped to engage with the wider public. The campus is accessible to outside visitors, and O'Donnell said that the pair persuaded the university to re-think its entranceway, which is now open and inviting.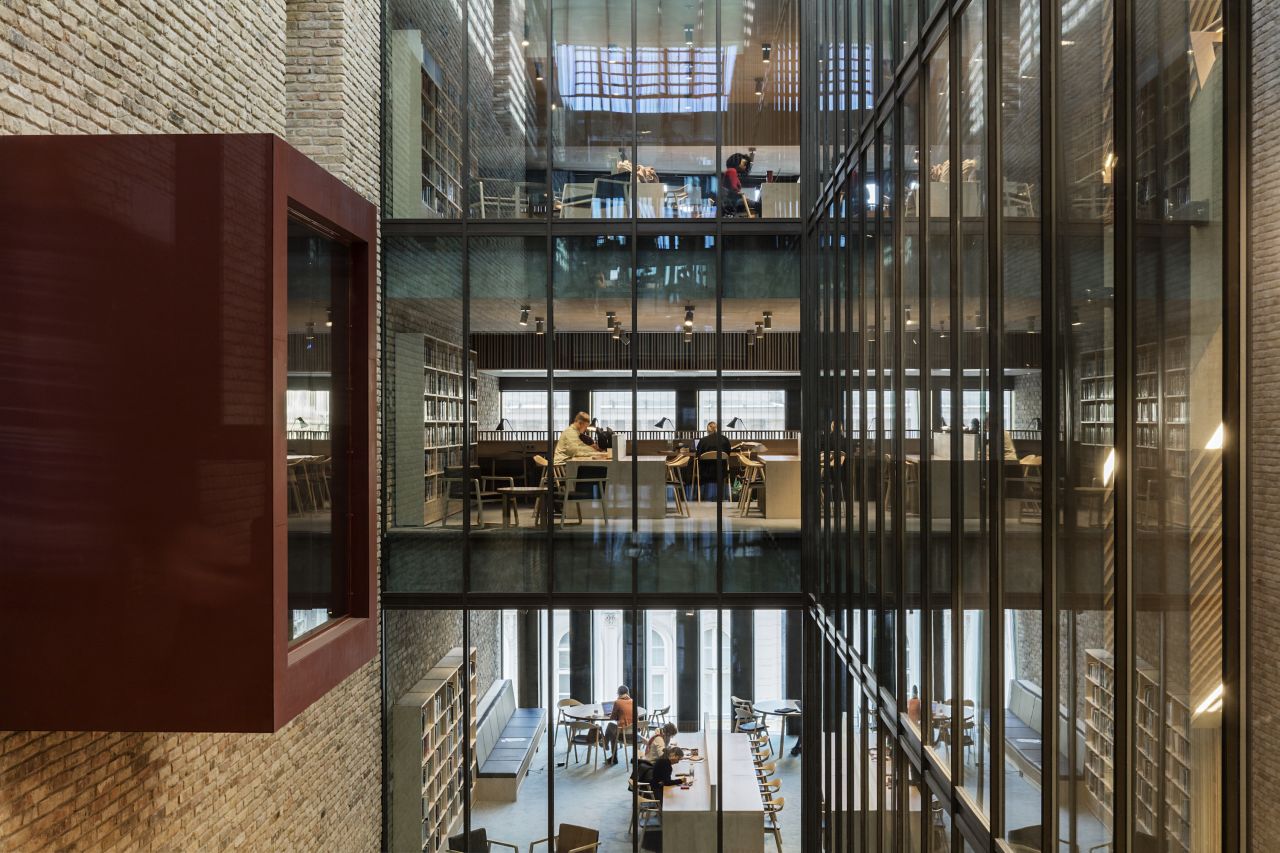 Previously, visitors would encounter uniformed security guards immediately upon entering the site. Now they can wander in unchallenged, with only the library treated as off-limits. The main entranceway is also set further back from the street than its neighbors, which helps erode the traditional threshold between public and private, allowing pedestrians to enter the university domain before committing to stepping inside.
"Just through a conversation that architects are able to instigate, people can think about how, from the very moment you come in the door, your building expresses its ethos to visitors," she said.
'Surviving the passage of time'
The campus' eye-catching facade is where the interaction between old and new unfolds most publicly. Navigating (and, at times, negotiating) Budapest's strict planning codes, O'Donnell and Tuomey were charged with using modernity to complement a neighborhood steeped in history.
Their response was to acquire – and generously employ – the local limestone long favored by Budapest's architects, a tribute to the material traditions of the city. Yet the facade is undoubtedly contemporary, with clusters of small perforated windows countered by long strips of rectangular glazing.
"You have to speak the language of the city," said Tuomey. "Budapest has a very particular character, and a proposition that we were trying to speak back to."
Both architects stress that this meeting of past and present stretches beyond the building's frontage. They wanted to create a "conversation" between the two, as O'Donnell put it. Working in collaboration with a local firm, M-Teampannon, the pair produced a modern aesthetic expected of a state-of-the-art academic facility while borrowing from the city's architectural traditions, including covered courtyards and a prominent spiral staircase.
"Radical ideas in architecture are not only expressed by making severe contrasts between old and new," Tuomey said. "We're interested in developing the understanding that old things were once themselves new, and that new things will, very shortly, become old. But there are ideas embodied in buildings, and those ideas survive the passage of time – and continue across time."
It is, perhaps, a symptom of our polarized age that a building can be simultaneously in contention for one of the world's top architecture awards while having its purpose cast into doubt. But it is also testament to the enduring power of architecture that these buildings will almost certainly outlive the debate.