Story highlights
Narenda Modi's "Make In India" campaign has inspired a patriotism in Indian fashion
Manish Malhotra is reviving ancient techniques, such as using the handloom, to make traditional saris, with a modern twist
In the 1990s, the proliferation of Western high street stores in India encouraged women to move away from traditional dress
Down in the modest basement of one of Mumbai's most exclusive clothing stores, there's a buzz.
Sprawled over a large square table, the latest saris from Manish Malhotra's new "Regal Threads" line have arrived from his factory. His team checks and irons the delicate fabrics, before delivering them to the shop floor.
"It's all about breaking rules," says the revered Indian designer.
Known for styling the leading ladies of Bollywood, such as Priyanka Chopra and Sonam Kapoor, Malhotra has made a career out of modernizing traditional Indian dress: pairing saris with smart shirts, and modifying the garment's silhouette to be more fitted.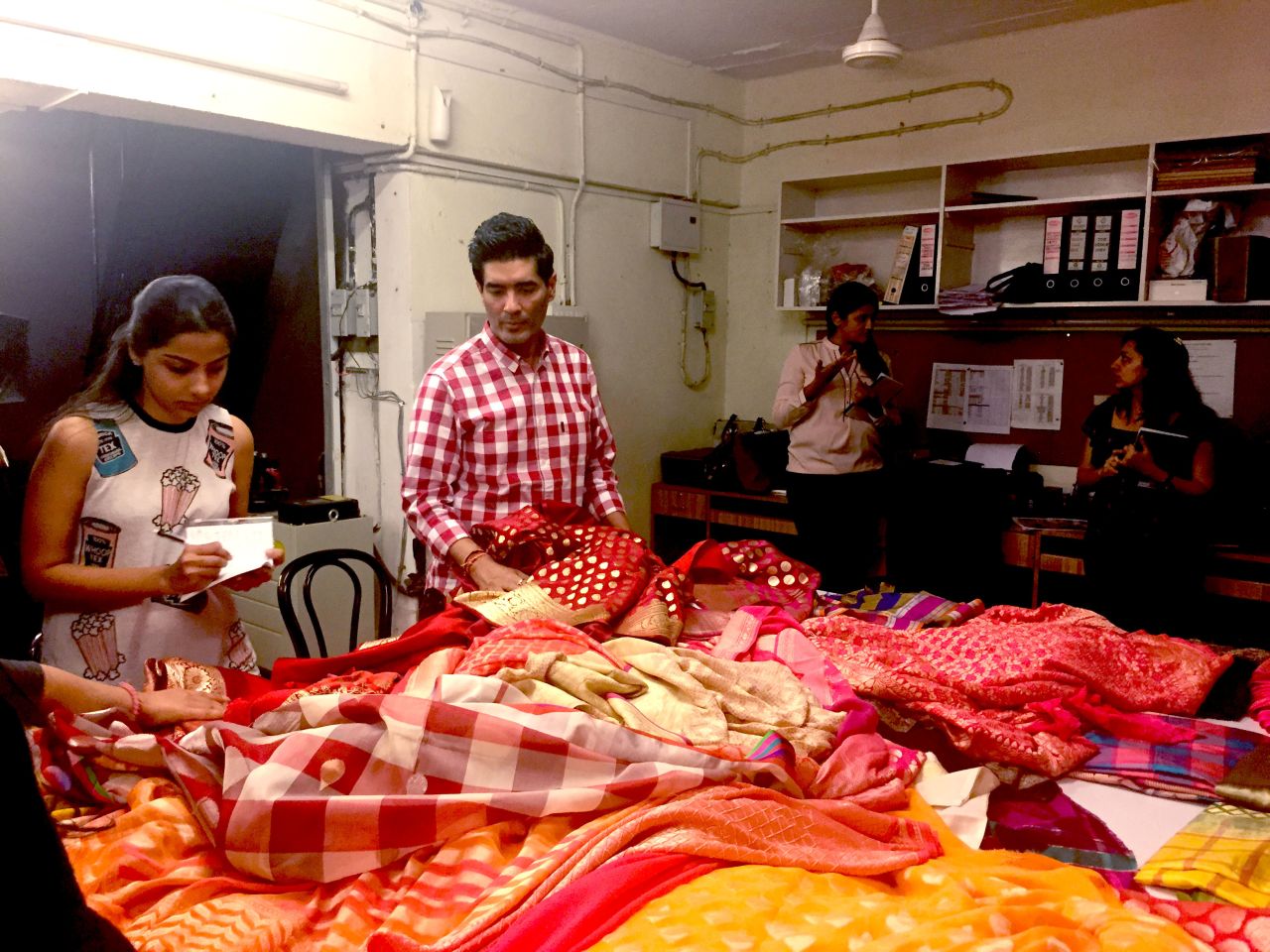 For "Regal Threads" Malhotra has updated traditional banarasi weaves, which hail from Varanasi in Uttar Pradesh
Considered among the finest saris in India and known for their intricate brocade, Malhotra has overlain bold, gold florals and paisleys on distinctively Western checks and stripes in un-Indian greys and blacks.
The result is East meets West, tradition meets modernity.
"I am so happy the sari is back the way it used to be," Malhotra says, of his decision to create these pieces using the handloom rather than powerloom – a rewind to the original craftsmanship of the sari.          
Malhotra is among a wave of fashion designers enthused by Prime Minister Narendra Modi's Make in India campaign. Launched in 2014, its goal is to encourage domestic and international businesses to manufacture their products in India.
Other designers committed to reviving ancient crafts include Anita Dongre, Ritu Kumar and JJ Valaya, who are promoting: banarasi weaves; bandhini saris, charactized by vibrant colors and white dots; zardosi, or sewing with gold and silver thread; and chikankari, embroidery from northern India.
Back in vogue
Gaurav Bhatia, a luxury consultant and trend spotter, says, "[In the late 1990s], the sari fell out of favor in lieu of 'Indo-Western' wear, a trend that allowed a certain amount of casualness and perceived modernity, with kurtis (short, trendy tunics) and churidars (tight pants)."
Around this time brands such as Mango, Marks & Spencer and Zara began to arrive on the Indian high street – making Western clothing accessible and affordable.
Make in India, however, has fostered a patriotism that has been critical in swaying Indian consumers back to the sari, says Bhatia.
"There's now a great deal of pride in dressing Indian and wearing Indian. While the sari got lost for a while – with women in urban India choosing the convenience of Western wear – it's now back. 
"It's about embracing one's culture organically, and it's cool to do so."
The decision by Malhotra, and other designers, to return to the sari's roots has been well received.
"I feel like a million bucks when I wear handloom saris," says Gayatri Rangachari Shah, vice president for Tina Brown Live Media India.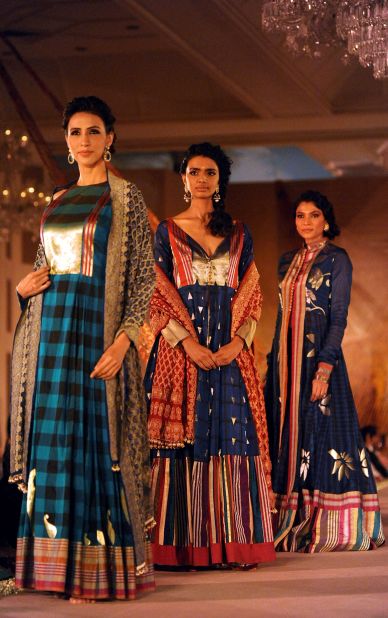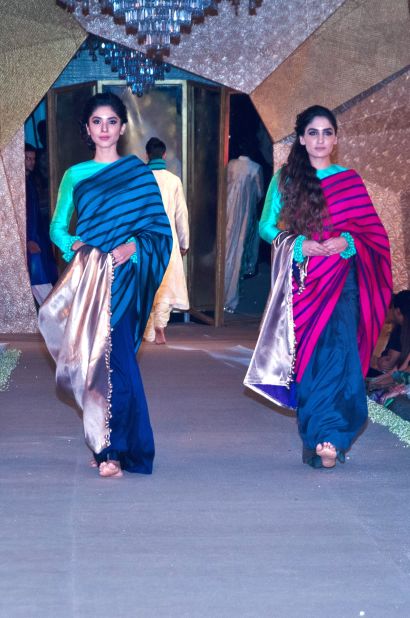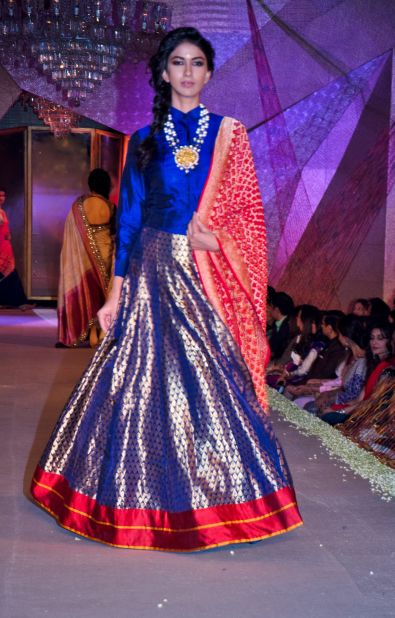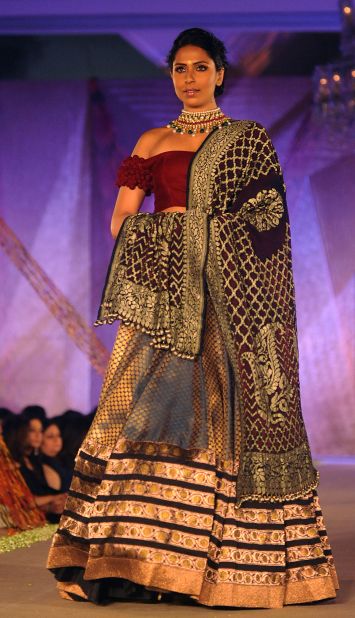 Benarasi weaves, bold checks and bling: Manish Malhotra's Regal Threads
"I know I am supporting weavers who need help in accessing new markets and customers. So many of our crafts are dying and it would make a big difference if everyone did their bit to support our centuries old talent." 
Shah is not alone: while spending on luxury goods in India grew 25 per cent in 2014, according to research firm Euromonitor, international brands still only account for a tiny share of the market.
Indian consumers favor foreign brands when it comes to shoes, bags and watches, they prefer traditional dress when it comes to clothes. 
Social sari campaign
In the south Indian city of Bengaluru, entrepreneurs Ally Matthan and Anju Maudgal Kadam last year started a viral campaign.
The #100sareepact asks women to make a pledge to wear a sari twice a week – or 100 times a year – and share images of them doing so on social media.  
With over 800 followers on Twitter, and with more than 7,500 posts under the hashtag on Instagram, the campaign has seen women post not just pictures of their saris, but has also sparked debate on drapes and weaves, and inspired women to share the stories behind their saris. 
Sangeeta Mhatre, who works for an international bank in Mumabai, is halfway into the year-long #100sareepact commitment, and says she has been pleasantly surprised by how her sari has been received in the office.
"I find that saris command a lot more respect than any other form of office wear, and actually make a power statement the Indian way," she says.
Malhotra, of course, is a man who understands the power of social media on fashion.
The 50-year-old designer has 714,000 followers on Instagram, and believes the platform is helping to fuel the renaissance of traditional craftsmanship in the sari market.
"I respect social media for that … there's a lot of awareness celebrating art and crafts, and culture, and tradition," he says. 
A picture he posted this month of Bollywood superstar Shilpa Shetty wearing a sari from his Regal Threads collection, with the hashtags #handloom #banaras hertiage #culture, has over 17,000 likes.  
"Various designers are doing interesting things with handloom and textiles and I think, for me at Manish Malhotra as a label, as a designer, as a person, its very exciting for me to do a lot of textile and most importantly is to get the sari back [in fashion]."
With Regal Threads, Malhotra is doing just that.