Great architects, it seems, do not retire young. Frank Lloyd Wright and Louis Kahn were both still working when they died at 91 and 73 respectively, and many of the legends working today – the Frank Gehrys, Norman Fosters and Renzo Pianos of the world – are pushing 90, and show no signs of slowing down.
So it's surprising to hear that, at just 46, Sou Fujimoto is already is thinking hard about his legacy. During a visit to London, where he's previewing "Futures of the Future," the inaugural exhibition at the new Japan House cultural space, the architect's focus is not on what he's built, but how he will be remembered.
"I liked to think about the future in my younger days. But at some point, I don't know why, I (started) to feel I'm part of history," he says. "Maybe it's because of the age. Now I'm 46, so I'm not the younger generation, and I feel it's nice to make something valuable for the future."
Since Fujimoto founded his Tokyo-based firm in 2000, his "valuable" contributions have come in the form of genre-defying buildings – from private homes to public libraries – that blur the line between nature and the built environment. Trees cut through living areas and decorate facades; transparent walls dissolve the barrier between the inside and outside worlds.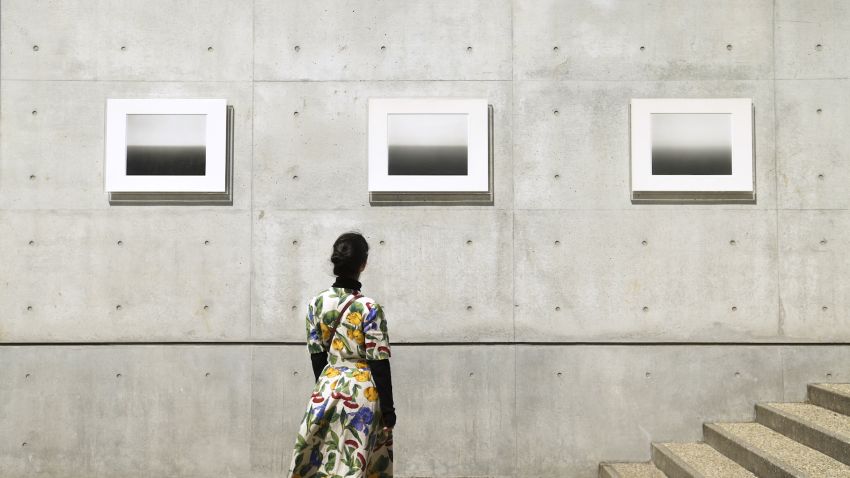 Discovering Japan's remote 'art island'
His nature-inspired aesthetic, largely the result of his upbringing in the countryside of Hokkaido, Japan, seems at once futuristic and primal. It's also earned him countless accolades: In 2013, aged 41, he became the youngest architect to receive the prestigious Serpentine Pavilion commission (a record only broken this year), and in 2012, he helped Japan nab the Golden Lion for best national participation at the Venice Biennale.
Sou Fujimoto: The visionary blending architecture with nature
Prolific and popular, his firm has, in just the last six months, unveiled new plans for a "vertical village" housing development in Paris, a learning center for Switzerland's University of St Gallen seemingly constructed from glass blocks, and the masterplans for a community in the south of France featuring a number of undulating, verdant buildings. They're the kind of buildings that galvanize architecture students bored of the status quo.
"As a responsibility of architects to the future society, it's quite meaningful to show those kinds of seeds, or the particles of ideas," he says. "What we can make is quite limited. But when we make something (that) we show as a seed, somebody (could) get a new understanding beyond my understanding."
"Futures of the Future," then, is less a retrospective than a look into Fujimoto's creative philosophy. The walls are lined with floor-to-ceiling images of completed projects, like the 2011's glass House NA and his critically acclaimed 2013 Serpentine Pavilion, as well as renderings for future projects.
Models of varying sizes fill the floorspace. Some, the basis of finished projects, are pretty but relatively conventional, full buildings miniaturized in wood and styrofoam, paper and plastic. But others are less easy to decipher: a pile of branches, a cut-up mesh bag, a crumpled ball of paper. According to Fujimoto, these are concepts and early design exercises designed by him and his team that speak to his belief that "everything could be, should be considered architecture."
"Every time we make architecture, the function is there, but then people always go beyond that," he says. "The way they perceive the architectural space is always beyond the intention of the architects."
He points to his design for the Serpentine Pavilion in 2013, fragile and grid-like, more sculpture than building: "It has no specific function. It's more like landscaping," he explains. "And yet, because of that choice of scale, you always start to react to that – climbing up or sitting there, together or isolated. So that kind of fundamental rethinking of the meaning of people's lives and architectural spaces has been quite fundamental (to my practice)."
Ten years ago, Fujimoto introduced this concept in his book "Primitive Future," which made the case that buildings, to properly serve their inhabitants, must prioritize the primal ways humans interact with spaces and our relationships with nature above aesthetics or technological novelties. (He admits it's a very Japanese way of thinking: "Every time Japanese architecture sits next to nature, nature is the main part.")
Still, though his approach has been honed and formalized, a lot of ideas are abandoned at the concept phase – not that he sees this as a bad thing: "Some of the unrealized projects, after a few years I could have a chance to develop them – not just to have them realized, but to develop the other levels, and then the real project could start. So in that sense, I'm not so much worrying about it. Even if it is just a start, it's not finished. It's just sleeping."
Like dormant seeds, perhaps? He laughs.
"Yes! Then, next spring, it could have beautiful flowers in it."
"Sou Fujimoto: Futures of the Future" is on at Japan House in London from June 22 to Aug. 5, 2018.