Story highlights
"Parasite" flats are being attached to existing buildings in Paris
A recent change in a French legislation has made building such extensions easier
"Parasite" properties could provide affordable homes in overcrowded cities, says one architect
The 19th-century cityscape of Paris is about to change.
Wedged in between brick buildings and jutting out from rooftops will be a series of modern "parasite properties".
Glass, steel and wooden wonders designed to fill every precious nook of space in prime areas of the French capital, they will provide much-needed affordable inner-city housing.
The price per square meter in the capital is at least double than in the rest of the country.
Architect Stephane Malka describes the Paris 3BOX project as "an architectural Kama Sutra" for its flexibility and use of bizarre positions, and believes it could pave the way for affordable housing in other crowded cities.
Filling the urban gaps
Since the 1990s, the French architect has envisioned novel ways to utilize space in overcrowded cities using existing structures.
"It's all about filling the gaps on rooftops, underneath bridges, empty walls – all those spaces that aren't used," says Malka.
The first three flats in the Paris project will go up near the Canal Saint Martin in the 10th arrondissement, an area popular with young creatives this year. Two other similar projects are planned.
Those who give over their rooftops, for example, will not necessarily be offered money, but their building will be offered free facade repairs or a new elevator.
"This is almost like a plug and play system. We just come, lift them up and connect them," says Malka, who is working with Les Toits du Monde, a group of engineers, lawyers and architects specializing in designing projects which make use of vacant space in the French capital, on the 3BOX project.
By keeping old buildings, you avoid unnecessary demolition, he says.
"There is always a sort of trauma when you destroy a building that people used to live in."
Affordable homes
Perhaps most importantly, the box flats are expected to sell for 40% below market rate for property in their location.
"For me, it's a very social thing," says Malka. "As soon as I saw the opportunity to build upwards, I took it."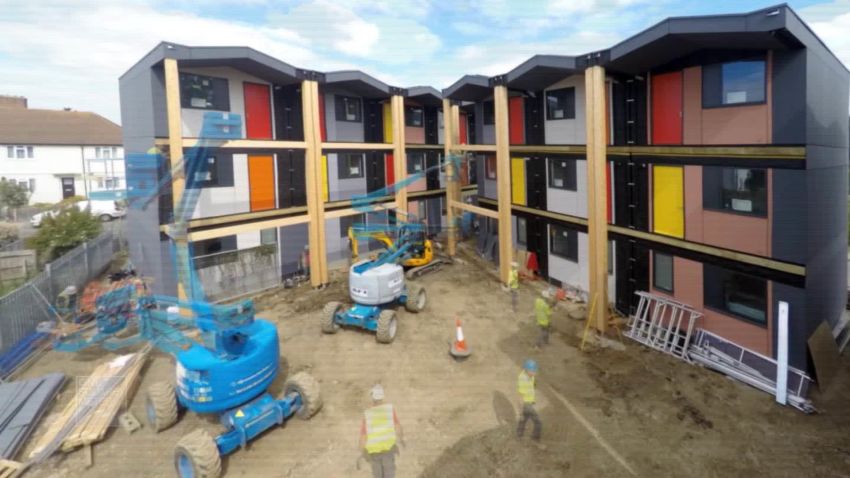 Architects face up to London's housing market
Timing was key.
France recently passed the Loi Alur – a new property law which relaxed planning laws, particularly those for rooftops, and introduced rent-stabilization measures.
One small change to voting procedures also made a massive difference, says Malka.
Before, there had to be unanimous support among the owners of a building to undertake extensions. Now, all developers need is a majority.
Green parasites
The design and material of the parasite homes also helps to keep the prices down, Malka explains.
"We are pushing the maximum of each and every element of the building to come from either 100% recycled elements or using eco-friendly wood or similar."
Sidestepping paying for the land also helps keep the prices low.
"As we are not entering that market. We are able to completely recreate a system."
Small scale thinking
Going against the trend of large-scale architecture, Malka says projects like 3BOX could help resolve the housing crisis in European cities.
"We need to work more with small interventions rather than destroying [buildings]."
We could see "a new city forming on top of the existing city", Malka says.
The sky is literally the limit.