It's 88 degrees Fahrenheit in Paris, and backstage at the unairconditioned Le Trianon theater is sizzling. Sweat-drenched assistants move around in a daze, giving garments a last-minute punch of steam from an industrial iron or adding the finishing touches – an altered sleeve here, a few more crystals there – to dresses that will cost tens of thousands of dollars. Teenage models clomp between fittings and makeup stations in preparation for what will be a very tense 15 minutes.
Amid it all, Viktor Horsting and Rolf Snoeren, the Dutch designers behind Viktor & Rolf, move through the fray with unexpected calm, given the occasion. This season's haute couture show, just hours away, is the apex of a year of celebration as the designers mark their brand's 25th anniversary.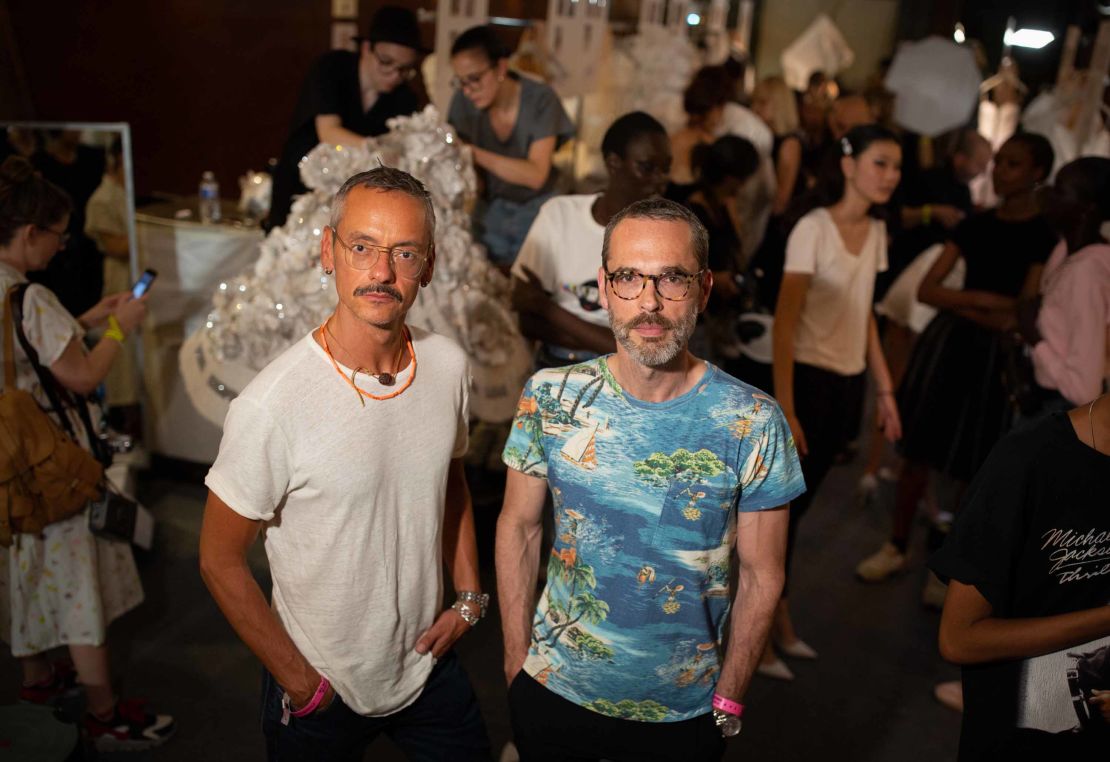 Horsting and Snoeren, one of fashion's most outrageous odd couples, have been champions of the avant garde from the beginning. Since meeting as 19-year-olds at the Arnhem Academy of Art and Design in the Netherlands, they've aspired to design clothes that are more curious than commercial, spawning countless conversations about the separation of art and fashion with collections that straddle both.
Their menswear, womenswear and haute couture have earned them industry praise and patronage from the likes of Bjork, Madonna, Lady Gaga and Tilda Swinton, with the latter inspiring and walking in the pair's Autumn-Winter 2003 ready-to-wear show.
After revisiting their archives for "Viktor & Rolf: Fashion Artists 25 Years," an exhibition at the Kunsthal Rotterdam museum, and "Viktor & Rolf: Cover to Cover," an upcoming coffee table book, the designers have mined the past again for the runway. This latest show has seen them recreate 25 of their most iconic pieces in white, embellishing them with more than half a million Swarovski crystals.