Editor's Note: This article was updated to reflect the item's sale price at auction.
In 1958, artist Yves Klein famously opened an exhibition called "The Void," which saw him place a large cabinet in an otherwise empty room. Thousands of paying visitors turned up at a Paris gallery to catch a glimpse of nothing at all.
Following the show's success, the French artist then took the idea one step further – by giving collectors the chance to purchase a series of non-existent and entirely conceptual spaces in exchange for a weight of pure gold.
A handful of buyers took him up on the offer. And on Wednesday, almost 60 years after Klein's death, one of the receipts he wrote to prove ownership of his invisible artworks sold for more than 1.06 million euros ($1.16 million) at Sotheby's auction house in Paris.
Measuring less than 8 inches wide, the receipt grants ownership of one of Klein's imaginary spaces, which he dubbed a "Zones of Immaterial Pictorial Sensibility." Designed to resemble a banker's check, it is signed by the artist and dated to December 7, 1959.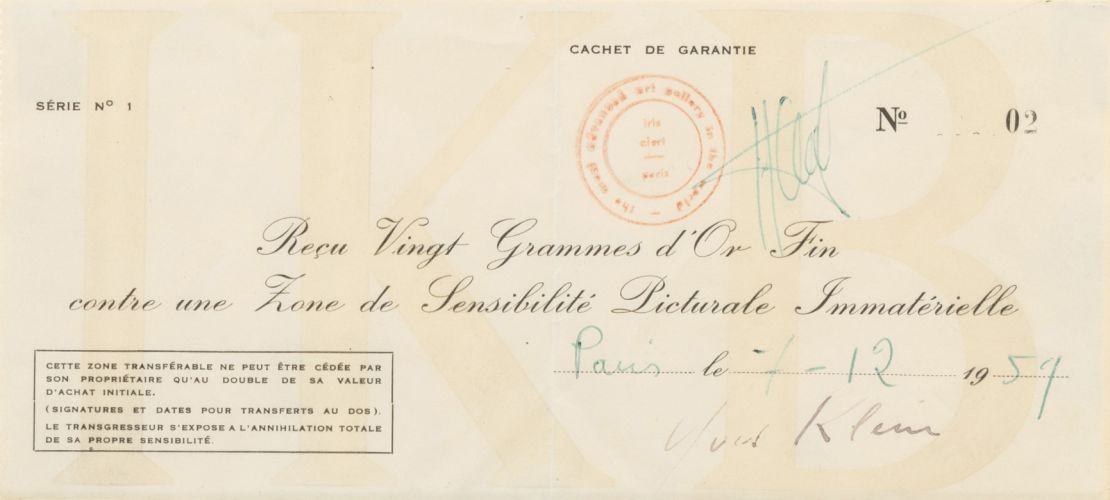 The receipt was originally given to antiques dealer Jacques Kugel, and is among one of