Despite his industry-perfect looks, South Korean singer and actor Park Jae-chan had achieved only limited success with his K-pop group DKZ, whose albums sold barely 1,000 copies in the first week of their respective releases.
Auditioning for "Semantic Error" was a last shot at fame. It was also a professionally risky one. Not only was the TV series part of a genre — Boys' Love, or BL for short — that was lesser-known in South Korea, it depicted something rarely seen on the country's screens: same-sex romance.
"To be honest, I had my concerns," Jaechan, who goes by his given name, told CNN in a phone interview. He added that his label's management had also been worried, but eventually supported him.
Originating in 1960s Japan, where it was known as "yaoi," BL typically depicts two men in a homoerotic relationship. "Semantic Error," which was based on a popular web novel of the same name, tells the story of two male college students who fall in love. Unlike LGBTQ literature, the stories are largely written by and read by heterosexual women.
After auditioning, Jaechan was asked to play the character Chu Sang-woo, one of the show's lead roles. And the risk paid off: "Semantic Error" became a hit upon its release in 2022. For two months, it was the most-watched show on Korean streaming platform Watcha. Encouraged by its run, the platform released a movie version in theaters around Seoul, where it sold around 60,000 tickets.
Jaechan went on to win several awards for his performance. He also appeared in more than a dozen magazines, including the Korean editions of Elle, Cosmopolitan and Dazed. After the show's debut, his new album sold more than 100,000 copies in its first week.
"I felt very much loved," he said of his newfound fame.
Growing audience
The show's success surprised the star, but its fans and creators may have seen it coming.
Interest in the genre — and its subsequent investment from production companies — has steadily grown beyond Japan to wider Asia, with series in Taiwan and Thailand among those to enjoy some mainstream success in recent years.  
Despite South Korea's comparatively conservative attitudes towards LGBTQ issues (on which it regularly ranks among the least progressive OECD countries), BL fandom has been steadily growing online.
Pirated copies of Japanese BL manga began trickling into the country from Japan decades ago, reaching a small number of readers, according to Kim Hyo-jin, a scholar who researches Japanese culture, including BL, at Seoul National University.
Local readership then grew with the proliferation of dial-up internet and personal computers in the 1990s, when homegrown writers were able to anonymously create their own stories in Korean.
Many writers created storylines starring their favorite boyband members influenced by the then-nascent K-pop industry.
A typical story might involve pop stars "who have to hide (their romances) from their agencies and fans," recalled Korean culture researcher and educator Jeong Areum in a phone interview. "But the characters couldn't control themselves. I remember these steamy romantic scenes."
When South Korean internet giants Naver and Kakao launched their respective online fiction platforms in 2013, amateur writers, including those creating BL content, were finally able to make a living through web novel sales, Kim said.
Tappytoon, a webcomic platform that mainly serves US customers seeking Korean content, says its BL audience has more than doubled annually since 2016, with over 800,000 dedicated readers as of last year. On the site, more than 300 titles, or a third of its catalog, are offered in English, German and French. (Social media and apps like TikTok have also contributed to BL's growing popularity in the West, thanks to clips and compilations of characters' love stories, best kisses, angstiest moments and more.)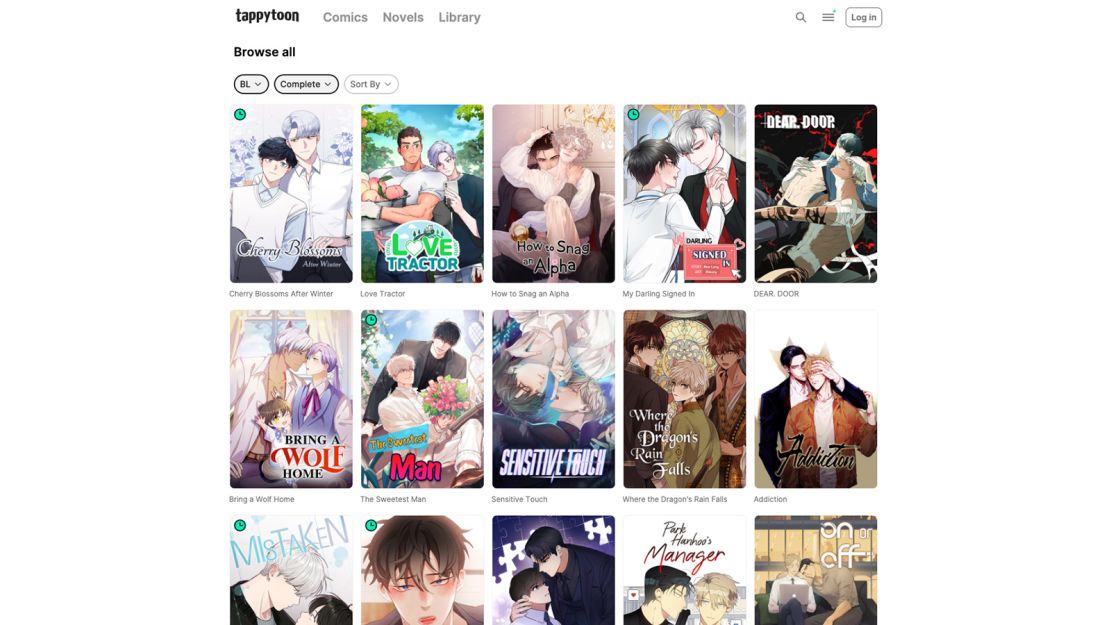 "(Readers) are always asking us for more BL. They even request specific titles to be translated from Korean into English," Tappytoon's operations team lead, Jennifer Konig, said in a phone interview. As in other parts of the world, BL readers are predominantly women "in their late teens to early 20s, up to 30s," she added.
"Semantic Error," originally written as a web novel by anonymous author J. Soori, marked a turning point for the genre, as it went from online fiction to television and film adaptations.
While South Korea's first BL hit "Where Your Eyes Linger" had debuted two years earlier in 2020, the success of the "Semantic Error" streaming series cast the genre in a new, profitable light, as it attracted a significant number of new subscribers to Watcha. There are currently more than 20 BL shows being produced in South Korea.
Given the loyal, tight-knit and extremely vocal community of BL fans, making shows in the genre has become a "sound business decision," said Watcha's chief marketing officer Kim Hye-jung, citing potentially large returns on a relatively small budgets. 
"Very similar to the K-pop idol fandom, (the fans) try to raise their favorite shows' rankings on the (streaming platforms' most viewed) charts by letting them play on repeat," Kim added.
When the "Semantic Error" movie hit theaters, she also saw fans buying tickets for screenings that they couldn't attend in person, a practice called "spirit sending," to support the film.