In Barbie's world, she's the star. Her face launched a global empire, with over 1 billion dolls sold by Mattel to date; she has, for better or worse, the power to set beauty standards; and for well over a year, one of the world's most famous actors (Margot Robbie) has been imitating her on- and off-camera. It's her dreamhouse, her convertible — and even Ken knows his place (as Ryan Gosling woefully sings in the new "Barbie" movie).
But there is one supporting character in Barbie Land who might catch your eye. Midge, full name Margaret Hadley Sherwood, who was first introduced as Barbie's best friend in 1963, and is Barbie's on-screen neighbor.
Midge's run as the youthful, freckled sidekick has been sporadic and at times turbulent, with only a handful of releases in the '60s, before she resurfaced in the '80s and '90s. Then, a pregnant version of the doll was unceremoniously pulled from store shelves in 2002 amid fears she was promoting teen motherhood. She only appeared in doll form once more in 2013 — until now.
With a re-released collectible timed to her 60th anniversary this year, as well as actor Emerald Fennell's delightful turn as "creepy" pregnant Midge in "Barbie," it just might be Midge's time to shine. ("Barbie" is distributed by Warner Bros. Pictures, which is also owned by CNN's parent company.)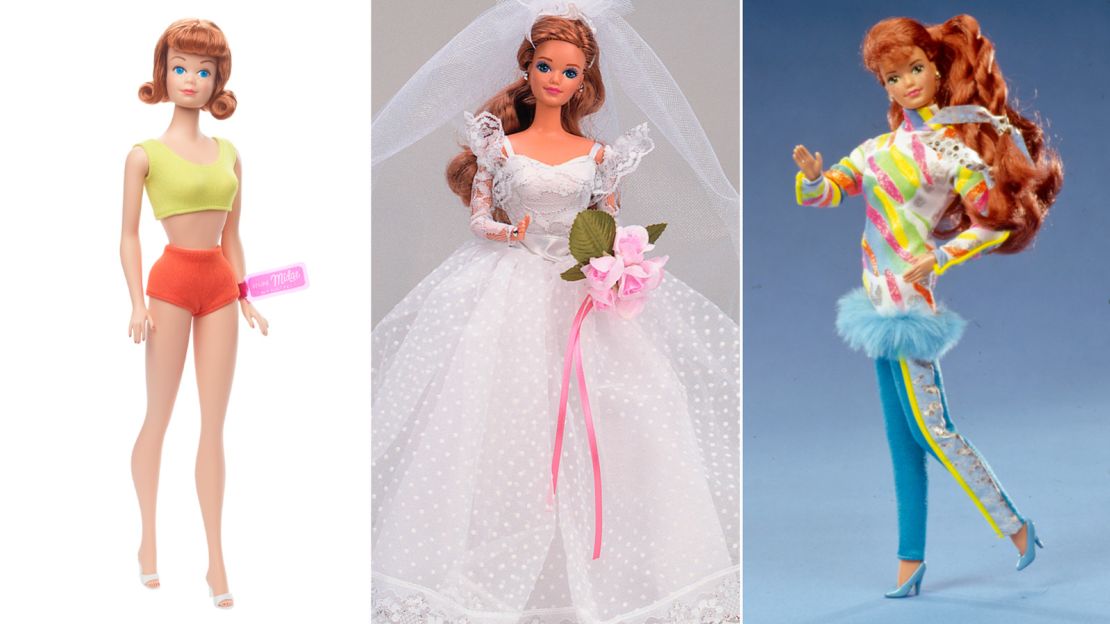 "Give Midge her flowers," Joey Jarossi, a doll collector who runs the YouTube and Instagram accounts Beauty Inside a Box, told CNN. (Jarossi recently made an explainer video on Midge's history, which has racked nearly 240,000 views in two months.)
"She's always been a lightning rod for controversy in the Barbie brands," he added, calling her "quite a deep cut when it comes to Barbie lore."
Herstory
Barbie has had several other dolls in her orbit over the years, from little sister Skipper to gal pal Christie. Midge, however, was the first (after Ken), and was introduced after parental complaints that Barbie looked "too mature," Jarossi explained. She came onto the scene with curled red hair, wide-set eyes and outfits including '60s-era bikinis and button-down printed midi dresses.
But her younger appearance was only shoulders-up. Midge had the same impossible proportions as Barbie, influenced by the famous figures of 1950s Hollywood stars like Marilyn Monroe and Greta Garbo, explained Tanya Lee Stone, author of "The Good, the Bad, and the Barbie," a cultural history of the doll published in 2010.
"From the neck down, Midge and Barbie are exactly the same," she told CNN in a phone call. "And I found that really kind of fascinating — and ironic. Because of the negative opinions about the Barbie body image, Midge was intended to sort of be like a less sexy, more wholesome counterpart. But they didn't change her body at all."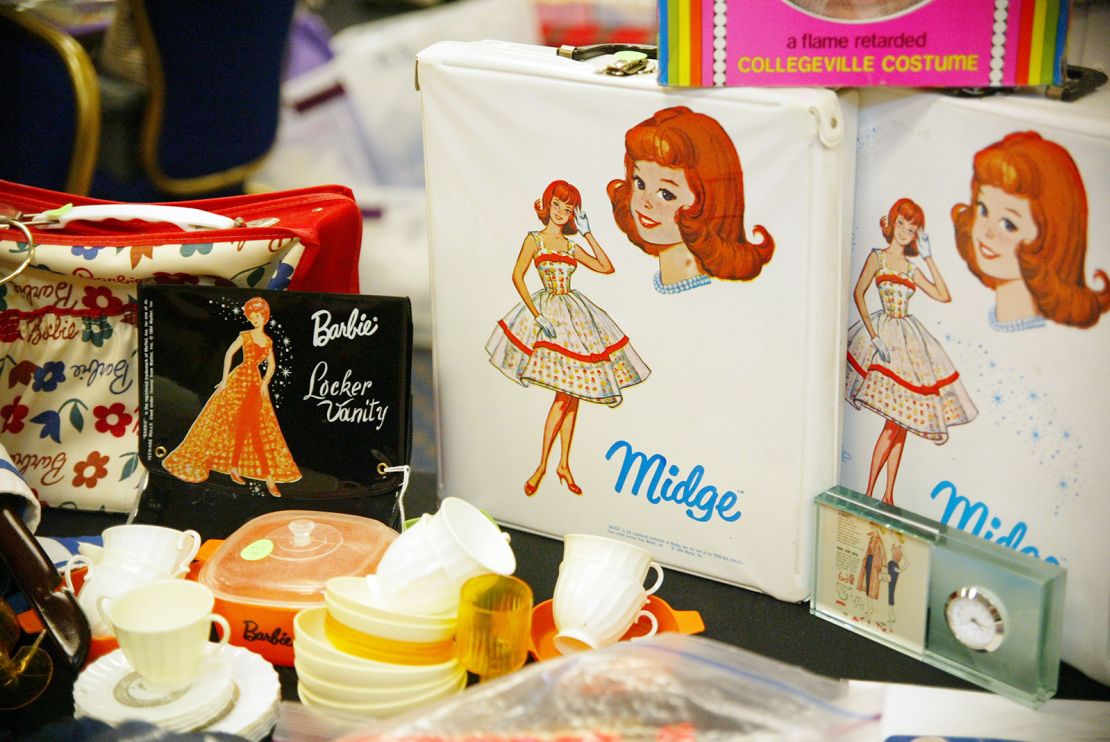 But that was in line with their founder Ruth Handler's intentions, Stone said. "It's about the clothes and the outfits and the careers. And the body is a teeny, tiny mannequin, so they wanted the clothes to be interchangeable (between the different dolls)."
Midge had a fairly traditional path laid out for her by Mattel — dating, marriage and then children — but her pregnancy caused an unintended firestorm. After Wedding Day Midge married Wedding Day Allan (another discontinued doll, played by Michael Cera in the movie), she soon received blowback for starting a family in the early 2000s — a sexist backlash many women experience in their careers.
As part of the "Happy Family" set, Midge was packaged solo, with a playable in utero baby doll folded up in her removeable bump. For the first time, in addition to the red-headed White doll, a dark-haired African American version of Midge was released, too. Allan, meanwhile, was sold separately with their son in a stroller (also in two differing skin tones).
But because Midge still appeared young — despite being married for well over a decade — the backlash against her pregnancy ramped up to such an extent that Walmart, the largest retailer worldwide, opted to stop all sales of the doll.
"Customers said they were not happy with the pregnant Midge doll so Walmart removed the entire 'Happy Family' set," Melissa Berryhill, a spokeswoman for Walmart, told CNN at the time.
She's overdue
Stone finds the controversy "to be really puzzling."
She believes the doll set's intention was "to role-play families, and help older siblings ease into life with a new baby on the way," she explained. "But people thought that it promoted teen pregnancy, somehow… she was a married woman with a three-year-old child."
Gerwig's "Barbie" acknowledges that the franchise has been no stranger to criticism over the decades, and "Happy Family" Midge was far from the only doll to raise eyebrows. Silver screen cameos are also made by "Growing Up Skipper," from 1975, which let kids increase the size of Barbie's younger sister's breasts; as well as 1993's bestselling "Earring Magic Ken" (who was the subject of op-eds seemingly enraged that Ken might actually be a gay club kid).
Jarossi believes much of the "Happy Family" Midge controversy came about simply because she tapped into hot-button topics at just the wrong time.
"There was so much social anxiety around teen pregnancy," he said. "There was a real cultural upswell of media."
Pregnancy mishaps were a rite of passage in teen shows of the 2000s, from "Degrassi: The Next Generation" to "One Tree Hill." By the end of the decade, shows like "16 & Pregnant" and "Teen Mom" had turned young, vulnerable moms into reality stars — a TV trend that, despite criticism, still continues today.
The '00s were also a decade of brutal media coverage and scrutiny over young women in the public eye, and as we reconsider how the likes of Britney Spears and Nicole Ritchie, among others, were treated — and especially as young moms — perhaps it's time to give Midge a fair shake, too.
Jarossi agrees: "Midge needs a comeback in the Barbie line."