Spanning seven seas – and countless waterways in between – the world's horizons stretch every which way for would-be cruisers.
Accordingly, navigating through the literally boatloads of cruising possibilities can feel like an insurmountable task, which is why we've narrowed down the best of the bunch to these 10 cruises of a lifetime.
With innovative ships calling on intriguing ports around the globe – all sorted into personalized "pick-your-passion" categories (for beach bums, foodies, romantics and more) – get ready to take your pick on a cruising adventure for the ages.
Best for Beach Bums: Caribbean Cruises on a Masted Sailing Ship with Windstar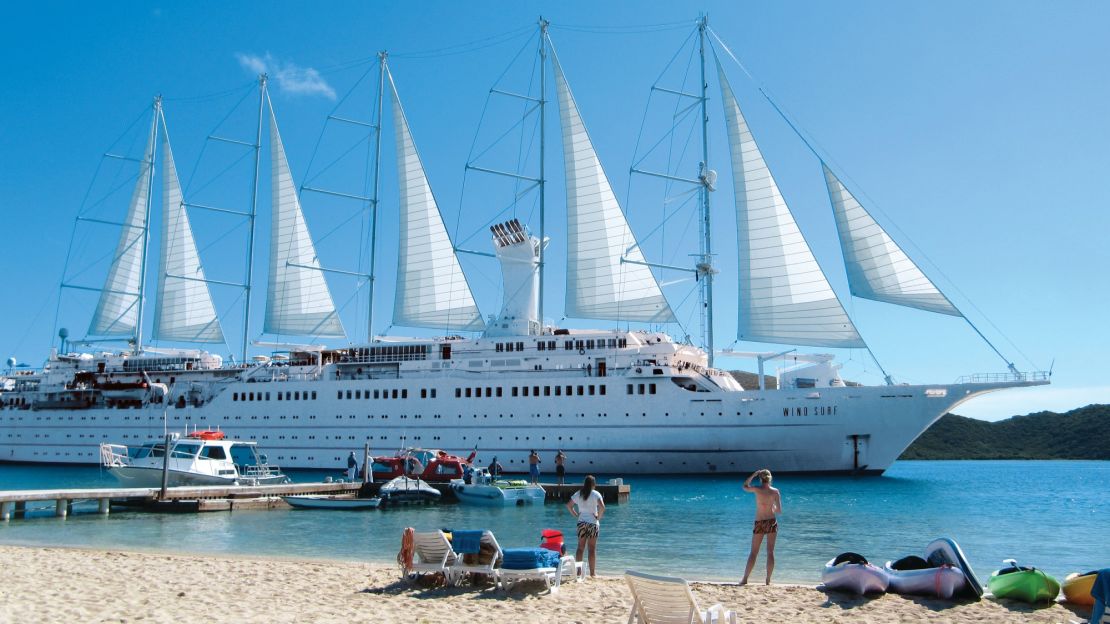 If spending a day soaking up the sun on white-sand-fringed Caribbean shores sounds like your idea of perfect beach day bliss, factor this into that fantasy: Sailing into port on a massive yacht, billowing white sails overhead.
Windstar Cruises offers guests just such a transporting experience aboard their seven-night Yachtsman's Caribbean itinerary, sailing round-trip from St. Maarten to island locales in Antigua, St. Bart's and the British Virgin Islands, where diversions include snorkeling, beach barbecues, and seaside party-primed overnight stays in port.
Get there aboard the 310-passenger Wind Surf, the largest sailing yacht in the world. Bonus: it's equipped with a complimentary water sports platform.
Windstar Cruises: Select sailing dates from November 2017 through March 2018; rates from $3,999/person
Best for Nature Lovers: Galápagos Islands Voyages with Lindblad Expeditions
Remote and enchanting, the Galápagos are a rightful place of pilgrimage for nature and wildlife enthusiasts.
You can follow in Darwin's footsteps on a family-friendly seven-night island-hopper cruise (bookended with overnight hotel stays in Guayaquil, Ecuador) with the pros at Lindblad Expeditions – in partnership with National Geographic – including a team of naturalists (with an "undersea specialist") and a photo instructor.
You'll sail the archipelago aboard the newly renovated, 96-guest National Geographic Endeavour ll to set out on active snorkeling, kayaking, paddleboarding and Zodiac excursions, as well as hikes through lava fields, mangroves, highlands and sandy beaches.
En route, expect up-close encounters with wondrous wildlife like penguins, sea lions, giant tortoises, sea turtles, iguanas, blue-footed boobies and whales.
Lindblad Expeditions: Weekly sailings available year-round; rates from $6,960/person
Best for Culture Vultures: China and Tibet Cruisetours with Viking
Viking River Cruises offers Yangtze River sailings as part of their culturally immersive Chinese "cruisetour" products (combining land-based and river cruising components).
You can opt in for their exceptional 16-night Roof of the World itinerary, which pairs a six-night Yangtze River sailing through the scenic Three Gorges region (aboard the 256-passenger Viking Emerald) with a 10-night land-based exploration of cosmopolitan Shanghai, Beijing (with its Forbidden City and nearby Great Wall of China), Xi'an (home to the Terracotta Army) and most remarkably, Lhasa, in Tibet, where guests can experience unforgettable cultural encounters like a home-hosted teatime or observing monks at debate.
Viking River Cruises: Regular departures from April 11 to November 1, 2017; rates from $4,339/person
Best for Foodies: French Canal Barging in Champagne with French Country Waterways
For many foodies, France is synonymous with fine wines and a first-rate culinary scene.