Editor's Note: Sign up for Unlocking the World, CNN Travel's weekly newsletter. Get the latest news in aviation, food and drink, where to stay and other travel developments.
If you're in the market for a pair of lightly used widebody aircraft, you better head to Scotland fast and put in an offer — before two Boeing 787-8s formerly flying for Norwegian Air Shuttle get stripped for parts.
Both planes are under 10 years old, as they were delivered in June and August 2013. Except for a testbed scrapped by Boeing in 2018, these are the first Dreamliners to be retired, and their disassembly, which began in early March, is taking place at Prestwick Airport near Glasgow, Scotland.
"They're being done side by side and it could take probably three to four months," says Ken Fitzgibbon, CEO of EirTrade, the Dublin-based aviation trading company that is managing the operation. "The dismantling process resembles a production line, but it's reverse engineered, and in the end we aim to recycle about 95% of the aircraft."
EirTrade has previous experience in scrapping young widebody aircraft, having worked on retired A380s from Singapore Airlines and Air France that were also about a decade old.
"The 787 is a very new aircraft and it's probably hard for people outside of aviation to get their head around this," says Lee Carey, VP of asset management at Eirtrade, who points to upkeep costs as one of the reasons the planes are being cut up. "They were coming up to their 12-year check, the heaviest maintenance event that's going to happen on these aircraft."
As many other 787s that are still flying are also coming up to this landmark maintenance event, demand for parts will spike, making the operation economically viable.
"These particular aircraft already had the engines removed a couple of weeks ago," says Carey. "We then commenced the defueling operation to ensure that any hazardous fuels were removed and disposed of correctly."
After that, the aircraft were pulled into a hangar for disassembly. The disassembly team has a "harvest list" of material they want — essentially where most of the value is. As components are removed, they are sent for repairs or overhaul, to get them back into shape: "After that, they will go on to be sold to airlines, maintenance companies, equipment manufacturers or aircraft leasing companies around the world to support the rest of the global 787 fleet."
Victims of the pandemic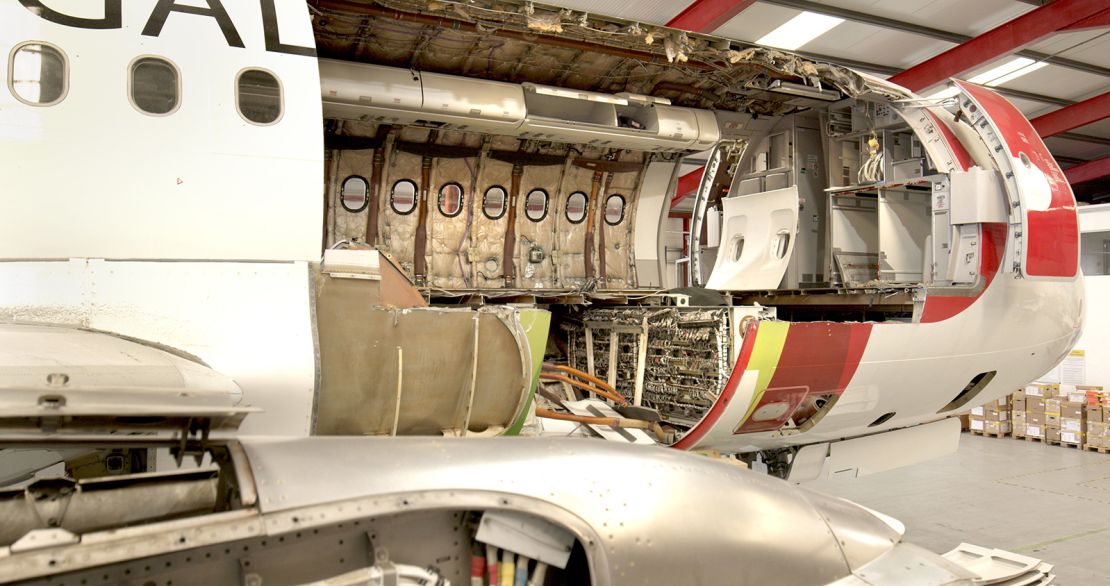 The planes arrived at their current location at Prestwick Airport in Scotland for storage back in the summer of 2019, after having flown transatlantic routes for Norwegian, via leasing companies, for about six years. They were part of a group of 35 Boeing 787s that were grounded because of problems with their engine blades, which were cracking or corroding prematurely.
But even after a solution was found, the planes never entered service again, and then became engulfed in the pandemic.
In 2020, Norwegian was struggling to survive and filed for bankruptcy. The longer the 787s remained on the ground, the more it would cost to get them to fly again, due to the maintenance work required. As a result, they were no longer airworthy.
"Prestwick is a really terrible place to store an airplane, because it's cold and wet and rainy and moist," says Connor Diver, a senior analyst at aviation analytics firm Cirium. "Not somewhere you would plan to keep them for a long time. Maybe they were just planning to fix them, but then the other events happened."
The condition of the aircraft likely played a big role in the fact that no airline came forward to buy them.
"The maintenance on a modern widebody is very, very expensive," Diver adds. "If you're behind and in bad condition, the costs to bring these up to a serviceable state would be prohibitive, most likely. The value of the parts then may be more than the value of the aircraft."
The average value of a similarly aged Boeing 787-8 is around $30 million, but because of the condition they were in, these two aircraft would have been worth less and probably closer to $20 million, according to Diver. Scrapping them for parts and starting a second-hand components market for the 787 therefore became a more appealing option.
Earlier this year, a 10-year-old Boeing 747 in VIP configuration was scrapped with just 16 flights on the clock after failing to find a buyer. Several Airbus A380s of similar age have already been recycled. Now, the 787s have entered the circus: is this the start of a worrying trend of young widebody aircraft being retired too soon?
"Never say never, but it could be an isolated incident," says Diver. "Typically we would expect an airliner to stay in service for 20 to 25 years at least."
"If they were in good condition and had not sat there for three years, it's very likely somebody would have wanted them."