"The City" is a CNN special series that profiles the sustainable urban future of five cities over five days. Watch the show every day during our special theme week starting Monday, Aug 19 on "World Business Today" at 1300 GMT and "Connect The World" at 2000 GMT.
Story highlights
Empire State Building is still the fastest built skyscraper of its height
Ryugyong Hotel in North Korea has held record for tallest unoccupied building for 21 years
London's 310-meter The Shard is highest building in the European Union
China may have just topped out on its new tallest building – the 632-meter Shanghai Tower – but if plans underway in Changsha come to fruition, that building will hold the title until only April 2014 when the country's 838-meter Sky City is completed.
When that happens, Sky City will become the world's tallest building, beating the Burj Khalifa in Dubai by 10 meters.
While people debate the merits of building so high so quickly – there's evidence that tall buildings often presage an economic collapse – we wanted to take a look at other buildings that deserve browser time.
These aren't the tallest buildings in the world, they aren't the prettiest buildings in the world, they aren't even the most successful – the inclusion of North Korea's disastrous Ryugyong Hotel attests to that.
But they are among the most iconic, representing their designers and their cities as memorably as anything else.
To put together the list we collaborated with A. Eugene Kohn, founder and chairman of Kohn Pedersen Fox Associates (KPF), one of the world's largest architectural firms, and Michael Greene, KPF principal.
Let us know what you think of our choices and tell us about your own favorite iconic buildings in the comments section below.
1. Empire State Building, New York
Height: 437 meters
Cost to build: $41 million
Completion date: May 1, 1931
Fast fact: The Empire State Building took only one year and 45 days to build, or 7 million man hours – a record to this day for a skyscraper of its height.
Its glory days are numbered though – developers in China just broke ground on the world's tallest building, Sky City, with plans to whip it up in just 10 months.
"With the passing of the World Trade Center, it became even more entrenched in the hearts and souls of New Yorkers and the rest of the world." – Michael Greene.
The 443-meter Empire State Building is the icon of New York, where Jay Z's "dreams are made" and King Kong went berserk.
The Empire State Building was designed by William Lamb of architecture firm Shreve, Lamb & Harmon.
Built during the Great Depression, this gigantic building has been an American symbol for 70 years, providing a solid anchor through the ebbs and flows of its economy.
It's also the longest holder of the "World's Tallest Building" title, from 1931 to 1972.
Its exterior lighting changes regularly to promote charitable causes and mark significant events and it's one of the few skyscrapers to offer wedding packages at its observatory.
Empire State Building, 350 Fifth Ave., New York; +1 212 736 3100; Observatory open daily, 8 a.m-2 a.m., tickets from $27/adult, $21/child (6-12)
2. China Central Television Headquarters, Beijing
Height: 234 meters
Cost to build: $600 million
Completion date: 2012
Fast fact: A building in the CCTV complex was badly damaged during a fire ignited by fireworks.
Reportedly nicknamed "big boxer shorts" by a Beijing taxi driver, the CCTV headquarters looks like no other building on earth.
Designed by architects Rem Koolhaas and Ole Scheeren of Rotterdam architecture firm OMA, it's comprised of a continuous loop of six horizontal and vertical sections.
The design represents a running stream of "qi" in the building.
Given China's monumental economic ambitions, the 234-meter-high structure is considered on the short side for a skyscraper.
But its light gray curtain of glass does blend in with the notoriously smoggy skyline of Beijing, earning this one of a kind skyscraper awards from the Cityscape World Architecture Congress in Dubai.
"Instead of competing in the race for ultimate height and style within a traditional two-dimensional tower 'soaring' skyward, CCTV's loop poses a truly three-dimensional experience, culminating in a 75-meter cantilever," says the firm behind it.
China Central Television Headquarters, Guanghua Road, Beijing
3. Commerzbank Headquarters, Frankfurt, Germany
Height: 300.1 meters
Cost to build: $414 million
Completion date: 1997
Fast fact: There's no observatory or open area on top. The public can only get as far as the plaza level.
With the aid of a 50-meter mast, the Commerzbank Headquarters in Frankfurt soars past the 300-meter mark by a whopping 10 centimeters.
Designed by London-headquartered architecture firm Foster + Partners, the building is the tallest in Germany.
It was the tallest of all buildings in the European Union until London's The Shard bumped it to second in 2012.
The Commerzbank Headquarters was the world's first so-called ecological skyscraper, making use of natural systems of lighting and ventilation and reducing energy consumption as early as 1997.
In contrast to Europe's conspicuous lack of grand skyscrapers, this building celebrates its rise above low-rise offices, making it not just a symbol of Frankfurt's economy, but of Germany's attempts to pioneer eco-architectural design.
Commerzbank Headquarters, Kaiserplatz 1, Frankfurt, Germany
4. The Shard, London
Height: 310 meters
Cost to build: $666 million
Completion date: November 2012
Fast fact: Architect Renzo Piano made the first rough sketch of The Shard on the back of a restaurant menu in Berlin in 2000.
In a city as architecturally mature as London, it takes something special to get eyeballs away from Westminster Palace, St. Paul's Cathedral and the Tower of London.
The Shard did it, slicing up the skyline and the record books with its 310-meter height overtaking the Commerzbank Headquarters in Frankfurt by nine meters, to become the highest building in the European Union.
Its viewing floors, called The View from The Shard, offer views twice as high as any other viewing platform in London.
The Shard, Joiner Street; open 9 a.m.-10 p.m. daily (closed December 25); £24.95 ($38) for adult (£29.95 purchase on the day); £18.95 for child between 4-15 (£23.95 purchase on the day), free for infants younger than 4; +44 (0) 0844 499 7111
5. Elephant Tower, Bangkok
Height: 102 meters
Cost to build: NA
Completion date: 1997
Fast fact: The elephant is Thailand's national animal, having appeared on the national flag when the country was known as Siam.
It's no big shock then that someone would erect a pachyderm-inspired building in the big beast's honor.
Hanging out in northern Bangkok's Lad Phrao district, this 102-meter-high jumbo building, with eyes and tusks, towers above a busy junction.
As well as highlighting the importance of elephants in Thai culture and history, the Elephant Tower also nods toward Thailand's coming-of-age.
The creation of Thai engineer Arun Chaiseri, at the time of its completion it was cutting edge, offering high-tech offices, a shopping plaza and a floor of luxury residential suites.
This one would never make a list of the most beautiful skyscrapers, but there's no denying the Elephant Building's place in local hearts.
Elephant Tower, 369/38 Phaholyothin 26 Chatuchak, Bangkok
6. Chrysler Building, New York
Height: 320 meters
Cost to build: $15-20 million
Completion date: May 1930
Fast fact: The building became the tallest in the world when architect William van Alen added a surprise 186-foot spire to the top, beating the Eiffel Tower and another skyscraper being built at the same time on Wall Street.
It kept its title of world's tallest building for just 11 months (being beaten by the Empire State Building), but the Chrysler Building's enduring legacy comes from its design.
William van Alen's design for the art deco tower is often acclaimed as the most beautiful in New York, winning plaudits from experts and the public as a favorite building.
That it came about due to auto mogul Walter P. Chrysler's ego – he financed the build himself and requested that his toilet be the highest in Manhattan, so, according to one observer, he could "s**t on Henry Ford and the rest of the world" – only adds to the legend.
The building pays more than a cursory nod to the Chrysler cars of the day, with gargoyles and other features on the building inspired by the hood ornaments and radiator caps on the automobiles.
Chrysler Building, 405 Lexington Ave., New York
7. Bitexco Financial Tower, Ho Chi Minh City, Vietnam
Height: 262 meters
Cost to build: $220 million
Completion date: October 31, 2010
Fast fact: Designed to represent Vietnam's national flower, the lotus, this 262-meter skyscraper is meant to characterize the beauty and growth of the city below.
It has a helipad on the 52nd floor that juts out 22 meters.
The Bitexco Financial Tower may no longer be the tallest building in Vietnam – that honor goes to Hanoi's Keangnam Landmark – but it's still a standout on Ho Chi Minh City's skyline.
It's ambitious and in your face, much like its host city. No surprise, given it was designed by award-winning Ecuadorian architect Carlos Zapata.
There's an observation deck on the 47th floor, the Saigon Skydeck, where visitors get a 360-degree view of HCMC.
Saigon Skydeck, 36 Ho Tung Mau St., District 1, HCMC, Vietnam; +84 (0)8 39 156 156; tickets from 200,000 VND/adult ($9.50), 130,000/child
8. Ryugyong Hotel, Pyongyang, North Korea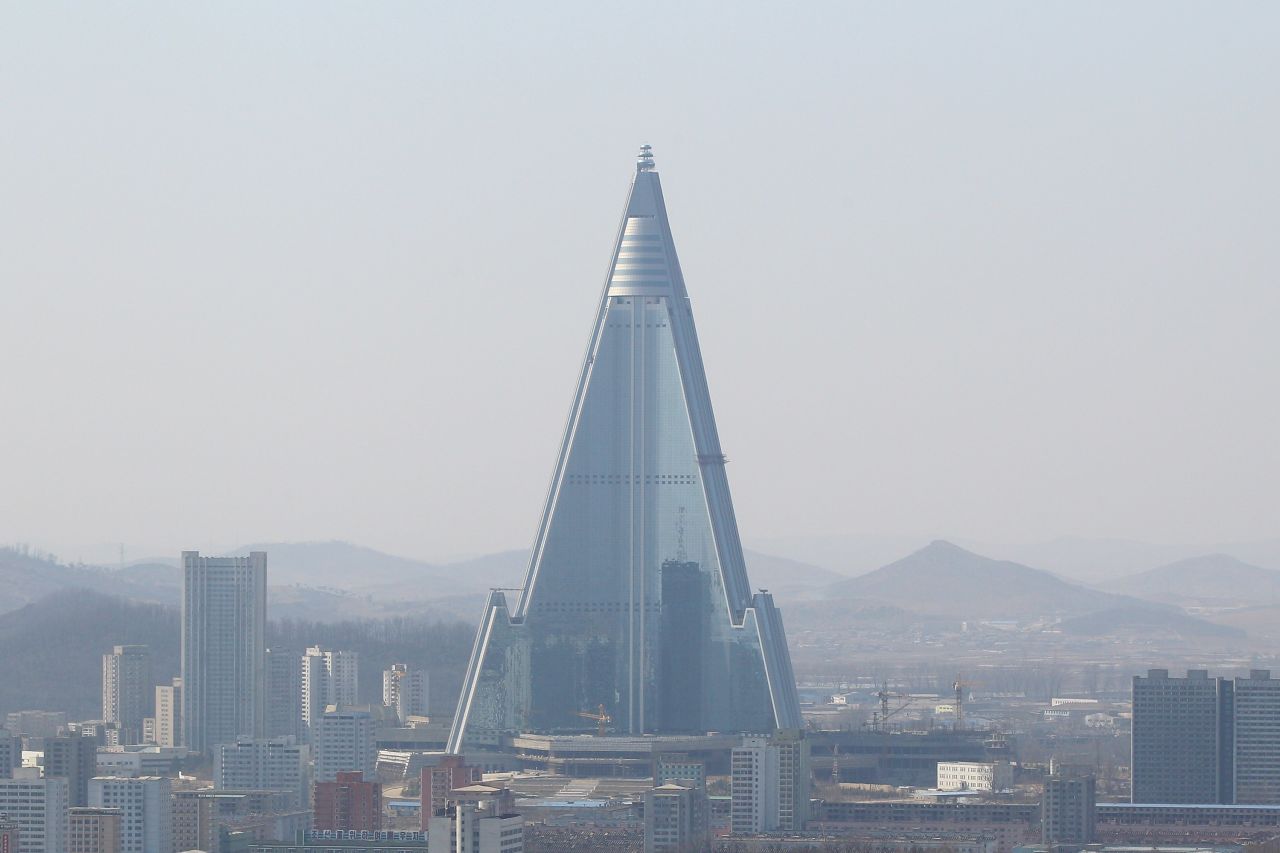 Height: 330 meters
Cost to build: $750 million
Completion date: N/A
Fast fact: The hotel has held the Guinness World Record for world's tallest unoccupied building for an unenviable 21 years.
The world's tallest unoccupied building is undoubtedly an icon – though probably not one you'd wish to be associated with.
Symbolizing decades of mismanagement and incongruous ostentation, what was originally started in 1987 in preparation for a festival was abandoned due to construction problems and funding issues.
Construction re-commenced in 2008 when Egyptian telecommunications company Orascom shelled out $180 million to complete the building's glass façade.
Kempinski Hotels group got on board to manage the property, then distanced itself again earlier this year when Pyongyang threatened the possibility of nuclear attacks against the United States and South Korea.
The last reports on the hotel's progress came from a Hong Kong journalist who escaped his chaperone in December 2012.
"When I stepped through scaffolding into the lobby and looked inside, there were no completed surfaces, just bare concrete and one electric light hanging down," Simon Parry told CNN.
We can expect the spacecraft-like shell to remain grounded for the foreseeable future, with the European Chamber of Commerce concluding, after an inspection in the 1990s, that poor construction materials and technique rendered the building a write-off.
Ryugyong Hotel, Pyongyang, North Korea; website (not official)
9. Transamerica Pyramid, San Francisco
Height: 260 meters
Cost to build: $32 million
Completion date: 1972
Fast fact: When the Transamerica Pyramid's three years of construction began in 1969, signs around the site proclaimed it "a San Francisco landmark since 1972."
"The Transamerica Pyramid put San Francisco's downtown on the map." – Michael Greene.
A stark contrast to San Franciso's picturesque wooden Victorian houses, this quartz-covered skyscraper juts into the sky like a rocket.
Though not comparable to today's futuristic skyscrapers, the 260-meter pyramid was the city's most recognizable building for decades.
Designed by architect William Pereira, the structure has an unconventional tapered design – imitating a tree trunk – that allows natural light and fresh air to trickle down to adjacent streets.
Without obstructing much of the tranquil neighborhood, this slender style, together with an earthquake-safe design, allowed the building to get around strict building laws in the city, reaching a height once unheard of in San Francisco.
The Transamerica Pyramid isn't open to the public, though there's a decent website with images and facts on the building.
Transamerica Pyramid, 505 Sansome St., San Francisco
10. Bank of China Tower, Hong Kong
Height: 367.4 meters
Cost to build: N/A
Completion date: May 1990
Fast fact: The building was criticized by feng shui masters for its sharp corners, which reportedly bring bad luck to its neighbors (notably the HSBC main building).
The Bank of China Tower was the first skyscraper outside of the United States to surpass the 305-meter mark and was once the tallest building in Hong Kong.
The unusual crystalline-like structure is inspired by the bamboo plant, mimicking its strength, vitality and growth.
Chinese-American architect I.M. Pei had to modify the design before construction began.
It has for years been one of the most distinctive buildings in Hong Kong, out-shining taller neighbors.
Together with Two IFC, the tower is part of the city's Symphony of Light show, which illuminates Hong Kong's harbor every night at 8 p.m.
The observation deck on the 43rd floor offers stunning views of Central, one of Hong Kong's busiest districts.
Bank of China Tower, 1 Garden Road, Central, Hong Kong Island
11. Kingdom Centre, Riyadh, Saudi Arabia
Height: 302 meters
Cost to build: $1 billion
Completion date: 2002
Fast fact: Riyadh's building code forbids any building to have more than 30 usable floors, but doesn't impose height restrictions. The big void near the top of the Kingdom Centre means the building uses only 30 floors.
The second floor of Kingdom Centre is dedicated to a Ladies' Kingdom, a private shopping mall for women that's said to have "almost everything a female would need" – including a ladies' bank and ladies' mosque.
Men are strictly not allowed, and women can shop freely without needing to be covered.
Designed by Minnesota-based firm Ellerbe Becket, the tower also houses the Four Seasons hotel and "the world's tallest mosque" on the 77th floor in addition to offices and shopping malls.
The observation deck at the top of the tower has incredible views of the city on clear days.
Kingdom Centre, King Fahad Road, Riyadh, Saudi Arabia
12. Petronas Twin Towers, Kuala Lumpur, Malaysia
Height: 452 meters
Cost to build: $1.6 billion
Completion date: June 1996
Fast fact: National poet laureate A. Samad Said was commissioned to write a poem for the towers.
"These towers changed the skyline of Kuala Lumpur, and jumped the existing scale there dramatically. Petronas was also an attempt to relate a tall building to a country's culture and history, and to make a statement about its power and desire to replace Hong Kong as a financial capital." – A. Eugene Kohn.
Employing the repetitive geometric principle of Muslim architecture and Islamic arabesques, architect César Pelli wanted the Petronas Twin Towers to exude Malaysian culture and heritage.
The world's tallest twin towers stand out in the capital's otherwise unassuming cityscape. Visitors can see the views from the Skybridge, which connects the two structures and is the world's highest two-story bridge at Level 41 and 42, as well as from the observation deck at Level 86.
Completed in 1996, the sky bridge that connects the two towers symbolizes "a gateway to the future" and Malaysia's sky-high ambition entering the millennium.
Petronas Twin Towers, Jalan Ampang, Kualala Lumpur, Malaysia
13. Tokyo Mode Gakuen Cocoon Tower, Tokyo
Height: 204 meters
Cost to build: N/A
Completion date: October 2008
Fast fact: It's the second-tallest educational building in the world, next to the M.V. Lomonosov State University building in Moscow.
As the name suggests, the Tokyo Mode Gakuen Cocoon Tower resembles the silky home of various larvae.
Students are educated inside the 50-level tower and metaphorically transformed into something bigger and more beautiful, culminating in generations of Tokyoites prepared to give this sprawling city, and country, focus.
According to the architects, Tange Associates, the design of the 50-level tower is meant to symbolize the nurturing of the students and transform them in order to compete in the Japanese workplace.
Tokyo Mode Gakuen Cocoon Tower, 1-7-3 Nishi-Shinjuku Shinjuku, Tokyo
14. Shanghai World Financial Center, Shanghai
Height: 492 meters
Cost to build: $1.2 billion
Completion date: August 2008
Fast fact: The square "bottle opener" opening at the top is designed to reduce stress of wind pressure, and was originally circular.
However, Shanghainese citizens and the city's mayor protested, claiming it was too similar to the rising sun design of the Japanese flag.
Just eight meters shy of the half-kilometer mark, this giant bottle opener overtook Gin Mou Tower in 2008 as the tallest building in China, formally marking the city's emergence as a global financial hub.
The building, however, recently lost its title to the neighboring Shanghai Tower, which topped out on August 3, 2012, at 632 meters.
Like many magnificent buildings in China, the Shanghai World Financial Center has a subtle connection to Chinese beliefs: the opening atop represents earth reaching up to the sky, symbolizing an interaction between the two realms.
Shanghai World Financial Center, No.100, Century Avenue, Pudong New Area, Shanghai China
15. Hotel & Casino Grand Lisboa, Macau
Height: 261 meters
Cost to build: $385 million
Completion date: 2008
Fast fact: Designed by Hong Kong architects Dennis Lau and Ng Chun Man, the golden structure combines the visual effects of crystals, fireworks and the long plumes of a Brazilian headdress – all symbols of prosperity to guide the money home.
In Macau, the Hotel & Casino Grand Lisboa is the eminent icon of gaudy profits.
It isn't particularly beautiful, but who needs beauty when what you're really after is piles of gamblers' cash?
Everything linked with money can somehow be intertwined with superstitions in Macau. This, the tallest skyscraper in Macau (261 meters) was built to resemble a bottleneck to avoid the leaking of cash — a suggestion reportedly offered by a feng shui master.
Hotel & Casino Grand Lisboa, Avenida de Lisboa, Macau
16. Bahrain World Trade Center, Manama, Bahrain
Height: 240 meters
Cost to build: $150 million
Completion date: 2008
Fast fact: It was the world's first wind-powered, mega-structure.
Atkins, the architectural firm behind the futuristic Bahrain World Trade Center, may have wanted to give the island's skyline a big, bright slap in the chops.
But the maritime connection doesn't stop at its stunning silhouette.
The two sail-inspired towers that reach vertically more than 240 meters are joined by three giant wind turbines in the middle to generate approximately 13% of the towers' total energy needs.
In addition to showing its deep pockets, this emphatically sci-fi building speaks volumes about Bahrain's environmental consciousness.
Bahrain World Trade Center, Manama, Bahrain; +973 1713 3666