Nights at the drive-in were a heady mix of high school dates and high jinks and a once quintessential part of growing up in America.
The craze reached its peak in the 1950s and 1960s, but now many drive-ins lie abandoned, occupied only by nostalgic ghosts of the past.
Motivated by the feelings they evoke, California photographer Craig Deman has traveled across the United States, shooting the derelict movie theaters and learning the stories behind them.
His wistful black-and-white images offer a window into a time gone by.
"Of all the projects I've ever done, the feelings that people express and share are the most visceral," Deman tells CNN Travel.
"People can have some pretty seminal moments at drive-in movie theaters."
Endangered past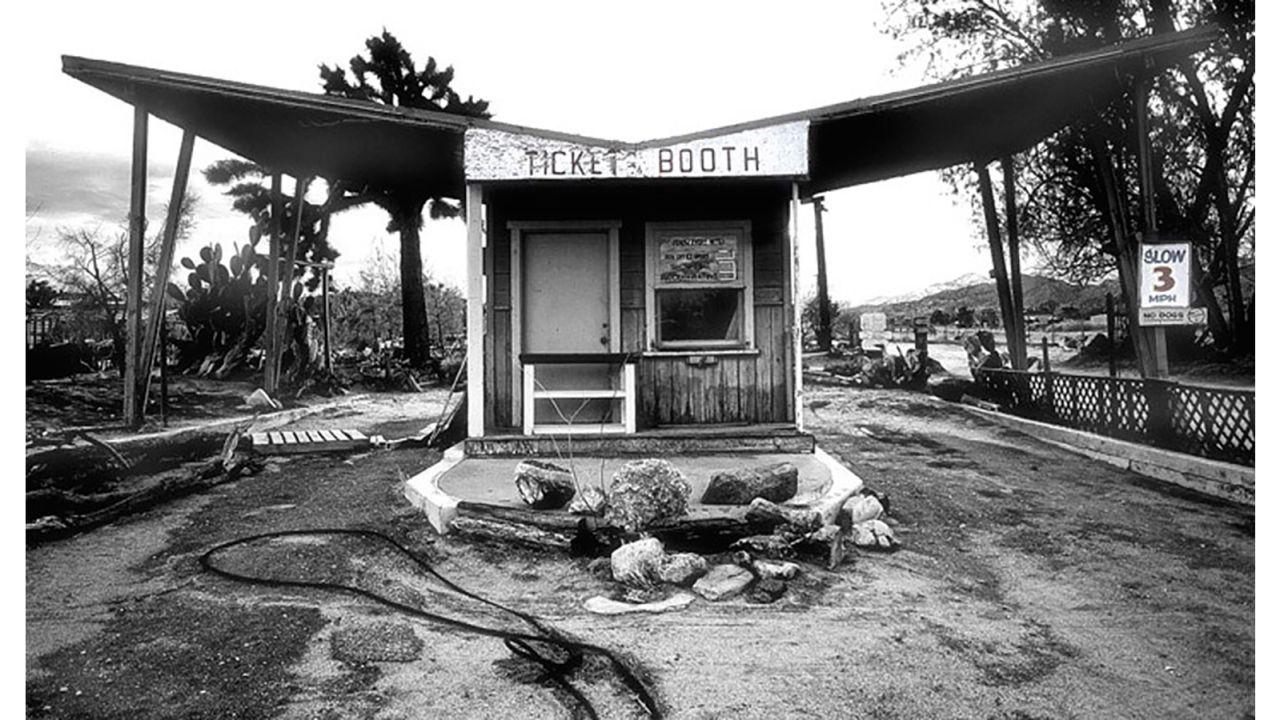 Deman started the project after accidentally stumbling upon an abandoned ticket booth in California's Yucca Valley. Looking for a swap meet, he found this striking building instead.
"A light bulb goes off and it was like, 'You know what? I'm going to come back and I'm going to photograph this place,'" Deman recalls.
The booth was part of the former Sky drive-in cinema – active from 1958 to 1994.
The idea for the project was born, and Deman began researching drive-ins across America and working out how to photograph them.
"It's the rawness and the idea of them being cultural artifacts," he says.
The process of finding each cinema is a complex one, especially if you want to avoid trespassing, he explains.
"Finding out who is the property owner and connecting with them, and explaining the project and getting their permission for access, is some of the pre-work that needs to be done," he says.
"It's difficult to be spontaneous for a project of this scale," he adds.
But even with all this preparation, things do not always go to plan. Deman recalls running into snakes in the bushes – and the time he stood on a nail, which went through his shoe.
"I hadn't come that far not to get the shot just because a nail hit my foot, so I was sure to make sure that I got it," he says.
Evocative emotions
The drive-in photo essay is part of a series of photography projects Deman has worked on called "Endangered Icons."
The series also encompasses photos of record stores and a vintage beauty salon chair. "It's really interesting and each one has this culture to it," he says.
But it's the drive-in series that captures people's imagination. The photographer thinks it's because of the "feeling and articulation" they inspire.
Members of the public he meets are always moved by their memories of drive-ins gone by.
"They just start to open up and talk about a first date or a bunch of friends sneaking in, in the trunk of cars," says Deman.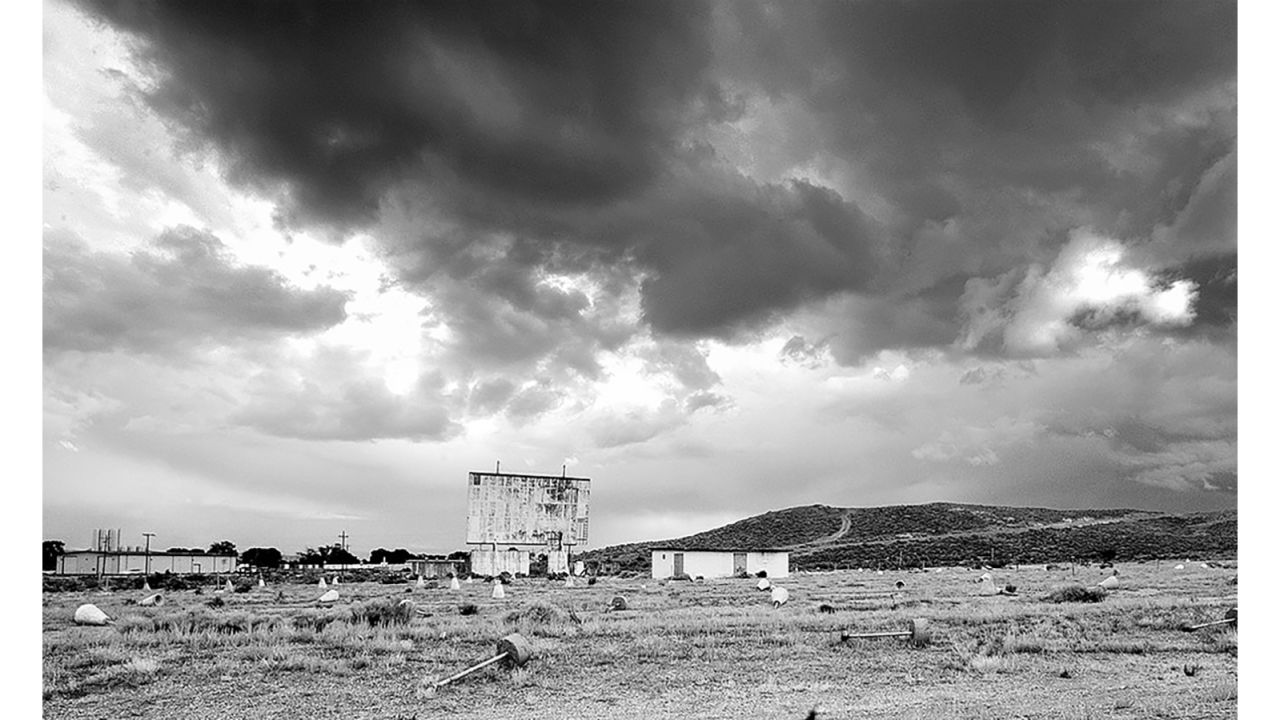 The photographer understands the sentiment – it's part of the reason he was attracted to the project.
"I remember the first time my mom took my sister and I to a drive-in movie," he says fondly.
Even the owners of the sites are keen to share their memories.
"They want to share the history of the drive-in movie theater and their experiences – as both an owner, and just a viewer with an appreciation."
Vintage feel
Deman's black-and-white photographs have a deliberately grainy effect, adding to their evocative, romantic air.
"I actually photographed it with a film camera, the whole series," explains Deman. "Which I wanted to do as, I would say, a homage to the projection days of drive-in movie theaters, of film."
The images include abandoned speakers and a projector at Estes Park in Colorado, vintage cars at Moonglo in Tennessee, which closed in 1980, and abandoned furniture in front of the dilapidated screen at Sage in Nevada.
"There's probably about, on average, maybe 9% or 10% of the entire universe of drive-in movie theaters that are still operating," says Deman. "And that's probably about the ratio in my project as well. Most of them certainly are abandoned."
The photographer has captured a few shots of regenerated drive-ins, including the Best Western Movie Manor.
This Colorado hotel, which has been active since 1955, has a historic outdoor marquee in its grounds. In 1964, the owners built an attached motel, with the rooms arranged so that each one could seen the screen through the window.
It's now owned by Best Western and during the summer months still shows movies on the outdoor screen – with guests enjoying the view from their windows.
Storytelling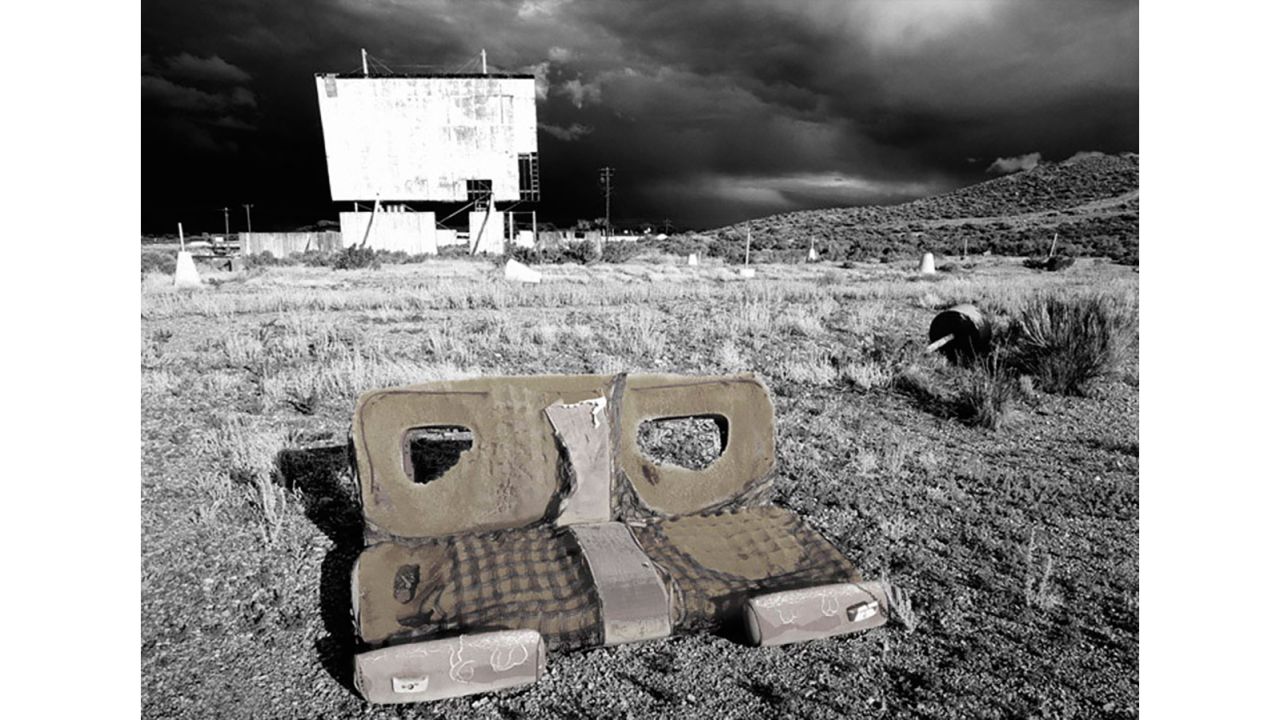 Deman traveled to 11 states to document drive-ins across America – from New York to Nevada
The photographer has a variety of projects on the go and says that, for now, his drive-in series is complete.
"I think it's all about telling a story right?" he says. "And so I like to think that the project tells the story and that's how I think I know it's done."