Luxury hotels and resorts conjure images of carefree travel, designer furnishings, lavish restaurants and the well-to-do milling about in grand fashion. But all that can change in rapid time, leaving decay and squalor in its place.
War, weather, financial foul-ups and manmade catastrophes have all contributed to many of these former pleasure palaces being left to ruin.
Here are 10 of the most celebrated abandoned hotels in destinations around the world:
1. Sheraton Rarotonga, Cook Islands
This sprawling almost-resort along the coast road on Rarotonga, one of the Cook Islands, is still shown on Google Maps even though it has never hosted a single guest.
Called the "Heartbreak Hotel" by islanders, the project nearly bankrupted the tiny Pacific nation.
The 200 rooms were tiled, plumbed, wired and fitted with air-conditioning. Some were carpeted and furnished – but now the only residents are a few squatters and local gangs.
Construction began in the late 1980s but, when it was almost complete, the backers pulled out amid allegations of misappropriated funds.
Location: http://goo.gl/maps/unZ4j
2. Sofitel Heiva, Huahine, French Polynesia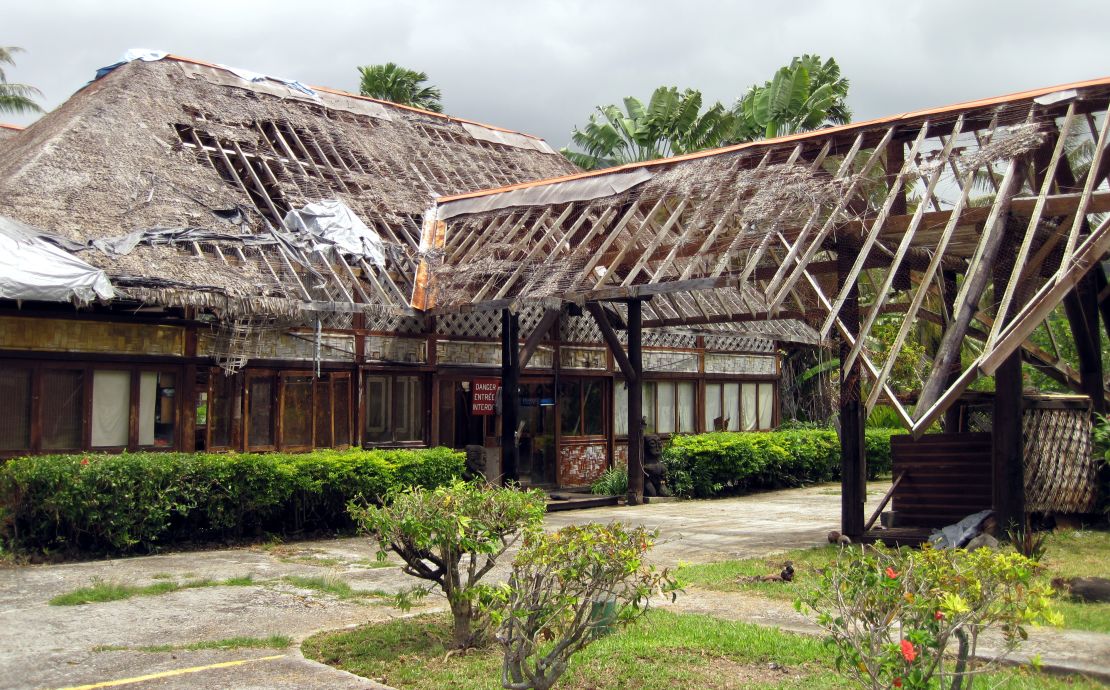 Ideally located on a secluded spit of land on the French Polynesian island of Huahine, the over-water bungalows here still appear alluring and the botanic garden-like grounds are still meticulously maintained.
Closer inspection reveals a totally derelict property, battered by the elements and stripped of all fittings, with gaping holes in the bungalow roofs and many of them in danger of collapse.
It's been more than a decade since the last guest checked out and the former Sofitel stands as a somber monument to the dramatic downturn in this onetime holiday paradise.
It was reported in February 2018 that Californian investment group Mega 5 is interested in redeveloping the site as a new hotel complex.
Location: http://goo.gl/maps/tu3om
3. Lee Plaza, Detroit, Michigan
The city of Detroit is slowly rebuilding itself after filing for bankruptcy five years ago, but even so, many of the beleaguered metropolis's great buildings are still crumbling into dust.
Already the grand Statler, Tuller and Madison-Lenox hotels are gone, leaving the Lee Plaza, a stately 1929 art-deco high-rise, the sole unoccupied survivor of heritage status.
Closed for more than two decades, the Charles Noble-designed 15-floor structure has deteriorated badly despite a preservation order and inclusion on the US National Register of Historic Places.
Images from inside reveal its former grandeur and serve as a tragic indictment of this once great city's spectacular fall from prominence.
There is hope for the building yet, however: There have been several redevelopment proposals and, in September 2018, crews were spotted installing acrylic glass windows at the plaza.
Location: 2240 West Grand Boulevard, Detroit, Michigan 42°21′34″N 83°6′6″W
4. Ryugyong Hotel, Pyongyang, North Korea