Story highlights
Believe it, you can get a good meal at the airport
The Food Network Kitchen is open in Fort Lauderdale International
Real deal tamales are available at Phoenix Sky Harbor International
Lots of new options are coming to LAX in 2014
Whenever someone starts talking about the "good ol' days" of air travel, remind them about eating at old school airports.
Back then, a meal at the airport meant horsing down a candy bar from the gift shop and wrestling with a vending machine for a can of soda.
Nowadays, large, medium and even some smaller airports provide legitimately good restaurants, with enough interesting offerings and atmosphere to make that three-hour layover just a little less hellish.
There's still room for culinary upgrades – as noted below, some airports haven't yet figured out that sitting on planes makes us hungry and irritable – but the best places to eat in the country's busiest airports (ranked by passenger traffic, per FAA statistics) generally range from good to great.
20. Honolulu International (HNL)
Eating healthy at the airport
What Hawaii offers in fun and sun, its marquee airport lacks in decent food options.
Your best bet: Eat before you hit the road.
If you must eat at HNL, opt for a sit-down meal at Stinger Ray's; it's the only place with a restaurant-like feel to it. Hard to go wrong with the nachos or pulled pork sandwich.
5 healthy eating tips for travelers
19. Seattle-Tacoma International (SEA)
Anthony's Restaurant started as a single seafood joint in 1969. Now the company consists of 22 locations and a private fleet of fishermen.
Each location – yes, even the one in the Central Terminal – serves seasonal Pacific seafood and shellfish from the Northwest, Alaska and Hawaii. The mountain blackberry cobbler is an addictive Cinnabon alternative.
18. Fort Lauderdale International (FLL)
The Food Network finally cooked up the most obvious way to cash in on its success: It opened a restaurant.
Fans can stop by Food Network Kitchen in Terminal 3 and choose Florida-inspired dishes from the grab-and-go menu (Caesar salad with key lime dressing) or the made-to-order menu (including a club sandwich with, you guessed it, key lime mayo).
Of course, the TVs play the likes of Guy Fieri and Bobby Flay all day long.
7 of the world's artsiest hotels
17. Orlando International (MCO)
Orlando airport seems to be unaware of the current revival in airport restaurants. Nonchain options are limited.
You can try your luck with a latte at ZaZa's Cuban Coffee or the sliders at Johnny Rivers' Grill and Market. But you might be just as happy going with what you know at Qdoba, Burger King or Outback.
16. Detroit Metropolitan Wayne County (DTW)
The venerable kid staple gets a makeover at PB&J near Gate A1. The menu offers preset gourmet peanut butter and jelly combos, as well as an option to customize your own.
"The Exceptional is the most popular sandwich," says Fares Saah, one of the airport's food court managers. It comes loaded with peanut butter, honey and bacon on cinnamon swirl bread. "People are always surprised by the combination, but there have been no complaints."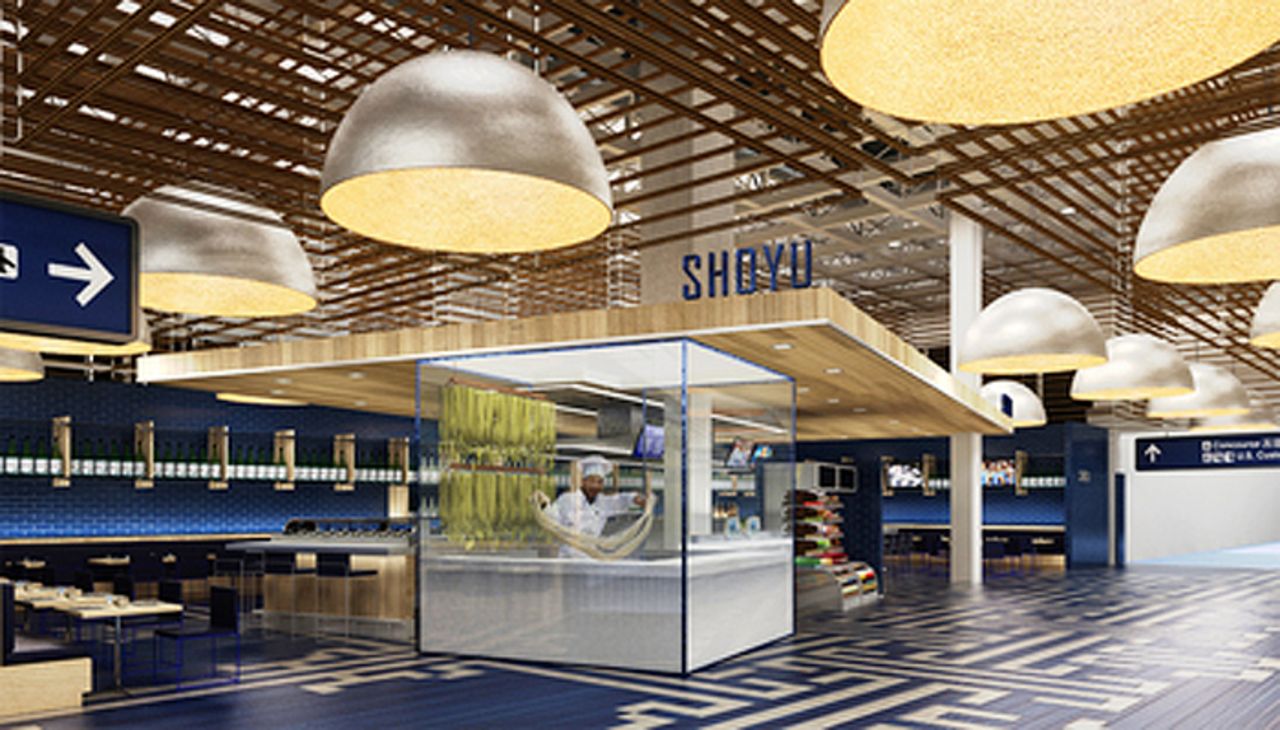 15. Minneapolis-St. Paul International (MSP)
At upscale noodle and sushi shop Shoyu, you use an anchored-down iPad to order your meal.
Once you've picked your food, you can continue to play with the iPad or you can watch the chefs make Japanese noodles in the open kitchen. Pork belly pot stickers, Thai lettuce wraps, sushi and noodle bowls are all on the menu.
14. Newark Liberty International (EWR)
You're in New Jersey, but you can eat like you're in New York. OK, the Grand Central Oyster Bar in Terminal C may lack the atmosphere of its New York City sister, but, hey, you're in an airport. The food, especially the crab cakes and fried calamari, is still equally good.
13. San Francisco International (SFO)
There's real, upscale comfort food at Cat Cora's Kitchen near Gate 55. The Iron Chef uses organic and fresh ingredients with a health-conscious mindset.
Highlights include the steak tacos, lobster mac and cheese or baked jalapeño poppers stuffed with creamy feta cheese and breaded with panko crumbs.
The cocktails are stiff and refreshing, too, like the cucumber martini or the Love and Haight (chili-infused tequila with blood orange juice, lime juice and honey).
12. Miami International (MIA)
You may recognize chef Lorena Garcia from her Taco Bell commercials, but fast food burritos notwithstanding, she really has made some good career moves.
Her airport outpost, Lorena Garcia Cocina (Concourse D), serves Caribbean jerk chicken, shrimp ceviche and baked breakfast empanadas that come out of the kitchen fast, but not suspiciously fast.
The restaurant also includes a Bacardi Mojito Bar, where you can order (very) tall drinks before facing the departure lounge.
11. John F Kennedy International, New York City (JFK)
Chef Andrew Carmellini's New York restaurants – The Dutch and Locanda Verde – are always packed.
Can't be bothered? Stop by Croque Madame in Terminal 2 and grab his food to go. On offer: French-inspired open-faced sandwiches, crepes and made-to-order salads.
10. Phoenix Sky Harbor International (PHX)
Ask any Phoenician where to find the best tamale and they'll point you to El Bravo in Sunnyslope. No time to get there during your trip? Check in at the airport early and snag one there.
The family team makes its famous green chile tamales at its original outpost every morning and drops them off, so you're getting quality.
"People will try one for lunch and like them so much they'll buy a dozen frozen ones to take home," says Monique Othon, whose grandmother created the original recipe.
9. Philadelphia International (PHL)
In town, Chickie's & Pete's is a go-to spot for watching sports and it's no different in PHL. It's not just for Eagles fans, either. With four airport locations, its TVs offer a multitude of sports and teams.
"It's not uncommon for us to have international soccer league games on for our foreign travelers," says co-owner Pete Ciarrocchi.
If you don't care about the games, there's always the crabfries: crinkle-cut fries dusted with salt and spicy crab seasoning, served with a side of cheese sauce.
8. George Bush Intercontinental, Houston (IAH)
Urban Crave has the look and feel – and trendy menu – of a real restaurant, it's just smaller, and in an airport.
At Gate C33, one of the restaurant's most popular orders is the 10-inch all-beef "haute dog." We like the Sonoran Dog, which comes wrapped in bacon and topped with mayo, mustard, ketchup, tomatoes, onions, jalapeños and salsa verde. The 10-ounce inside-out burger has bacon and cheddar on the inside of the patty.
7. McCarran International, Las Vegas (LAS)
The recently opened Terminal 3 features 14 new gates and seven new restaurants. The best one: The Village Pub, which has locations all over Las Vegas.
The family-owned restaurant offers beer-battered fish and chips, fried chicken and handcrafted beers from Vegas. There's even a convenient beer window so you can grab a pint and play the slots right until fly time.