Forget on-site cinemas and private bars, it seems spectacular swimming pools have become the hottest airport amenity.
The Dominican Republic's Punta Cana International Airport and New York's John F. Kennedy International Airport are each getting their own outdoor pool – complete with scenic runway views.
As of December, travelers passing through Punta Cana International Airport will be able to cool off in a new pool, which is part of a brand new VIP lounge designed by Dominican architect Antonio Segundo Imbert.
Meanwhile, it's also been confirmed that the hotel currently being constructed at the classic TWA Flight Center terminal at JFK is to have its own rooftop pool.
The news was revealed in new renderings from developers MCR Development LLC, who are investing $265 million into converting the vacant building, designed by Finnish architect Eero Saarinen, into an airport hotel.
JFK's first on-site luxury hotel, which is due to open in late 2018, will also feature a 10,000-square-foot observation deck and a museum dedicated to TWA, the airline the terminal was originally built for.
The new pools will join a small collection of notable airport swimming facilities.
From the "therapeutic" pool at Dallas Fort Worth Airport, to Changi Airport's stunning rooftop pool in Singapore, here are some of the best:
1. Hyatt Regency Orlando International Airport, Florida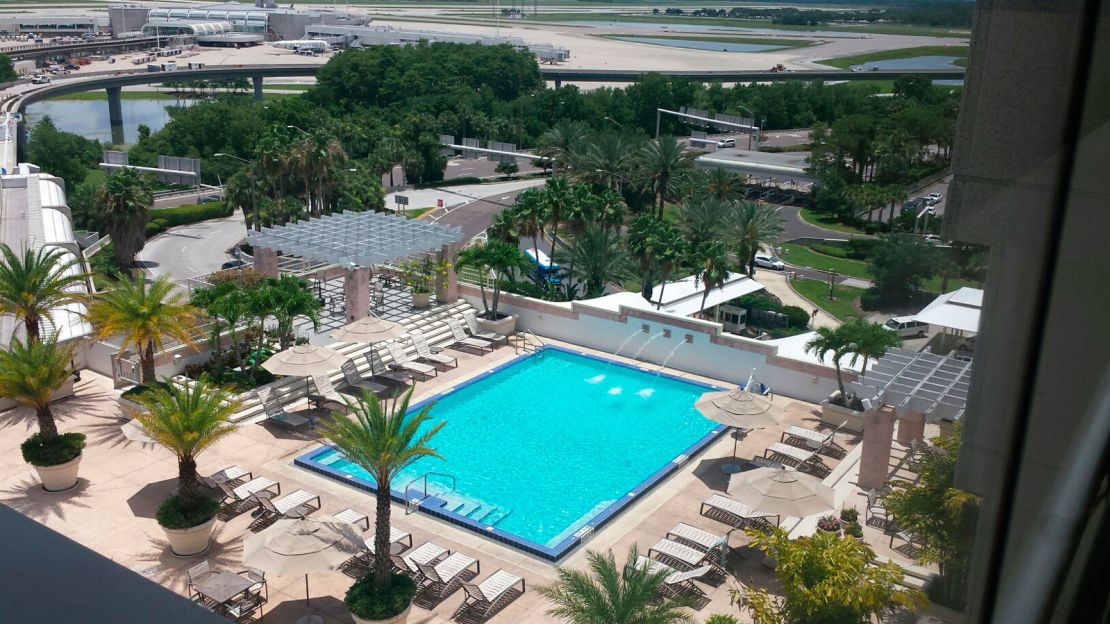 Swimmers who take the plunge at Hyatt Regecy Orlando International Airport's outdoor heated swimming pool are treated to extraordinary views of planes taking off and landing on the runway.
With its large sundeck and shaded lounge area, the Roman-style splash pool is a great spot to soak up the Florida sunshine before jetting off on your travels.
Day use rooms, which include access to all facilities, start at $109.
Hyatt Regency Orlando International Airport, 9300 Jeff Fuqua Boulevard Orlando, FL 32827, USA ; +1 407-825-1234
2. Grand Hyatt Dallas Fort Worth Airport, Texas