From atop a granite hill, the Alila Fort Bishangarh hotel surveys the rolling hills below.
It's the first internationally managed property in the Aravalli mountain range, about an hour's drive southwest of Jaipur, in northern India.
Built inside the 230-year-old Fort Bishangarh, this heritage address took nearly a decade to complete. It's the kind of place where you expect to find a hidden trapdoor or a spiral staircase leading to a secret lair – a mix of raw history and mystery.
Apart from opening walls to connect rooms and making space for elevator shafts, Jaipur-based firm STHAPATYA Architects kept the entirety of the original structure intact.
"Each window and entrance portal, arches and columns, railings and jaali screens (latticed window patterns), turrets and walls … everything had to be fully in sync with the original fort," Ritu Khandelwal, principal architect of STHAPATYA Architects, tells CNN. "We were very careful in not making a 'palace' and, instead, let it reverberate the story of the fort."
Adapting the fort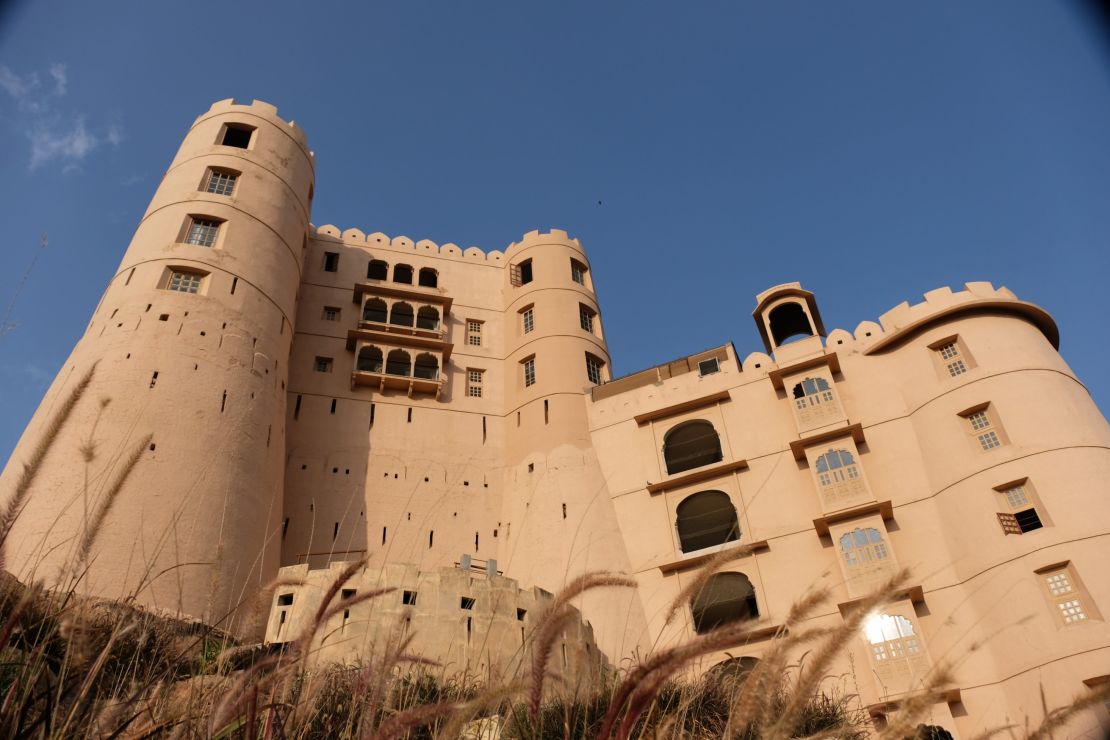 Ritu and Sandeep Khandelwal, the architects behind the renovation, have been working on heritage conservation projects and luxury residences since 1994. But the Alila Fort Bishangarh was by far their most extensive assignment.
"This project is like a child to us … and a thesis project," says Khandelwal.
It started nine years ago, with a careful evaluation of the fort's feasibility. The Khandelwals investigated every nook and cranny to assess its strength and stability.
"It was a maze, with bats and monkeys inhabiting its every corner," says Khandelwal. "But we were intrigued! We wanted to solve the puzzle."
Before they had even turned over a single stone, Khandelwal says the fort's character was electric.
"It was a bare, beautiful, raw old fortress, sitting in the middle of a small village of Bishangarh, untouched for years," says Khandelwal. "We took our inspiration from the fort's history and carefully wove the visual vocabulary to keep it true to its original form."
This meant embracing Jaipur Gharana architectural elements, such as intricate lattice work in stone screens, a mix of Tudor and cusped arches, stone columns and vegetable-dye frescoes.
Digging in
The first two years were the most difficult. Every existing room and floor had a unique, unconventional layout – making the restoration process exceedingly complicated.
"It's an organic structure, with no 90-degree angles. Every detail of the project was executed without even a single typical floor plan yet every corner of the building had a drawing," says Khandelwal.
Later came more obstacles – like transporting construction materials up a hill without an existing road.
Or penetrating the 10-foot-thick walls, and the granite hill itself, to install electrical and plumbing services.
To work out the positions of the elevator shafts, the architects eventually gave up guessing and instead investigated by puncturing the floors and dropping ropes with attached torch lights.
The architects also introduced new elements, including a driveway that zigs up the hillside, a second wing for additional guest rooms, and larger windows to facilitate natural ventilation.
Simple design
Polished anew, the powerful edifice rises from the hilltop. Aside from its turrets and windows and the red-ochre color – "gerua" to be exact – the hotel facade appears unornamented.
"Simplicity is the end, and not the beginning, of design," says Khandelwal. "We developed clean and uncluttered interiors, weaving in ancient metal jaalis screens, antique brass embossing, block printed fabrics and hand-picked artifacts."
From the textiles and granite to lighting fixtures and furniture, everything on site has been sourced within 60 miles, or completed by a local contractor.
"No element has been introduced that's alien," says Khandelwal. "The whole building fully belongs to its setting."
Finding talent was easy: the region is rich in craftsmanship, from carpet making to stone carving, metal crafting, wood work and stone masonry. The architects chose hand-woven carpets in neutral tones, made using various vernacular techniques, such as patchwork, block print, and tie-dye-like "Gudri work."
Hand-painted frescoes add color to public spaces, while wooden jewelry boxes and antiques add warmth to the rooms.
Room with a view