As a red and cream-colored train chugs up the Alishan mountains of Taiwan, hikers and villagers stop and wave at the passengers on board.
It feels like an adventure, harking back to a time when train travel was new and exciting.
And in a way, it is.
The train has embarked on one of the newly introduced cruise-style tours on the century-old Alishan Forest Railway, a network of 71.4 kilometers (44.4 miles) of narrow-gauge rail lines in central Taiwan's Alishan mountain range.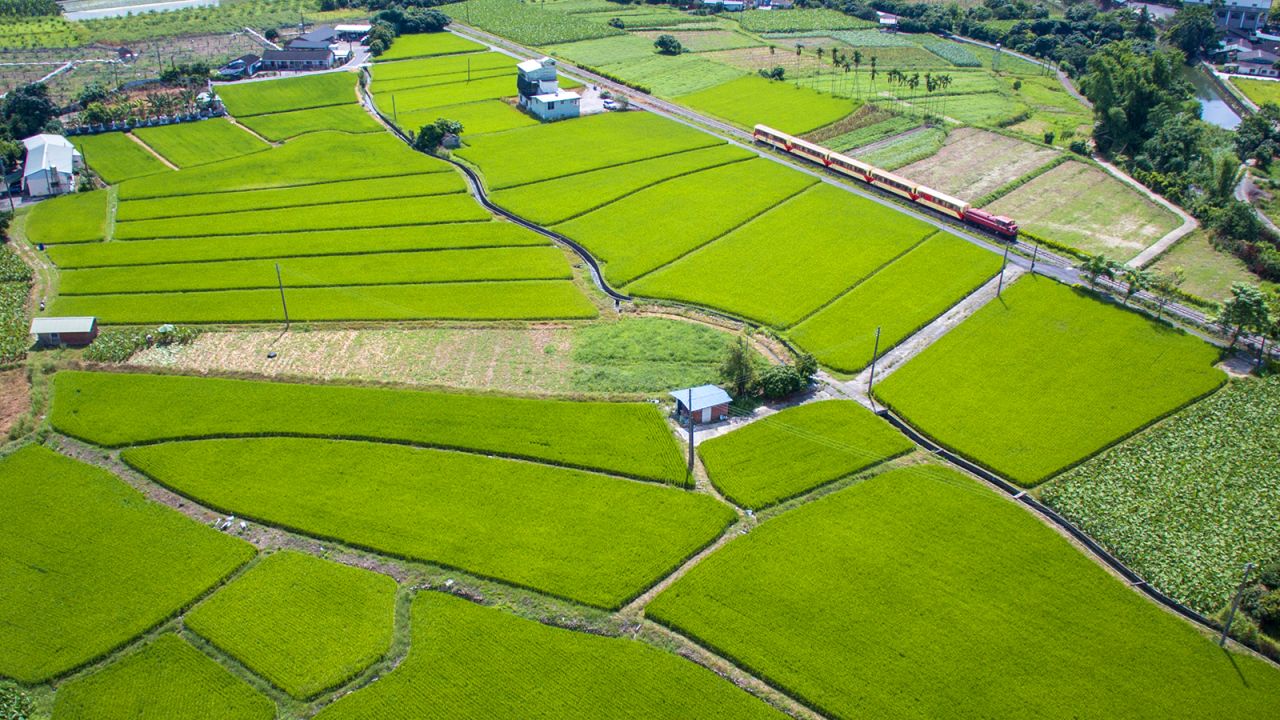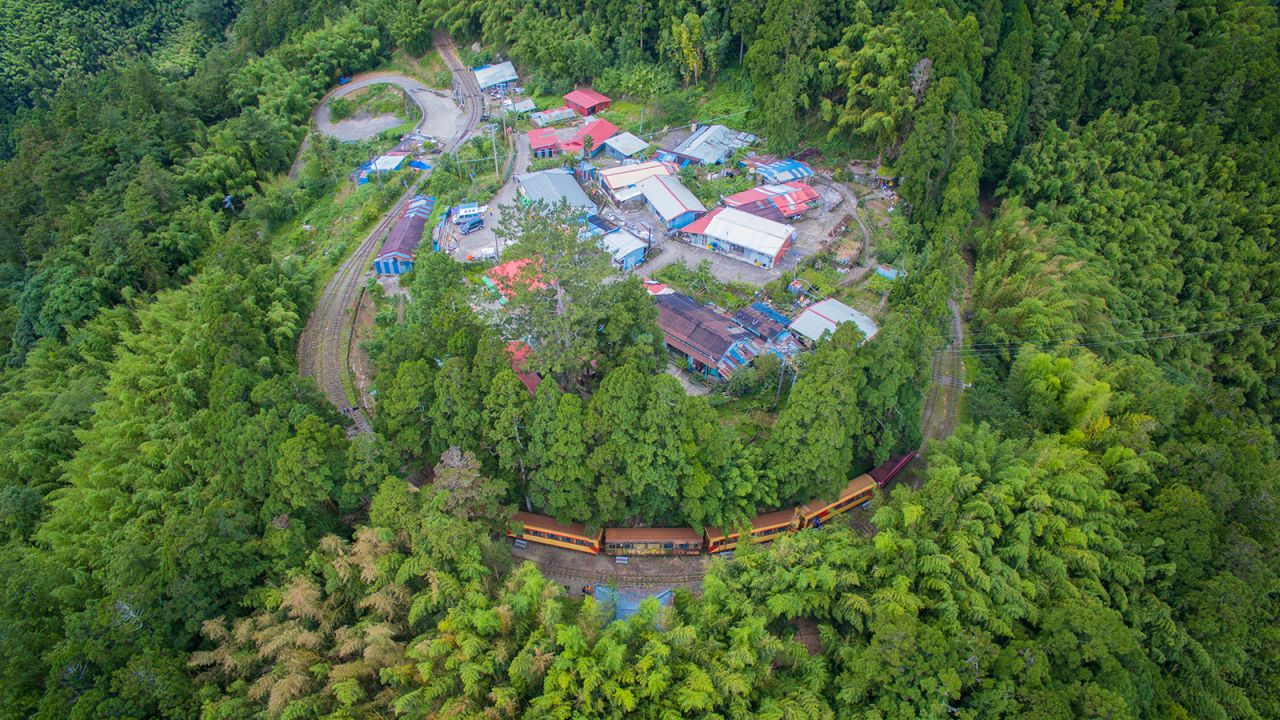 Taiwan's stunning 106-year-old mountain railway
Former Japanese logging railway
Completed in 1912 under the Japanese occupation, the Alishan Forest Railway was used to transport now-endangered Taiwan cypress trees from Alishan. After logging was banned, it lived on as the only passenger train to ride up the mountains.
Today, it remains one of the world's most historic and beautiful mountain railways.
Running between Chiayi city at an elevation of 30 meters (98.4 feet) to Chushan at 2,451 meters (8,041 feet) – the highest train station in Taiwan – the Alishan Forest Railway offers diverse natural scenery.
It's the highest narrow-gauge mountain railway in Asia – higher than the famed Darjeeling Himalayan Railway, which ascends from 100 meters to 2,200 meters.
Best of all, many aspects of Alishan rail network remain as they were 100 years ago. The railroad ties are still made of solid wood and drivers have to get off the train and manually switch the track direction.
"It feels more human, unlike the cold and automated modern machines," says Liao Yuan-chiao, an Alishan train captain.
A rail enthusiast, Liao left his job as a lecturer six years ago to work as a train assistant at the Alishan Forest Railway.
"I like railways because I love the low noise from a diesel train motor – you can hear the changes in the sounds when the machine changes its speed. It sounds alive.
"Luckily, Alishan Forest Railway hasn't been replaced by electric trains," Liao adds. "It's totally my paradise."
Saving Alishan Forest Railway
The "cruise tour" is one of several attempts to rejuvenate and preserve Alishan Forest Railway under newly-minted management – the recently established Alishan Forest Railway and Cultural Heritage Office (AFRCH) of the Forestry Bureau.
The railway's popularity plunged after the faster and easier Alishan Highway was built in 1982.
Its services have been disrupted by natural disasters and derailments multiple times. After taking over, AFRCH closed the railway for three months for maintenance and check-ups before reopening in June 2018.
"Alishan Forest Railway is a priceless cultural heritage [for Taiwan]." says Tang Yu-chin, a spokesperson of AFRCH. "Therefore, preserving Alishan Forest Railway isn't just for tourism purposes but for promoting this culture."
Themed tours are carried out regularly. The current series runs every Wednesday until mid-October.
Instead of just highlighting Alishan attractions, it focuses on the history and culture of the Alishan Forest Railway. Travelers spend time at various stops including the wooden Beimen and Jhuchi stations, which were rebuilt to match their original designs.
"I used this before when I was a lumberjack," says Hsu Chao-huo, an 87-year-old volunteer guide at the small museum at Shizilu Station, pointing at the rusty saw on the shelf.
"I've been living on Alishan all my life. The mountain is better for my health – the land below is too hot."
The cruise concludes at Hinoki (Taiwan Cypress) Village near Beimen Station – a cultural village consisting of 28 wooden Japanese-style houses there were occupied by Japanese officials half a century ago.
'I never thought it could disappear one day'
Working at the Chuchi Township Office, along the Alishan Forest Railway, Lai Guo-hua started taking aerial photographs of the area around four years ago.
"I grew up next to the railway," he says. "My grandfather and my father both worked for the Alishan Forest Railway.
"I thought it'd always be there – until there were voices who wanted it demolished completely. Some thought we shouldn't bother maintaining it as we could just use the highway nowadays.
"Then I started photographing the Alishan Forest Railway so I could introduce it to those who didn't know the line. It's filled with memories of my growing-up – and of all the residents along the tracks.
"Those voices are still there – so we're trying our best to introduce the Alishan Forest Railway so more travelers will know about it, too," chimes in Wu Han-en, a part-time tourism lecturer in Tainan who also works as the stationmaster of Fenqihu (one of the railway's bigger stops).
Getting to Alishan
The Alishan Forest Railway isn't a continuous line as one section of track between Shizilu Station and Alishan Station was damaged in a typhoon.
Travelers can take the main line from Chiayi Station to Fenqihu Station (2 hours, 20 minutes) and continue the journey by bus from Fenqihu Station to Alishan Station.
Only one train departs from Chiayi, at 9 a.m on weekdays. Two more trains (at 8:30 a.m. and 9:30 a.m.) are added at weekends. (Find the schedule on this website).
From Alishan Station, there are three shorter lines – Shenmu Line, Zhaoping Line and Chushan Line – that ferry passengers between the main Alishan Stations to the attractions around the Alishan Scenic Area.
Visitors should bear in mind, the best views are on the right-hand side when traveling uphill and on the left when running downhill.
The technical stuff
Apart from its history, it's worth learning some train lingo to truly appreciate the uniqueness of the Alishan Forest Railway.
For instance, it features a loop line, spiral route track design, S-type lines and 180-degree U-turn lines as well as Z-type lines – it's rare to experience all these formations in one railway system.
The train makes four loops through multiple tunnels as it spirals up and down the narrow peak of Duli Mountain.
When the slope is even narrower, the train has to slowly move back and forth in a Z-shaped route to ascend or descend.
Best hiking trail: Spirited Away in Alishan
One of the coolest hiking paths is the 1.6-kilometer Shuishan trail.
With an unassuming and hidden entrance, the trail takes walkers along a defunct moss-covered train track dotted with a few abandoned structures from the old days.
A hiking trail at the end of the line leads to a majestic 2,700-year-old Taiwan Cypress tree.
Attractions on Alishan
Visiting the attractions around Alishan can easily take two to three days.
Chushan Line is the most popular track. It runs one return trip daily in early morning, taking travelers to see the sunrise and sea of clouds on Chushan. Xiaoliyuanshan Lookout, a 15-minute hike from Chushan, offers a better view.
Fenqihu Station, dubbed the Bento Kingdom for its crucial position as a main rest stop for workers in the past, is famous for its 100-year-old food street and a former logging track-turned-bamboo forest hiking trail.
Shenmu Station is home to a few trails among the stunning old forests.
Zhaoping Station takes travelers to the stunning Jiemei Lake and the Sakura Skywalk.
During cherry blossom season from March to May, the Alishan Forest Railway runs a special vintage steam train once a week. Fall is a popular time to visit, too.
Where to stay
Located 2,200 meters above sea level, the 103-year-old Alishan House is the area's most luxurious stay.
A note on each of the hotel's doors tells which important political figures have stayed in that room.
A modern wing of Alishan House stands next to the original property.
The old wing also doubles as the Alishan culture museum. Ticket-holders can get a guided tour around the old Japanese-style hotel rooms and other historical displays within the hotel.
Tip: Many hotels with Alishan in their names are actually a long way from the park – Alishan is a vast mountain range. It's better to book a stay in a hotel within the park.
Where to grab a cup
The mountains in Alishan produce some of the best oolong teas and coffee beans in Taiwan.
The cruise tour includes a tea-tasting session where you can sample and buy directly from tea farmers on Alishan.
Otherwise, there are plenty of teahouses at Fenqihu Station. Ding-Zhan Kitchen Coffee near Fenqihu Station serves artisanal coffees from beans grown and roasted by the owner.
How to get tickets for Alishan Forest Railway
Tickets for the main line can be reserved online (in Chinese) up to 15 days before your departure or at some of the station counters of Alishan Forest Railway or Taiwan Railway.
Fares are calculated according to distance (from $0.3/kilometer). A trip from Chiayi to Fenqihu cost around $12. Check the fare table on its website.
Tickets for Shenmu Line (TWD100 or $3) and Zhaoping Line (TWD150 or $5) can be purchased at the station on the day of your travel. They run every 25-30 minutes.
Tickets for Chushan Line (TWD150) have to be bought a day in advance from 1-4 p.m. at Chiayi Station. Transferring bus tickets between Fenqihu to Alishan can be bought at Chiayi Station, too.