High-rise gardens are on the rise, climbing faster than wisteria atop the latest apartment blocks and luxury hotels.
But most of these developments are private, leaving them accessible only to the well connected.
Hopes for a public paradise in the skies were raised by the "Walkie Talkie" Sky Garden in London, which made headlines when it opened the "highest roof garden in Europe" earlier this year.
Sadly, the viewing platform is more rockery than sky park, albeit one with a fantastic vantage point 560 feet (170 meters) above the city.
For true urban jungle experiences that'll oxygenate your soul, here are 10 other leafy green sky gardens:
1. ACROS (Fukuoka, Japan)
Rising like an overgrown Inca pyramid out of downtown Fukuoka, the 14-story ACROS building was designed by Argentine architect Emilio Ambasz.
Each level reveals natural wonders normally found in the forest, from glossy ponds to waterfalls.
The entire project contains more than 50,000 plants and trees.
On the way to the top visitors pass through a vast atrium, which extends into a semicircle of glass paneling. Inside are exhibition spaces, shops, offices and a symphony hall.
ACROS Fukuoka, 1-1-1 Tenjin, Chuo-ku, Fukuoka, Japan; +81 092 725 9111; opening times vary, typically 9 a.m.-6 p.m., weekends and holidays 10 a.m.-4 p.m.
2. Rockefeller Center Roof Gardens (New York)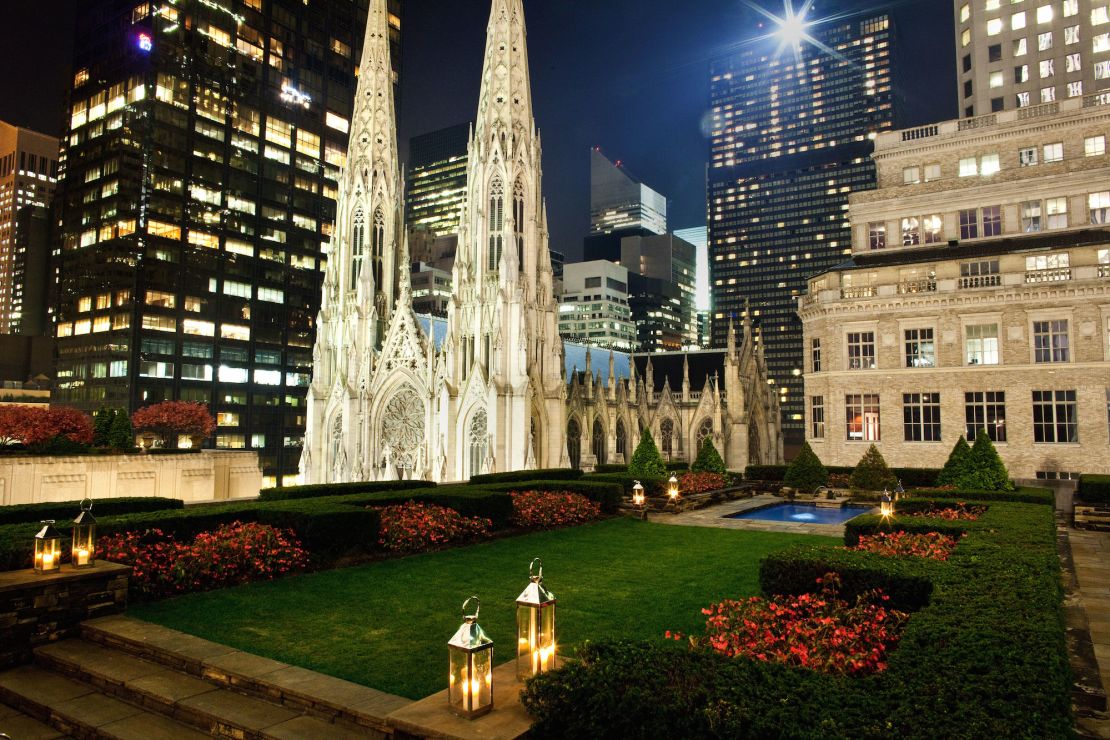 Though this one isn't regularly open to the public, we couldn't leave it off the list given it's the urban gardens archetype, inspiring properties like Kensington on London and Oakland's Kaiser to follow suit.
Instantly recognizable thanks to movies like "Spiderman" (2002) and "Fantastic Four" (2005), the Rockefeller Center Roof Gardens opened in 1935 and include five terraces designed by pioneering landscape architect Ralph Hancock.
The entire project took two years to complete and included 3,000 tons of earth, 500 tons of bricks, 100 tons of stone, 2,000 trees and shrubs.
The Rockefeller Center Roof Gardens are occasionally added to the Open House New York weekend – worth keeping an eye out for if you're in New York October 17 and 18.
The alternative is to book an event – wedding receptions are particularly popular.
Rockefeller Center Roof Gardens, 620 Fifth Ave., at 50th Street, New York; +1 212 593 9499
3. Namba Parks (Osaka, Japan)
Visitors ascend gradually, picking a path through rock falls and thickets, over streams and under waterfalls, mindful of the cliffs that fall into the canyon below.
At the summit they take in the view – and that's when it all comes flooding back.
There are no mountain ranges, no rivers or plunging valleys – this is Namba Parks, a shopping mall in the middle of Osaka, Japan's second largest city.
Designed by iconic American architect Jon Jerde and completed in 2003, this multi-story pasture camouflages glittering boutiques where fashionable citizens come to graze and ramble.
There's even a plot to grow vegetables.
Namba Parks, 2-10-70 Nambanaka, Naniwa-ku, Osaka-shi, Osaka, Japan; +81 6 6644 7100; open daily, 11 a.m.-9 p.m.
4. Kaiser Roof Garden (Oakland, California)
Industrialist Edgar Kaiser actually did put the "park" into car park – or, more accurately, on top of it.
The Oakland, California, native was so enamored with Rockefeller's rooftop backyard in New York that he built an enormous 14,100-square-meter green roof above his own eponymous headquarters in the 1960s.
More Central Park than car park, its "water feature" is really a small lake with fountains and a wooden bridge.
Lawns spread out from the water's edge to the tree-lined borders, making it large enough for a game of five-a-side.
Better still, anyone can visit – just press "RG" in one of the parking garage elevators.
Kaiser Roof Garden, 300 Lakeside Drive, Oakland, California; +1 510 834 3575; open Monday-Friday, 8 a.m.-5 p.m.
5. Kensington Roof Gardens (London)