From America's biggest modern art museum to the latest Disney theme park, 2016 is primed to be a great year for global tourists in search of the next big thing.
The Middle East will get its most advanced snow park in Doha.
"Hunger Games" fans will step into the shoes of Katniss Everdeen in Dubai.
And a life-sized replica of Noah's Ark will rise above the bluegrass meadows of northern Kentucky to become the planet's largest wooden structure.
A look at these and more on our cultural calendar for 2016, as we highlight some of the most anticipated attractions scheduled to open around the globe:
1. Shanghai Disneyland
The date has been set. Walt Disney and his cast of beloved characters arrive in mainland China for the first time on June 16 with the opening of Shanghai Disneyland.
This long-overdue $5.4 billion resort will feature six themed zones, positioning familiar favorites like Tomorrowland and Fantasyland alongside newer additions like Treasure Cove and Gardens of Imagination.
The former will draw inspiration from the "Pirates of the Caribbean" franchise. The latter will form the hub of the park and feature seven Chinese-themed gardens and rides based on the Chinese zodiac – all depicted by 12 Disney and Pixar characters, of course.
It's been more than a decade since the Walt Disney Company opened a new park and Shanghai Disney expects pent-up desire to lure between 10 million and 15 million visitors in the first year alone.
2. Dubai Parks & Resorts (United Arab Emirates)
The middle of a sweltering desert is hardly an ideal location for a theme park – much less a 25-million square-foot theme park complex (2.3 million square meters).
But that's exactly what the United Arab Emirates has planned with its new Dubai Parks & Resorts, whose film-themed attractions will sit in air-conditioned comfort.
This $2.8 billion wonderland will open in October 2016 with a water park and three themed zones based around the Lego franchise, Bollywood films and Hollywood blockbusters such as "Shrek" and "The Hunger Games" (a world first).
An area for retail, dining and entertainment, dubbed Riverland Dubai, will take visitors on a journey through different eras, including "a French village from the 1600s" and "America of the 1950s."
Rounding out the globetrotting adventure is a Polynesian-themed family resort from Lapita Autograph Collection.
Developers believe 6.7 million visitors will test out some of the complex's more than 100 attractions in the first year.
3. FIFA Football Museum (Zurich, Switzerland)
FIFA may be a tainted brand after a troublesome year of corruption allegations but diehard soccer fans will undoubtedly arrive in droves to check out the FIFA World Football Museum when it debuts in Zurich in early 2016.
The $177 million facility is set to house more than 1,000 exclusive exhibits dedicated to the sport, not to mention the world's largest collection of soccer books.
But a staid survey of soccer history this is not. The venue's "interactive multimedia world of experiences," for example, will include a giant soccer pinball machine and a cinema recreating the atmosphere of a stadium.
At the museum's heart will be what creative director David Ausseil calls "our Mona Lisa" – the World Cup trophy itself.
4. San Francisco SFMOMA
More than 20,000 square feet larger than the Museum of Modern Art (MoMA) in Manhattan and with three times the exhibition space, SFMOMA will become the largest modern art museum in the United States when it opens to the public on May 14 in San Francisco's SoMa neighborhood.
Architecture firm Snohetta drew inspiration for its striking design from the San Francisco waterfront and the city's ever-present fog.
The resulting 10-story facility will house the nation's biggest Center for Photography in addition to 260 works from the Fisher Collection and over 600 prized artworks promised to the museum.
SFMOMA plans to provide free admission for visitors aged 18 and younger – and nearly 45,000 square feet of free public access for everyone else – to ensure that the museum becomes a vital cultural and social hub for northern California.
5. Ark Encounter (Kentucky)
If participating in a simulated Biblical disaster sounds like your ideal vacation then northern Kentucky's forthcoming Ark Encounter might just float your boat.
This divisive theme park – which proselytizes the theory of creationism – will open to the public on July 7 with a full-scale replica of Noah's Ark that's said to be the largest wooden structure in the world.
The ark's creators, Answers in Genesis, hope to recoup the megastructure's $92 million price tag by attracting an estimated 1.6 million visitors in the first year alone.
The fundamentalist organization (which believes God created Earth in six days about 6,000 years ago) will offer combination tickets to its nearby Creation Museum with the hopes of turning northern Kentucky into a Mecca for religious tourism.
6. Doha Festival City (Qatar)
To call it a mega mall doesn't quite capture the flamboyance of Doha Festival City, a new oil-funded megaproject in Qatar.
This miniature village has 2.6 million square feet of leasable area with 550 shops, 100 cafes and restaurants, a hotel and convention center and two entertainment zones.
There's also an outdoor amusement park and indoor snow park for skiing and sledding.
Scheduled to open in September 2016, the multi-use facility is part of Qatar's long-term plan to enliven its tourism offerings ahead of the 2022 World Cup.
7. Darling Harbour Live (Sydney, Australia)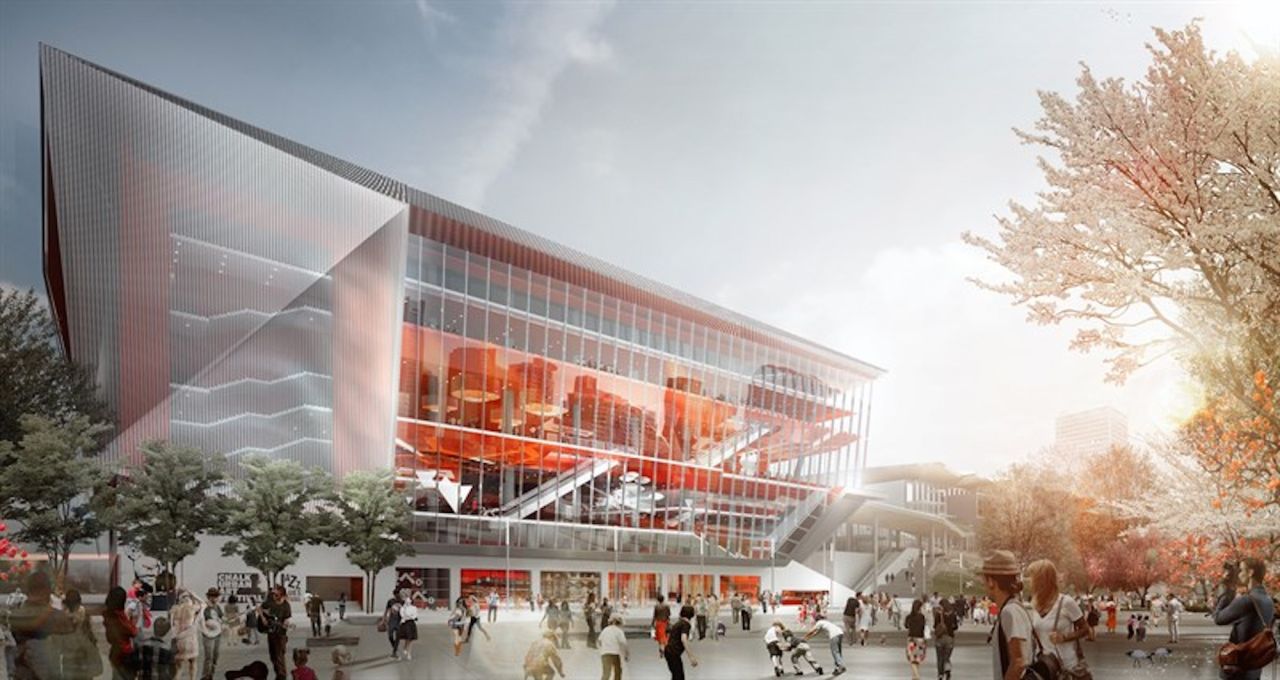 Sydney's beloved Darling Harbour is in the midst of a dramatic facelift and will show off its new look in December 2016 with the opening of Darling Harbour Live.
The dramatic revitalization project will deliver Australia its largest convention and exhibition facilities and Sydney its biggest red-carpet entertainment venue.
Also on the cards are the city's largest luxury hotel and a vibrant urban village called Darling Square with offices, residential space, shops and cafes.
8. Palestinian Museum (West Bank)
Rising above a terraced hill in the West Bank just north of Jerusalem is a $30 million complex known as the Palestinian Museum.
The flagship project of the Welfare Association, a non-profit dedicated to humanitarian projects in the Palestinian territories, the 430,000-square-foot institution will be the largest of its kind dedicated to Palestinian art and culture.
It plans to foster "a link between Palestinians in historic Palestine and those living in the diaspora," with exhibits like Never-Part, which will explore the personal histories of Palestinians through objects that they could never part with.
The inauguration ceremony is scheduled for a symbolic date, May 15, to mark the Nakba (or "catastrophe" in Arabic) in which hundreds of thousands of Palestinians were displaced in the war that accompanied Israel's creation in 1948.
9. Louvre Abu Dhabi (United Arab Emirates)
It cost the oil-rich emirate of Abu Dhabi an astounding $525 million just to be associated with the Louvre brand, plus another $747 million for art loans and managerial advice.
Curious onlookers may finally discover what it means to be the best museum money can buy when the Louvre Abu Dhabi opens to the public by the end of 2016, putting five years of construction delays and labor controversies in its rear-view mirror.
Inside the museum's domed structure, designed by Pritzker Prize-winning architect Jean Nouvel, will be 65,000 square feet of permanent installations and 22,000 square feet more set aside for temporary exhibits.
Expect Arab masters to share wall space with European icons like Van Gogh, Monet and da Vinci.
Mark Johanson is a freelance travel and culture writer based in Santiago, Chile. You can follow his adventures at markjohanson.com.